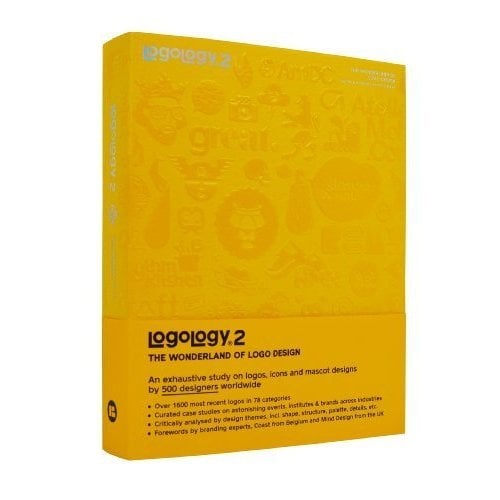 Logology 2: another soon to be classic logo design book that had slipped me by, but one I shall not be without given the utter nightmare of trying to get hold of the ultra hard to find orginal Logology.
I ended up finding some obscure online shope somewhere in Antartica that had one copy of the first edition of Logology to hand, and if you are able to find a copy it is certainly worth paying a premium for just for the embossed leather cover itself.
Seems it came out in 2011 and already Amazon are not selling this direct which leads me to believe it will also soon become hard to come by, so certainly worth getting your copy now. There are a couple of sellers selling it for around £35 plus P&P.
Product Description: The look and functions of logos vary over time. First emerged as pictorial names to differenciate producers in the market, logos today speak a much sophisticate language that caters for the world. Whether they draw on symbolism or wordds or letterforms to channel values and promises, keeping the message precise and straightforward is still the key to talk. Following the success of Logology®, Logology®2 put together a picture of unique brand expressions that answer changes and are meant to grow with time.
---
PREVIOUS & NEXT POSTS
Game Of Thrones Rebranded by Nike Designer Darrin Crescenzi
Explaining Logo Design Budgets to Clients
MORE POSTS BY CATEGORY
---
POSTED BY:

The Logo Smith Design Studio:

Freelance Logo & Brand Identity Design.
POST LAST UPDATED :

September 14, 2016
POST FIRST PUBLISHED:

CATEGORIES:

Books
,
Logo Inspiration
TAGS:

book
,
Logo
,
logo design
,
logos
---
---
WHERE CAN I HIRE A LOGO DESIGNER?
If you're looking to hire a Freelance Logo Designer, or want to work with a multi-disciplinary Graphic Design Studio, then look no further than
The Logo Smith
.
With over 25 years experience,
The Logo Smith
offers the following Creative and Tech Services:
Custom Logo Design; Graphic Design; Tag Lines, Brand Identity Design & Redesigns; Brand & Graphic Standards Manuals & Style Guides; Business Stationery; App Icons; Brand Consultation; Typography; Secure Wordpress Installs, Theme Customisation & Web Site Hosting; SEO & Social Media Consultation; PR Services provided by The PR Room, in: Technology PR, Internet of Things PR, Smart Home PR, and Social Media PR.
I'd be thrilled to hear from you, and find out how I can help you with your logo and brand identity design requirements. Please visit my
Hire Me
page, email me at:
[email protected]
.
Follow @thelogosmith
---
Home » Logo Design Blog | The Logo Smith: Freelance Logo Designer » Books » Logology 2: The Wonderland of Logo Design by Victionary