---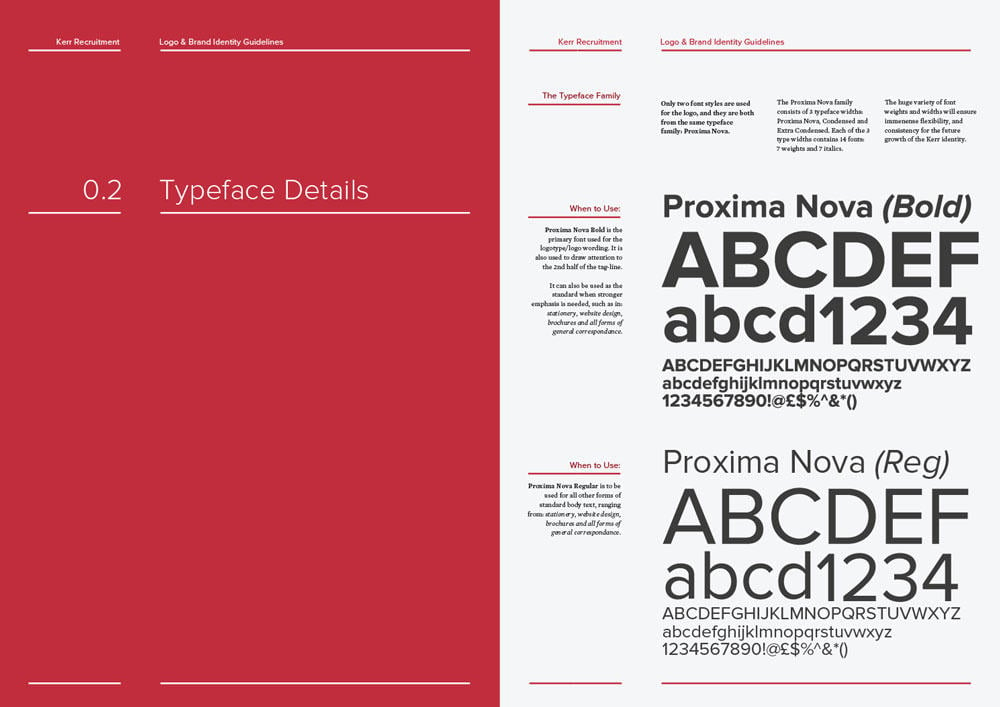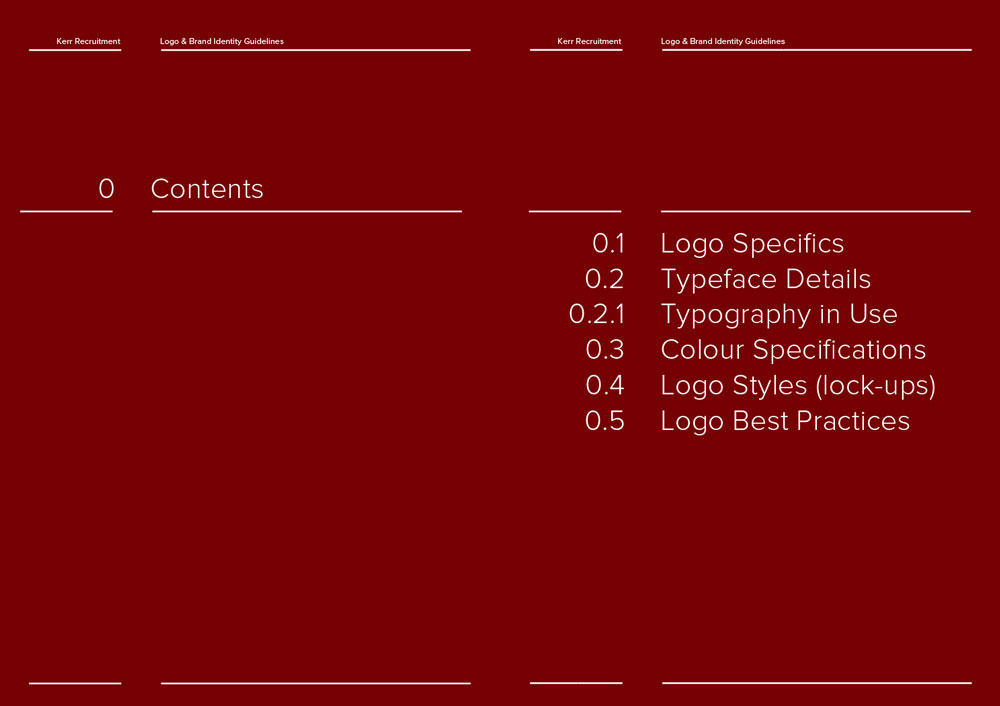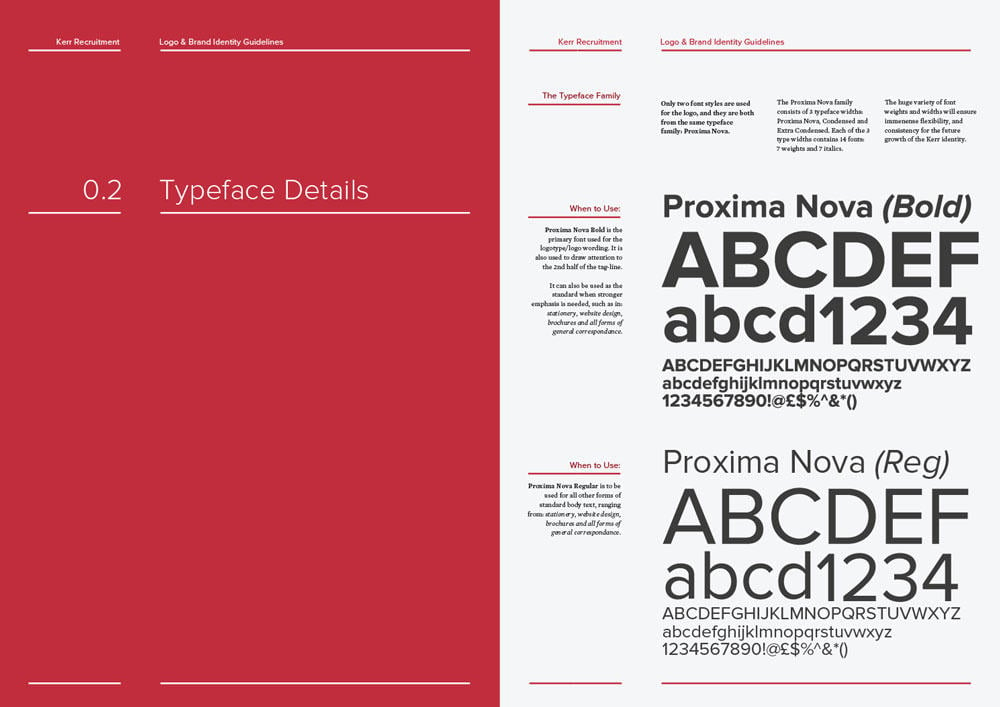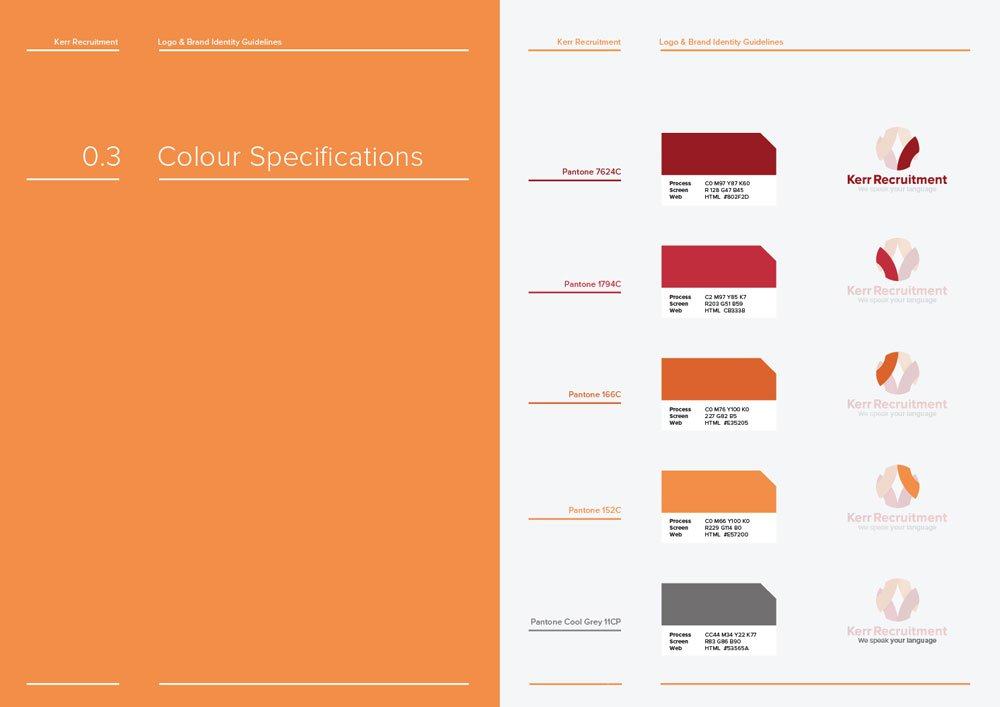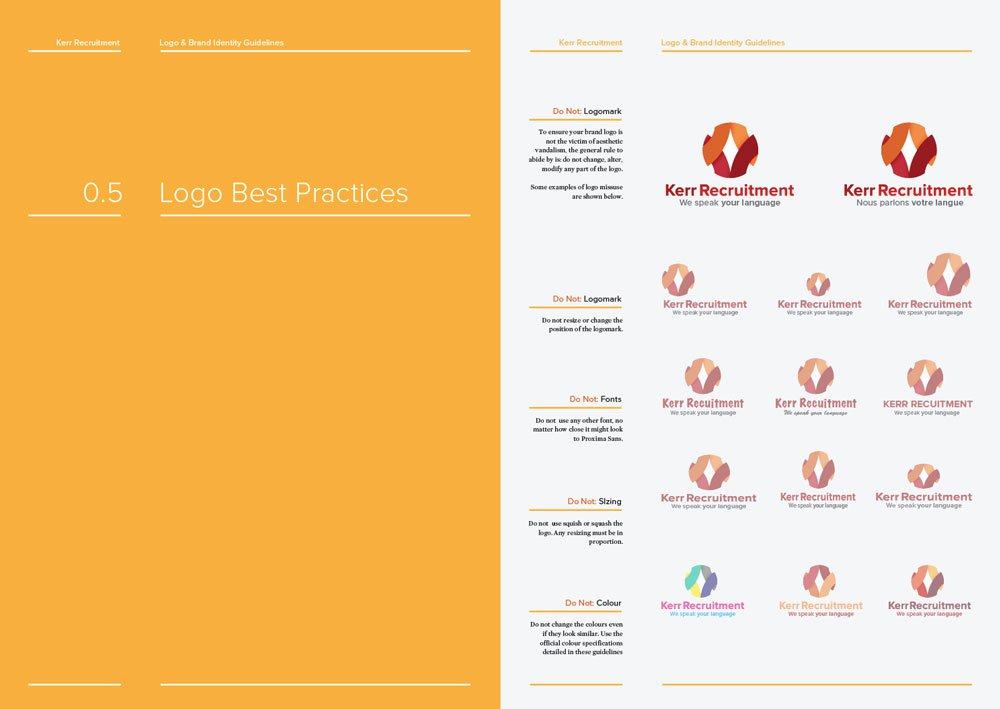 The above link will download a ZIP archive of an: Adobe Illustrator CC7 file (without embedded fonts), and a PDF (with embedded fonts).
Logo and Brand Identity Guidelines Template for Download
This version of my logo guidelines template, from my resources category, is a little heftier than previous, weighing in at a respectable: 13 pages (there is an imaginary Back Cover you can add to make 14).
I have used this particular version of the guidelines for a previous client of mine, Kerr Recruitment, as well as slightly different variation for Tabalwor, another previous client.
The style of this set of guidelines has gone down well with both clients, as well as some prospective clients who have asked about them after seeing them on the respective portfolio pages, etc. So I figured I'd stick with this basic style for a while, and expand and tweak it as necessary.
There are, of course, situations where a completely bespoke set of guidelines is warranted, but on the whole, i'll be using this style base where the client isn't in need of a custom set of guidelines.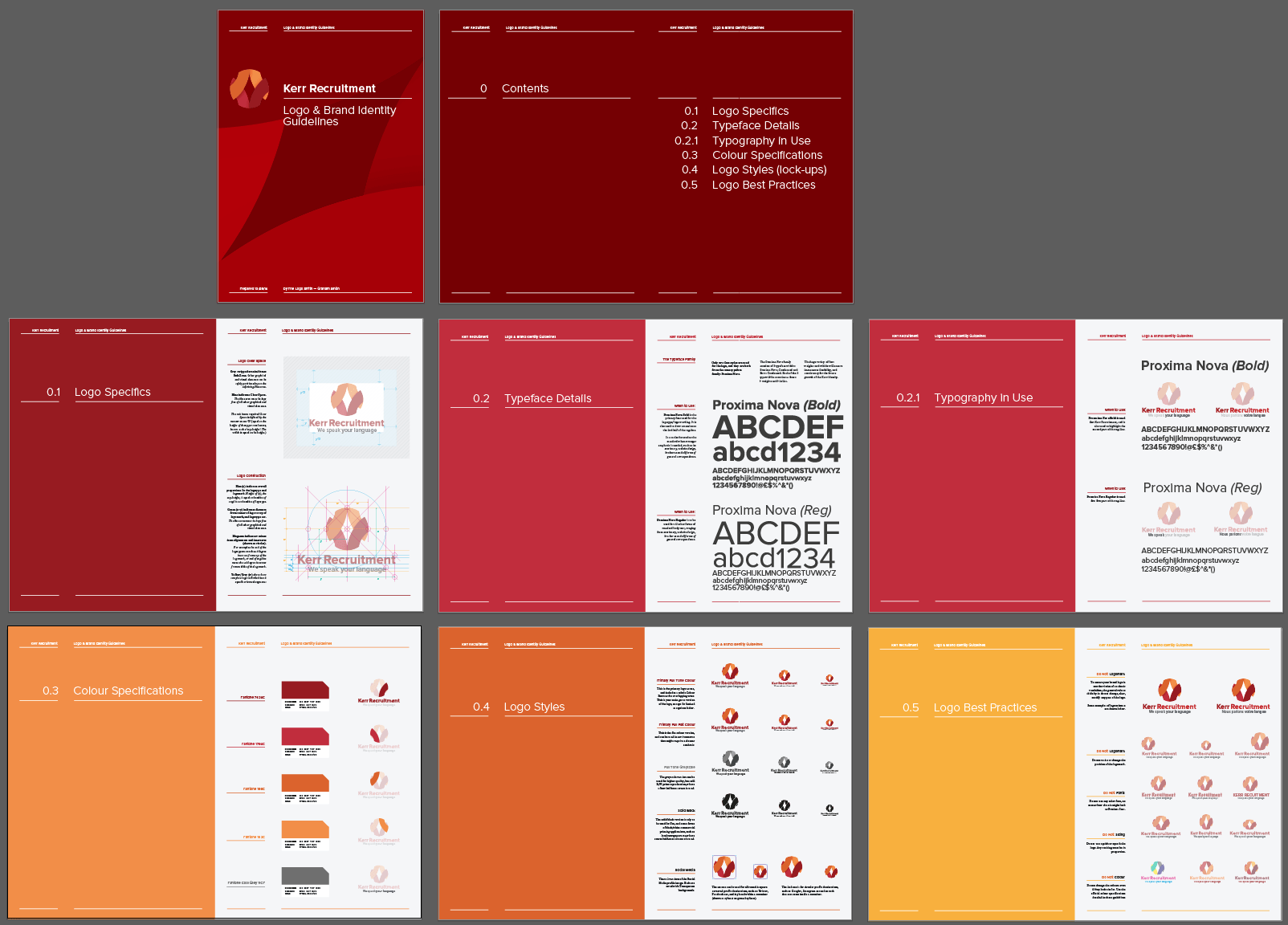 I'm providing the original Adobe Illustrator files for you, so you can get your collective hands dirty with all the text, imagery, pages and artboard's, etc.
Although I have kept Kerr Recruitments logo in place, please bear in mind that this is a legitimate client logo design, and as such is not there for you to use, commercially, in any way.
You will likely need to change these files quite a lot. The guidelines have been designed in such a way that are quite specific to the way the Kerr Recruitment logo has itself been designed, from the amount of colours used and thus detailed, the French translation of the logo, the various logo lock-ups, etc.
However, you should still be able to use quite a chunk, or at least get a real good idea of how and what to use, spec, explain in your own version of the guidelines.
The addition of the solid colour leader page, with the section titles, looks pretty nice I think, and helps make the guidelines look more like an actual booklet.
And finally
If you have any questions about creating logo and brand identity guidelines, or simply want to say drop me a line, you can do so here, over there and right here: [email protected], use the contact form, or grab me on Twitter: @thelogosmith
>> Download Logo_and_Brand_Identity_Guidelines_Template.zip 
The above link will download a ZIP archive of an: Adobe Illustrator CC7 file (without embedded fonts), and a PDF (with embedded fonts).
---
Previous Post:
Exploration of Scalable & Responsive Logo Designs by Joe Harrison
Next Post:
Is There a Difference Between a Logo and a Symbol?
---
Posted By:
The Logo Smith:
Freelance Logo & Brand Identity Designer.
Follow @thelogosmith
Categories:
Logo & Brand Identity
,
Resources
,
Templates
Tags:
guidelines
,
Logo and Brand Identity
,
logo design
,
Resources
,
template
More Posts by Category
---
---
Where Can I Hire a Logo Designer?
If you're looking to hire a Freelance Logo Designer, or want to work with a multi-disciplinary Graphic Design Studio, then look no further than The Logo Smith.
With over 25 years experience,
The Logo Smith
offers the following Creative and Tech Services:
Custom Logo Design; Graphic Design; Tag Lines, Brand Identity Design & Redesigns; Brand & Graphic Standards Manuals & Style Guides; Business Stationery; App Icons; Brand Consultation; Typography; Secure Wordpress Installs, Theme Customisation & Web Site Hosting; SEO & Social Media Consultation; PR Services provided by The PR Room, in: Technology PR, Internet of Things PR, Smart Home PR, and Social Media PR.
I'd be thrilled to hear from you, and find out how I can help you with your logo and brand identity design requirements. Please visit my
Hire Me
page, email me at:
[email protected]
.
---
Home » Blog | The Logo Smith | Logo Designer & Brand ID Studio » Logo & Brand Identity » 14 Page Logo and Brand Identity Guidelines Template for Download