---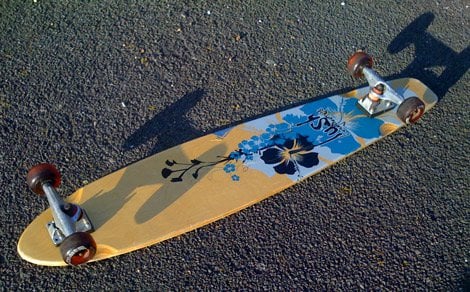 Hello - The Typographic Skateboard from Buddy Carr
I have been eagerly awaiting this awesome beast since I first saw the initial posts about it on Aisle One some time ago. For heavens sake, a typographic skateboard! This is just as good as it get's for a typo fiend such as myself.
I am bit of a outside type (sort of pun intended) of person, and do own a rather nice Lush Long Board Skateboard. I can sometimes been seen cruising up and down the promenade been pulled along by my trust hound, Dylan. I know that's not the point of a skateboard, as in you are generally meant to skate them as such. Which I do do from time to time, but when you have a willing hound, it's hard not to pass up on a free ride.
My Lush board is pretty long and comfy, and bloody fast, so it's nice just zooming past all the oldies.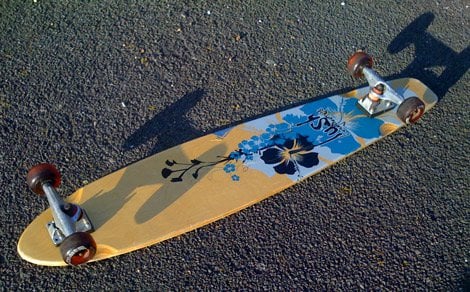 A Potential Giveaway
So I have ordered one of these beasts, but the chances are I will be offering up as a giveaway prize as I cannot really justify keeping it, since I already have a cool board already. So keep your eye's open on my blog for a potential Buddy Carr Typographic Skateboard Giveaway. Or failing that, go and order one yourself.
However it is a Limited Edition release, so get ya skates on. (Another poor pun slightly intended.)
They are being sold for $160 plus shipping.
Head over to the
official site
now for the complete low down on this beauty. The
photo gallery
is just mouth watering.
---
Previous Post:
Logo Design RoundUp Part 7 – How Designers Promote & Brand Themselves
Next Post:
Logarde Thin – Free Typeface for Immediate Download
---
Posted By:
The Logo Smith:
Freelance Logo & Brand Identity Designer.
Follow @thelogosmith
Categories:
Typography
Tags:
type
More Posts by Category
---
---
Where Can I Hire a Logo Designer?
If you're looking to hire a Freelance Logo Designer, or want to work with a multi-disciplinary Graphic Design Studio, then look no further than The Logo Smith.
With over 25 years experience,
The Logo Smith
offers the following Creative and Tech Services:
Custom Logo Design; Graphic Design; Tag Lines, Brand Identity Design & Redesigns; Brand & Graphic Standards Manuals & Style Guides; Business Stationery; App Icons; Brand Consultation; Typography; Secure Wordpress Installs, Theme Customisation & Web Site Hosting; SEO & Social Media Consultation; PR Services provided by The PR Room, in: Technology PR, Internet of Things PR, Smart Home PR, and Social Media PR.
I'd be thrilled to hear from you, and find out how I can help you with your logo and brand identity design requirements. Please visit my
Hire Me
page, email me at:
[email protected]
.
---
Home » Blog | The Logo Smith | Logo Designer & Brand ID Studio » Typography » Hello – The Typographic Skateboard from Buddy Carr