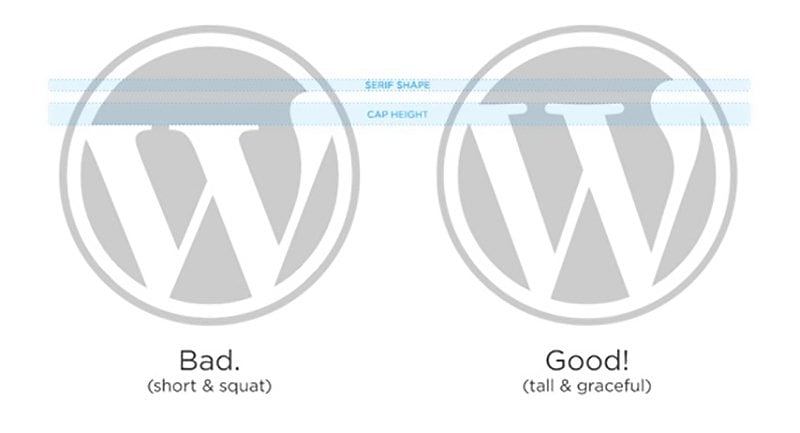 Fight the Fake WordPress Logo (Fauxgo)
In all the years I've been using WordPress I've never known about the Fake WordPress Logo, and indeed, this could even be really old outdated news.
But it's news to me, so I'm sharing.
Pretty sure I must be the only one who didn't know, but on the off-chance I am not, there are two versions: Bad (short & squat), and the Good (tall & graceful).
Now you know that not all WordPress logo's are genuine. Bet you now keep an eye out for the Bad version more than you might realise!
As WordPress states:
Friends don't let friends use the wrong WordPress logo. If you see one of these in the wild, please gun it down.
WordPress Desktops Logos
---
PREVIOUS & NEXT POSTS
Unofficial Wikileaks Rebrand Concept Designed by Luis Rocha
Ray-Ban Brand Guidelines (Graphics Manual)
MORE POSTS BY CATEGORY
---
POSTED BY:

The Logo Smith Design Studio:

Freelance Logo & Brand Identity Design.
POST LAST UPDATED :

September 14, 2016
POST FIRST PUBLISHED:

CATEGORIES:

Famous Logos
,
Logo & Brand Identity
TAGS:

wordpress
---
---
WHERE CAN I HIRE A LOGO DESIGNER?
If you're looking to hire a Freelance Logo Designer, or want to work with a multi-disciplinary Graphic Design Studio, then look no further than
The Logo Smith
.
With over 25 years experience,
The Logo Smith
offers the following Creative and Tech Services:
Custom Logo Design; Graphic Design; Tag Lines, Brand Identity Design & Redesigns; Brand & Graphic Standards Manuals & Style Guides; Business Stationery; App Icons; Brand Consultation; Typography; Secure Wordpress Installs, Theme Customisation & Web Site Hosting; SEO & Social Media Consultation; PR Services provided by The PR Room, in: Technology PR, Internet of Things PR, Smart Home PR, and Social Media PR.
I'd be thrilled to hear from you, and find out how I can help you with your logo and brand identity design requirements. Please visit my
Hire Me
page, email me at:
[email protected]
.
Follow @thelogosmith
---
Home » Logo Design Blog | The Logo Smith: Freelance Logo Designer » Famous Logos » Fight the Fake WordPress Logo (Fauxgo)