---

Great little find by John Gruber, of Daring Fireball, the other day: Evolution of the 007 James Bond Movie Logo Design, which was originally posted on The James Bond Lexicon, a Tumblr site.
Don't think I've ever really given much thought to the actual logo for 007, at least not until now.
Some quite subtle changes every few years until 1993, then they finally seem to be satisfied with the logo. Or, they just got fed-up changing it for every movie.
As John Gruber pointed out: "Not sure what they were thinking with the one from 1973 — italics are essential."
The Inner Curves of the 7 in 007
I liked the inner curve of the 7, from version 1962 up to 1987, then they straightened that inner space out, and I'm not sure I like it as much.
It was a very distinct #7, and I think they could have managed it, even though they've been thinning out the overall logo each time.
I get that the #7 served purpose of acting at the guns handle, but I think a little subtle inner curve would have been nice.
So practicing what I sort of preach, and just for shits-and-giggles, just quickly mocked-up what I feel looks nice, and keeps with the previous styles without being too clunky and fat.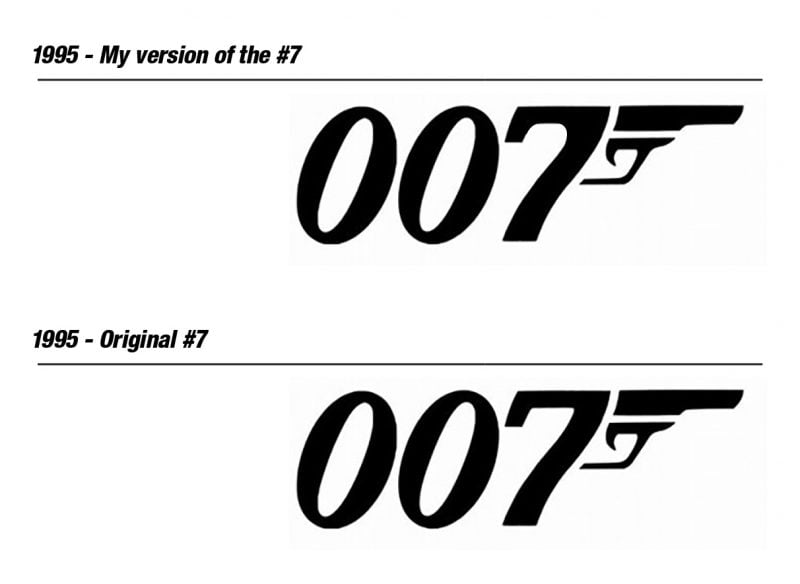 ---
Previous Post:
Free Font Katana's Edge Typeface Designed by Dimitris Bouskos
Next Post:
Master Client Logo Artwork Sheet Template for Download
---
Posted By:
The Logo Smith:
Freelance Logo & Brand Identity Designer.
Follow @thelogosmith
Categories:
Famous Logos
Tags:
evolution
,
Films
,
logo design
,
Movie Logos
More Posts by Category
---
---
Where Can I Hire a Logo Designer?
If you're looking to hire a Freelance Logo Designer, or want to work with a multi-disciplinary Graphic Design Studio, then look no further than The Logo Smith.
With over 25 years experience,
The Logo Smith
offers the following Creative and Tech Services:
Custom Logo Design; Graphic Design; Tag Lines, Brand Identity Design & Redesigns; Brand & Graphic Standards Manuals & Style Guides; Business Stationery; App Icons; Brand Consultation; Typography; Secure Wordpress Installs, Theme Customisation & Web Site Hosting; SEO & Social Media Consultation; PR Services provided by The PR Room, in: Technology PR, Internet of Things PR, Smart Home PR, and Social Media PR.
I'd be thrilled to hear from you, and find out how I can help you with your logo and brand identity design requirements. Please visit my
Hire Me
page, email me at:
[email protected]
.
---
Home » Blog | The Logo Smith | Logo Designer & Brand ID Studio » Famous Logos » Evolution of the 007 James Bond Movie Logo Design
Copyright © 2006-2016 All Rights Reserved Goddammit!
The Logo Smith - Freelance Logo Designer, Brand Identity & Graphic Design Studio.
25 Years Experience: Logo & Brand Identity Design, Graphic Design, Advertising and Print.
PR Agency Services: The PR Room -Technology & Internet of Things PR.