Elance Logo Designer Plagiarises My Complete Logo Design Portfolio
Sigh. It's not the first time that a so-called Logo Designer has had the audacity to use my 'entire' logo design portfolio as representation of their own work. This sort of thing is pretty wide-spread, and it certainly will not be the last time this happens to me, and other logo designers.
I'm doubtful that Ashley is even a real person, and is just a bloody cheeky attempt to cheat Elance clients' out of their money.
This is just annoying for me as I don't get particular upset about it, as the moment you take it so Social Media, a resolution is usually pretty swift. It's more disrespectful to my clients' whose logo design I was commissioned to design.
Today I just fancied making a blog post about it, and to also to say "many thanks" to the decent designers' who have repeatedly informed me that this has happened.
In Her Words
I "ASHLYN WATSON" offers professional and high-quality logo and graphic design services at affordable prices. Our work is 100% original and 110% satisfaction guaranteed

I offer best prices and 100% satisfaction to clients as you are our asset.

Working 6 Days a Week. Support 7 Days a week.
Let's be clear, I don't personally go trawling these logo design websites on the off-chance my work has been plagiarises, it's so not worth wasting my time. However, it's just really nice when someone DOES notice on your behalf, and has the decency to let me know.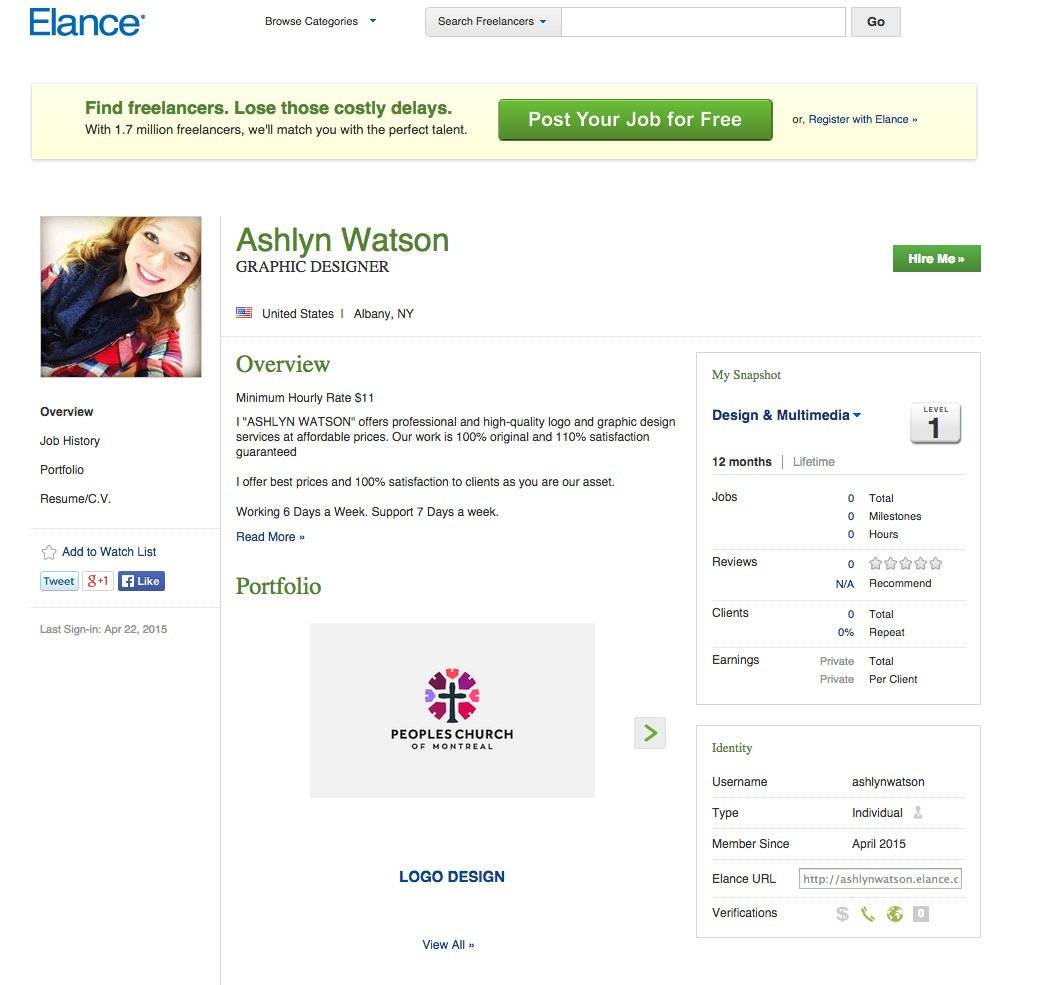 ---
PREVIOUS & NEXT POSTS
Brand by Hand: Famous Logos Reimagined in Hand Lettering
Logo for Sale: QuadType Logo Design
MORE POSTS BY CATEGORY
---
POSTED BY:

The Logo Smith Design Studio:

Freelance Logo & Brand Identity Design.
POST LAST UPDATED :

September 14, 2016
POST FIRST PUBLISHED:

CATEGORIES:

Logo & Brand Identity
TAGS:

Plagiarises
---
---
WHERE CAN I HIRE A LOGO DESIGNER?
If you're looking to hire a Freelance Logo Designer, or want to work with a multi-disciplinary Graphic Design Studio, then look no further than
The Logo Smith
.
With over 25 years experience,
The Logo Smith
offers the following Creative and Tech Services:
Custom Logo Design; Graphic Design; Tag Lines, Brand Identity Design & Redesigns; Brand & Graphic Standards Manuals & Style Guides; Business Stationery; App Icons; Brand Consultation; Typography; Secure Wordpress Installs, Theme Customisation & Web Site Hosting; SEO & Social Media Consultation; PR Services provided by The PR Room, in: Technology PR, Internet of Things PR, Smart Home PR, and Social Media PR.
I'd be thrilled to hear from you, and find out how I can help you with your logo and brand identity design requirements. Please visit my
Hire Me
page, email me at:
[email protected]
.
Follow @thelogosmith
---
Home » Logo Design Blog | The Logo Smith: Freelance Logo Designer » Logo & Brand Identity » Elance Logo Designer Plagiarises My Complete Logo Design Portfolio