All Archived Posts in Vintage
---
Last Updated: September 14th, 2016
| First Published:
August 1, 2013
| Subscribe with
or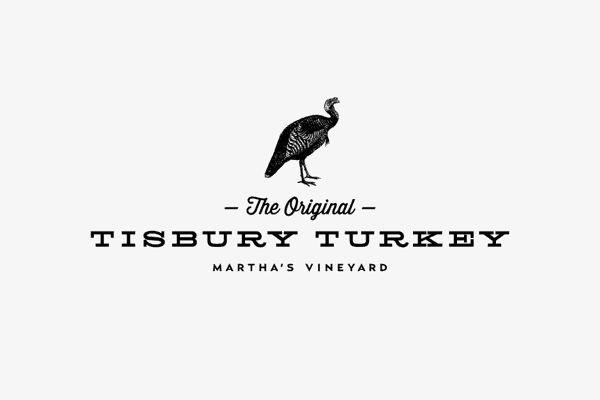 I have long been a fan of the work produced by Bluerock Design with a few of theirs being posted to Logo Stack: real world logo design inspiration.
However, it seems that I had missed the true awesomeness of their collective output due to only recently seeing all their logo designs up on their Behance profile.
They really know how to pull off that semi modern vintage feel, using really distinct fonts for the main brand wording, along with some really nice, and carefully used, imagery.
Feast your eyes on this lot.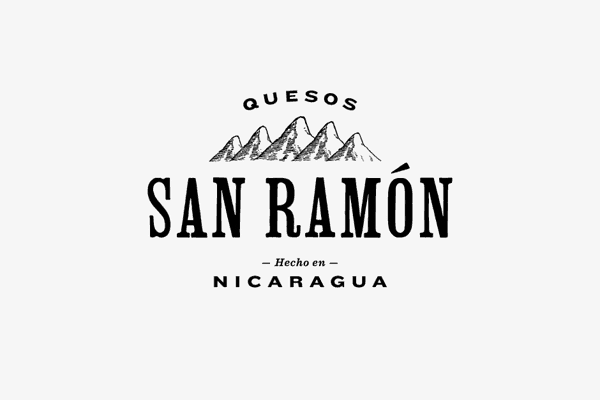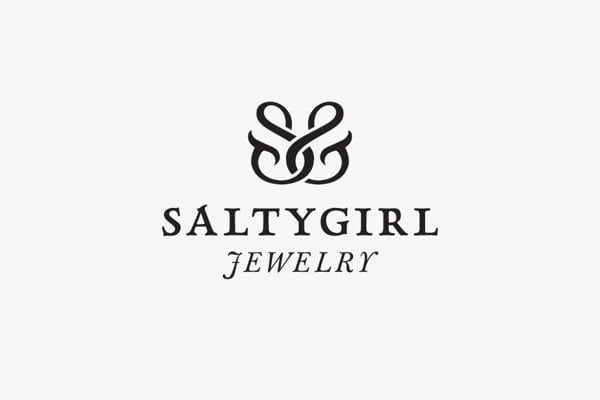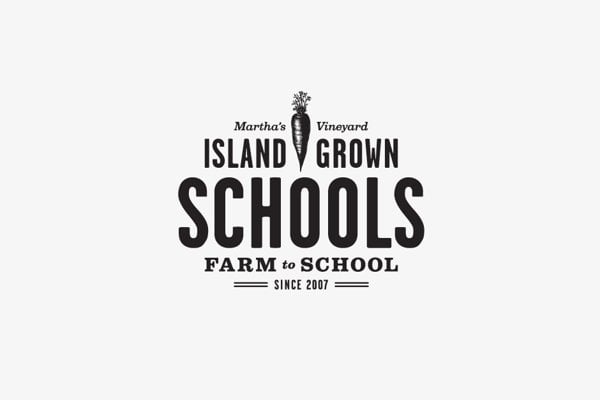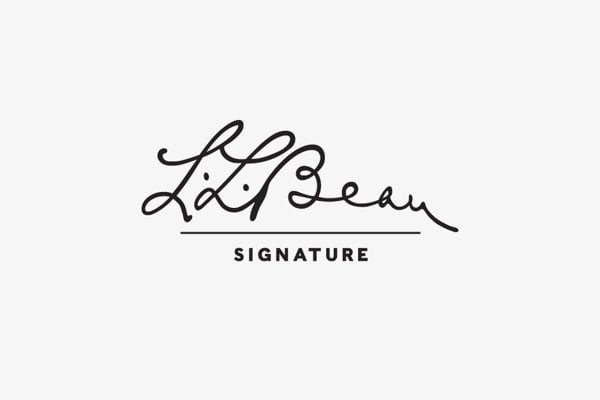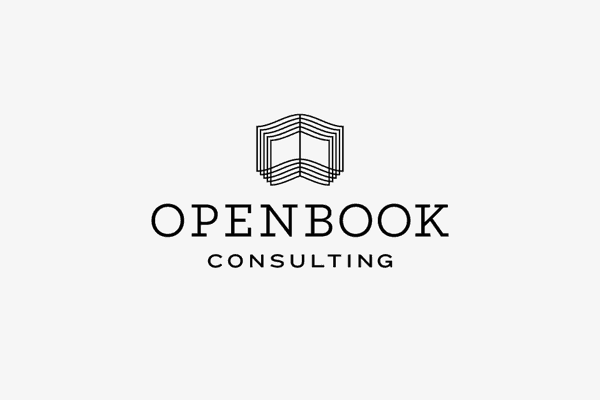 ---
Last Updated: September 14th, 2016
| First Published:
June 21, 2013
| Subscribe with
or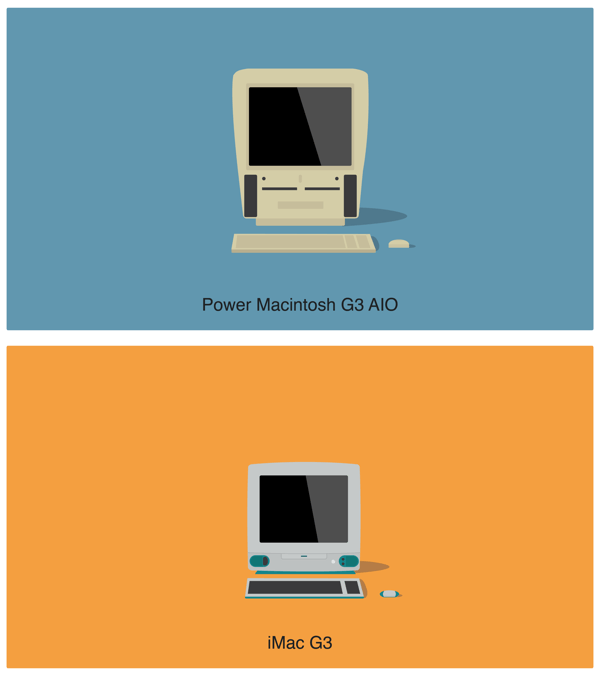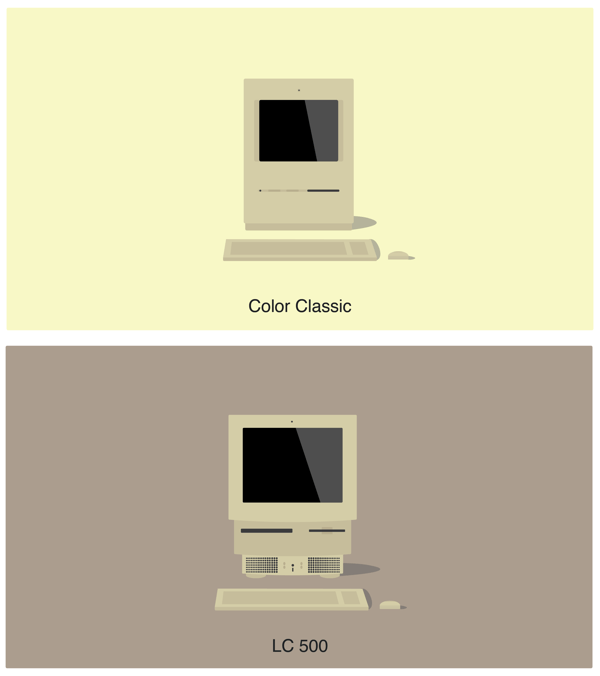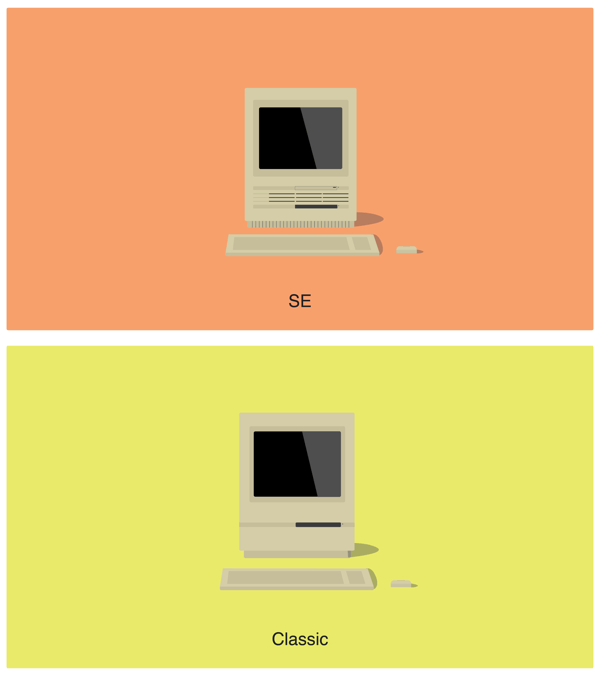 These 'History of Mac': illustrations Of Every Apple Macintosh Created, by Aakash Doshi, really are brilliant. Loving the general illustrative theme through out the entire Macintosh range. The project isn't yet complete which is why there are still a few models missing, but these should be added in time.
Such cool memories of a time when computers like this, and the Commodore 64, just filled me with such awe and excitment!
» Via: http://parislemon.com/

---
Last Updated: September 14th, 2016
| First Published:
April 25, 2013
| Subscribe with
or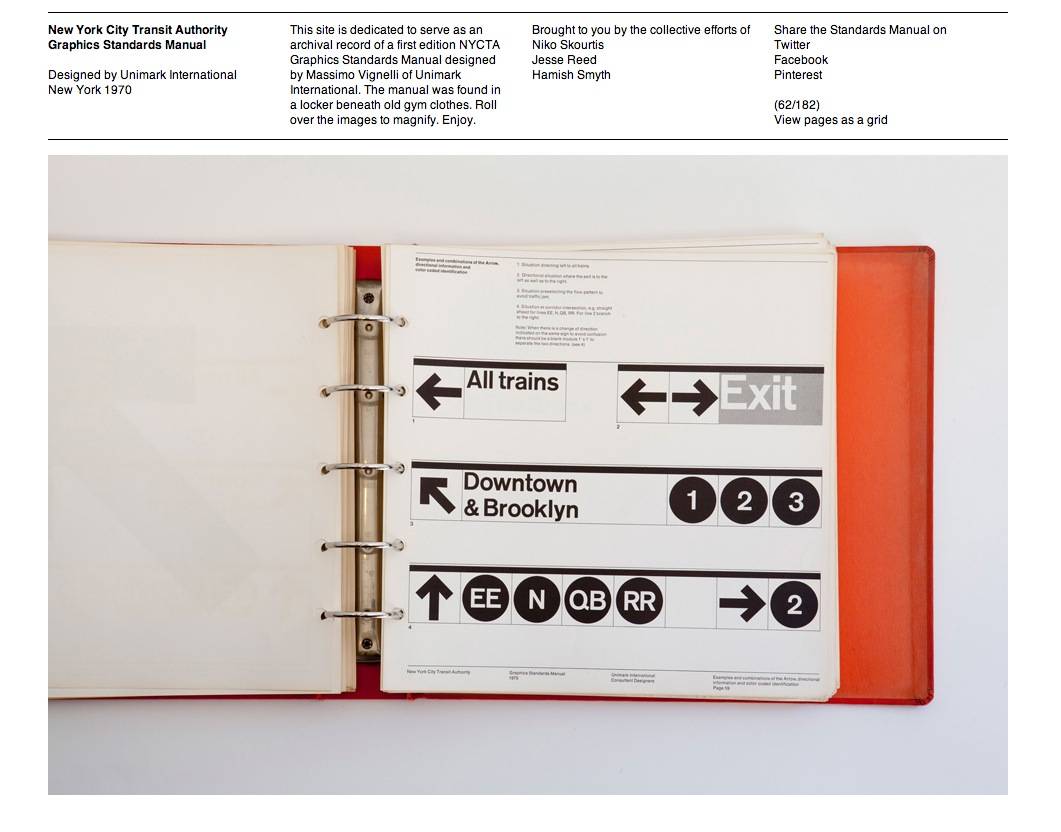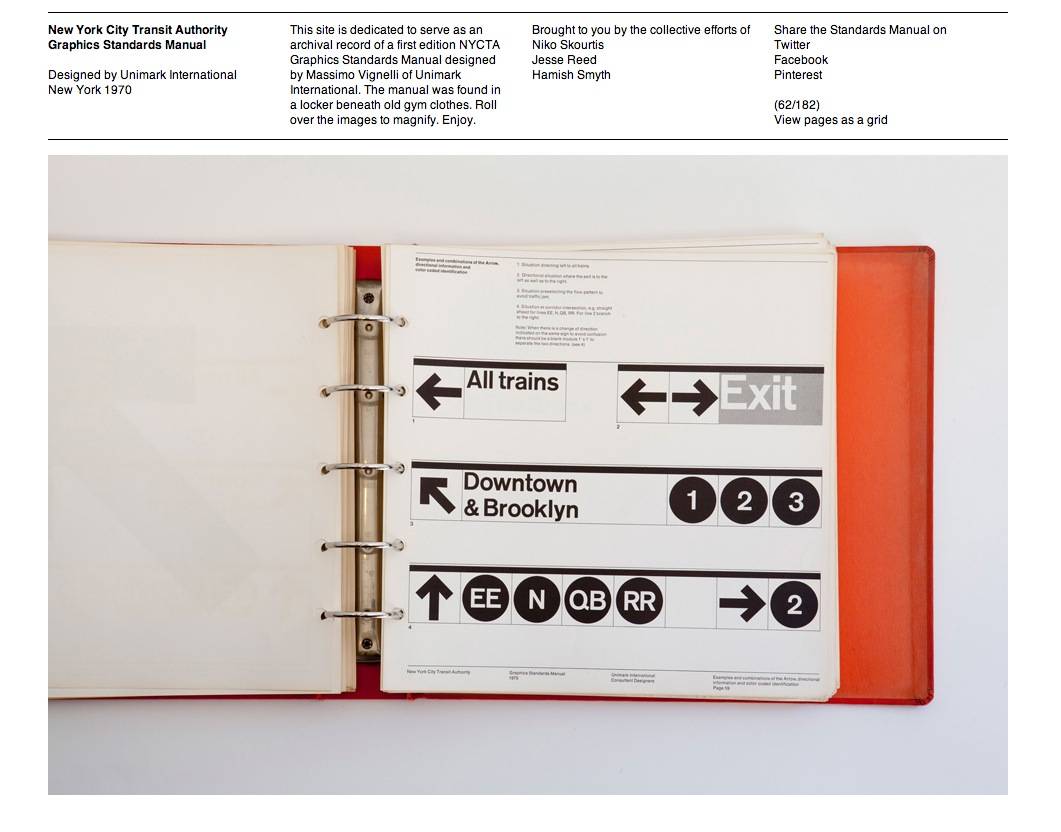 New York City Transit Authority Graphics Standards Manual
There are a few real world establishments that can claim to have the endearing longevity that the brand identity for the New York City Transit Authority has had and continues to experience. Designed by Massimo Vignelli of Unimark International, in New York in 1970, the New York City Transit Authority's brand identity has achieved cult status amongst the creative community.
Niko Skourtis, Jesse Reed and Hamish Smyth have collectively created this archival record of the New York City Transit Authority Graphics Standards Manual by Massimo Vignelli. This site is dedicated to serve as an archival record of a first edition NYCTA Graphics Standards Manual designed by Massimo Vignelli of Unimark International. The manual was found in a locker beneath old gym clothes. Roll over the images to magnify. Enjoy.
The http://thestandardsmanual.com micro-site is dedicated to the graphics standards manual of the New York City Transit Authority, and has 182 photographs showing each page of the binded manual. Stunning.
» Source: New York City Transit Authority Graphics Standards Manual
» Via: BrandNew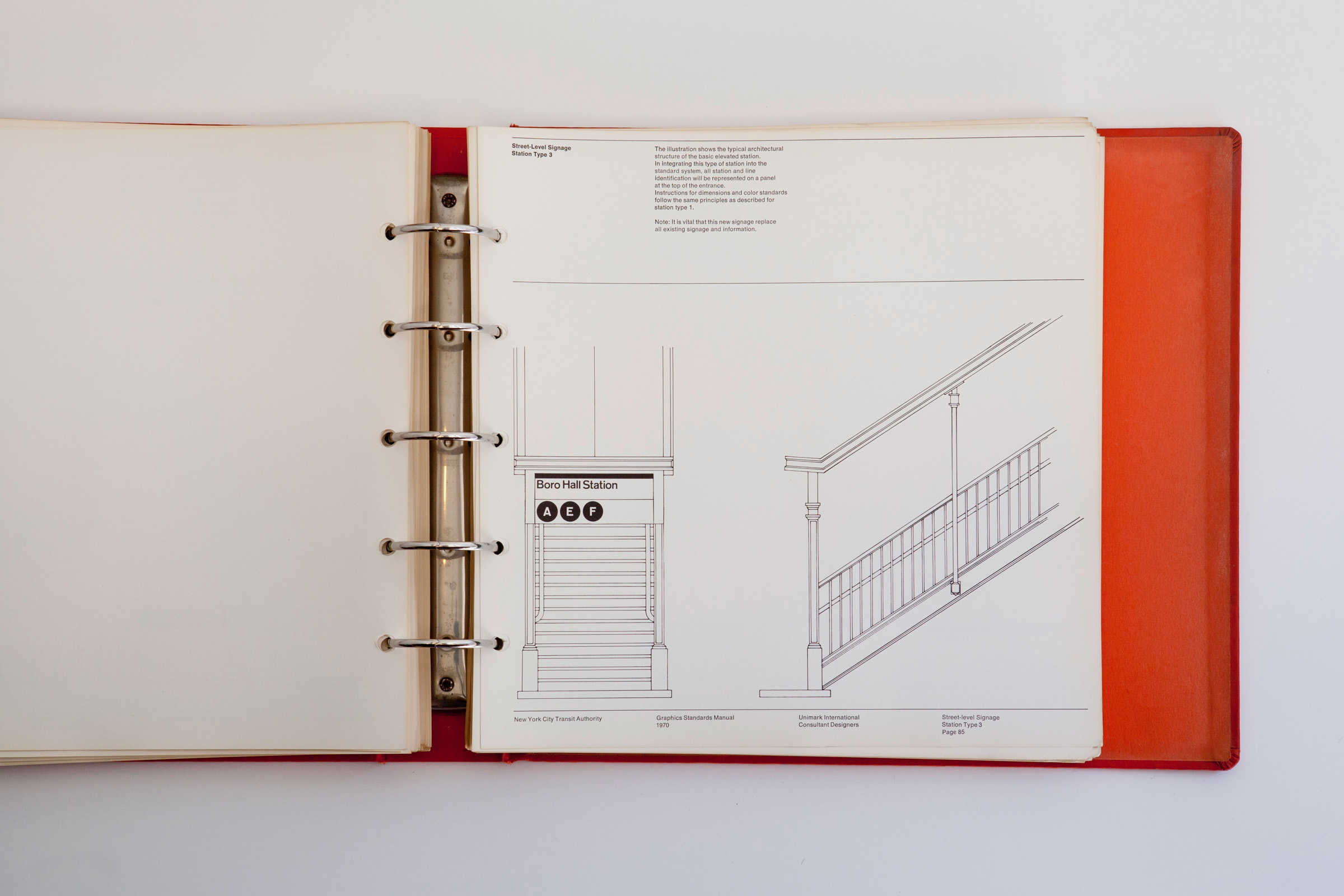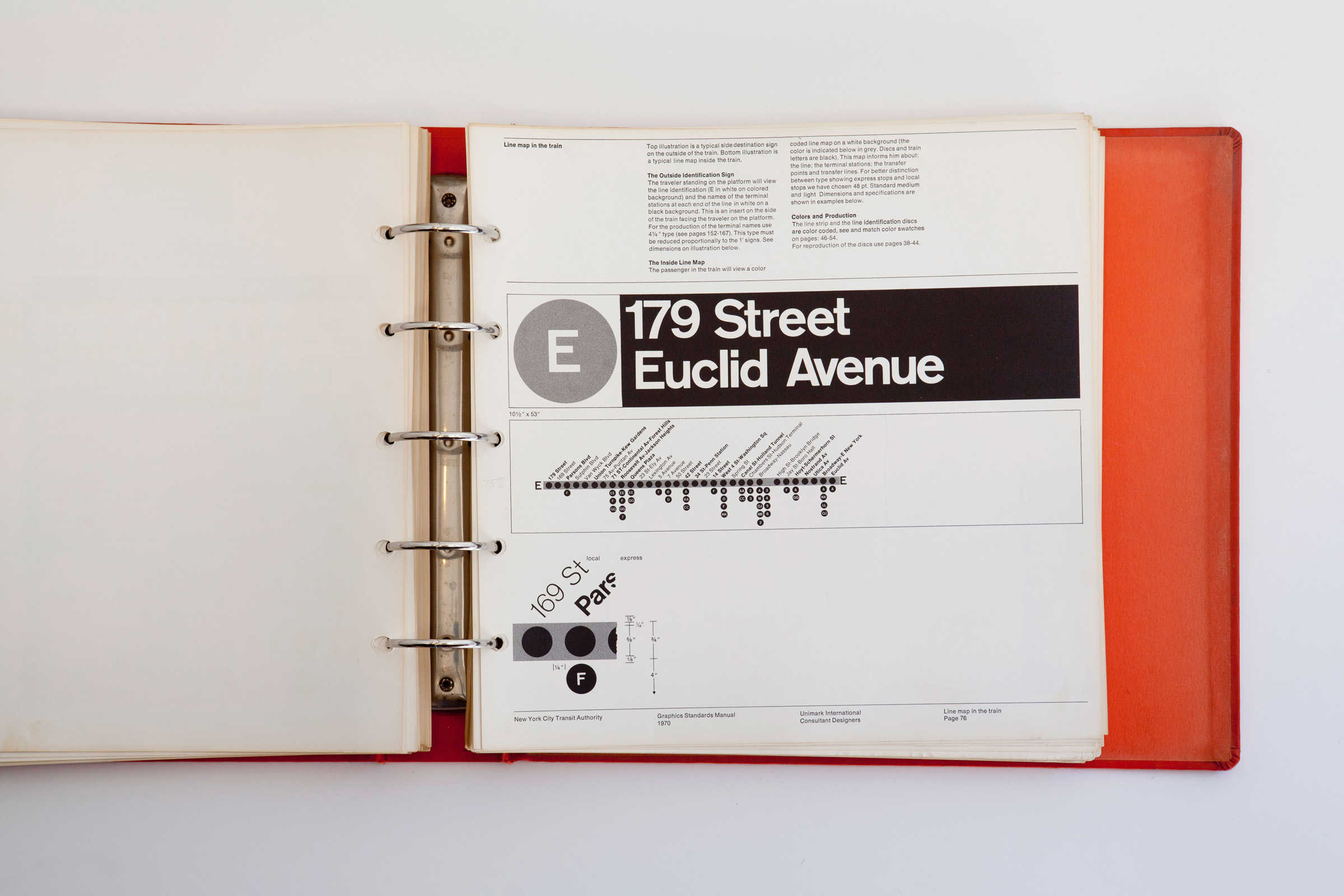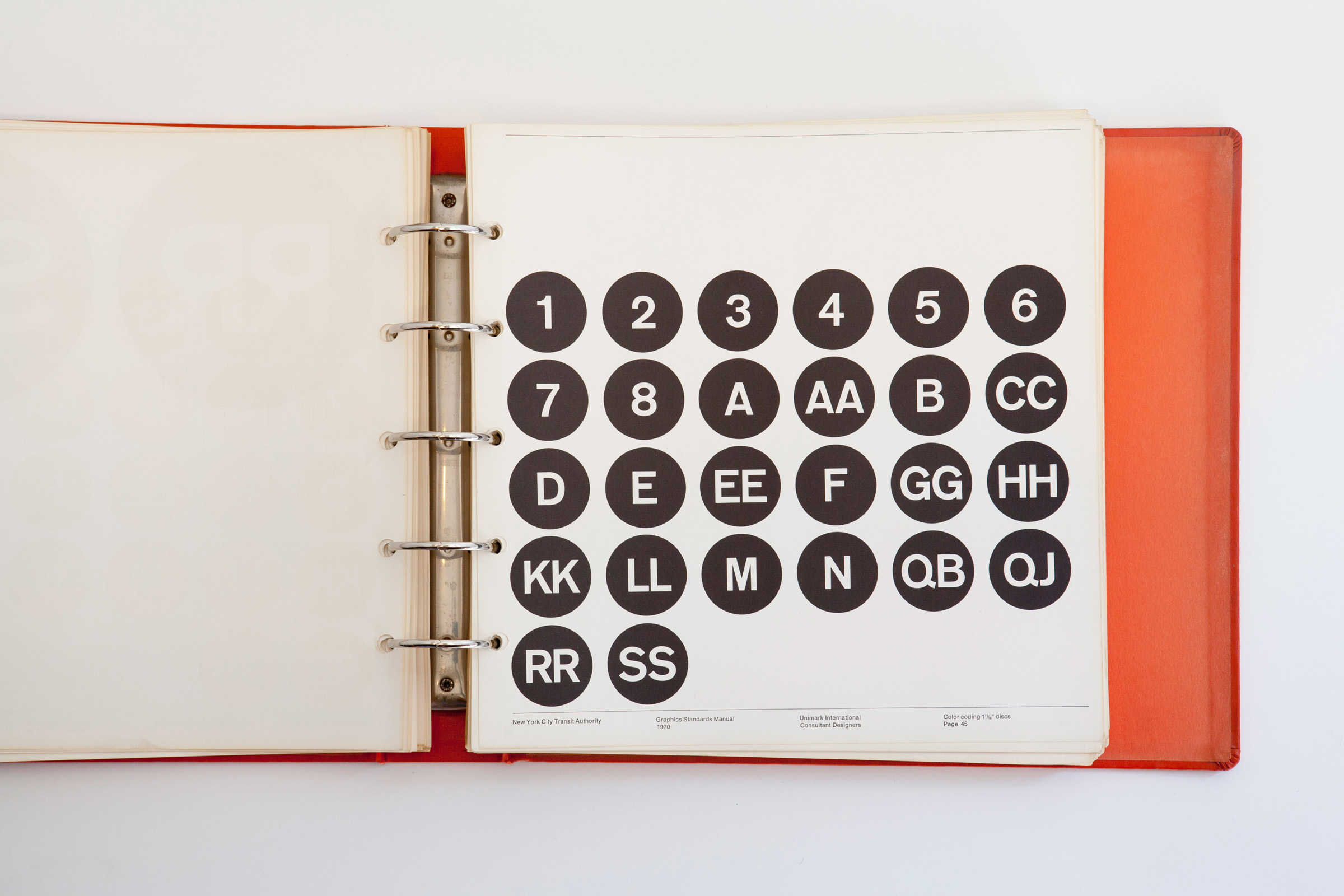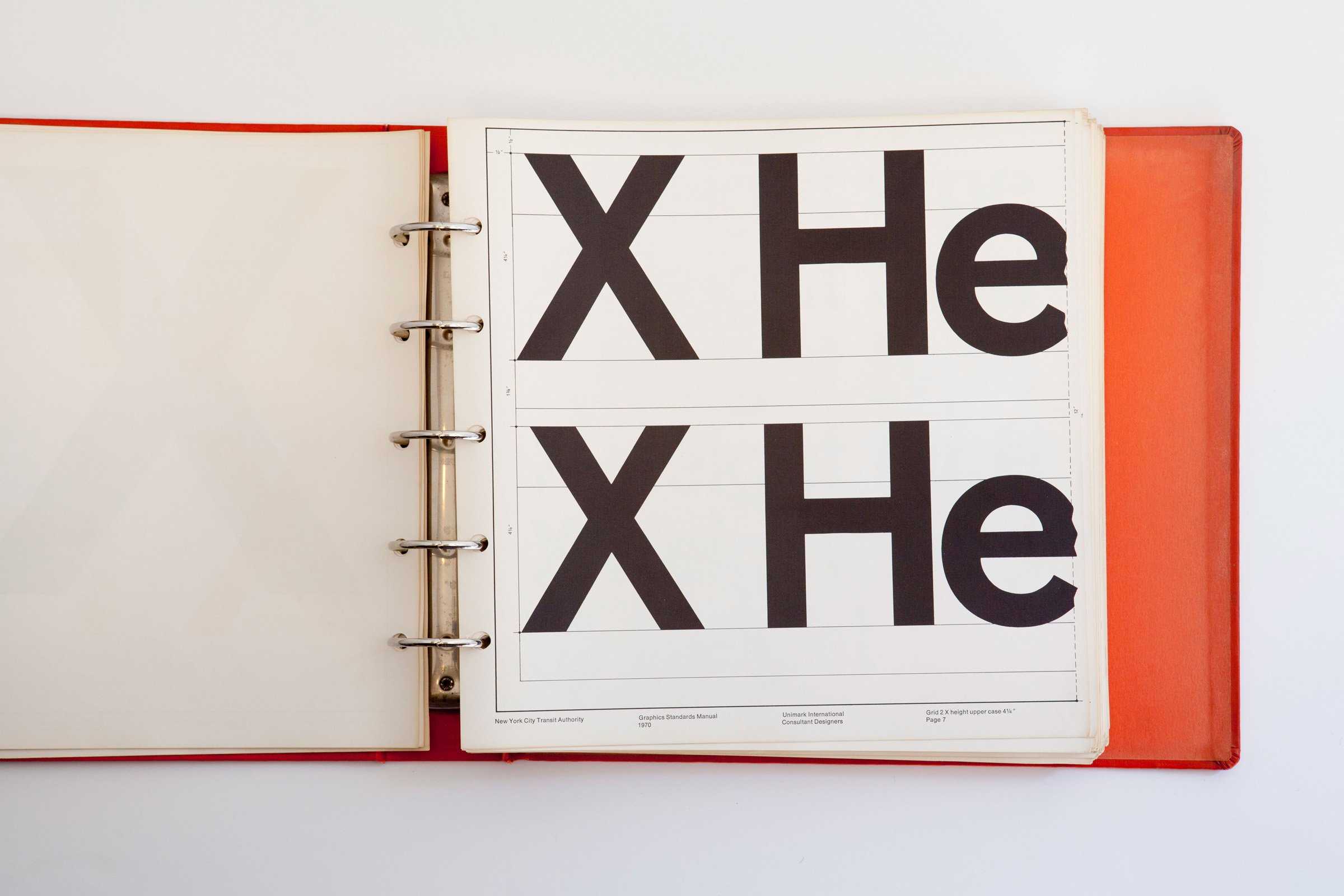 ---
Last Updated: September 14th, 2016
| First Published:
April 4, 2013
| Subscribe with
or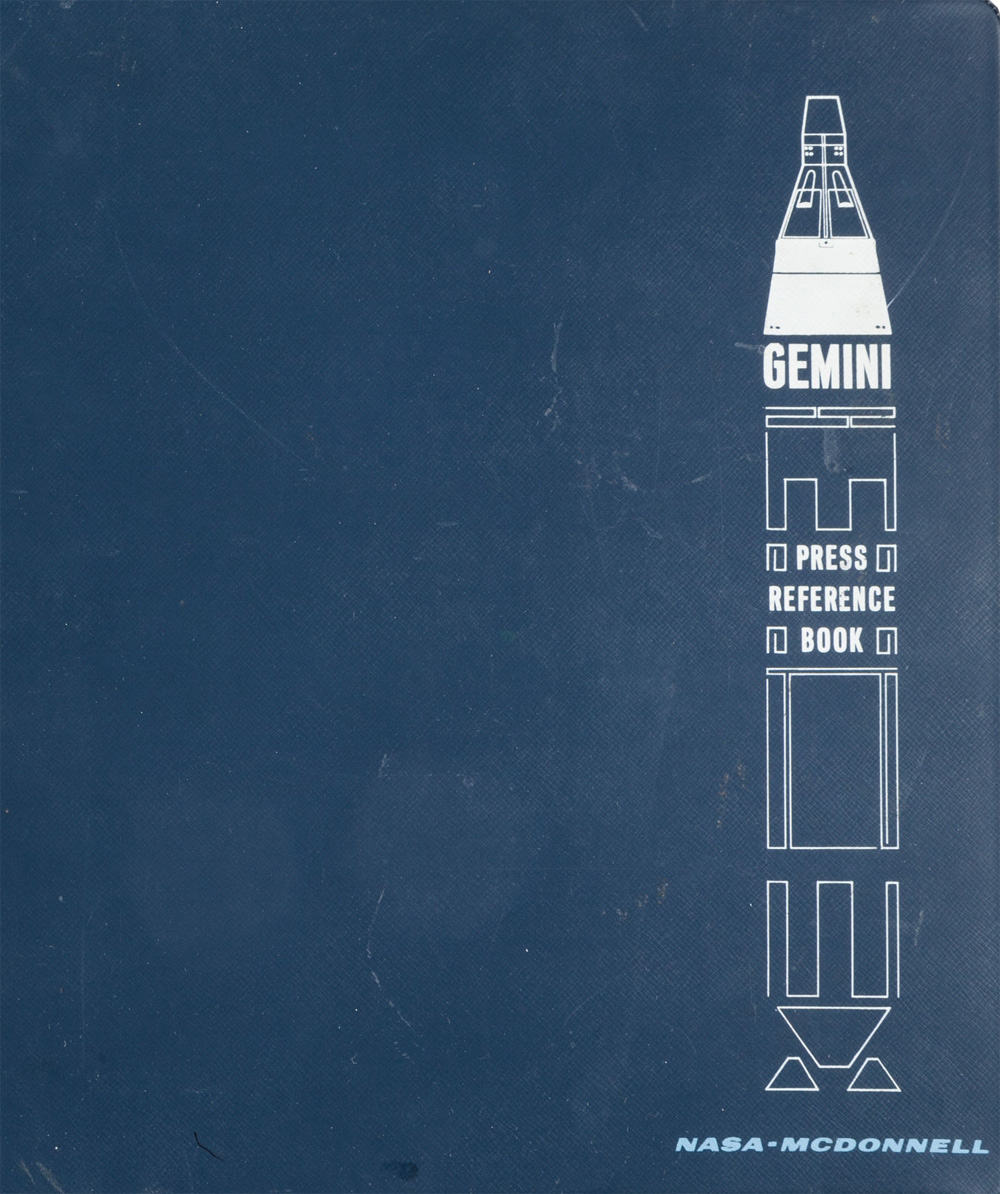 A stunning collection of 20 American space (NASA) program: covers, reports, brochures and other vintage era space themed design and typography all from an upcoming: 2013 April 18 Space Exploration Signature Auction by Heritage Auctions.
Just trying to imagine the excitement of having the responsibility to create such historic pieces of design. My favourite cover is this last one above for the Gemini Press Reference Book, but in general there is some gorgeous typography through out the entire collection.
» Via: Daring Fireball
---
Last Updated: September 14th, 2016
| First Published:
July 15, 2012
| Subscribe with
or
Meg Jannott has taken up a historical branding project: branding the 44 United States Presidents in 44 days. Meg is a designer working out of Detroit, Michigan.
My two favourites so far are: First President of the United States George Washington, 1732-1799; and Third United President of the States Thomas Jefferson, 1743-1826.
Via IfItsHipItsHere: "At the time of this post, she has completed 21 of the altered vintage photographs combined with typographical treatments of the names, nicknames and/or slogans of our past political leaders. The results would make wonderful book covers and while some are undoubtedly superior to others, seeing them all together makes for an interesting and appealing collection."
» Referencing Original Website: http://brandingtheuspresidents.tumblr.com
---
Last Updated: October 26th, 2015
| First Published:
June 12, 2012
| Subscribe with
or
Home Leisure Direct is another ongoing logo project that has me burning the midnight oil. Currently working some very preliminary concepts and ideas so this is very much early days.
The client has expressed a desire to explore a modern vintage style of look for the logo, so for the above example I have used UWFT Ultramagnetic for Home/Direct, and a recent font purchase called Thirsty Script which I covered on Type Heroes. I have also played with more defined distressing for both font styles.
Enjoying this project and there will be more concepts to come I'm sure.
---
Last Updated: May 9th, 2014
| First Published:
June 10, 2012
| Subscribe with
or
I am that person that will often judge a book by it's cover, and the same goes to fonts listed on MyFonts. I am far more likely to take notice if there are some aesthetically pleasing gallery images to sell the font.
Case in point: Thirsty Script by Yellow Design Studio. I'm generally a sucker for lettering fonts like this, but add some lovely gallery images and you'll have me by the balls. Particularly enjoying the lime green palette, but also check out their great descriptions:
Enticing descriptions are also important: Thirsty Script from Yellow Design Studio is a contemporary script conceived as a marriage of elements from vintage signage scripts, Wisdom Script, Deftone Stylus, Lobster and even Proxima Nova. The result is a typeface with a 'new meets vintage' vibe. It's friendly with an edge... a mixture of retro script, modern sans serif, and a shot of caffeine.
You can grab the entire Thirsty Script type family for a silly price $18, which includes: six weights from Light to Black, old-style figures, contextual alternates (for a slightly more traditional feel), multiple language support, and a handy selection of ligatures and stylistic alternates.
So for $18 instead of the regular $89 I see no real reason why you shouldn't purchase Thirsty Script right now!
Type Hero for Logo Designers
Type Hero is where I pick out certain fonts and typefaces that I find particularly cool. For the most part the font choices will be geared towards styles that I feel could work well in a logo design.
MyFonts has become a steady source of font inspiration, so many will be sourced from there, but I will also highlight fonts direct from font foundries when possible.
---
Last Updated: May 9th, 2014
| First Published:
June 1, 2012
| Subscribe with
or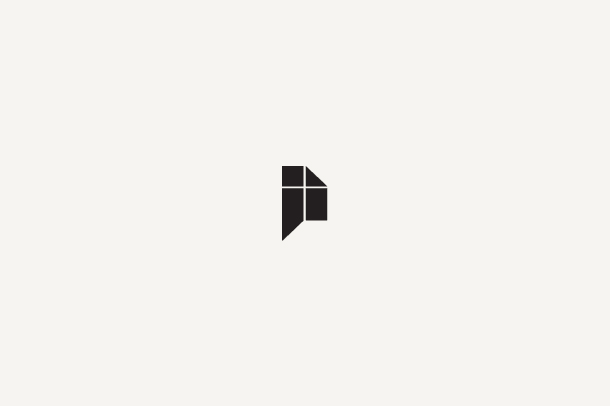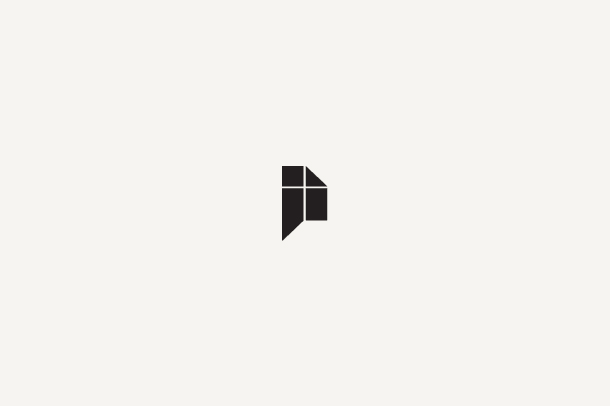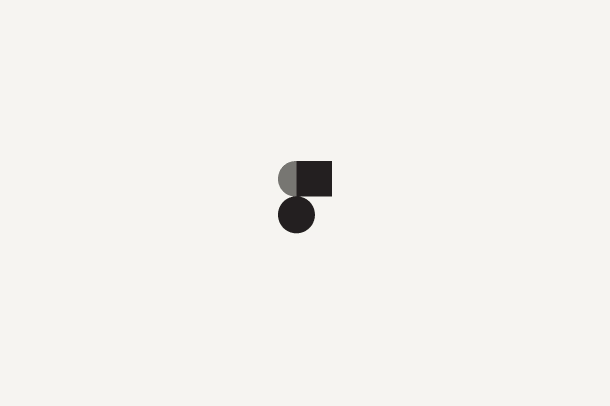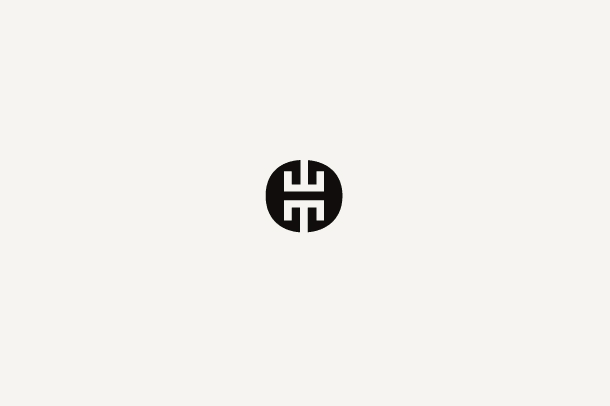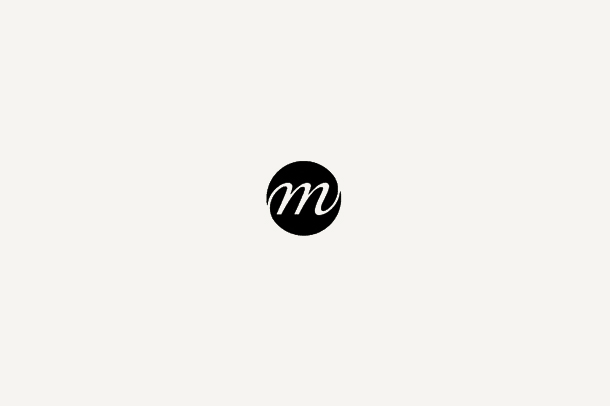 I purchased a certain book a few years ago where it sat oh so quietly in my cupboard still wrapped up in cellophane. Then yesterday I happened upon an article on Thinking Form called Thinking Adrian Fruitiger.
In this article I saw some marvelous images covering logo designs (above is just a tiny slimy selection of his logo designs), typefaces, posters and other superific creative endeavours from the uber talented Adrian Frutiger.
Turns out Mr Frutiger turned 84 on the 24th May.
It also turns out that all these images came from a book called Adrian Frutiger Typefaces: The Complete Works
which I still had sitting in my cupboard.
I find it a little curious that I would forget about this incredible publication given it's price, size and weight. But hey ho. It's now been opened and it's providing me with much creative porn.
If you live, breathe and sleep design then this book is a worthy purchase. Just don't forget you ordered it like I did.
K Found on http://thinkingform.com
---
Last Updated: October 26th, 2015
| First Published:
May 25, 2012
| Subscribe with
or

Beautiful Alternate Twitter Logo From The 1920's By Ale Paul
This Alternate Twitter Logo From The 1920's immediately caught my eye.
The choice of font and colours matched with the Twitter brand name just makes this vintage Twitter logo sheet a rather beautiful specimen.
The font in question is called Storefront which can be found on Sudtipos: designed by Argentinian designer Ale Paul (@alepaul on Instagram). Definitely worth heading over to Ale's Instagram account and giving this Twitter logo a good old favourite.
K Found via DesignSoak & WeLoveTypography
---
Last Updated: May 9th, 2014
| First Published:
May 6, 2012
| Subscribe with
or
Polamatic App by Polaroid™ (AppaDana)— Brings back the instant Polaroid magic (and hopefully set-off an app war with Instagram/FaceBook?)
Polamatic is an officially licenced iOS app from Polaroid: awesome. Read more on this: Polaroid Polamatic™ Mobile Application for iOS
Wouldn't it be great if Polaroid, as well as now having it's own iOS photography app, also had it's own sharing network? A network that could instantly and realistically compete with Instagram and would likely see quite a significant take-up by Instagramers.

Polamatic is a great looking app and has some lovely features. The main one being each photo is based around the physical Polaroid prints with the thick white borders. One has a selection of scanned -in, not computer generated, Polaroid frames as well as the requisite filters with more options available as in-app store purchases.
It just feels so right to be using a faux Polaroid branded iOS app.
Your photo can be shared directly with Instagram, Flickr, Twitter, Tumblr and FaceBook. I have already placed Polamatic next to Instagram on my iPhone home screen.
Polamatic only costs £0.69 as well and you can download it via iTunes: Polamatic | Made in Polaroid
From PR NEwsWire: Offered by Appadana Development, an authorized Polaroid licensee, the Polamatic app brings back the instant magic of Polaroid pictures to mobile devices. Users may select from 12 frames with clever names like "tape," "crumpled" and "kinda new." Unlike other photo editing applications, the frames are not computer generated. Instead, they are high quality scans of new, used, and vintage Polaroid Classic Border frames, giving pictures a unique classic style.
The app also features 12 photo effects for customization with fun names like "chroma," "gelatin" and "pyrophoric." The photo effects allow users to apply a number of color and tone adjusting effects to their pictures. Whether users wish to apply sepia tones, or a rosy hue, this application has a plethora of effects to choose from. Users may also add text to their Polaroid picture, choosing from 12 different fonts.
Your Polaroid pictures can be saved and easily shared via Facebook, Twitter, Flickr, Tumblr or email, making this application a must for bloggers and social media enthusiasts who want to add Polaroid pictures to their visual posts. Users may also save their pictures directly to the iOS photo library, with the tap of a button.
The Polamatic app store allows users to purchase additional frame formats and effects. From the Polaroid Vintage Pack upgrade, users can select an additional 12, authentic, high-resolution scans of Polaroid Classic Border picture frames from multiple eras. For those wishing to add a touch of color to their photos, the Polaroid Chroma Pack upgrade includes 10 colored Polaroid Classic Border picture frames. The Photo Effects upgrade offers 12 added photo effects allowing for more customization options.
Feature Highlights:
* Easy to use, intuitive interface produces quality edits in seconds
* 12 authentic Polaroid Classic Border picture frames
* 12 photo effects for innovative pictures
* Easily share via Facebook, Twitter, Flickr, Tumblr or email
* Control flash, grid, and front or rear camera
* In-App purchases provide additional borders and photo effects
"Bring back all of the magic of Polaroid pictures on your iPhone," stated Appadana Development's Dana Shakiba. "Polamatic makes your pictures come alive with classic Polaroid style."
Device Requirements:
* iPhone, iPad, or iPod touch
* Requires iOS 5.0 or later
* 41.5 MB
© 2006-2016 All Rights Reserved
The Logo Smith: Logo & Brand Identity Design Studio, with 25 Years Experience,
in Cahoots with, The PR Room - Public Relations Agency: Tech, IoT & Smarthome PR Services.

Graham Smith: 10 Badgers Copse, Seaford, East Sussex, England.
Tel: +44 (0) 7816 527 462 - Email: [email protected]