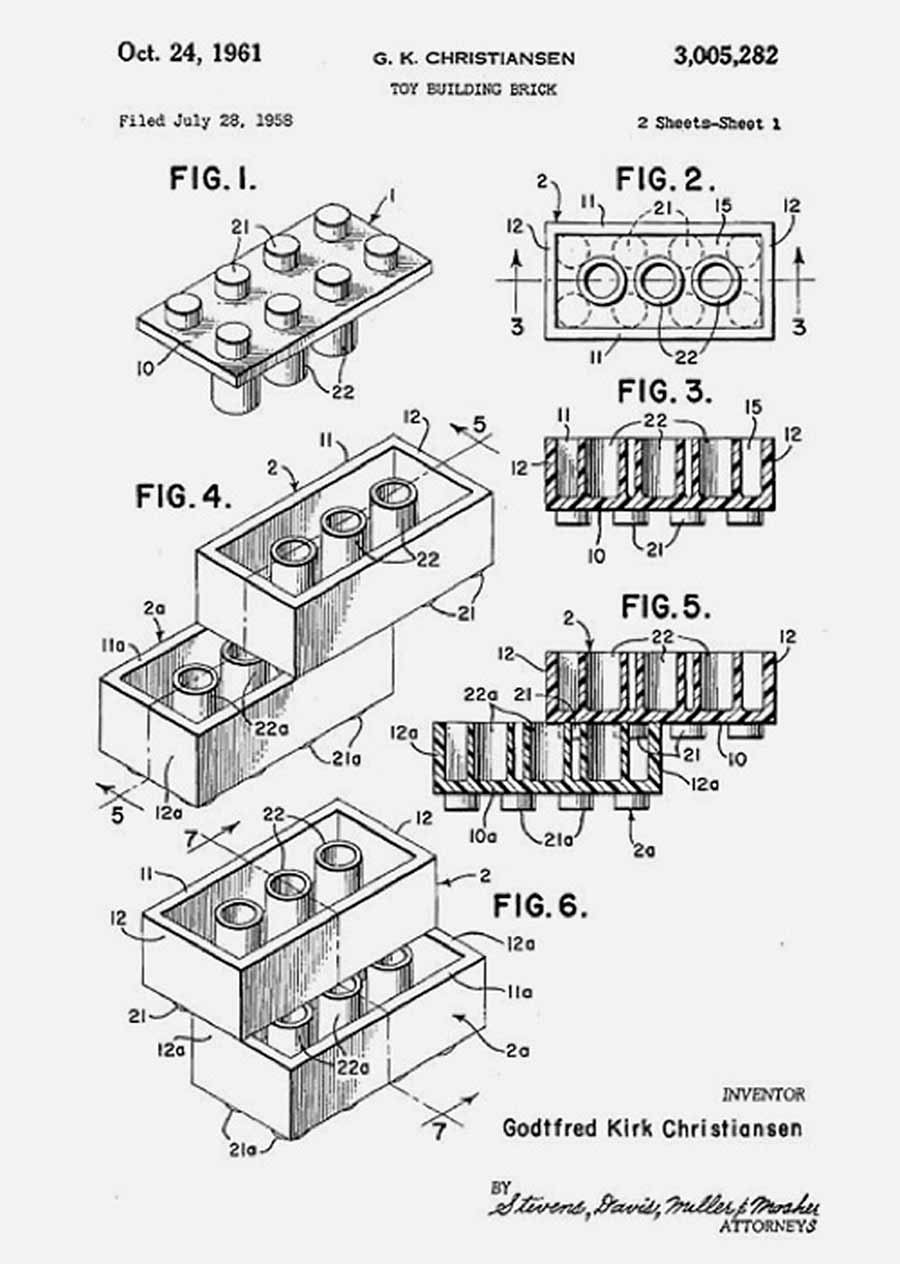 Came across this: The Original Lego Brick Patent (Filed 1958), by Godfred Kirk Christiansen, earlier this morning over on Khooll.com, and it was certainly an intriguing find to start off this Monday morning.
So a little history: You'll notice on the top of the patent, that the name is stated as G. K . Christiansen, yet the company was initially started by a certain Ole Kirk Christian. He was a Danish carpenter, who during an economic depression, and almost going bankrupt, started making these wonderful wooden toys.
Ole started selling them from his workshop, and these wooden toys, more specifically his company, eventually received a name: LEGO, and become the LEGO Group. The reason why the Patent is in Ole's third son's name, Godfred Kirk Christiansen, is that Ole passed away at the age of 66, and Godtfred took over the business, and subsequently filed for the LEGO patent in 1958.
What I didn't know was that LEGO is formed from Danish words: :"leg godt" meaning "play well". Lego also translates into Latin as "I put together".
Now, if only other companies would put as much thought into their brand names as Ole Kirk Christian had done. 
---
Whilst I'm talking LEGO, I may as well mention that one of my most prized logo and and brand identity projects, PureStorage, had one of it's it's Flash Arrays, and logo, made entirely out of lego. Now that was so so cool to see: PureStorage Logo in LEGO
As much as this article, recently published on Sitepoint: 6 Common Logo Design Mistakes, written by Kerry Butters is important reading for the more fledgling crop of logo designers, this article is also a useful read for clients so they can be a little more informed when considering hiring potential logo designers.
It's hard enough for any client to sift through the 1000's of potential candidates of available logo designers, let alone ending up in frustrating situation of hiring a designer who isn't aware of the more common pitfalls when designing a logo.
I think it's reasonably fair to say that a lot of these mistakes will be found in sites like 99Designs, and Fiverr, where emerging logo designers sell their collective souls to the devils entourage of thrifty (cheap) business owners.
It would obviously be bad-form for me to repeat word-for-word what Kerry has written—I mean, who would do such a thing—but I will list each one of the logo design mistakes, and add my own comments, as for the most part I have already posted articles on the topics mentioned.
You can either skip this post right now, and head straight over to 6 Common Mistakes in Logo Design, or you can do me a kindness and carry on reading before departing this station for your destination.
Here are the Top 6 Common Logo Design Mistakes
#1
Top spot for logo design mistakes goes to creating your logo in Photoshop, or any similar bitmap photo editing suite, Resolution-dependant Raster Graphics: You just don't want to do this, never ever. Never ever and never ever ever, and even just for shits and giggles. It's bad form, it's bad practice and it just completely messed up. Kerry has a solid explanation of why designing your logo using pixels, instead of vector graphics, is just off the scale utter badness.
#2
Second place goes to, Following Gimmicks, Trends & Fads: I've covered this a few times myself, like with the post: Logo Design Trends Come and Go – It's an Oxymoron as it is a hard one to actually give a completely back and white answer/explanation for. On the one hand the current trend might actually have merit, and value in terms of how it might effectively communicate a visual message, thus it would be silly to completely ignore such a trend. The flip-side is that it can be the curse of the lazy, and/or completely unimaginative, which is where the real danger lurks.
Experience will guide you, and the fine-line between taking inspiration from a current logo design trend, or falling ridiculously and naively slave to it can effectively be negotiated.
I guess my own tip-top-tip would be: allow yourself to be inspired by a trend, but not to be blinded by it.
#3
Third place goes for logo design mistakes goes to using inappropriate font styles and typeface families, Ill Advised use of Typefaces: This again, and I think mostly comes down to, inexperience or completeness ineptness, and having no sense of style, aesthetic matching etc. Restraint is often your best friend in selecting the appropriate font for your logo. It isn't so much about finding the ONE right choice, but more about being in the right general font style area/theme. As much as using either a serif or sans-serif font could be an appropriate solution to your logo, it could also come down to much a finer difference to if the chosen font will work, or not.
I have obsessed over a selection of maybe 6 closely styled typefaces for a logo, and the chosen one actually comes down to the actual range of letters used in one font over the other 5. The 'e' maybe just nicer than those in the other 5, same with the 'g', but then I might not like any of 'f's, so in this case I'll simply create it myself.
#4
Fourth place for grievous logo design practices goes to, Aping Successful Brands: This one I can keep simple and short, which is often hard for me because I do like to ramble so. You know about fine-lines? Well, this is finer than you've probably ever experienced before. Often there are just two remarks given to a logo that, shall we say, shares or resembles another, and especially a more prestigious and establised brand.
What you want to hear if you have designed a logo that should end up 'sharing' certain qualities with another is, "That logo design for "Blah" was clearly inspired by the logo for "Super Blah". That's OK, for the most part. What you don't want to hear em-masse, is, "Well blow me, that logo was clearly copied/plagiarised/stolen from "Super Blah", and that's not how you want to be remembered as a logo designer.
Just ask Jeff Fisher about being on the other side of having ones logo designs plagiarised, poor chap, and he really does get the brunt of it. 
Ha. Keep it simply and short Graham? Yeah, sure.
#5
Fifth place for messed-up logo design practices goes to Over-complicating Things: restraint is your friend once again, and I think practicing restraint is probably one of the more useful skills to have, it's a bit like mastering the act of doing less to achieve, well, less.
Some logo design styles work really well with numerous font styles, elements and colours, and these usually come down to the more vintage/modern-vintage style (crests, emblems, signs, badges etc) of logo design. Any other style of design then one really needs to keep those horses completely steady under starters orders, until the trace finishes, with no horses having left the gates, if that makes any sense at all. What I mean is you just need to be 'that' in-control of your inner creative desire to add this-and-that until what you are left with is a fabricated monstrosity of eye bleeding pixel piercing ugliness.
#6
Sixth place goes to, Being Over Literal: another topic I wrote about a short time ago called: The Curse of Literal in Logo Design [AQFG], and another one where inexperience usually is the mischievous grinning gremlin in control over your design output.
It's also slightly subjective, and not so black-and-white, because sometimes being literal might just be the more appropriate solution, but if that's the way you'r gonna go, then it has to be taken with the larger visual identity in view, to help provide balance and context, and maybe even a cheeky or quirky tag-line suggesting that, "yeah, we know our logo is literal, but so is our method". The real problem with going the literal route is if you literally can't think outside the box, and/or completely lazy, and/or just bored, but worse of all? Using clip-art for that finishing touch.
And what do we come away with after taking all this in?
It's not hard to see that I have tended to point-the-finger at the lesser experienced logo designer, but that is unfortunately a reality that can't be completely ignored. It's a logical conclusion based on ones lack of experience resulting in 'common' errors. Each mistake in this post can be addressed, and put right, by anyone who is making such mistakes, some more easily than others, for sure.
I would say that getting to grips with font and typeface selections is the hardest one by far?
I mean crap, I've been at this gig for 25 years now, and apprenticed my way through traditional letter-pressing, old fashioned page make-up (bromides and gum) through the DTP revolution all the way through and up to the present, AND on occasion I still I have, and no doubt will still make, 'the not quite right font choice', and/or completely fuck it up.
I can look back through my logo design portfolio and still squirm at some of the font choices I made, and I'll still wonder what the hell I was on…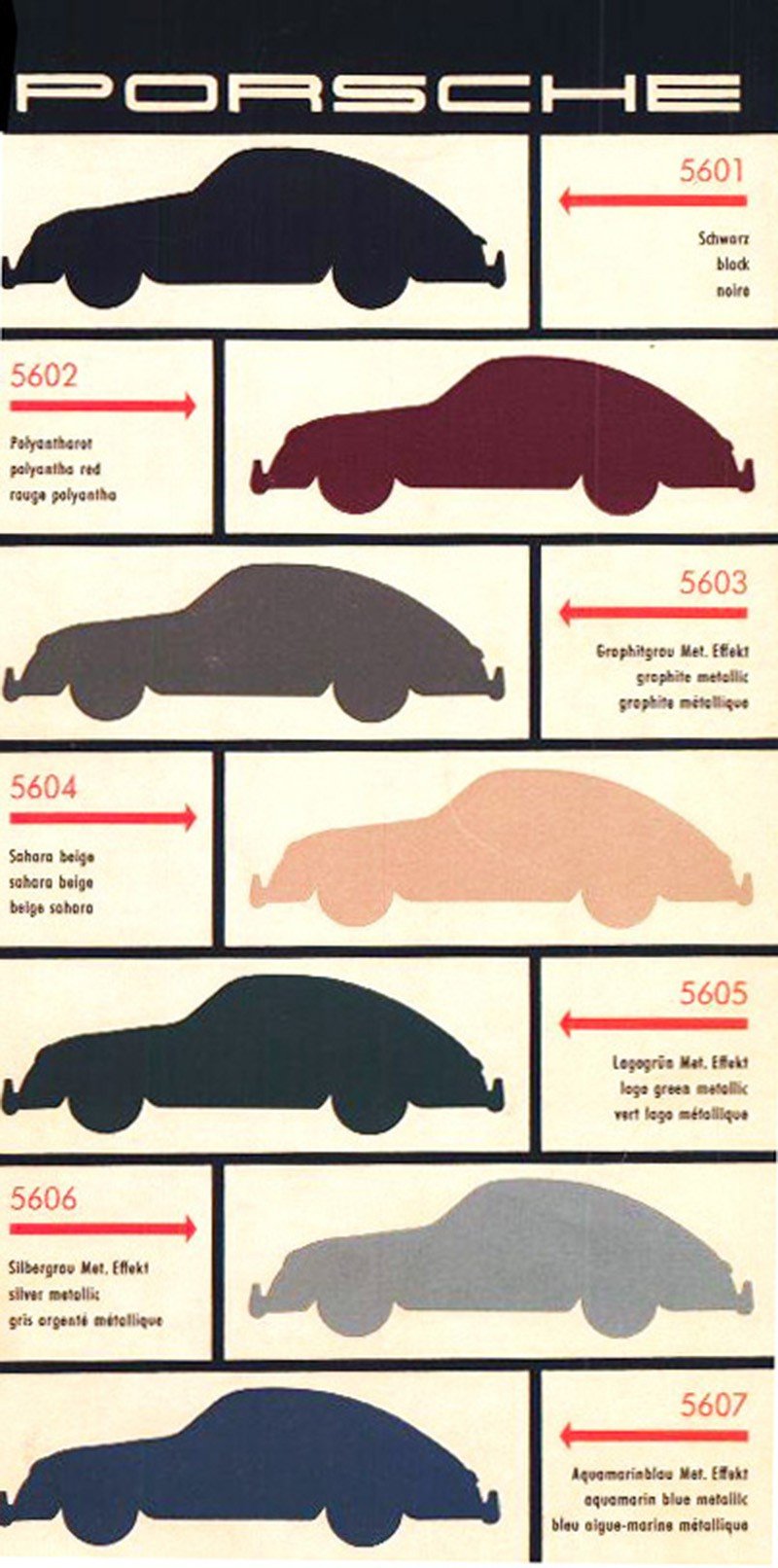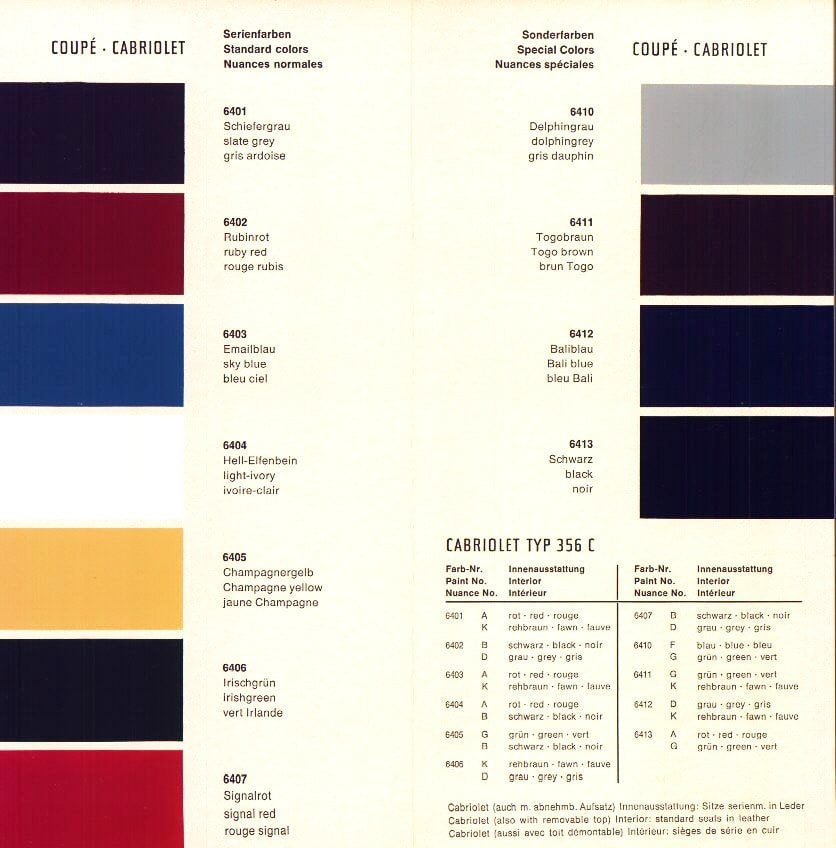 This Porsche 356 Color Chart is rather seductive. Little bit of auto creative inspiration for this New Years Day. Really liking the circular 'infographic' style graphic on the front page, quite rad.
Found via http://design-is-fine.org
Here's some tasty visual inspiration for a Sunday afternoon for you. In terms of nailing the marking and promotion of their vintage style font, Antrepo sort of hit it smack bang middle of the head.
Awesome graphic design work, not to mention superb vintage style typography to really drive home the visual message of their font: Public Gothic.
Those vintage style cans are so perfect: the colours, the layout, the distress, everything about the graphic design is spot-on. If you don't have your own copy of the Public Gothic Typeface family, then seriously think about getting it at the following link: http://www.antreposhop.com/product/public-gothic-font-family
It's certainly a worthwhile addition to your vintage typeface collection. Here are some of the details:
Public Gothic
Font Family (5 fonts)
It is little industrial, little vintage, little condensed, little bold.
Public Gothic is our new retro typeface! PB family members are PG Square, PG Vintage, PG Circular, PG Federal, PG Little and Italic variation of PG Square, PG Circular, PG Little. It's compatible with any OS system.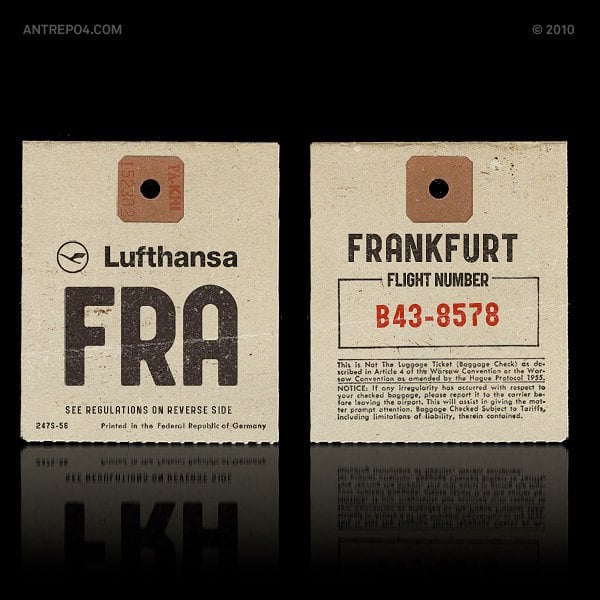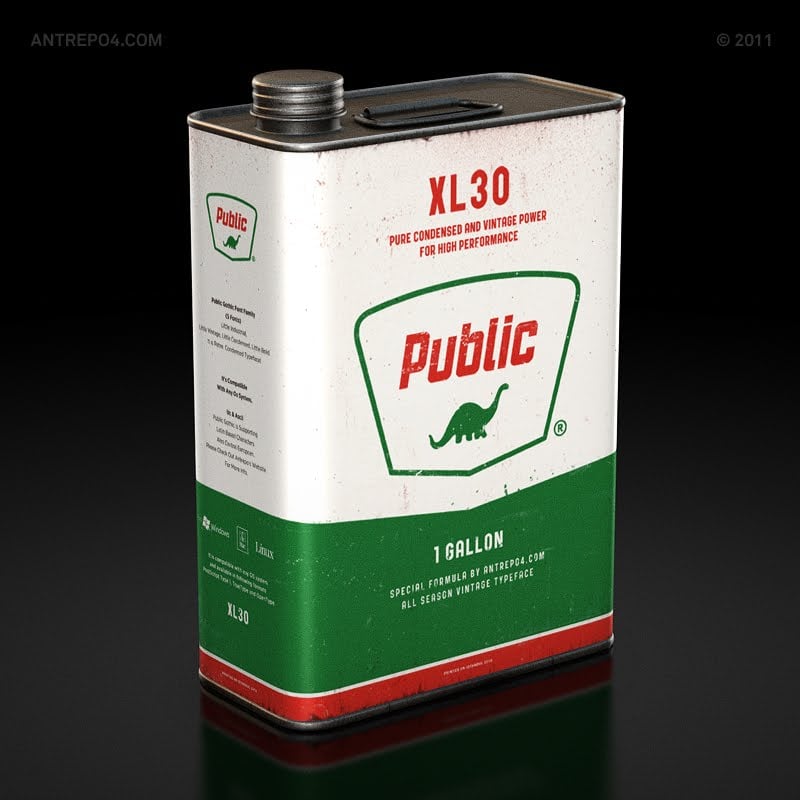 Totally love little logo trivia bits like this. Not sure I've actually seen, and took notice, of this particular design before, yet this version of the Coca-Cola logo was only designed, and used, for one whole year: 1890-1890.
Notice the adorable extra swirls and other fancy adornments. Awwww just so cute.
The previous Coca-Cola logo designed before it, even way back then, was more like the logo in we know and 'love' now. Interesting, that for just this one year, the logo would changed so significantly before quickly reverting back to the familiar script used now. What was the reason? Who was responsible? Was it a planned and temporary novelty-style logo where they always planned to revert back to the first style? So many questions.
With today's mentality (talking here about the importance of keeping ones brand image consistent, and not throwing it down the drain with hastily and ill considered changes), it might be too easy to look upon such radical, and short-lived, logo redesigns with shock and horror: how dare such a big company play so fast and loose with their company logo? I'm only 41 so it's a little hard for me to imagine how people back then viewed such changes—possibly made with such reckless abandonment—and might be fair to assume they simply didn't have the benefit of experience that we have now some 2000 million years later.
CreativeBloq: In 1890, a version of the logo was created and used only once, on the first calendar ever printed by the company. It features a style heavily reminiscent of musical notation and wholly out-of-kilter with the logo we know today. The creator of this design is unknown, but they certainly brought an unusual feel to the lettering.

It wasn't until 1893 that the first iteration of the logo we recognise today was unveiled. A slightly thinner rendering of the words Coca-Cola coincided with the company's early growth. Asa Candler had acquired the brand from Pemberton and the strategy was to outfit chemist shops with soda fountains. At this time syrup plants were built in Chicago, Dallas and Los Angeles.