All Archived Posts in Videos
---
Creative Morning Berlin #8: Nadine Roßa from Berlin/CreativeMornings on Vimeo.
Wasn't totally sure what to expect when I started watching this video by Nadine Roßa, but it is actually a wonderful look at how one lady finds the lowercase Sharp S (ß) one of the most delightful letters in the alphabet. It would be fairer to say that Nadine as absolutely passionate about the (ß) as can be seen from the wooden stamps above.
After watching this video I can now see the attraction to it and it comes close to the Ampersand in terms of it's quite unique form and structure.
After recently working on a logo project that involved Arabic translation—my fascination for more intriguing typography is at an all time high—I would jump at a chance to work on a logo that has the lowercase Sharp S (ß).
K Found on Ralf Herrmann
---
"Kick-Ass" Kinetic Type from Ryan Perera on Vimeo.
This kinetic animation is based around a scene from the movie Kick-Ass. I [Ryan Perera] used a hand-drawn esthetic to capture both the intensity and emotional value in the scene.
K Found on DoobyBrain
---
John Cleese - a lecture on Creativity from janalleman on Vimeo.
John Cleese tries to explain creativity and how to become more creative. The background of his lecture is scientific, the guide based on his own experience. This is really spot on and any creative professional will agree. Plus, it is really funny at the same time!
Enjoy and be inspired!
K Found via Danforth France and…
Video: "John Cleese - A Lecture on Creativity"i-0.us/time-and-timeBest presentation about creativity. Ever, ever.[via @danforthfrance]

— Merlin Mann (@hotdogsladies) April 9, 2012
---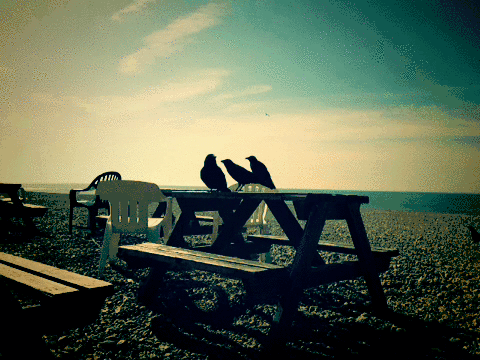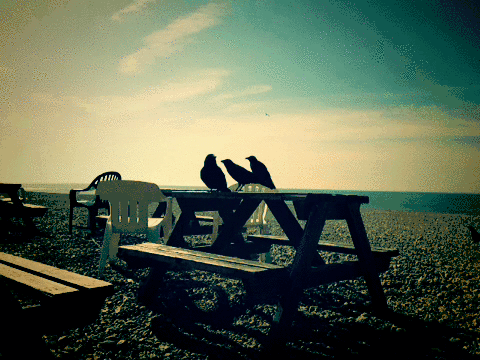 Only managed to do a few half-decent Cinemagr.am's but I am totally loving it. Takes a few goes to get the hang of the iOS app as well as taking still (non panning/shaking) video which seems to be the key to half decent animated.GIF's.
Took these two down the beach this morning. Put the iPhone down on the table and set to record then just masked out the the bits I wanted to loop.
Few limitations at the moment: such as very short 2 second or so loop, somewhat unreliable sharing, web site unreliability, but hopefully, and these are mostly minor niggles, will be improved in future updates. It is free so nothing to loose.
Couple of other attempts with the wonderful Miss Charley as my test subject (apologies for the flickering black bit on the one below).
Have an iPhone and are particularly keen on Instagram? I would pretty much guarantee then that you will love Cinemgr.am It feels like something Instagram could have done, so be interesting to see how it all works out as this seems like a natural progression from static photographs.
---
The Gentlemen's Press from Hitoshi Lee on Vimeo.
A particularly beautiful video/promo teaser for The Gentlemen's Press: a new letterpress company in Singapore.
K Found on TypeDesk
---
I thoroughly enjoy watching these golden oldie videos as much wisdom can be soaked up. Enjoy watching Herb Lubalin discuss his PBS logo.
► Found on Quipsologies
Steve Jobs makes perfect sense talking about Apple and branding. On the tail of Apple's struggle to go mainstream this is around the time the 'Think Different' campaign was initiated, with a glimpse of the first advert.
I wonder if he knew then the path he would ultimately take Apple and 'us'.
Mention's a few times about Apple's 'core'... :)
Found via TheNextWeb
---
The London Google team showing us exactly what they do at work, creating a stunning photomosaic of the Google logo, based on the new Google logo design, launched around the 6th May. Made out of 884 individually printed 4×6 photographs of people, places and things around the U.K.
"a time-lapse video of the construction process, which started in the evening and went late into the night. (The later it got, the hazier we felt — not because of the hour, but because of all of the fumes from the rubber cement!) The camera took a shot every seven seconds, so about 5.5 hours of work are compressed to a bit over a minute here. The video is best seen in full screen HD so you can see the individual photos as they go up."
Came across this cute Letterpress documentary video via Google whilst searching for 'all things' letterpress for a client of mine. We are looking at letterpress or embossing for her logo design, although I can't rightly decide what will be the best route.
Enjoy the vid.
There are no fatalities and no injuries. It's not what it first appears.
Link found on Redux