http://youtu.be/H5LIuf9mFEs

Just absolutely loving these animated logo evolutions by Nick DiLallo over on YouTube. Nick has animated the following brand logos for your entertainment: American Airlines, Starbucks, UPS, GAP (the funniest), Apple (love hearing those system sounds again!) and NBC.
Giving what's happened in the world of the JCPenny logo, would love to see the back and forth with that one as well.
They're not truly animated, as in the sense of morphing one logo version to the other, but I totally love this humorous take on them instead!
Probably worth subscribing to Nick's YouTube page incase he releases any more!
» Via: BrandNew

http://youtu.be/dhW9Uvy6eZo

http://youtu.be/AiIv6ZBYbIw

http://youtu.be/XXLCO5E3MC0

http://youtu.be/txdpX-2b3qA

http://youtu.be/dXXHZDmbHPE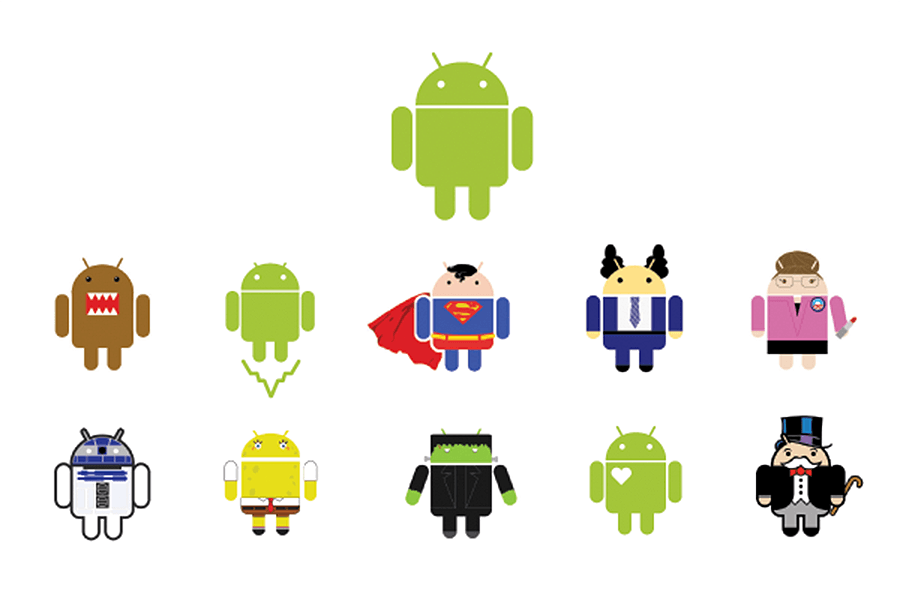 I've always loved that cutesy Android logo, it's one of the most distinct logos used by any communications brand that I know. Not only is it cute, but it's supremely simple, ultimately flexible, and transcends the digital world into the real world effortlessly.
Who Made that Android Logo: a nice little article by The New York Times describing the humble beginnings of the Android logo, but one that didn't make the designer, Irina Block, particularly famous at all.
Irina Blok may have drawn one of the most recognised logos in the world, but her association with the green Android has not made her famous. Blok can think of only one incident when she garnered the public's attention for designing it. In 2010, she and her 6-year-old daughter were in a movie theater waiting for "Alice in Wonderland" to begin when an Android logo flashed on the screen. Her daughter, Blok recalls, suddenly stood up and yelled, "My mommy invented that!" Everyone in the row in front of them turned around to stare. Blok was so embarrassed, she says, that she sank down behind her tub of popcorn.
North has created the new Barbican visual identity guidelines book, to mark the start of the AGI Open: the annual international graphic design event which is being held at the Barbican for its inaugural London edition.
This is a sneek peek of the book which will be launched as a limited edition downloadable PDF on 23rd September.
Collate: "The latest iteration of the guidelines have been developed in collaboration with the AGI member North, a design agency who have worked with the Barbican for over a decade to continually develop its visual identity in parallel with the evolving needs of the Centre's vision and programme. The limited edition book will be available to purchase for £20 from the Barbican Shop, the Graphic Design Book Shop (26-27 September only as part of the AGI Open) and online here."
Sources: [barbican.org.uk] [northdesign.co.uk] [Collate]

Not sure I've seen something this cool in ages. What could be more cooler than seeing the remarkably cool NASA 'worm' logo spinning into position like some 70's take on travelling through a groovy wormhole whilst stoned.
Don't leave without also checking out: NASA Identity Design Program
» Via: http://unifiedpoptheory.com/vintage-1977-nasa-video-talks-about-voyager/
» Source: Aeronautics And Space Report 1977
Two more animated NASA logos (below) from: It's OK To Be Smart
Really nice to see the fruits of ones logo design work, The Auto Network logo, proudly adorning the header of the redesigned/updated website. Also a quick thank you to Rebecca Turnbull for the mention in their blog post: New branding for a new direction, The Auto Network works with Graham Smith
During the initial, and last, stages of the logo development I didn't really have a clear idea of how their website would be redesigned and updated. This is quite a common way of working, at least for me, so it's just really nice to see how the logo and website now seem to really gel quite nicely. The favicon looks pretty neat as well!
You can see a larger version here: http://www.flickr.com and here: http://imjustcreative.com