There really is quite a challenge behind designing a logo mark that is based on the abstract, rather than a more defined visual link to 'entity' one is creating a logo for.
Can't say I get many clients actually asking for an abstract logo, and I'm pretty sure that's simply down to a misguided notion that it's a easy and quick ay for a designer to say 'job done', and with that a clear lack of value for money. If the client can't say, "what does that logo have to do with my business? Nothing? Then why the hell do I want a logo that communicates nothing meaningful?"
Of course, that's all poppycock. An good abstract logo is neither quick nor easy, and neither should a client dismiss the option of an abstract logo as being poor value for money. A client isn't just forking out dosh for some hired help, they are paying for expertise, wisdom, and creative confidence to make decisions that a client is not in a position to make. One of those decisions might just be related to going with a logo design of an abstract nature, if they feel this is the best direction to take after dismissing more literal/obvious routes.
In this great article: To Abstract Or Not Abstract?, Sagi Haviv looks at abstraction in logo and brand identity design, as well as other principles of identity design created by his firm, Chermayeff & Geismar & Haviv.
Tom Geismar saided to Sagi Haviv, "Since we did an abstract symbol for Chase, many have tried to do it in cases where they shouldn't have."

If we are doing our job as designers, our solution should always grow out of a well-thought-out strategy, and an abstract symbol is only one possible tactic among many.
A must read article by Adrian Shaughnessy; "Why designers should give branding back its soul", is a useful article of how the very definition of Brand and/or Branding, has lost it's true meaning to many, including designers.
I've touched on this in the past, and it generally resulted in somewhat heated debates on Twitter, but typically the word Brand is used pretty liberally, and rarely in the correct way.
Unfortunately, Brand has become synonymous with logo and identity design, so if you are a logo and identity designer, it's almost become necessary to append the word to ones job title/description because it's a term that is used by customers/clients in their search for a logo and brand identity designer.
It's also just a term that has infused itself into the logo and identity terminology over the last few years, to the point many designers incorrectly believe they can design a Brand. Adding it to your job description is, for a lot of us, simply playing a little fast & loose with the definition for the sake of being found, and hired, and milking Google SEO for all that you can.
There is also something quite complete about how Logo & Brand Identity sounds, but still doesn't make you a Brand designer.
Even in my case, where I often describe what I do as being a logo and brand identity designer, I'm not comfortable with using the word because it's simply inaccurate. I don't create brands, I create logo and identities, as these are the aspects I have control over. What I don't have control over, or experience in, is branding. My primary area of focus is designing logos/logomarks whilst carefully, and considerately, venturing into the realm of identity design, ergo I'm a Logo & Identity Designer.
Obviously there are specialist companies/agencies that focus on the much bigger, complex, mysterious area of: product, company and personal Branding, but for many a self-employed logo & identity designer, it is simply not a valid part of the job description.
http://youtu.be/H5LIuf9mFEs

Just absolutely loving these animated logo evolutions by Nick DiLallo over on YouTube. Nick has animated the following brand logos for your entertainment: American Airlines, Starbucks, UPS, GAP (the funniest), Apple (love hearing those system sounds again!) and NBC.
Giving what's happened in the world of the JCPenny logo, would love to see the back and forth with that one as well.
They're not truly animated, as in the sense of morphing one logo version to the other, but I totally love this humorous take on them instead!
Probably worth subscribing to Nick's YouTube page incase he releases any more!
» Via: BrandNew

http://youtu.be/dhW9Uvy6eZo

http://youtu.be/AiIv6ZBYbIw

http://youtu.be/XXLCO5E3MC0

http://youtu.be/txdpX-2b3qA

http://youtu.be/dXXHZDmbHPE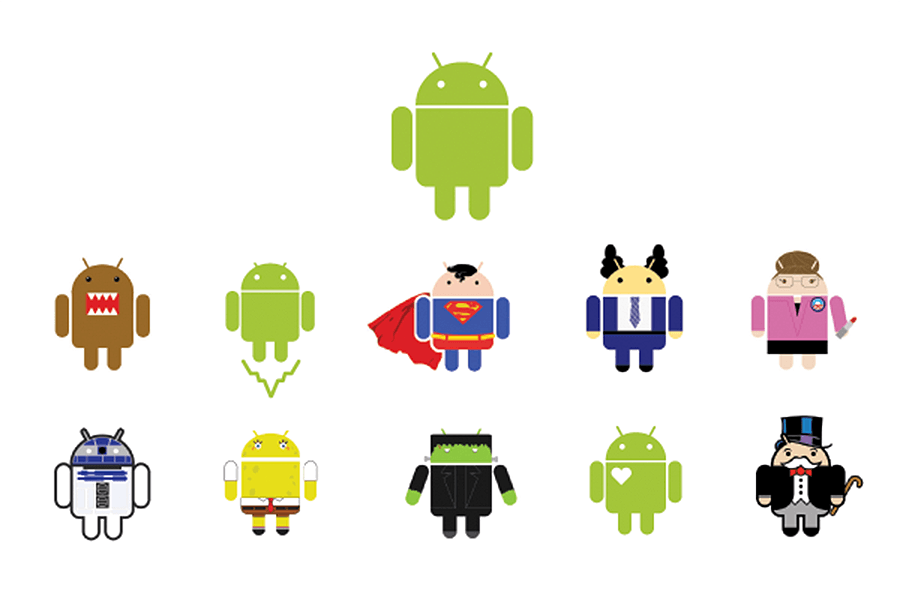 I've always loved that cutesy Android logo, it's one of the most distinct logos used by any communications brand that I know. Not only is it cute, but it's supremely simple, ultimately flexible, and transcends the digital world into the real world effortlessly.
Who Made that Android Logo: a nice little article by The New York Times describing the humble beginnings of the Android logo, but one that didn't make the designer, Irina Block, particularly famous at all.
Irina Blok may have drawn one of the most recognised logos in the world, but her association with the green Android has not made her famous. Blok can think of only one incident when she garnered the public's attention for designing it. In 2010, she and her 6-year-old daughter were in a movie theater waiting for "Alice in Wonderland" to begin when an Android logo flashed on the screen. Her daughter, Blok recalls, suddenly stood up and yelled, "My mommy invented that!" Everyone in the row in front of them turned around to stare. Blok was so embarrassed, she says, that she sank down behind her tub of popcorn.
North has created the new Barbican visual identity guidelines book, to mark the start of the AGI Open: the annual international graphic design event which is being held at the Barbican for its inaugural London edition.
This is a sneek peek of the book which will be launched as a limited edition downloadable PDF on 23rd September.
Collate: "The latest iteration of the guidelines have been developed in collaboration with the AGI member North, a design agency who have worked with the Barbican for over a decade to continually develop its visual identity in parallel with the evolving needs of the Centre's vision and programme. The limited edition book will be available to purchase for £20 from the Barbican Shop, the Graphic Design Book Shop (26-27 September only as part of the AGI Open) and online here."
Sources: [barbican.org.uk] [northdesign.co.uk] [Collate]