A interesting investigative experiment conducted by Mat Dolphin, and posted on Creative Review, after finding out about a company doing logo design for $42. As far as experiments this is pretty thorough with a good analysis of the results.
The conclusion? You get what you pay for,  and that will usually mean cliches aplenty.
I'm not worried and neither should you be.
K Read more on Mat Dolphin
We caught a teaser of the new More4 identity a few months back with a showing of just the logo by ManvsMachine. I was a little unsure of it then, and even after seeing it in all its dynamic glory, I am still unsure about the basic logo now.
The new More4 logo feels a little too busy in it's static form, and I am a little weirded out by the hanging E which was more appropriately enclosed in the previous More4 logo by Spin. I still think the original logo just feels far more useable, and easier on the eye, than this multi-coloured version.
Simple vs complex?
But no denying the overall identity has been very thought out and provides a huge number of variables.
Creative Review has a detailed breakdown of the new identity including a number of video's which will give you a really good look at this dynamic identity in action.
► Found on Creative Review
CN Logo Designed by Allan Fleming & CN Brand Guidelines
Been meaning to do a nice little post on the CN logo by Allan Fleming as it's close to being one of the most prestigious of brand marks ever. Since my previous post on the British Steel logo designed by David Gentlemen I became more inspired, and motivated, to do my own CN logo post.
My plan was to try and find alternative imagery for the CN logo as I know many websites have already covered, mentioned and referenced the CN logo. In my search over the last few days I have come across some fine websites that have done a great job of cataloguing the CN logo in a similar way to what I had planned myself.
This post will include some of the imagery and appropriate back-links to the originating website.
Hope you enjoy.
Allan Fleming (left) with Charles Harris at the launch of the CN logo in 1960.
CN Logo Resource Credits
The most notable of these websites that I viewed is The Canadia Design Resource which first posted details on the CN logo & brand back in 2006.
A detailed history on how the CN logo came to be can be read over at a rather tired looking About the 1960 CN logo. Although not a pretty web page by todays standards the information contained will provide you with all you need to know about the CN logo. It's a must read.
One of the more comprehensive websites that has covered the CN logo in detail is DesignKultur: Tracing the Evolution of the CN Logo : 50th Anniversary 1960–2010
The Centre for Contemporary Canadian Art holds a number of photographs and scans of Allan Fleming's work for CN, and some of these images I have used in this post. If you navigate to Resources and then do a keyword search for Allan Fleming…
The gorgeous photographs of the CN train towards the end of this post can be obtained by visiting the official CN website and navigating to their Image Gallery where you can download very high resolution photographs.
Allan Fleming standing in front of a CN boxcart.
About the 1969 CN Logo
The following select paragraphs are just a few I have lifted from About the 1960 CN logo.
After experimenting with countless possibilities, Fleming hit on a particularly inspired design while sitting on a New York-bound airplane. He quickly sketched the idea on a cocktail napkin - and CN's logo was conceived.
While conceptualizing the future, Fleming drew on the past for the kind of image that would convey timelessness. Studying the Christian cross and the Egyptian symbol for life, he borrowed the idea of using a line of single thickness. "The single thickness stoke is what makes the symbol live," Fleming later said. "Anything else would lack the immediacy and vigor."
The continuous flowing line symbolized "the movement of people, materials, and messages from one point to another," Fleming said. As the eye moves from "C" to "N", the image suggests fluidity and motion. "It's a route line that incidentally spells CN," Fleming explained.
But let's leave the last word to designer Allan Fleming, who unfortunately would not live to see his own prophecy borne out. He died in 1977, just 17 years after observing: "I think this symbol will last for 50 years at least. It don't think it will need any revision, simply because it is designed with the future in mind. Its very simplicity guarantees its durability."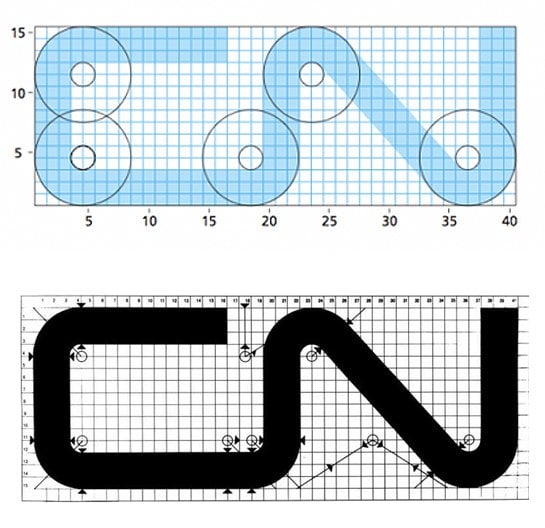 Allan Fleming's CN Sketches
The following images charts the progress of Allans idea process showing just how wild logo sketching can be.
From these early sketches iconic logos arise.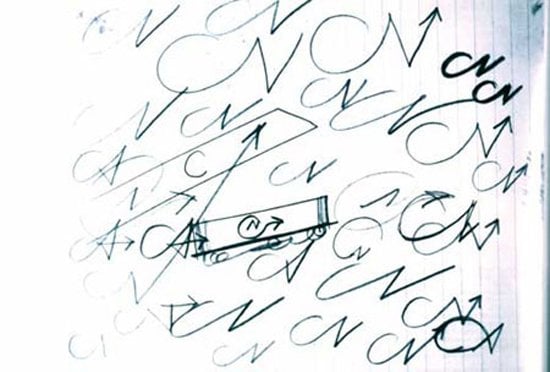 CN Logo Flickr Set
Nice little selection of old and new CN related photographs, including the old Canadian National Railways logo below.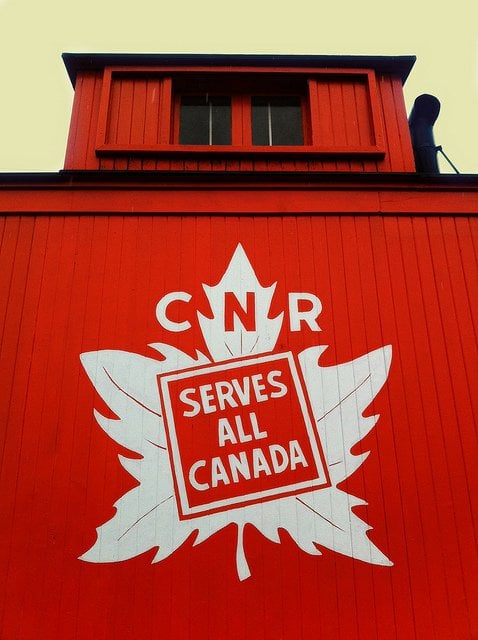 Official CN Photography Library
Visit the CN website and navigating to their Image Gallery where you can download very high resolution photographs.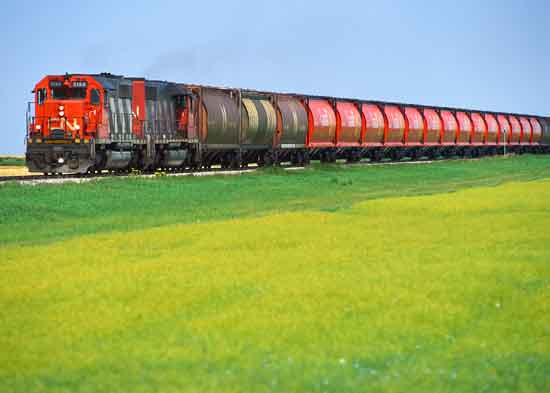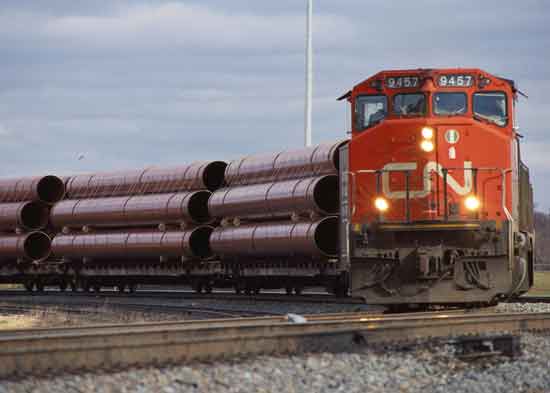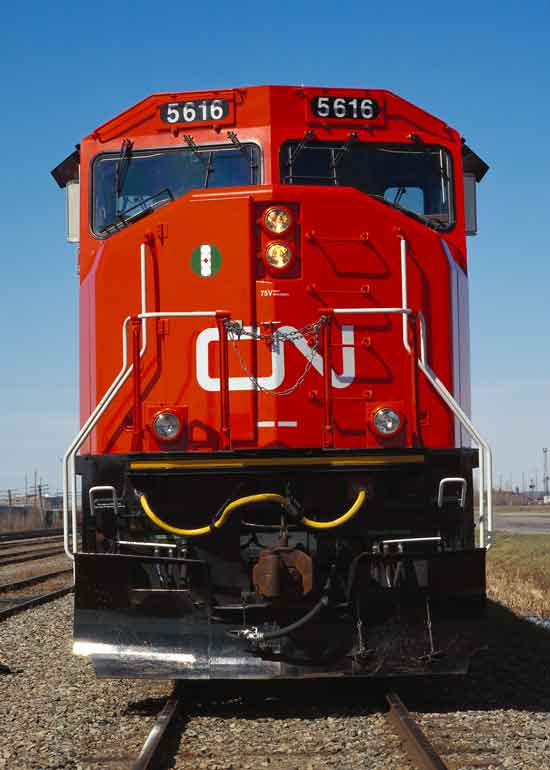 The CN Logo & Brand Guidelines
To wrap up here are the CN Logo & Brand Identity Guidelines which you can download as a PDF.
British Steel Logo 1969-1999 Designed by David Gentleman
Famous Logos are a dime a dozen, but the British Steel logo designed by David Gentleman—abandoned in 1999—is one of those rare logo designs that truly stands the test of time. It still looks good now even amongst a swarm of similarly styled monoline designs.
What's extraordinary is that David Gentlemen—what a great name—is not strictly a logo designer. His impressive career spans nearly six decades, and his more notable work includes illustration, stamp design, wood engraving, book and poster design. When the British Steel logo project turned up on David's doorstep—after the main agency had their work turned down—he was under a strict time handicap when he sketched the initial idea for the British Steel logo: two sheets of folded steel.
You can read more over on Eye Magazine- David Gentleman talks about his identity design for British Steel
I'll wrap it up there as there really isn't much else to show in terms of the British Steel logo applied in use: almost like it's been wiped from memory. There are the odd references to this Eye Magazine article, but that's about it. There are not many examples of the logo that can be found online save for same few images doing the rounds. Interestly it would seem that Eye Magazine possible have more British Steel photographs via their Flickr account, but they are set to Private.
Compass Anyone?
But there is one paragraph from an article that Eye Magazine published that took my fancy which describes the British Steel logo as a…
"Gentleman's A size proportioned logotype, which can be replicated on site using a ruler and a set of compasses."
Utterly stupendous. Now to find me a copy of the British Steel identity manual.
The Livery
Is it just  me or does the British Steel logo look totally out of place on these lorries—I do, however, just love the British Steel blue; trying to search down an actual colour reference for it.
I can't help but have this sense that the logo was ahead of it's time when viewed with hindsight. It's as though one expects the lorry to be a super streamlined beast rather than one that might be delivery the morning milk. This is by no means a negative slur on the logo as I could never ever find any reason to, but it just seems like a design you would expect to see in use now rather than decades ago.
The British Steel logo much like the NASA logo, or even the CN logo are all timeless and modern worthy classics that share this monoline style of logotype design.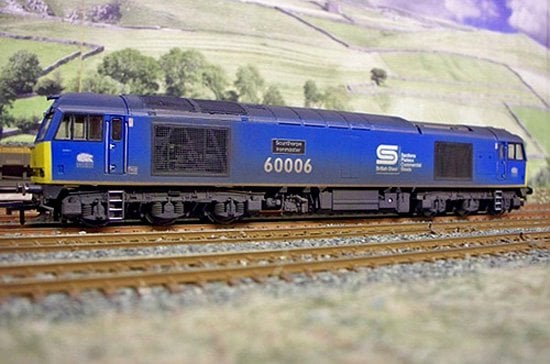 LogoRIP
If you have a particularly belated sadness about the passing of the British Steel logo then you can leave your thoughts, prayers and condolonces over at LogoRIP.
Maybe light a candle as well.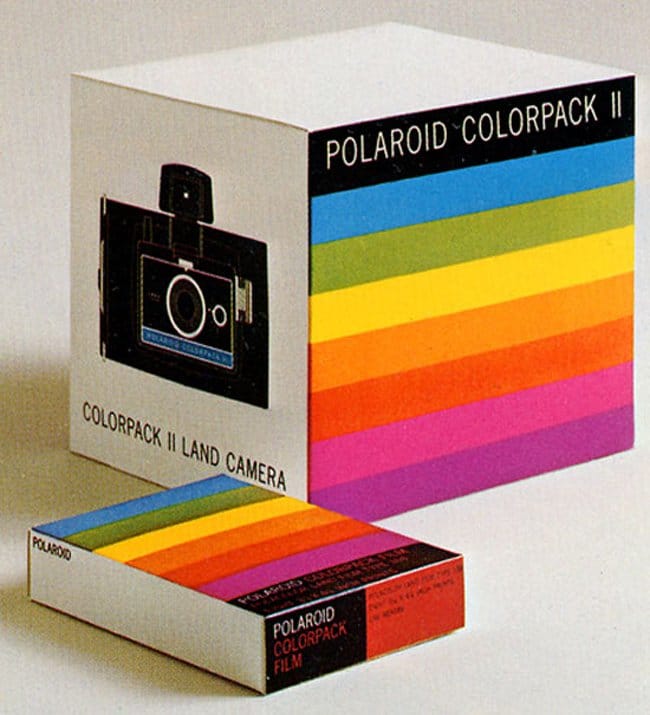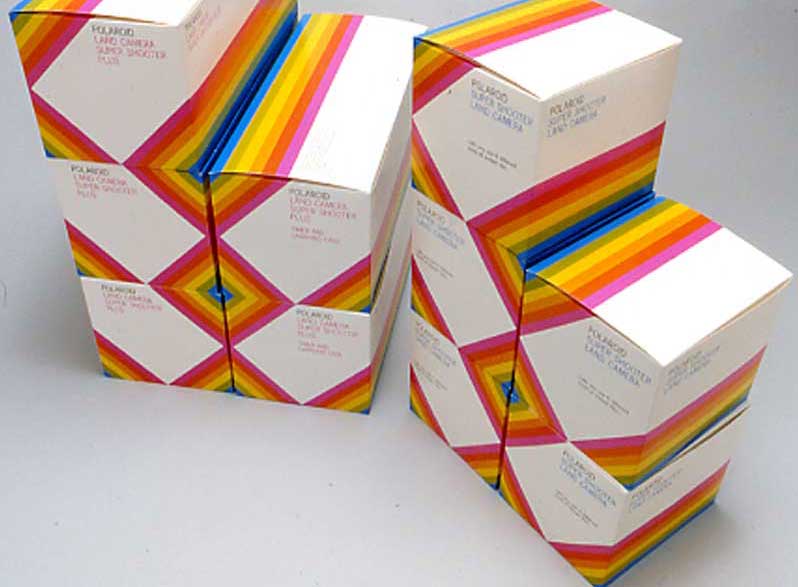 This is one of those branding treasure feasts that one stumbles on from time-to-time. When you think you have seen all the bestest stuff on the internet, and how on earth could there be more, another another real treat is unearthed.
The internet never ceases to astonish me with it's hidden wealth of goodness, more so when it's an old—and of course old in internet terms is just yesterday—website that is picked up. This happens to be the case with the Original Polaroid Branding By Paul Giambarba.
Ian Hex Google +'ed it after finding Polaroid Branding featured on AisleOne, and then from there to here.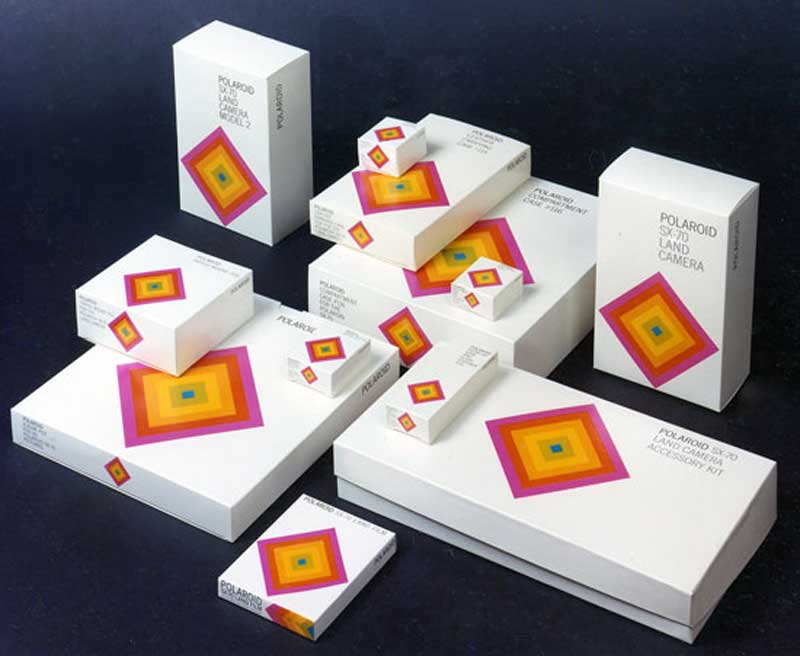 So turns out that Paul's blog on The Branding of Polaroid has been around for like forever, but the post that AisleOne featured was posted in 2010, and so is once again doing the rounds. Which is really bloody great because the more people who can experience the original Polaroid branding the better.
I did a bit of internet searching because I also wanted to nail down the designer/designers responsible for the existing Polaroid logo design—the purpose for which was to post it on Logo Stack—and so H/T to ZLOK for actually first blogging about The Branding of Polaroid website back in 2008. Which is like, forever ago.
As well as many graphical images to perv over there is a fun piece detailing how Alf Lenni pointed out the similarities between the original Polaroid colour stripe system, and the logo from a new kid-on-the-block called Apple from Cupertino, California.
Apparently the old Apple logo used the same percentages of process colours as the Polaroid logo.
It's well worth heading over to The Branding of Polaroid for this nostalgia trip and see how this epic slice of branding history was conceived.
If you want more Polaroid goodness then ZLOK did provide a few other links one of which I will provide here for you pleasure, and of course convenience.
Polaroid Camera's on Flickr by Alessio Nunzi - a nice selection of photographs of Polaroid cameras.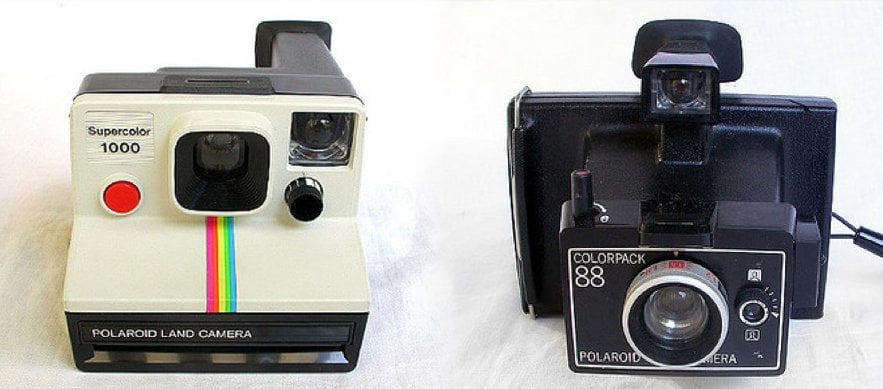 Another link worth checking out for additional Polaroid stuff is Polaroid Packaging posted waaaaaaaay back in 2007.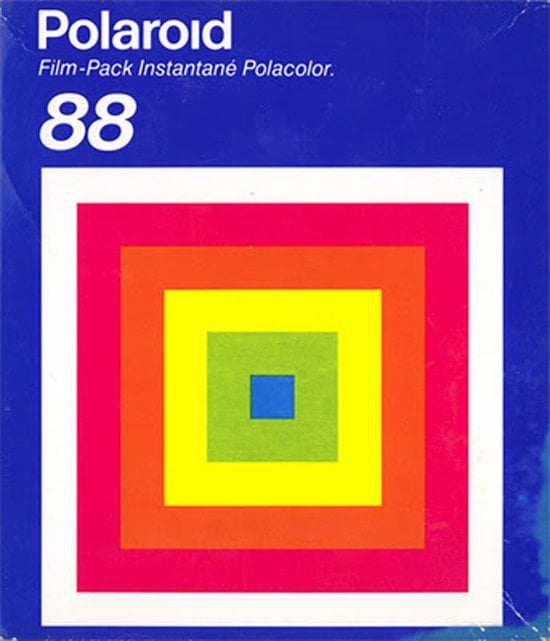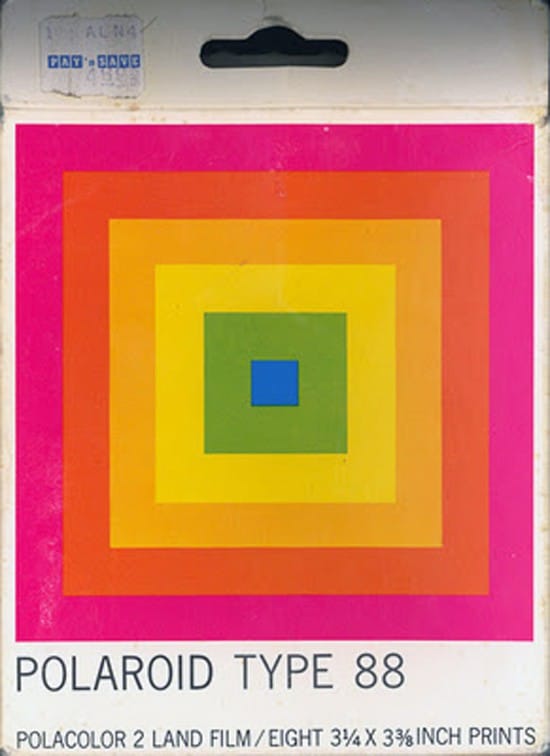 The branding of Polaroid for the win!
It was recently announced that Caterham will start the 2012 season under their own name. In 2010 they went under the name of Lotus Racing, then in 2011 it was Team Lotus. Due to lengthy legal proceedings with Lotus Renault GP, team boss Tony Fernandes opted to name the team for 2012 as Caterham F1 Team.
Caterham's new F1 Team logos (click on images above for maxisize versions) will adorn the 2012 race cars.
Team boss Tony Fernandes insisted the Caterham move makes sense for his outfit.

"With Team Lotus, I would have battled to the end if I felt it was the right thing to do, but when you take a dispassionate look at where we were it made absolute sense to start with a clean sheet, and Caterham has given us that chance," said Fernandes in the team's magazine.
"It's the best possible solution for where we want to go - partly because it gives us complete control over everything we do and, obviously, because there's simply no point racing to promote a road car company I don't own. The road car business has always been a sector I've wanted to explore and so here we are.
"But I can't stress enough; this is a serious business venture for us. If I just needed a new name, I could have called it anything, but the synergy with Caterham works better - and it's what I do – take a small business with the correct core values and purpose and expand it and grow it into the global marketplace."
My Thoughts
My first thoughts were a little less than positive. In fact I was more sad than anything else as I just felt—I don't pretend to be a motor racing enthusiast, or know anything about Caterham other than a little bit of their heritage—this new logo lacked an initial presence and style I would consider appropriate for a English sports car company.
I look at it, and feel it's missing it's true soul which has been replaced by this F1 italicised style of typography. Feel is a little soulless and maybe a little unoriginal.
But that M on the team version looks decidedly odd. A small suggestion would have been to rang the F1 TEAM line far right so as to keep the main brand name style consistent with the regular Caterham logo version. It's not as "flash" but feels less awkward and more consistent.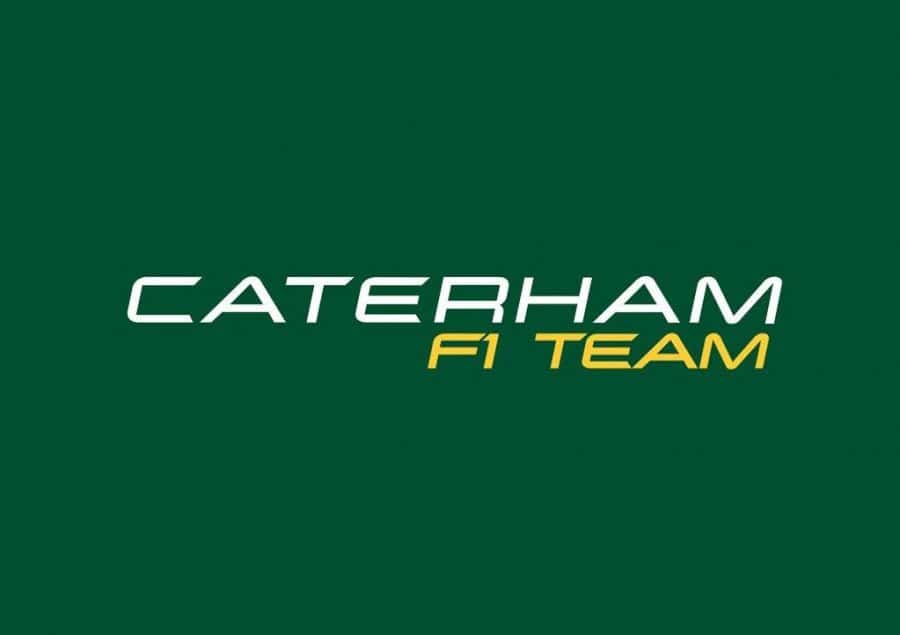 I'm not saying it's a bad design, or even bad typography; I am saying that for me this design feels a litte lacklustre and lacks the emotion, heritage and brilliance I somehow expected from a UK racing car team.
Once it's adorned on the side of the F1 cars it will undoubtedly take on a totally different persona, which is quite common with logo designs nowadays—which could get me started on a whole new subject about logos still needing to work and reflect a personality on their own when not viewed as a whole brand identity—and will be enough to shut me up.
I look forward to seeing how the logo is applied to the cars livery especially on an all green F1 car with this wicked yellow lettering.
British Racing Green for the win.
No details yet on who designed the Caterham logos, but you can view the original Caterham F1 Team logos over on their Flickr page.
Caterham's F1 website also provides ways in which to follow Caterham via YouTube, Twitter, Flickr and FaceBook.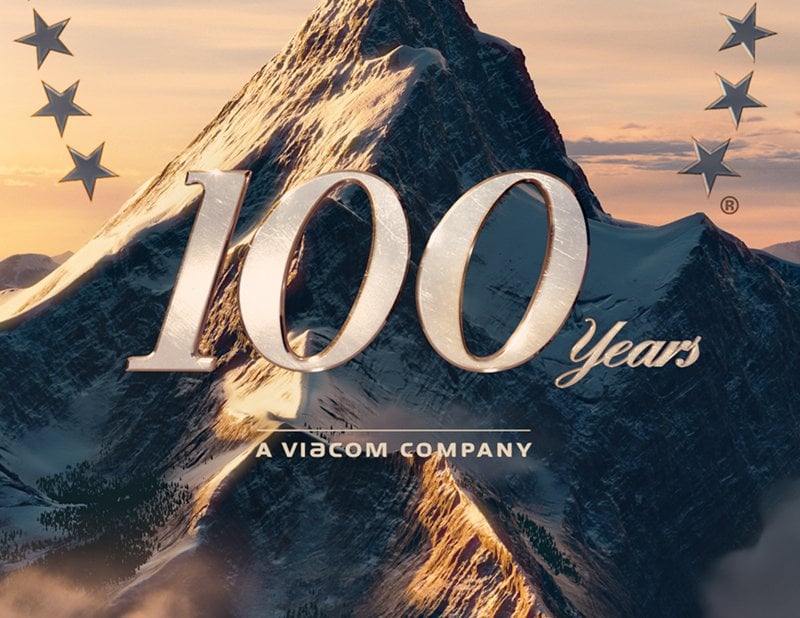 This thing, Paramount Pictures 100 Years logo, looks incredible if you can get your hands on a 300dpi version at 3000px wide which the first image above is. I have cropped into parts of this high resolution image and saved them above. Incidentally, you can click on each of these images to view a bigger version. Additionally the first image has an additional "expand" icon top right which will show the full 3000px wide size if you have a large monitor.
So this majestic beauty will be first screened when "Mission: Impossible - Ghost Protocol" first comes out, and then on all films released in 2012.
I have to say I find it a little hard to call this epic art piece "just" a logo as it clearly is far more than that in every possible sense. More so when it holds decades and decades of movie history within it's spiralling stars. Remove the fantastic background scenery and you certainly have a more traditional logo, but that mountain back drop is just fantastically inspiring.
Paramount Pictures have a history of making new logos for various movie releases, and so if you visit: Logo Variations - Paramount Pictures over on CLG Wiki (Closing Logos Group Wiki) you will see just how many Paramount logo's there have been. It will most certainly blow your mind.
High Resolution Paramount Pictures Logo and Press Release found via Collider
---
Press Release From Paramount Pictures
PARAMOUNT PICTURES UNVEILS NEW LOGO
IN CELEBRATION OF THE STUDIO'S 100THANNIVERSARY
New Logo Will Be Seen With "Mission: Impossible – Ghost Protocol"
HOLLYWOOD, CA (December 14, 2011)
Paramount Pictures today unveiled a new company logo that commemorates the studio's 100th Anniversary in show business. The new logo can be seen on the new Tom Cruise starrer, MISSION: IMPOSSIBLE – GHOST PROTOCOL. The movie will open in IMAX and on other premium large format screens on Friday, December 16th and in theatres everywhere on December 21st.
The studio's first logo, a symbol of a rugged, snow-covered peak from the Wasatch mountain range, was created in 1916. The 100th Anniversary logo was created by Devastudios, Inc.
Paramount will use the logo throughout its centennial year in 2012. Beginning in 2013, the wording about the 100th anniversary will be removed from the logo, with the rest of the design remaining in use.
Caught this on the wire yesterday over on Serif and Sans, and you know what? I have totally taken to the new HP rebrand created by Moving Brands. Shame, at least for the time being, it is not being implemented by HP. I was so caught up with the graphics that I neglected to read a little deeper which would have enlightened me to the full story.
I'm not overly familiar with HP stuff so don't, or can't really share a lot of other peoples negativity about the overall lack of vision with it's products etc etc. This is just about the aesthetics for me at this point.
You can read a far more in-depth analysis of the redesign used over on BrandNew.
But, regardless. Let's move on as though HP had opted to use it.
---
Feels great to actually have a rebrand that feels like they are grabbing the bulls by the horn and moving enthusiastically forward opposed to some of the utter crap recently churned out over recent months. Looking at you British Gas!
This is sharp, I have to say. The stationery rocks it out with that slanted vertical alignment following the angle of the logo mark. Details! I mean, just look at that black presentation box with the cut-outs even following the cut of the "HP". Details.
The successful application of a new, and reenergised brand identity would be what companies like Moving Brands stake their, and their clients, reputations on.
With a company like Moving Brands the evolution of an identity generally takes on dynamic proportions, so best to head over to the HP project page on Moving Brands and watch some of the video's to see how the new HP brand has been brought to life.
HP | Moving Brands - a global branding company.
There are never any shortages of novel, and inspired business cards with designers seemingly going all out to push the creative boundaries for the common business card. Every day I see some amazingly cool, creative, inspired, beautiful, ingenious, stylish and down-right odd cards, and one almost starts to feel this is the norm.
Is this a selection of bike tools fashioned into a business card, or a business card fashioned into a bike tool for Broke Bike Alley?
For some reason I saw these business cards for Broke Bike Alley, designed by Rethink, and was immediately inspired—I know this is not a new project, having been posted a number of times since early 2010. The thick metal card with various tools fashioned out of it just strikes me as utter genius as well as useful. You look at it and it seems such a totally obvious idea, and quite possibly this isn't the first time it has been done, but regardless I think these Broke Bike Alley cards are just stellar.
One has to wonder how much these cost to print/manufacture, and how freely they are given out?
It's Not Just About The Card
I'm not just write this post because the card is cute. Nope. There is another factor at play which can often go unmentioned, and forsaken, at the expense of cute things.
Important to note that the overall first impression was not just the card design, but the brand name that with the card design created the interest. There is a definite ring to Broke Bike Alley as well as it being rather literall. When you get both creative ingenuity along with a creative brand name you have the foundations of some amazing branding and marketing options.
I think it's easy to point a finger towards the companies where the creation of a brand name simply was not considered the utmost priority. In many cases the actual brand name sets the benchmark from which all subsequent branding, marketing and advertising efforts will take their cue. There is only so much that the best creative hands can do with a lame ass, or totally inappropriate name.
Visit ReThink's website / Found on JayMug
---
Little side note:
Recently worked on a bike shop identity called PedalWorks which name I also happened to think was brilliant. When the client first approached me for a logo I was right on it because the name allowed for endless possibilities.
"Subject matter is just as important for a logo designer than it might be for a photographer, painter etc."
When you have a dull, totally random name then things become much harder, and often less desirable to work on.
The Coffee Co•Op Brand Identity by Jake Dugard has taken my breath away; this is some seriously cool creative talent.  The real travesty is that The Coffee Co•Op is a fictional company— this was for a grad school campaign—so you can't even enjoy the spectacular creative work that Jake has put into this. I would even go so far as saying this has to be one of the best coffee identities I have seen, real or concept.
That for me is a real crying shame, and almost seems such a hideous waste of such a great coffee identity. There will be no holding one of those gorgeous coffee mugs in your hand. :0(
Before I realised this was a concept I was about to hook it over on LogoStack. No can do.
Putting all that aside; kudos to Jake, and hat-tip to The Dieline for posting it originally.
View The Coffee Co•Op Identity over on Jake's portfolio