All Archived Posts in Logo Specifications
---
Skiplex Logo Design Deconstructed
The Skiplex logo (logotype: just the logo wording) was customised from two commercial fonts, with emphasis on creating a contrast between ski & plex, but not so much to create a distraction.
The construction and foundations of each part of each letter was looked at in detail, to create continuity with the whole notion of the downhill/slope movement which is fundamental to the Skiplex experience. Where possible, the ends of letters were angled, parts of the tops of letters like the k, i, p then the bottoms of the e and x align perfectly on this downward slope (indicated by the green guides), with intersections of elements (indicated by the pink circles).
The key design feature was the use of Negative Space (indicated by the grey shading) that flows through the logomark and carries on into the bottom of the S. This creates a gentle downwards slope, and leads nicely into the S.
This design feature is also applied to the 'dot' on the i, when the top of the k acts as the 'ramp' and flows into the negative space under the light blue dot (which mimics the light blue portion of the logomark) of the i.
---
The lines, arrows, circles in the logo above, for TheAutoNetwork, show important areas of balance, vertical and horizontal alignment, as well as intersections of key areas of the logo.
Where ever possible, and if it's not to the detriment of the logo designs aesthetics, I will design in all these various alignments and intersections in order to bring harmony and interconnectedness within the logo.
The circles show key areas of vertical, diagonal and horizontal intersections and alignments, the vertical arrows generally show where space is 'equally halved' once then twice, usually relating to type baselines, ascenders and/or descenders in relation to the contained logomark.
For example the 'a' in the circle has a middle point that aligns with the x-height of 'autonetwork', which half of the x-height is equal to half the width of the a's thickness, then half of that is equal to the bottom portion of the types' counters in letters such as the: a, u, o etc
---
All these lines, circles and intersecting guides, for my ADXPRS logo design, are very much relevant, and not just trying to look impressive. :-) Maybe I'm a little OCD about how I like things to align, match and such, but gives me a sense of having achieved a small part of 'perfection'.
Construction of a logo needn't be so rigid, but some logos definitely look better when the smallest of alignments are made to work.
---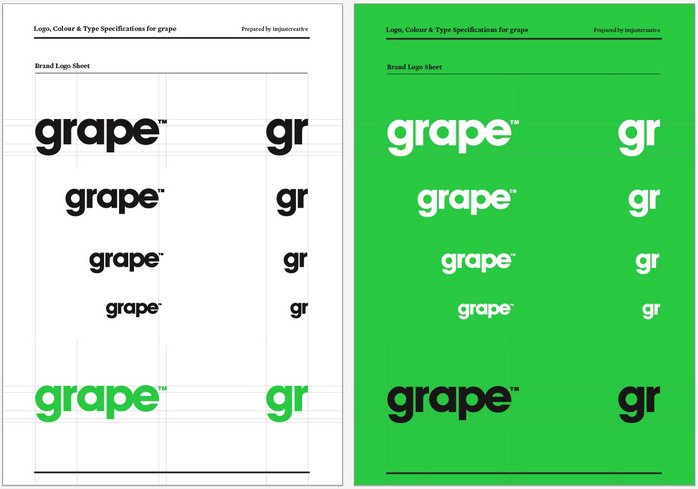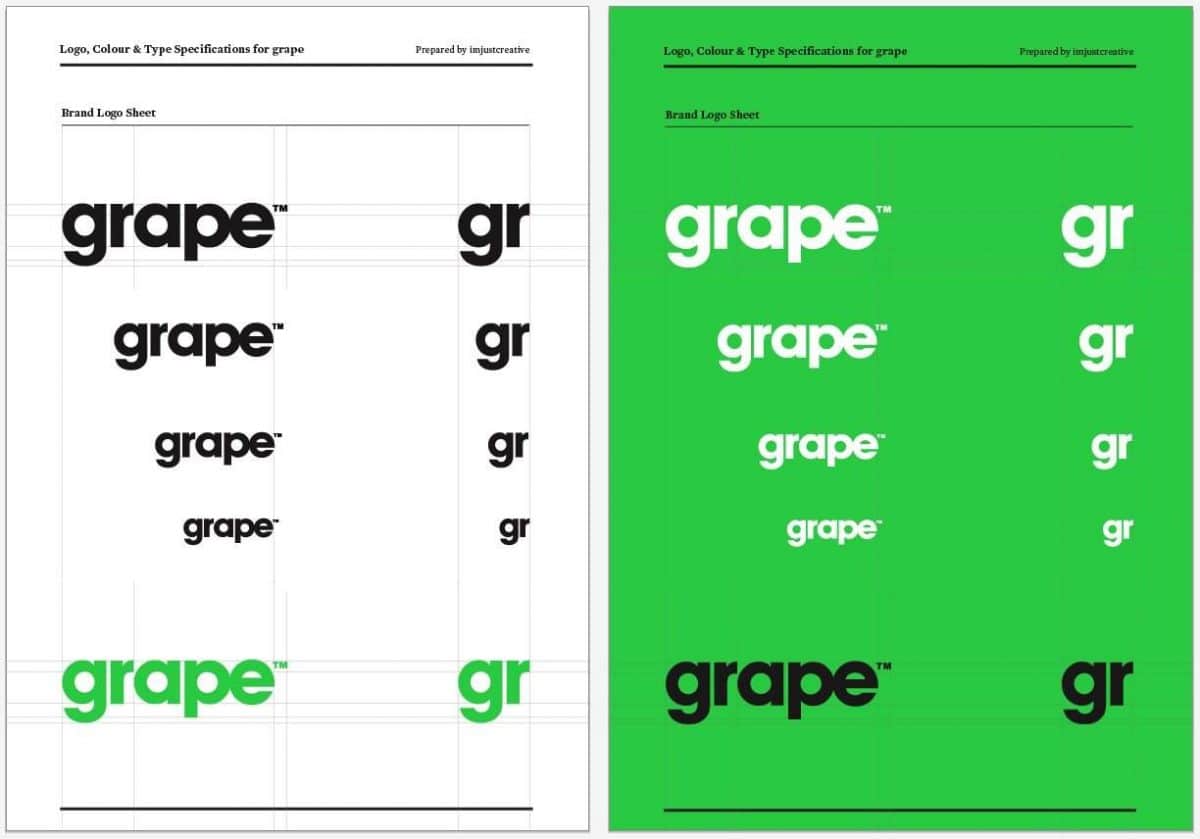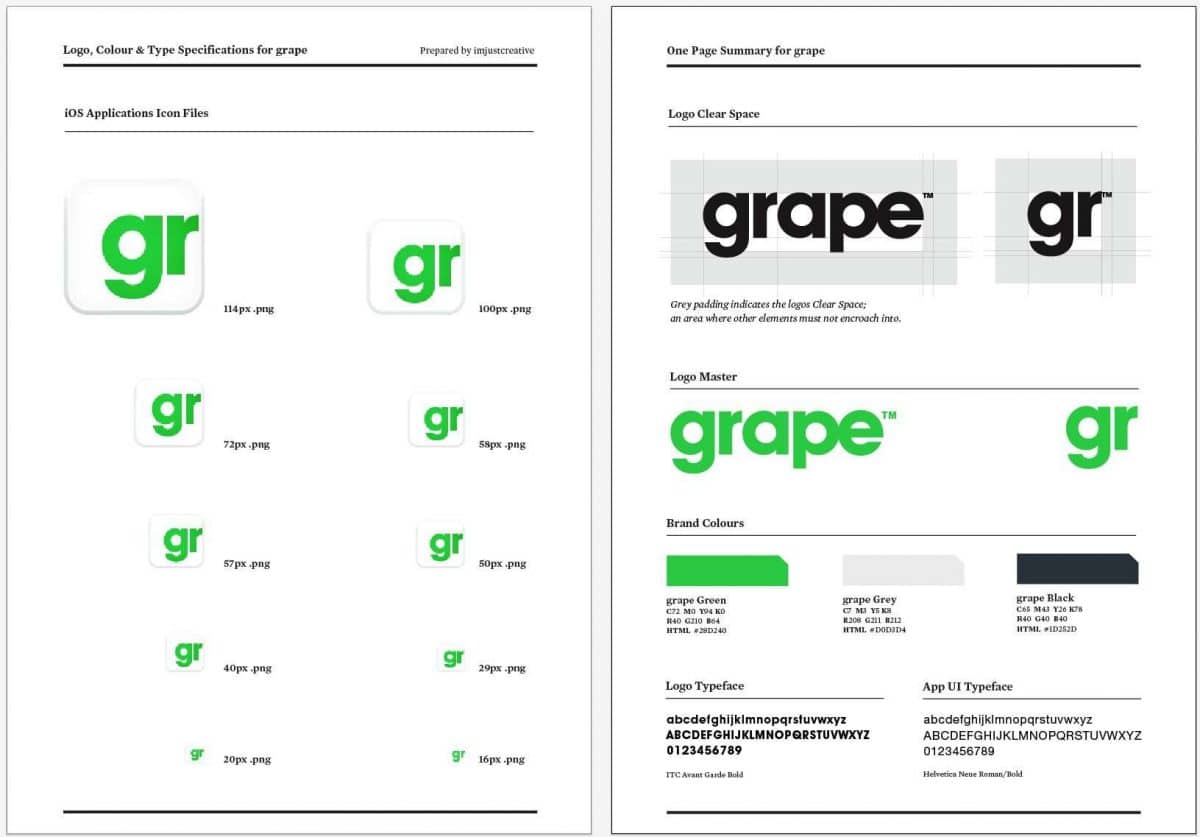 8 Page Logo Specification Book Template for Download
Along with my other freelance logo design guidelines, and specification templates, available to you, I now have added this 8 page logo sheet and style guide as a downloadable template.
The 'grape' logo is a current project I am working on, and so these guidelines have been designed specifically for the client. It's not fully complete as I have yet to add details on the stationery, further info on how the logo can be used etc, but these eight pages provide the main details.
This freelance logo design guideline template is a little different to my previous ones, as it incorporates a page of iOS application icons which go hand-in-hand with the project, more info on the typefaces as well as providing a final artwork logo sheet.
I have also summarised the seven main pages of logo, typestyle, colour and icon guidelines into a One Page Summary as a convenient extra for the client.
Please Note
I have removed all instances of the 'grape' logo from the template, and replaced the icons with black placeholders. I realise it then looks a little naked, but just used the guidelines I had in place as positional to place your own logo, and then adapt those guides as needed.
It's more about just being able to provide you with something to get you a head start in you own project. This should all still provide you with a sound base to adapt your own logo sheet and guide from. You can download the template from the following link.
All fonts have been converted to outlines and I have provided both .ai and PDF versions. If you require another format, then please drop me a line in the comments and I'll see what I can do for you.
Hope you might find it useful.
Download 8 Page Logo Specification Book Template
---
I have had these logo template specification sheets for Abacus Insurance Brokers (above) stuffed away in my digital archive in the cloud for a few months now, and didn't even think that they might be of use to other people.
So in the same vein as my previous logo guideline and specification sheets: Single Page Logo & Four Page Logo & Identity Templates, I now proudly bring you the Logo Specification Sheets - 5 Pack Logo Template For Download.
Little Background
During the development of the Abacus logo and identity redesign, it became apparent that a few versions of the logo would be needed. There is a version for the exterior building signage, one version for the website, a version for social media etc.
Each version of the logo had slightly different proportions and layout depending on the inclusion of the tag-line as well as the word 'Brokers'. This would mean each physical logo requiring slightly different spacial requirements.
Made perfect sense to create a single logo guideline sheet for each variation to account for these differing spacial requirements, and by creating individual sheets we made the whole logo specification system a breeze to add to, update with and expand on.
5 Pack Logo Template For Download
The download basically includes one Adobe Illustrator file with 5 individual pages. I have removed all instances of the Abacus logo and wording (as shown below), but retained the various backgrounds and grids which hopefully provides you with a decent structure to amend and alter as you see fit.
Each sheet shares a common right side which has information on the colour palette and typeface selections. The left side just alters a little depending on the logo proportions, so each sheet has a respectable continuity. You can see how each version of the Abacus logo looks if you take a quick look at the Abacus project page.
You'll get a font warning upon opening as I haven't converted any of the text to outlines so just substitute the missing fonts for your own. This should ultimately make it easier for you to customise.
If you find this download useful then please do share it, but please don't re-purpose this as your own downloadable template. People have done that with my previous logo templates and that just really sucks.
→ Download 5 Pack Logo Specification Templates
---
This is a continuation of an existing logo and brand identity redesign project for Abacus Insurance Brokers. Abacus was the first American online insurance brokers and the rebrand is part of their continued motivation with the company. I also created the tag line for the new Abacus logo.
The images above show the start of the brand identity guidelines, and specifically focus on the general usage of the Abacus Insurance logo.
We have logo versions for: interior and exterior signs, website header, stationery and print design, a short/mini logo and just the logo mark with/without a boxed container. The contained version being used as website favicon and social media profile image,
For ease of use, and visual continuation, the right side of the logo specification sheets share common information for: typeface choices and colour palette. The top-left displays each of the logo variations.
This is not the end of the project as we are still working on aspects of the redesign with the design taking a semi organic, adaptive and evolutionary process. The creation and format of the brand guidelines have taken a more modular form where additional designs and sheets can be added, with ease, into a binded folder.
I will continue to post updates as and when they are ready.
An image strip (above) showing how the Abacus logo mark came to be
This image (below) shows a few design ideas for branding of one small part of the identity: golf balls.
---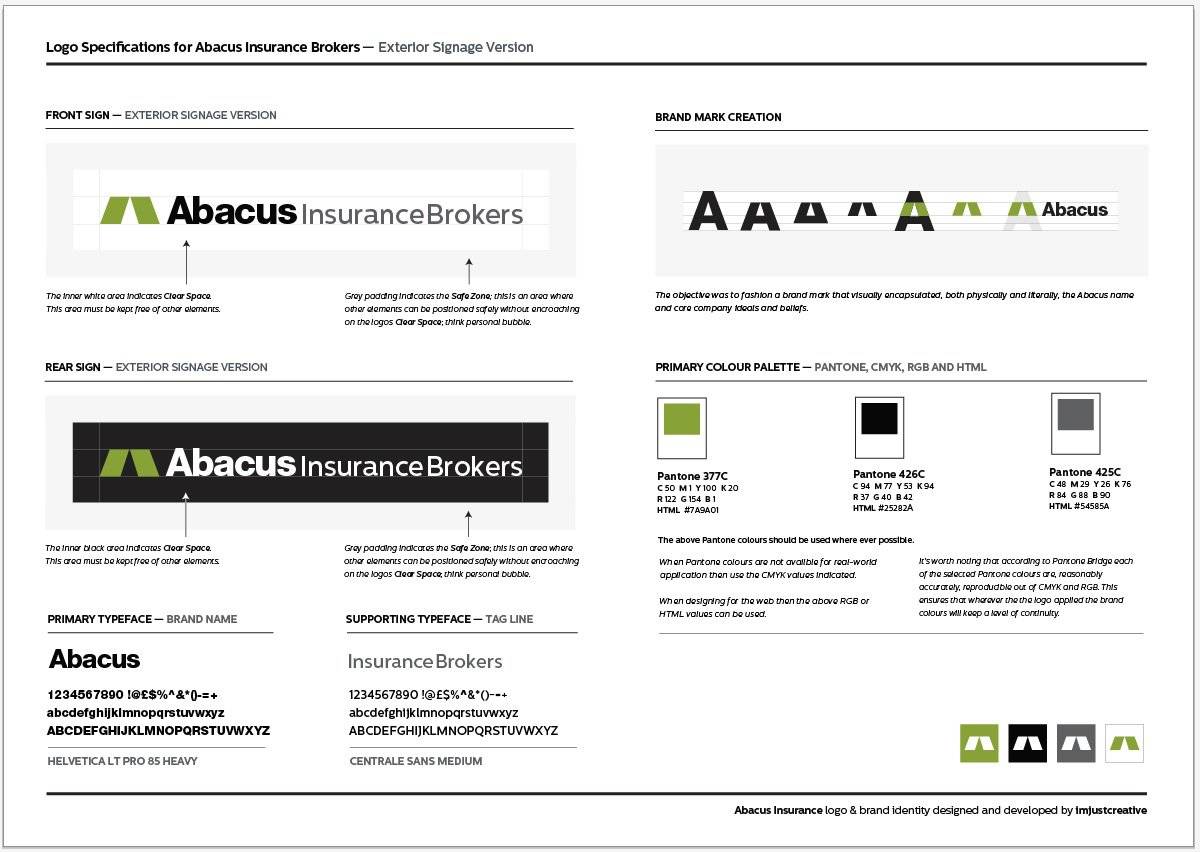 Abacus Insurance Brokers is a current logo design project that involved a significant brand update. This is the first of a number of logo specification sheets for the various logo styles created for Abacus. This first sheet focuses on version of the logo which will be used for exterior signage.
There will be more Abacus updates in the forthcoming weeks.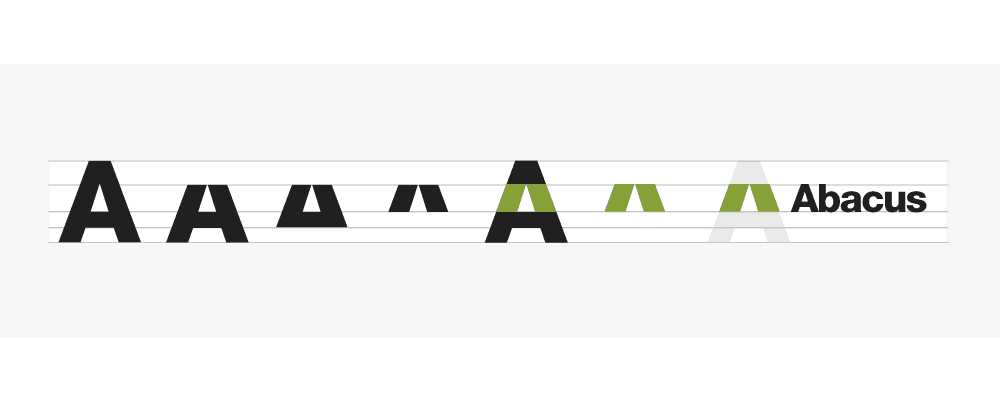 ---
After spending some time recreating the Vintage VW Logo Specification sheet I got all hot and horny for these classic logo specifications, but finding more has proved to be fruitless until now. After glancing through one of my logo books for reference and inspiration a whole page image of the Vintage Carl Zeiss Jenna logo specification sheet stared back at me.
Clearly only one thing I could do at this point.
By the way the book in question is Marks of Excellence by Per Mollerup—as a side note I would highly recommend getting this book for your logo design book collection—and the Carl Zeiss Jenna image can be found on page 180.
I initially took a quick photo with my iPhone and did a Google image search to see if the image was referenced anywhere online, but nothing at all showed up. I also did some searches for "Carl Zeiss Jenna logo specification", "Carl Zeiss Jenna logos" etc which didn't result in anything appropriate for this little project.
You can see the original Carl Zeiss Jenna logo being used on products: Zeiss Corporate History
During the search I did manage to find this nice Carl Zeiss Jenna logo history sheet, below,which shows how the logo has changed very little over the years with the notable change in name to Zeiss Ikon, and is now just called Zeiss.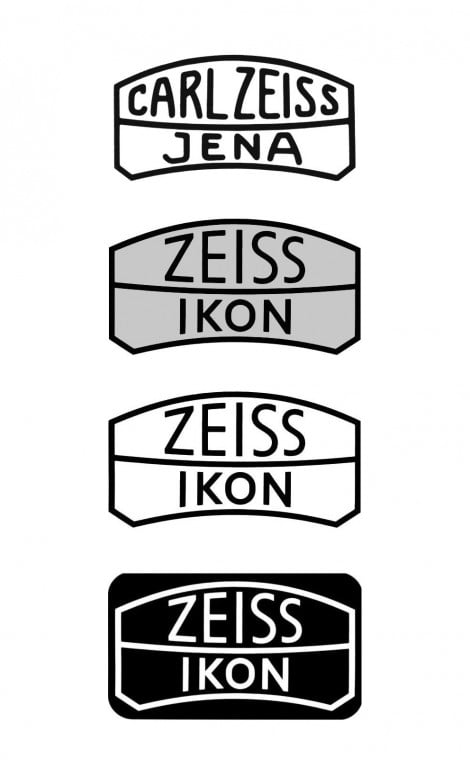 After trying to locate an online source for the Carl Zeiss Jenna logo, and not having any luck, the only other option was to photograph the page from the book which is what you see above. There was some tight cropping done on the book version which meant some of the imagery like the logo and table information were cut off so I did take a small liberty to recreate these lost little bits on all 4 sides.
The next step, when I have some time, is to recreate this sheet just as I did with the Vintage VW Logo Specification sheet. I can see this taking considerably longer due to the handwritten nature of the text and other hand drawn details, but this will be a nice little project to further the digital life of this bit of brand history before it all gets lost in the ether.
If anyone can provide further details on who originally designed the Carl Zeiss Jenna logo then I would be very grateful. I have done some cursory searches on Google and Wikipedia, but nothing is obviously popping up. Would be great to be able to assign proper designer credits to this.
To wrap up this is how we now know the original Carl Zeiss Jenna brand…
---
After posting the Vintage VW Logo Specifications Sheet; one thing lead to another, and now I can present a reasonably faithful recreation of the Vintage VW Logo Specification Sheet.
Why the recreation?
No real reason other than I thought it would be a fun project to work on, but also the original lacks some quality so can't be enlarged and printed out to well. I thought that if I reproduced it, warts and all, it would allow me a up close view of how this was originally created.
It's not until you tear it apart and start looking at all the various line weights, arrows, text and the sobering realisation: we didn't always have copy and paste and mathematical precision based artwork tools at our disposal.
It's also nice to know there is now a detailed replica of these logo specification.
The original was crafted by hand, ink and ruler.
Image above is also the recreated version.
Imperfect perfection
It was tempting to balance all the unbalance aspects, to unify the type sizes and styles, to bring all the vertical and horizontal alignments to perfection but I didn't. Using the enlarged version of the VW logo specification sheet that Steve Smith and Farzan Balkani found I was able to, reasonably accurately, reproduce the imperfect perfections of the original.
There are a few areas where I had to just suck it up and accept close was close enough. Some of the type styles are just impossible to nail as they look like they have been handwritten, and there is a mixture of a lettering set in a variant of Avant Garde Gothic.
So some of the lettering, should you feel the need to check my accuracy, will be close but not exact in style. What I have done is to ensure the spacing and placement of all elements is as accurate to the original as possible.
I have created two main versions which you can download.
The first poster will be as the first image in this post with blue elements on white, and is saved as both PDF and Illustrator .ai.
The second poster is as the original complete with faux textured paper, and is a high resolution A4 image at 300dpi. The textured background was created from scratch and not using stock scans of any kind. It's not 100% accurate, but it's close enough for my purpose.

A thought
I am conscious of not creating too many variations of this so as to cause confusion over the prestigious nature of the original. For this reason, and this reason only, I have added a small credit that states this version is a reproduction.
I would ask, with respect to the original artwork, that you leave this credit in place—if posting variations online—so as to avoid this getting mixed up with the original.
If you want to reblog this then I just ask that you link to this post and ZIP file.
Bonus Downloads
A few people muttered about a desktop wallpaper version so here we a couple of sizes to download.
Download 1920x1200px VW Wallpaper
Download 2560x1440px VW Wallpaper
Download 1680x1050px VW Wallpaper
Download iPhone 4 Retina Wallpaper
---
I decided to do a faithful recreation of this for which you can now download and print out as a poster. There are also a few desktop wallpapers, and an iPhone 4 wallpaper.
Finds like this really make my day; one sheet showing an aged logo specification sheet for the VW logo found on Tumblr via http://iamkhayyam.tumblr.com. All I need now it to see the rest of it so if anyone has an idea on where more of the Vintage VW Logo Specifications then do let me know.
In the meantime here are a few images to some more recent VW brand identity guidelines which don't look nearly as cool. Not that brand guidelines always need to look cool, but you know what I mean.