All Archived Posts in Icons
---
Early Nixed Ideas for the iTunes Icon by Felix Sockwell circa 2004
Been a fan of Felixs' work for some time. One of his earlier post's, "A Job for Steve", is a valuable insight into how a icon and graphic designer tackled a pretty prestigious client (Apple) and project: icon design for iTunes.
So cool to see the in-depth sketches of another designer, even if the project was a bust. There is also another valuable lesson: that many of us, as freelance graphic designers, are commissioned, yet sometimes our work is a bust, for whatever reason. 
This can obviously can be a hard pill to swallow, if not impossible, not to take personally, but Felix shows it can happen to anyone, regardless of your skill, expertise, history etc.
Read more http://drawger.com/felixsockwell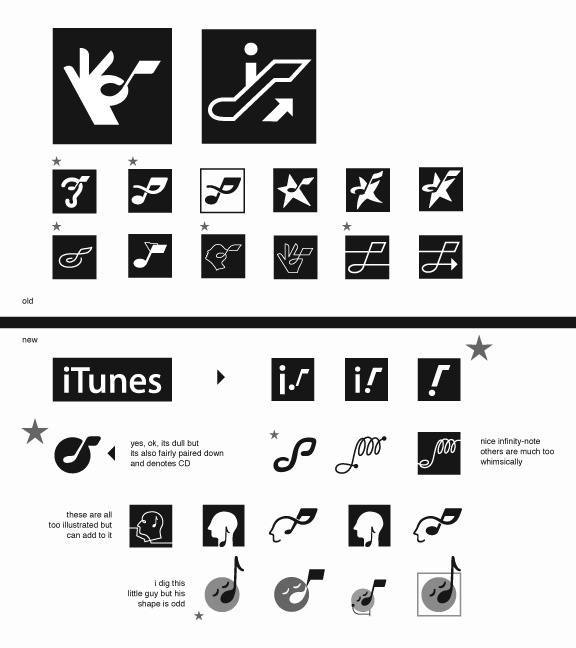 ---
These Star Wars icons were initially designed as part of an icon-a-day (year of icons) project, furiously designed by Jory Raphael (@sensibleworld), who incidentally, also masterminded the popular Symbolicons.
Jory has now combined all the individual Star Wars icons, and packaged them up as one complete Star Wars Icon Download.
Jory Raphael: "I thought it was time to update my free Star Wars icons. I posted a bunch last November, but have since added a few new icons. You can have them. For free.

The new set includes the following free Star Wars icons: a millennium falcon icon, a C-3PO icon, a Princess Leia icon, a Boba Fett icon, two lightsaber icons, a Death Star icon, a Darth Vader icon, an R2-D2 icon, a Storm Trooper icon, a Chewbacca icon, and the new additions for an AT-AT walker icon, an X-Wing icon, a Tie Fighter icon, an Admiral Ackbar icon, and a Yoda icon!"
Found via Macsparky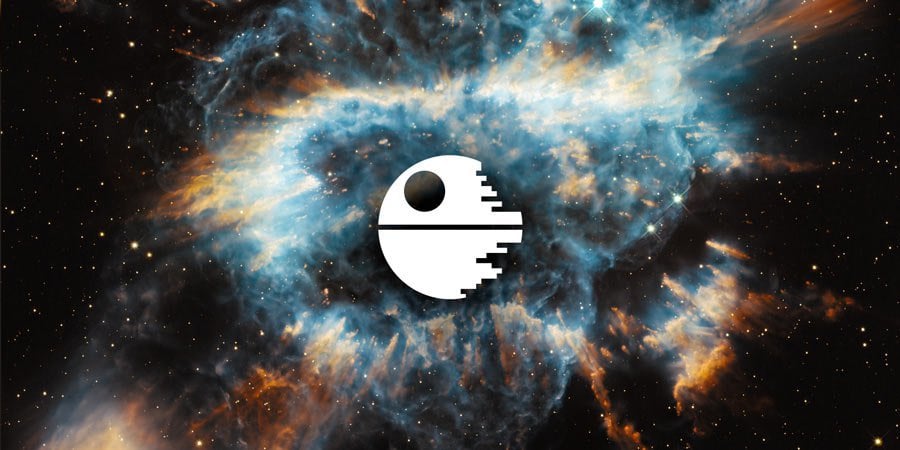 ---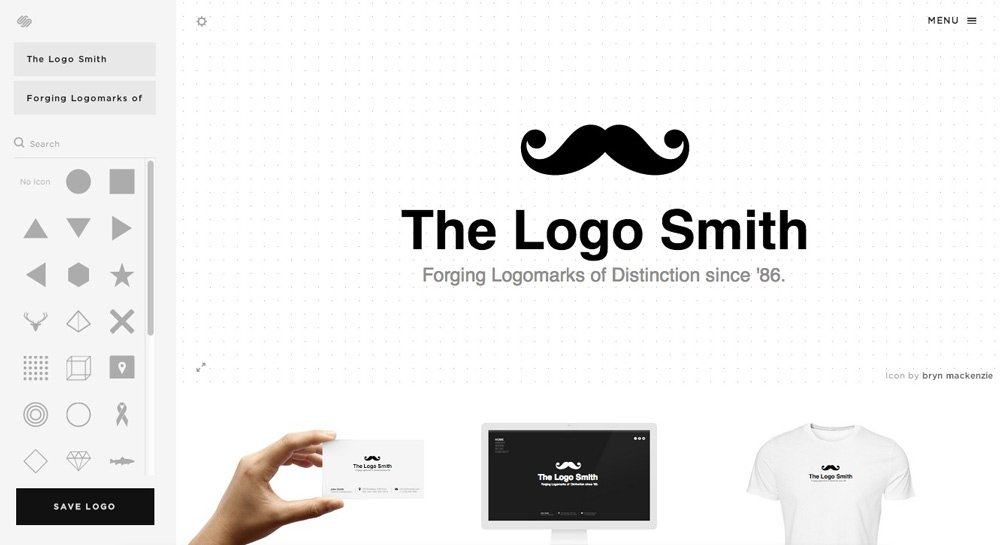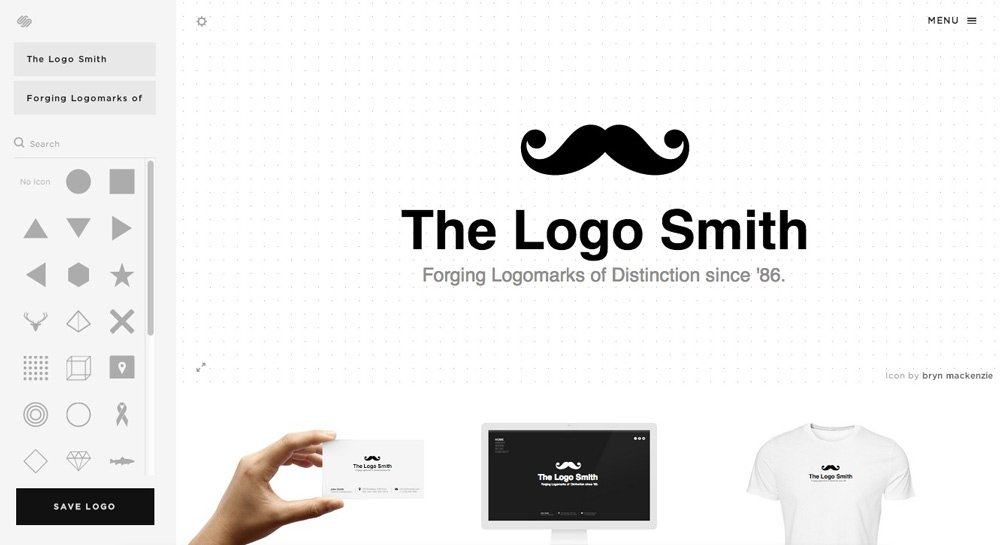 I really have been a little taken aback (in a good way) by the number of people asking me for my opinion on: The Squarespace Logo Design Machine, so here's my tepid reply.
As you can see, my The Logo Smith logo came out really well when having tasked The Squarespace Logo Design Machine to assist me with this little experiment: to update my own logo and identity.
The 'moustache' icon, designed by Bryn Mackenzie, is such a perfect fit for the 'distinction' part of my tag-line, and it goes without saying I used Helvetica—shame only Bold or Regular, as I used Helvetica Black, but no biggy—so for me, I'm completely thrilled to bits with the result: Squarespace Logo has transformed my logo.
I didn't even have to pay the $10 as I simply downloaded the watermarked version (I'll donate $10 to a dog shelter), and screen-grabbed the images you see here. Not sure that's entirely ethical, but hey.
I've had so much fun with this…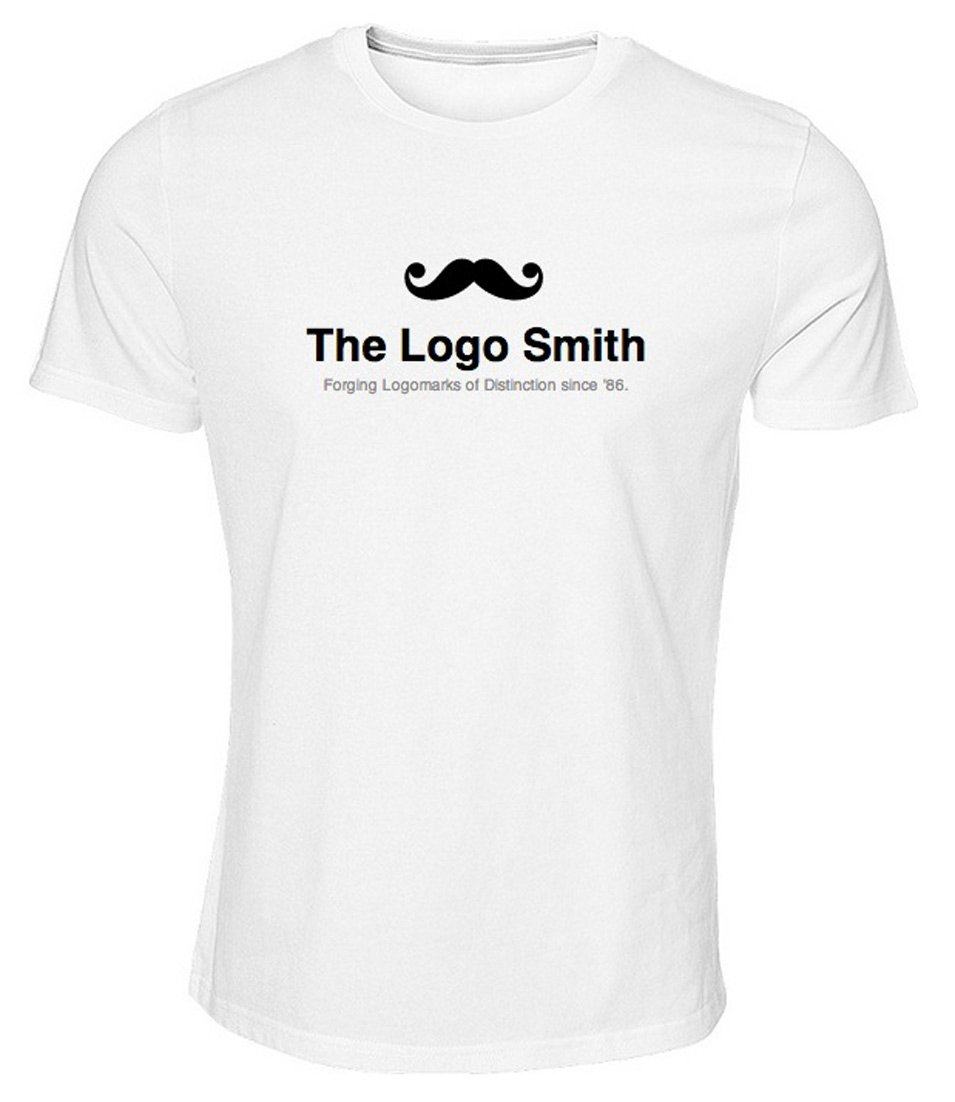 I'll come right out and say: I have already recommended The Squarespace Logo Machine service to some non-potential clients, as they didn't want to spend the £1000's I usually charge.
This is a far better solution for cash-strapped clients than using 99Designs, or hell, Fiverr. Anyone, and I mean anyone, now has the ability to create a logo design that will always far exceed anything you'll get off Fiverr, and for only double the cost!
They may be a little limited in font choices, and Noun Project icons, but that there is the reason Squarespace logo will be popular. By providing some basic constraints, a non designery client would have to be a complete nonce to mess this up.
The general aesthetic that spews out of The Squarespace Logo Design Machine is of the 'minimally flat' variety, and given we are already here with flat design, then Squarespace is saving us from the grim world of Fiverr and Microsoft Publisher gradient filled lumps of smelly poo.
Each design will be clean, presentable, and will instantly create a more beautiful world for us all.
For those designers who feel petrified that Squarespace Logo is a viable threat to their own supply of clients, then you simply need to look at another career choice. For those that have ethical quibbles, then you should really just be thankful that Squarespace Logo is making it possible for cash-strapped/stingy clients to at least have access to aesthetically flat, and clean, designs. Also, don't be such a selfish, head-up-your-own-crystal-ass, narrow-minded jack-ass.
However, not sure where we'll end up when there are a gazzilion companies using my 'moustache' to represent their brand… then I might have to get a little protective of my intellectual property.
---
I've been searching for a suitable messenger style laptop bag for my new 13" Macbook Air, and my search has taken me all over the place. There are some lovely bags around, from: leather, canvas, nylon and even various recycled materials. Here are a few I've favourited on Etsy: http://etsy.me/1aFQzaJ
One the most well known companies using recycled materials, I guess, would be freitag.ch, there is also elvisandkresse.com, who makes fashion items from recycled fire hoses, which is pretty cool.
Although I've checked 100's of laptop messenger bags, there have been only a handful that I really feel suit my style, and would be happy enough to hold my Macbook Air.
Etsy
Etsy is a great place to find all sorts of treasures, and I have ended up buying numerous camera cases, phone cases and other things over the last few years. Etsy again came up trumps for a suitable bag in the form of this fantastic recycled / repurposed Cement bag made by The Wren. It's almost as though the design of these cement bags was done with the messenger bags in mind, as they just seem to look so perfect.
If you visit the The Wren's website you'll see a whole range of: bags, sleeves, cases all made from the same Pretoria Portland Cement paper bags.
I'm ordering the 13" Black with red highlights, can't wait! There's so much to love about these cement bag bags: the bold and striking graphics, the typography, the icons and symbols, the colour use, the snug padded fit for your much cherished laptop, the simple fact these are bloody cement bags!
I'll give a review once I have received and used my own, and will likely offer up a few of these in an upcoming giveaway. So make sure you are receiving my blog newsletter so you don't miss out!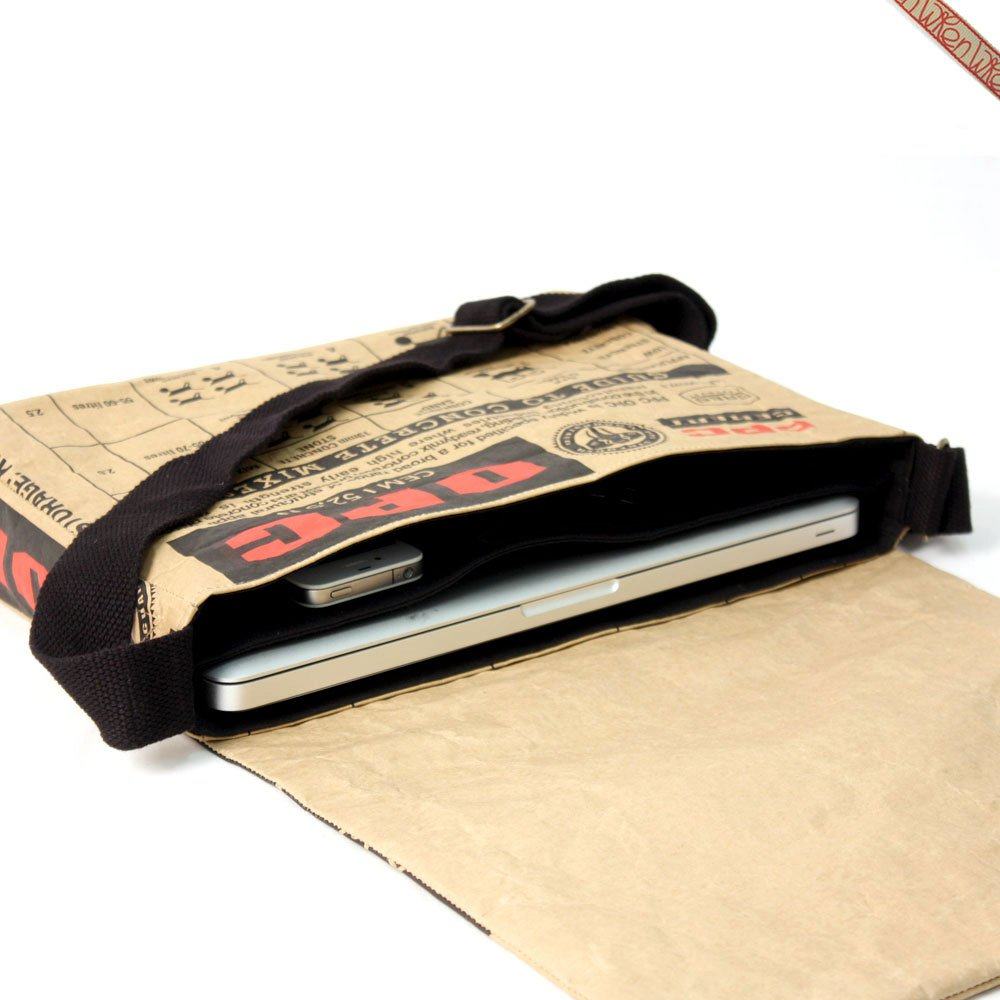 Recycled Cement Bag Summary
You really need to check out the product page to get the full story on how these are made, and how awesome they are. In the 13" size you can get: black, red, yellow and blue, but the other 15" and 17" laptop sizes are also available.
So here's a quick summary:
Each one is made to order
Made from unused Pretoria Portland Cement paper bags
Materials: paper, fusable cotton, cotton webbing, metal adjusters, hidden magnets, cotton, foam, batting, scotch guard, embroidered label
2 sections, 2 pockets: carry laptop accessories alongside your laptop
Fully padded with padded divider
Closes with 2 magnets
Bag is treated with Scotch Guard so fully weather proof
Cotton webbing, and fully adjustable strap
Size for 13" laptop: 34cm (length) X 25,5 (height) X 6cm (width)
Very cool indeed.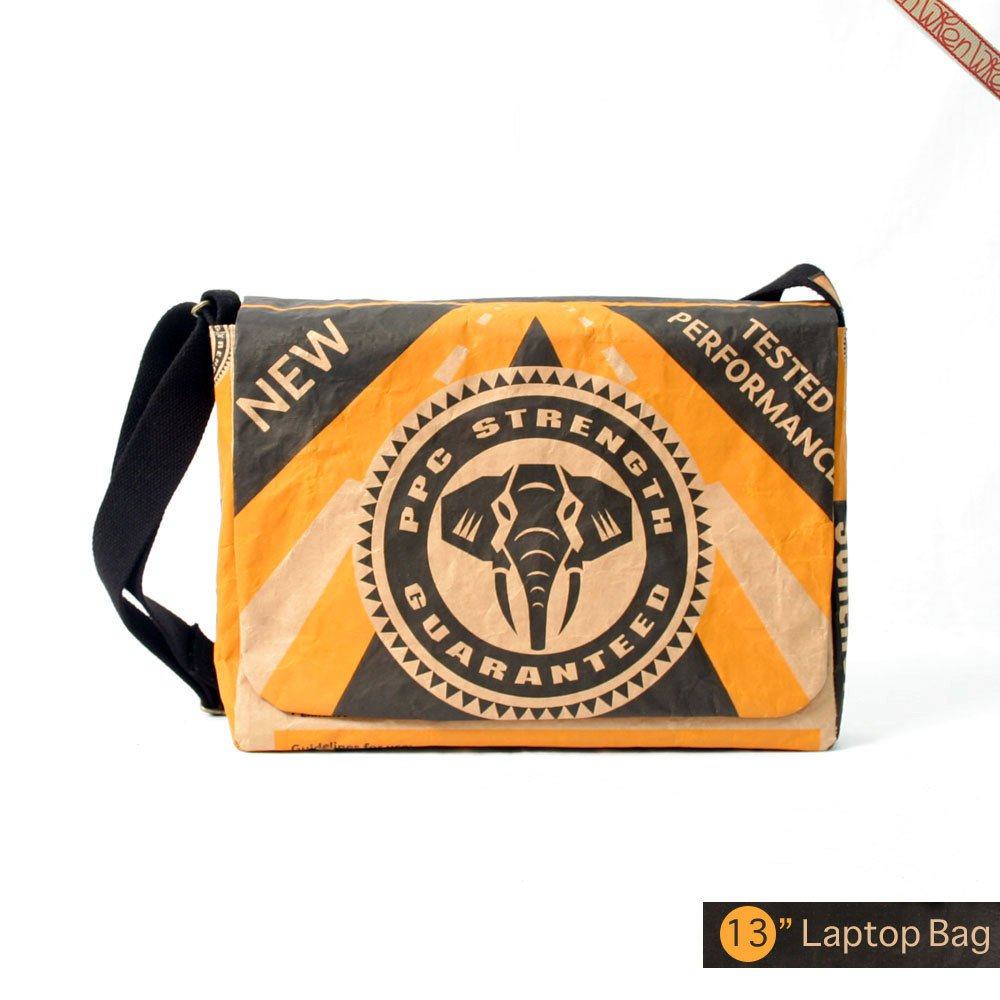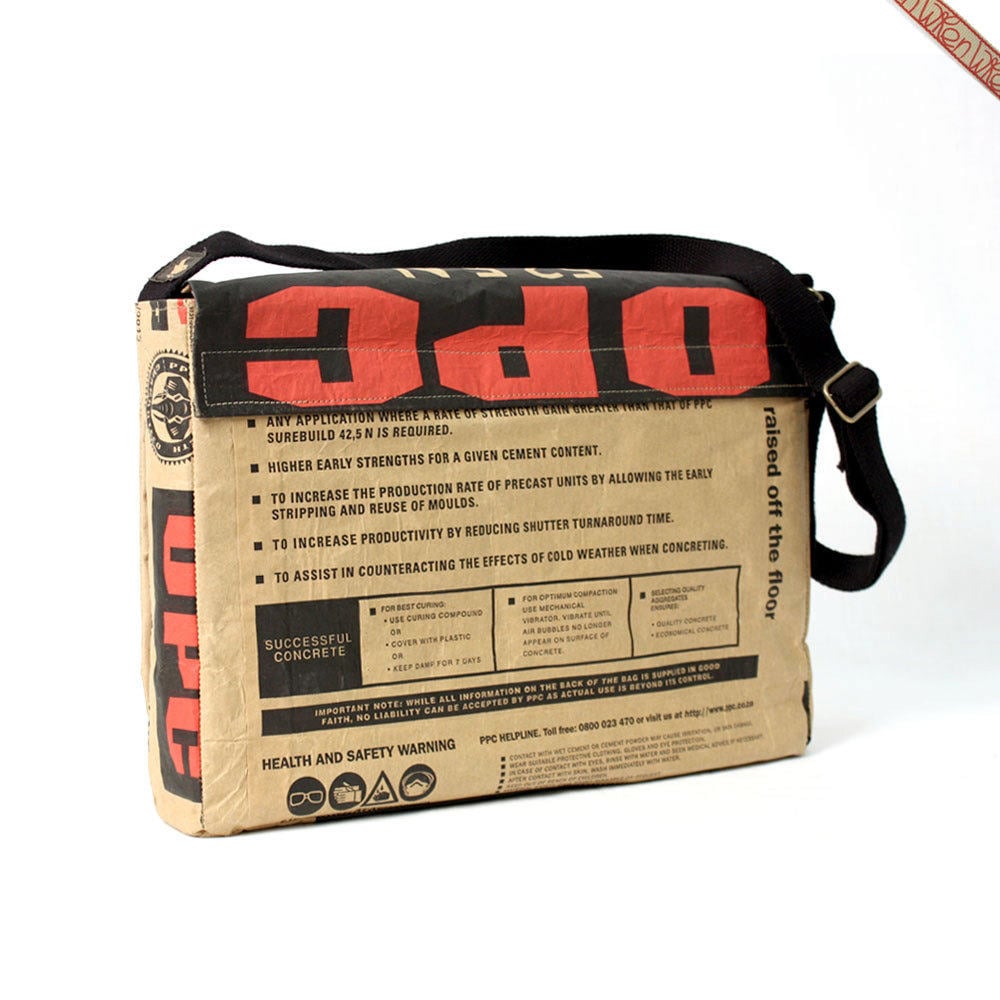 ---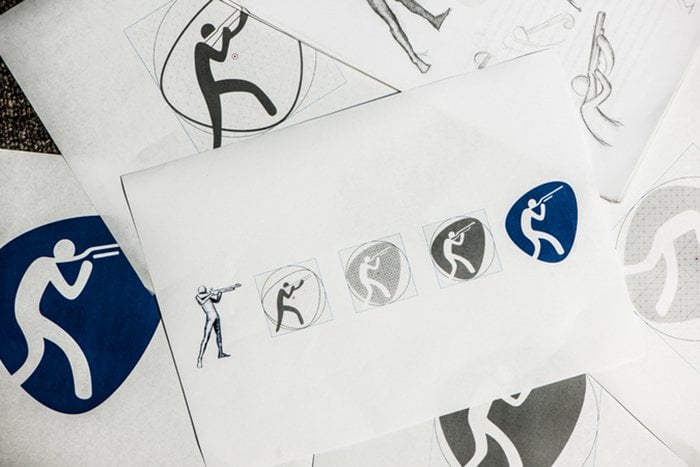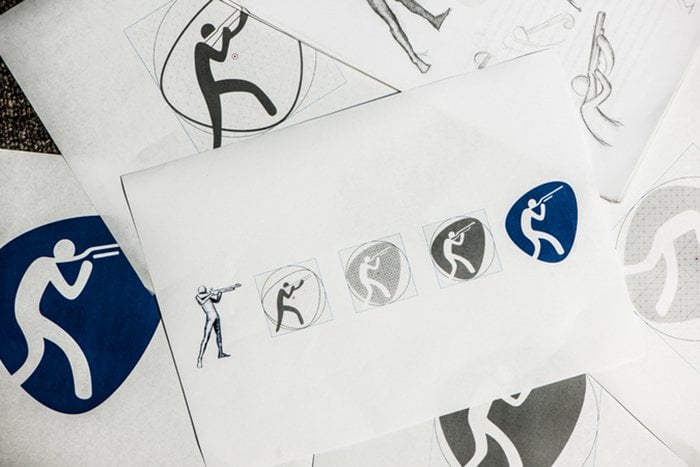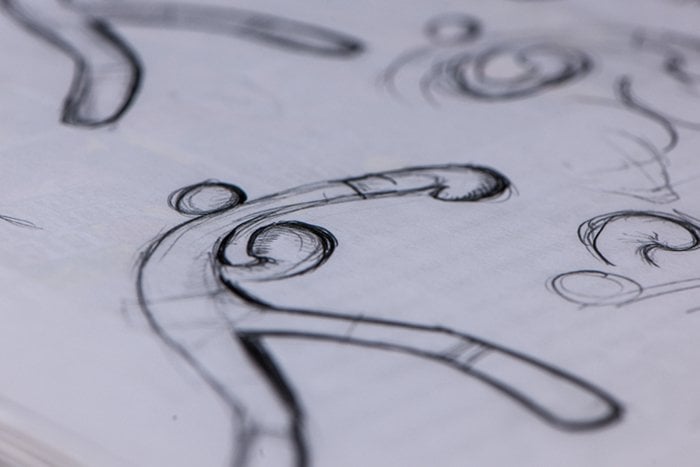 From the Rio 2016 website:" Sport pictograms are graphic icons facilitating the visual identification of each sport and are a Games tradition. In 2016, each Olympic and Paralympic sport will be represented by a unique pictogram for the first time. The Rio Games have 64 pictograms – 41 Olympic and 23 Paralympic – and you can check them out below. Also see our image gallery of the creative process for the pictograms, learn about the origin of this tradition and share your favourite 'picto'!"
These bouncy Olymoic pictograms for the upcoming Rio 2016 games were designed in-house, by the Rio 2016 design team. They were ultimately influenced from the custom made Olympic typeface which was designed by Dalton Maag, which was itself based on the original Rio Olympic logo.
Although not a style I'm particularly fond of, they do, however, work perfectly within the entire Rio brand identity. They look and feel perfectly at home, and each pictogram seems to clearly represent each sport etc.
Creative Review has a detailed walk-through on the Olympic pictograms: Rio 2016 Olympic pictograms unveiled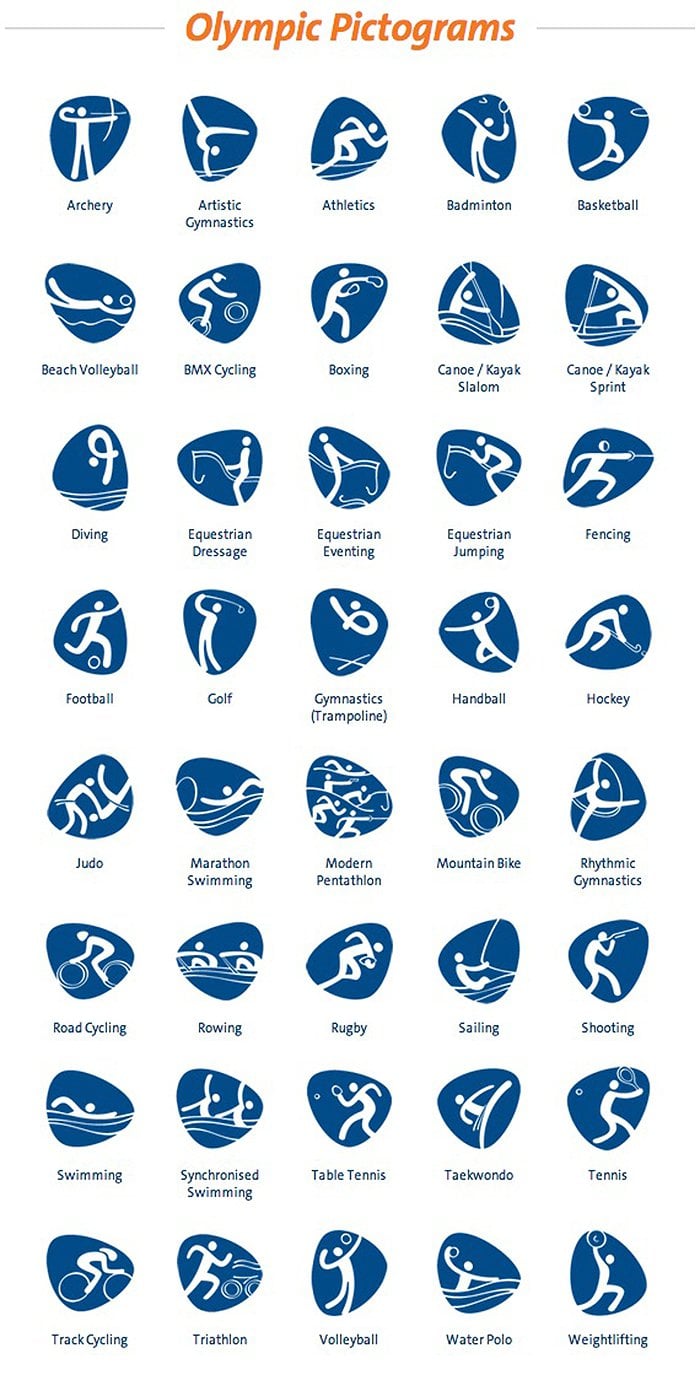 ---
Keeping ones portfolio up-to-date nearly always seems to be one of those tasks that just keep getting side-lined due to this and that. One really needs to get his finger out of his backside more often.
Finally had to scratch a certain itch, so took the last few days to revise my Monomarks:
Monomarks: individual logomarks, from each of my logo designs, displayed in glorious Techniblack.
Previously they were black logomarks on a dark grey background, which frankly was most dull. The new Monomark's are now square and have the black logomarks on a brilliant white background.
I've yet to fully update the Monomark page, here on this website, with all the new updated Monomarks, but you can see a long list of them over on my new Behance Prosite external portfolio: http://grahamsmith.info as well as on Flickr.
---
One of the hurdles I find with some projects is a clients belief that the logo should 'literally' convey all and every possible meaning and association that they can find. If a logo design is packaged with such literal meanings, and visual clues, then how could anyone misinterpret the logo, or be in any doubt what the logo is representing?
The main problem with loading a logo design with literal symbols is that we don't really end up with a logo design, but more a busy, and oftentimes, cliche icon and/or mess. I'm not just talking about a client wanting a leaf in the logo because they sell plants, or a car salesmen who wants a car in the logo, I'm talking more broadly where a client may not be aware that a logo isn't really about trying to make their whole business philosophy somehow visually apparent in the logo design.
To them, and I don't mean to be patronising, this is a relatively common sense assumption, and this is why we often see such overly obvious logo and shop signs in local towns, and yes, even with larger more global prominent brands.
The curse of the literal cliche loaded logo can be found everywhere.
On one hand it sort of makes sense that if you have a logo that it should try it's best to convey exactly what the business is about, and I can quite understand how a client may want this approach. Often thought that's actually not the goal of a logo or identity designer, it's more about finding the deeper meanings, drive and inner workings of a particular company or brand.
As logo and brand identity designers we are not particularly looking to create an obvious icon or symbol that is loaded with literal visual clues and meanings. Examples of such are more aligned with road sings, icons and symbols for toilets, disabilities, parking and other public facing areas where the icon has to convey, in the cleanest and simplest way possible, a literal meaning of what to expect.
Logo design as a whole doesn't really fall into this area, although some logo designs do end up actually being quite literal, but this would be all part of the plan from the outset. The difference is that some brands may benefit from this approach, but others not, but if they do then there is generally a good reason for it.
Consider that many companies have logo designs that when viewed complete alone, don't actually appear to mean an awful lot. Yet when you take time to look into the company, take the rest of the brand identity into consideration, the logo is likely to make far more sense as a complete package.
It's not always neccessary to design a logo that when viewed alone makes much sense, but it is important to still try and embody some of the companies soul, essence, personality through the choice of design, colours and typography.
I try and explain to clients who are expecting to see a logo design loaded with literal and easy to understand visual clues, "to try and view your logo as a graphical short hand, or unique avatar for the brand name/business, where the logo styling: abstract, monogram, initials, crest, word mark etc, helps set the initial tone, along then with a tag-line, USP (unique selling point), philosophy, descriptions, elevator pitch, and the other parts of the visual identity will all come together to breathe life into the brand." If a client doesn't have a USP, doesn't know really what they are doing or how to sell the idea convincingly to someone in a few minutes, then it's hardly fair to expect a logo designer to be able to fill the gap—and why would you take on such a project in the first place?
It's important not to allow a client to get carried away with believing the logo should, on first-glance, tell who ever it looking at it everything there is to know about the company. This might seem obvious, but I get many completed project briefs where the client has indicated that 'this, that, this and this plus that and some of this' must all be conveyed in the logo design.
You, as their logo designer, need to set expectations over what the logo needs achieve as soon as possible. We are generally not designing a road sign icon that implicitly conveys what a company does. Again, that's not to say that in come cases a logo design might not benefit from that approach. If that is an approach that could work then it's because you have looked at the other options for this client in particular, and because of what they do it may be really important that a logo design is as clear as possible.
What I'm trying to advise is that you don't allow yourself to get carried away by saying, "yes yes yes", to whatever the client asks of you because you want to keep them happy. Remember you are the expert, and the client will be relying on you, whether they know it or not, to steer them the right way, even if they are reluctant to listen at first.
The skill is understanding the complete big picture about what is appropriate for each client (not the client per-sai, but the business/product you are designing for), and then forming a design direction that can, in the cleanest way possible infer/hint/suggest at some of the more important aspects of their brand, or personality, whilst creating a logo mark that is appropriate for their needs, and for the intended audience.
If you are going to go literal in your logo then then ensure it's because you feel it's the right direction for the client and their brand needs, and not because you don't have the balls to say NO! :)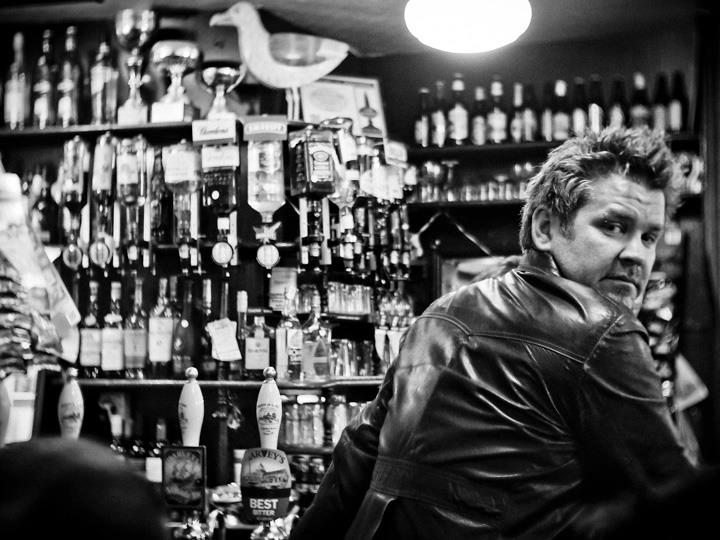 Ask Graham a Question on Logo & Brand Identity
If you have a question or issue that you need a hand with then please take a look at this post: http://imjustcreative.com/ask-graham-a-question-on-logo-brand-identity and feel free to whip me a line.
I'll try my best to address it in a unique blog post so that you and others can hopefully get some use from it.
---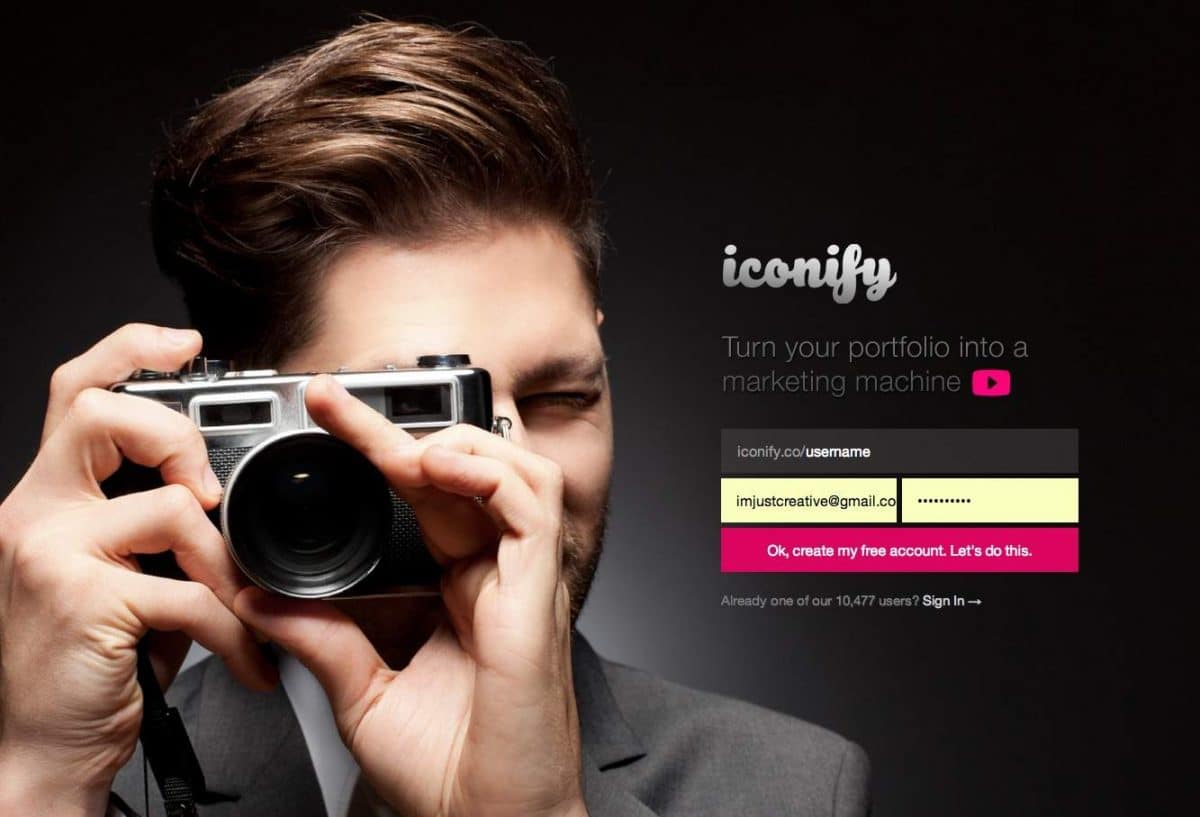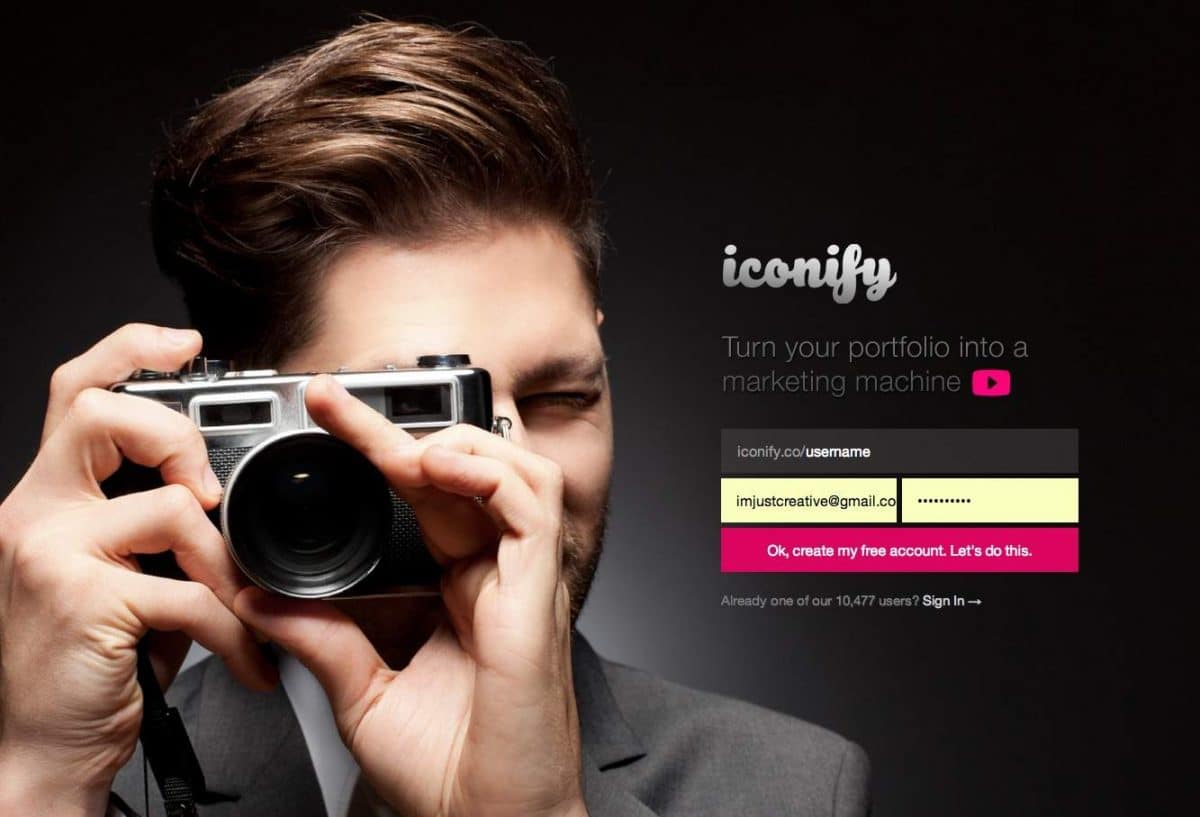 Affiliate Links: Links to Iconify in this post are of the affiliate variety. This means that if you sign-up to the paid plan I get a nice little financial kick-back. I don't usually do affiliate stuff, but I'm making an exception in this case
iconify.co: a clean, fast, responsive and minimal logo portfolio
I did an ever so tiny write-up on iconify.co a while back: Iconify—An Online, Responsive, Minimal & Downloadable Portfolio App before I had chance to use it myself. Now I have used it, uploaded all of my logo and icon designs, just wanted to do a quick follow up on this rather nice online portfolio.
I like it because it's so damn quick and easy to set-up and upload your work. No faffing around, no extraneous fancy extras to get in your way and slow you down from publishing a straightforward really accesible gallery of your work.
Don't think I have used, and continue to use, something as user friendly, both user and client end, as Iconify. You can view my Iconify portfolio here: https://iconify.co/imjustcreative
I have tried them all over the years, they come and go, with the more established ones like: Behance, Cargo Collective, Flickr etc staying the distance, but if you really want a super quick, mobile friendly platform to cleanly display your work then I can't recommend Iconify highly enough.
For me it has become the first 3rd party web based portfolio that I update, usually even before my own hosted portfolio here on imjustcreative, simply because it's just so quick and easy to update. After I have updated Iconify then I usually update the imjustcreative portfolio, then Behance and possibly Flickr if I can be arsed. I used to like CargoCollective, but just having all the customisation options there sort of makes me shudder.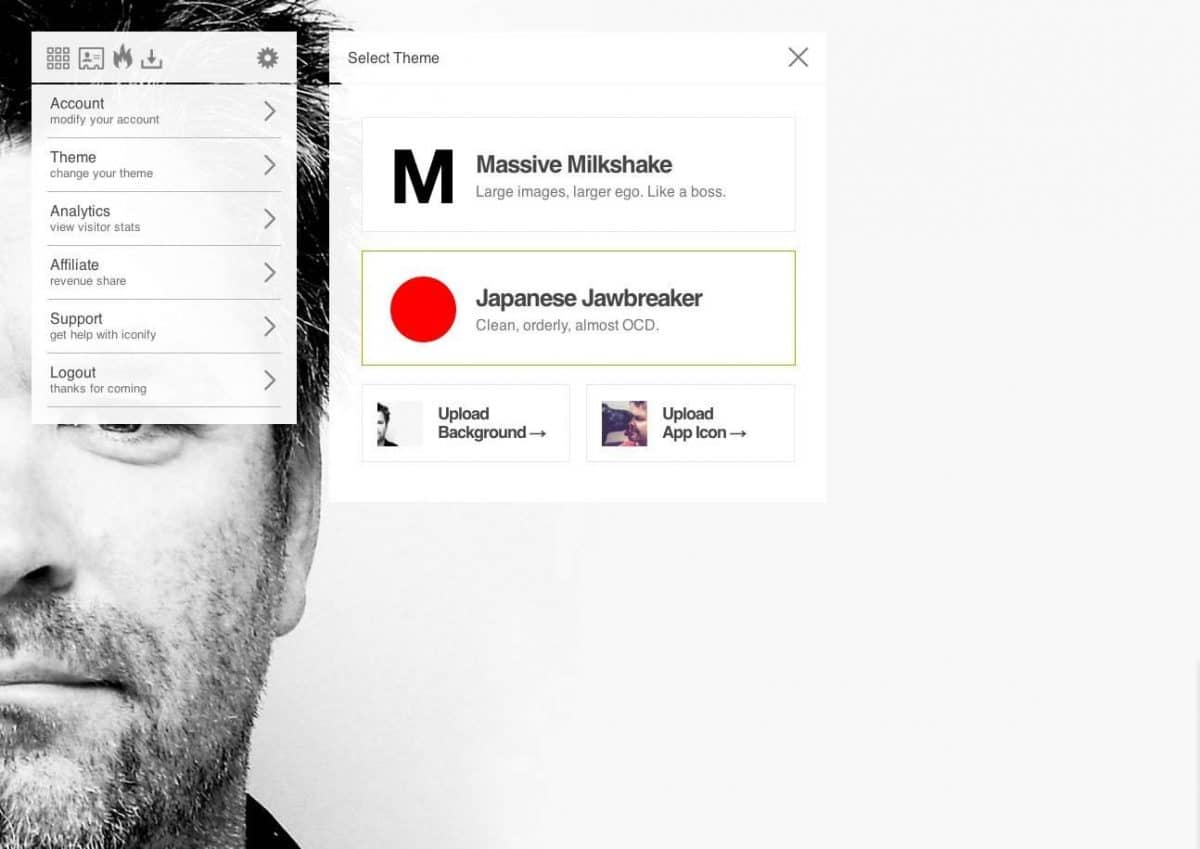 Because you can set up folders on the left side navigation you can basically create self contained projects, or smaller sub portfolios.
I have created a master logo portfolio, a portfolio for my monomarks, and a folder for the few icons I have designed. There are no text entry options, not even captions which I actually love because it forces you to just focus on the imagery and let it speak for it self, which obviously also makes uploading and updating the portfolio so blindingly fast and painless.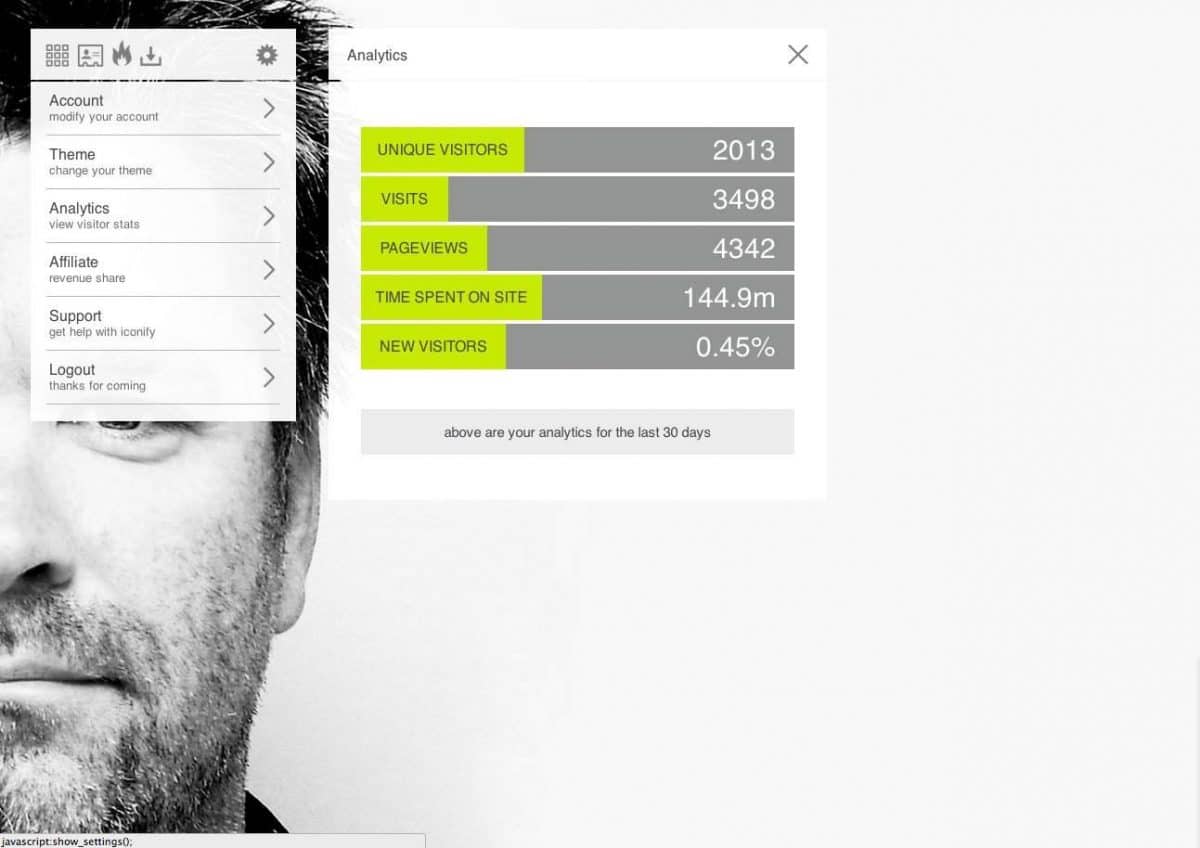 There is a simple analytics page, as well as just two clean themes to choose from, and again: less choice means less time with draining choices to make, and I just love this about iconify.
One of the smartest features is it's mobile friendly nature, from being fully responsive on all devices right down to being able to download, from a mobile device, the portfolio as a mobile app.
If you're stressing because you don't have any kind of portfolio at this moment, then Iconify will enable you to get up and running in no time. If like me you maintain several portfolios then I think Iconify will also provide you with a version of your portfolio that is always ready and waiting to be updated in super quick time. I sometimes use my Iconify URL as I actually prefer the way it looks and works over my own portfolio on imjustcreative!
Sign-up
Got nothing much to lose by signing up for the free plan, then you might come to the same conclusion I have come to.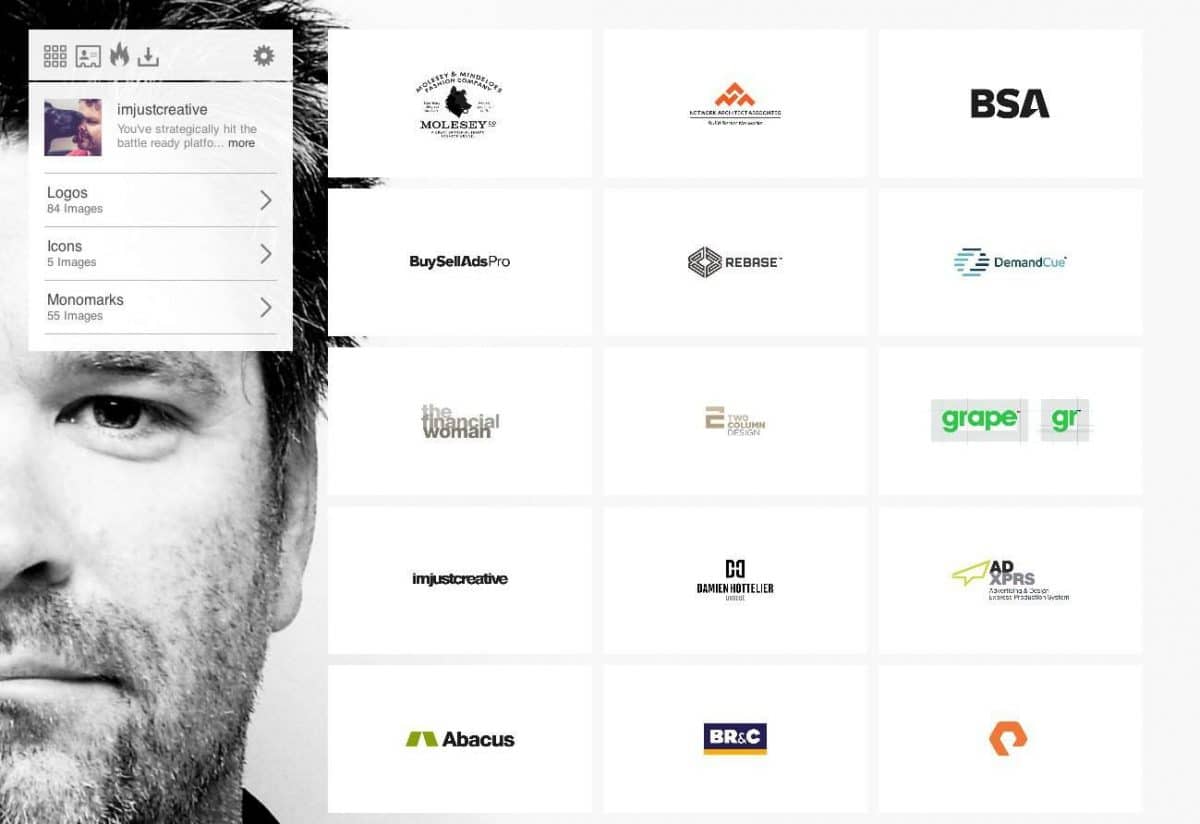 Nice little video from the folks at Iconify:
---
Interesting web based application in the form of makeappicon.com The simple idea is to slip in your 1024px icon master then makeappicon hurls out a number of popular app icon size for both iOS and Android.
I tried it 'oh so quickly with my simple grape iOS app icon and it gave me 10 new app icon sizes in about 3 seconds.
Please note that I have not opened up and checked these individual files for quality, signs of degradation or other 'too good to be true' unwanted pixel scenarious.
I always create each app icon size manually so as to be able to ensure the whole pixel-fitting is in order, and would hazard a guess that makeappicon.com wouldn't be able to automagically do this.
However, even if the individual icons are not 100%, the fact that you have a simple and quick means to knock out some provisional app icons for testing etc is a huge potential time saver for when you are at the early stages of the icon design and just want to get a quick feel for how the design will look in-situ and at smaller sizes. Plus, even if you don't want to rely on it for individual icon sizes you still get a quick way to get an iPhone phone mock-up with icon in place with text.
It's definitely worth a go especially as it's FREE!
» Via: http://makeappicon.com
---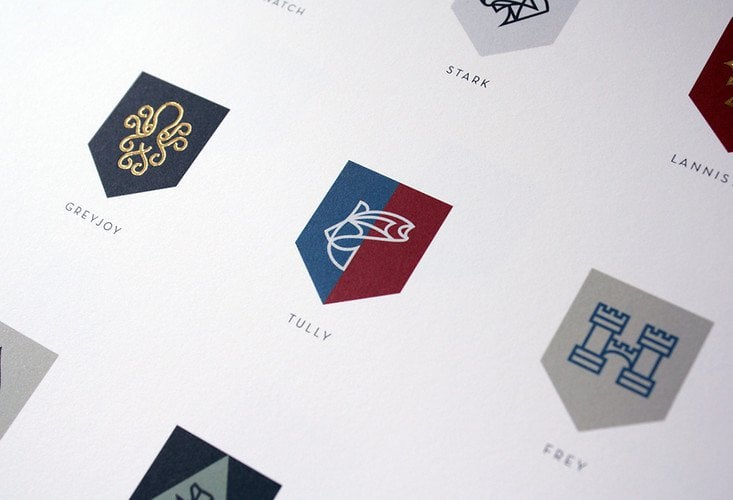 Been meaning to post this for some time after seeing it in FastCoDesign.
A little hard for me to actually understand specifically what is going on here with these designs as I have never watched Game of Thrones. That aside, the creative work for each of these sigil's utterly astounds me no end. I just keep ending up keep staring at the whole masterpiece: the offset poster with UV inks and foil stamping!
Read the piece in FastCoDesign as Darrin spills all, and also worth glimpsing the post on UnderConsideration.
» Source: http://darrincrescenzi.com/
» Via: FastCoDesign