All Archived Posts in Graphic Designer Focus
Free Font Katana's Edge, designed by Dimitris Bouskos, is one of many many many new free fonts that as graphic designers, we can all be a little grateful for.
The continued generosity of so many graphic and type designers, is what makes our particular line of work so damn brilliant.
The least we can do is to help share, promote, use and give feedback to all these free fonts that seem to be falling from the skies on a pretty continued basis. Amen.
Dimitri's Bouskos: "A grungy, brushy typeface with attitude, designed for punchy titles. Available for free download, enjoy!!"
Download Free Font Katana's Edge
You can find the Download Link for Katana's Edge, at the end of the Bechance Project Page. No hoops to jump through, just a regular quick and easy Dropbox link.
If you like and/or end up using Katana's Edge, then why not head over to Dimitri's Bouskos' Behance profile, and give a Thumbs-Up to the Katana's Edge project.
Nice one.
Found this link on FreeTypography (where else!).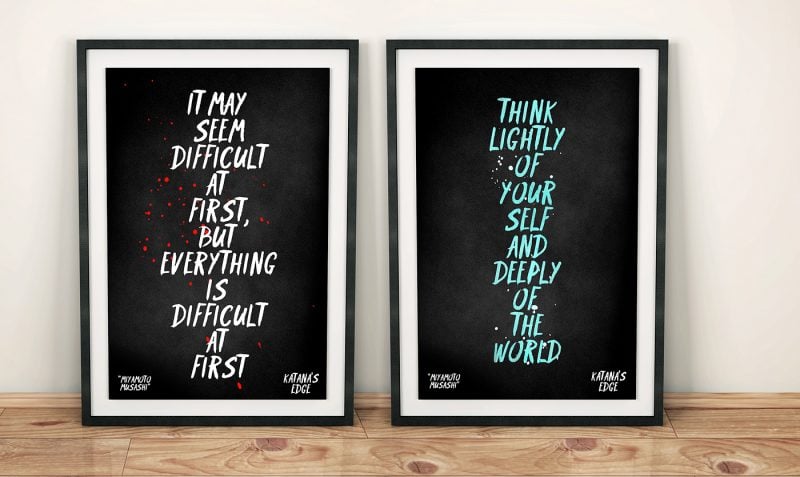 New SETI Institute Logo Designed by Trevor Beattie
Only just received a press release for the SETI Institute Logo and branding redesign, designed by Trevor Beattie, Founder and Chairman of BMB.
This logo design has certainly piqued my interest, and I can see what's going on with the logo: the use of the 'S' and '?'
What I can say is: I still really like the original SETI Institute logo, was quite fond of that design overall. If you had to push me for an opinion right now: I'd probably been happier to have seen an update/refresh, rather than a complete redesign. The new SETI logo looks a bit 'lost in space' on the website header, not much of a presence. But that's all you're getting for now…
Am yet to fully soak this up, as I'm currently in two-minds about my initial thoughts. Going to need to see how I feel in a few days.
The New SETI Institute Logo Design
YETI Institute Press Release
Least I could do is share the news in the meantime, and here's the full Press Release, from Persuasion, in all it's glory:
MOUNTAIN VIEW, CA – The SETI Institute, a renowned nonprofit research organization, has unveiled a new logo and brand mark to better reflect its mission to search for, and understand, life beyond Earth. 

The new logo was designed by Trevor Beattie, Founder and Chairman of London's BMB advertising agency.  Beattie is an unabashed, life-long fanatic about space, and admits that the opportunity to reshape the Institute's graphical brand was both a challenge and a privilege.

"SETI is all about answering a profoundly important question: Are we alone?" he says. "There's already a question mark hidden in the "S" of SETI.  In designing this new logo, we simply freed it up."

Beattie's graphic is bold and economical, and accomplishes what famed designer Saul Bass has said is essential for any logo: "Symbolize and summarize."

"As we embark on a new chapter in our 32-year history of exploration and discovery, our new logo is a fitting and compelling icon for our quest," says SETI Institute CEO Bill Diamond. "With this symbol, we embrace the essence of science's mission – to be curious, and to seek understanding through groundbreaking research." 

"We are engaged in the definition and reexamination of concepts and hypotheses in astrobiology, and are now expanding the tools deployed in the search for intelligent life beyond Earth."

"With this bold new brand, we launch a new era in our efforts to understand mankind's place in the cosmos." 

The SETI Institute's interests range from the exploration of our solar system, looking for microbial life relatively nearby, to the search for technologically sophisticated beings on worlds orbiting other stars.  The Institute employs more than 120 scientists, technicians and staff.

The new logo is simple and scalable, familiar and yet provocatively unique.  It is intended to be quickly recognizable and sufficiently iconic that – without words – it will be instantly associated with the SETI Institute. 

For designer Beattie, the unique interests of the Institute are self-evident: "No-one has a better claim on ownership of the question mark than the SETI Institute," he says.  "And soon, perhaps very soon, its scientists may find answers to the long-standing question of the ubiquity of life."
Steve Jobs Tribute Typographic Poster Designed by Oliver Gareis
This Steve Jobs Tribute Typographic Poster has to be one of the best graphic design tributes I've seen in a while. Oliver Gareis has done an outstanding job of mixing and matching a whole bunch of typographic styles, into something really rather elegant and stylish.
In basic type theory (using more than a few font styles in one layout etc) it should be a mess, but it just seems to work so well.
It might not be to everyones taste, but I love it.
You must go over to Oliver's Behance profile: Steve Jobs Famous Quote Typography to view the original project, and to also watch a time lapse video of the posters development.

Oliver explains how this came to be, and how long it took:
About one year ago I started this project, when the agency where I work full time decided that they want to pimp their office.

We brainstormed on what to do, and finally decided to write a quote on the wall of someone who is an inspiration to all of us, namely Steve Jobs.

So I sat down, took some time of reconsidering and picked a truly inspiring quote of him. First, I started drawing everything on paper.

Secondly, I scanned everything and assembled the four A4 sized papers into one piece with Illustrator.

It was a lot of hard work to create this illustration but it was definitely worth it. After I finished the illustration I drew the piece on our office wall.

It took me about 20 days spread over 4 month to finish this drawing. I would really appreciate it if you can take a look on the time lapse video to see my work."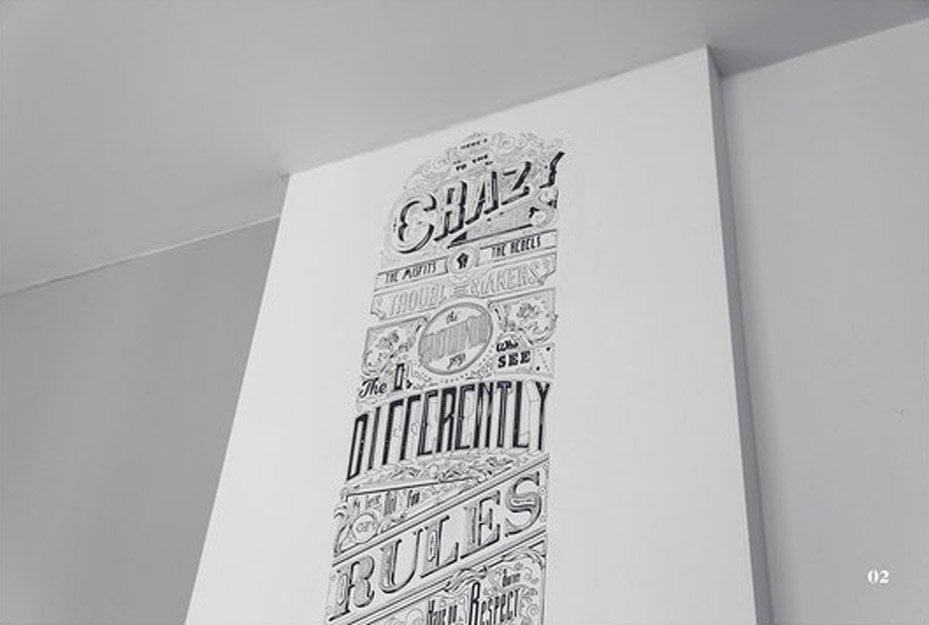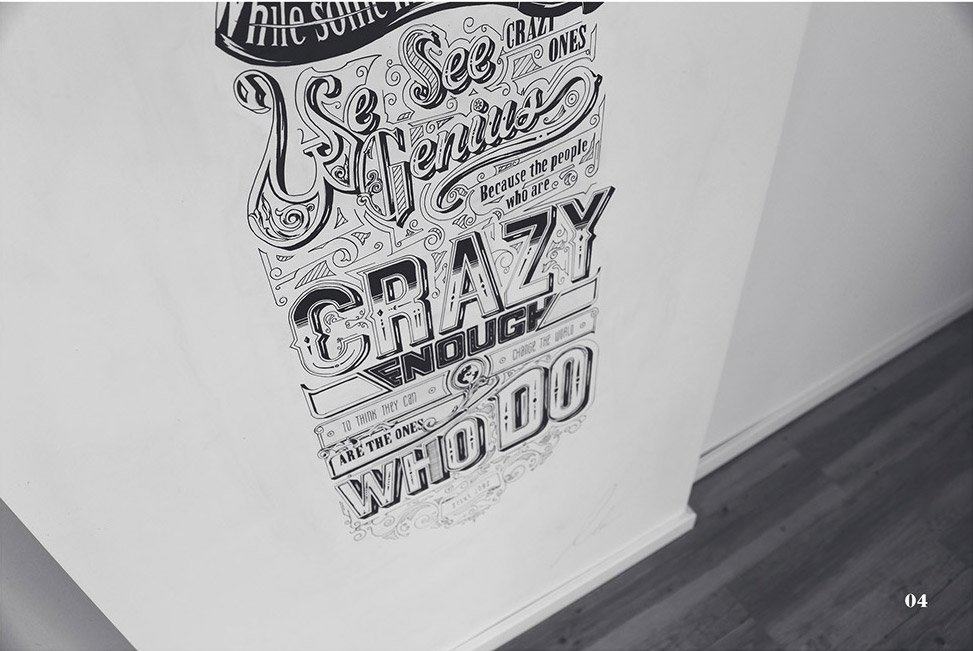 Download Free Fonts and Specimens of Digital Typefaces by The Pyte Foundry
Where can I download free fonts and typefaces? Well, The Pyte Foundry is an interesting, and useful, typographic resource to add to your collection if you like collecting free fonts and typefaces.
You'll no doubt notice that they use 'alternative' spellings on their website, such as: Pyte for Type, Gidital Typefaces for Gigital Typefaces, Fount for Font, Pytographic for Typographic… etc.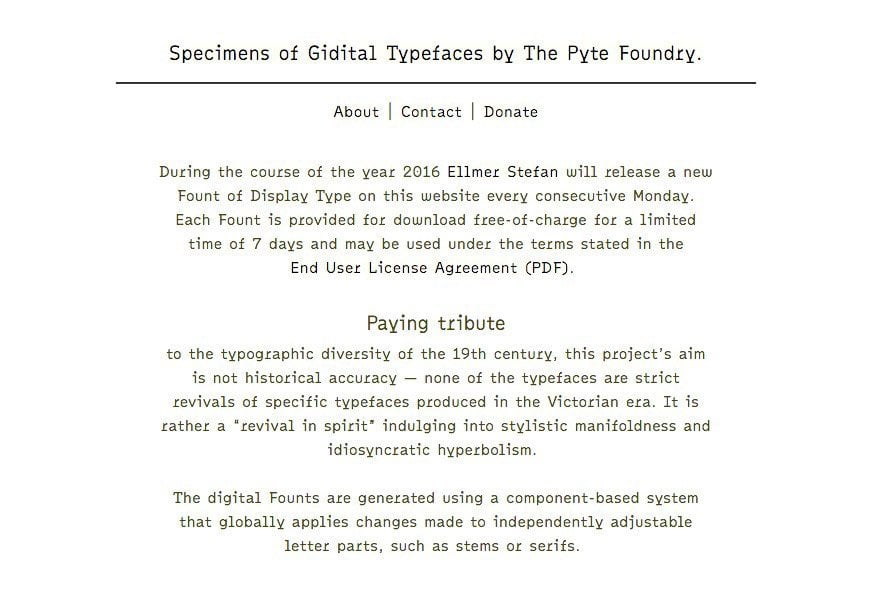 Each consecutive Monday, Mr Ellmer Stefan will release a new font on The Pyte Foundry website, which will be provided for download free-of-charge for a limited time of 7 days, and may be used under the terms stated in their End User License Agreement (PDF).
As you can see from the screenshots, each previous font shows when it was made available, but after 7 days the download link is deactivated.
As of writing this post; No. 28 'Overdose' is the current free font available for download.
This website was found in a retweet by @TypeCache:
Release 28 | 52

Go on gulping;
0% fat in tha face.

❝ OVERDOSE ❞https://t.co/ZZ8uJwe39b pic.twitter.com/UUDqt0mrdl

— The Pyte Foundry (@thepytefoundry) July 11, 2016
The Best of Everything for your Pytographic Needs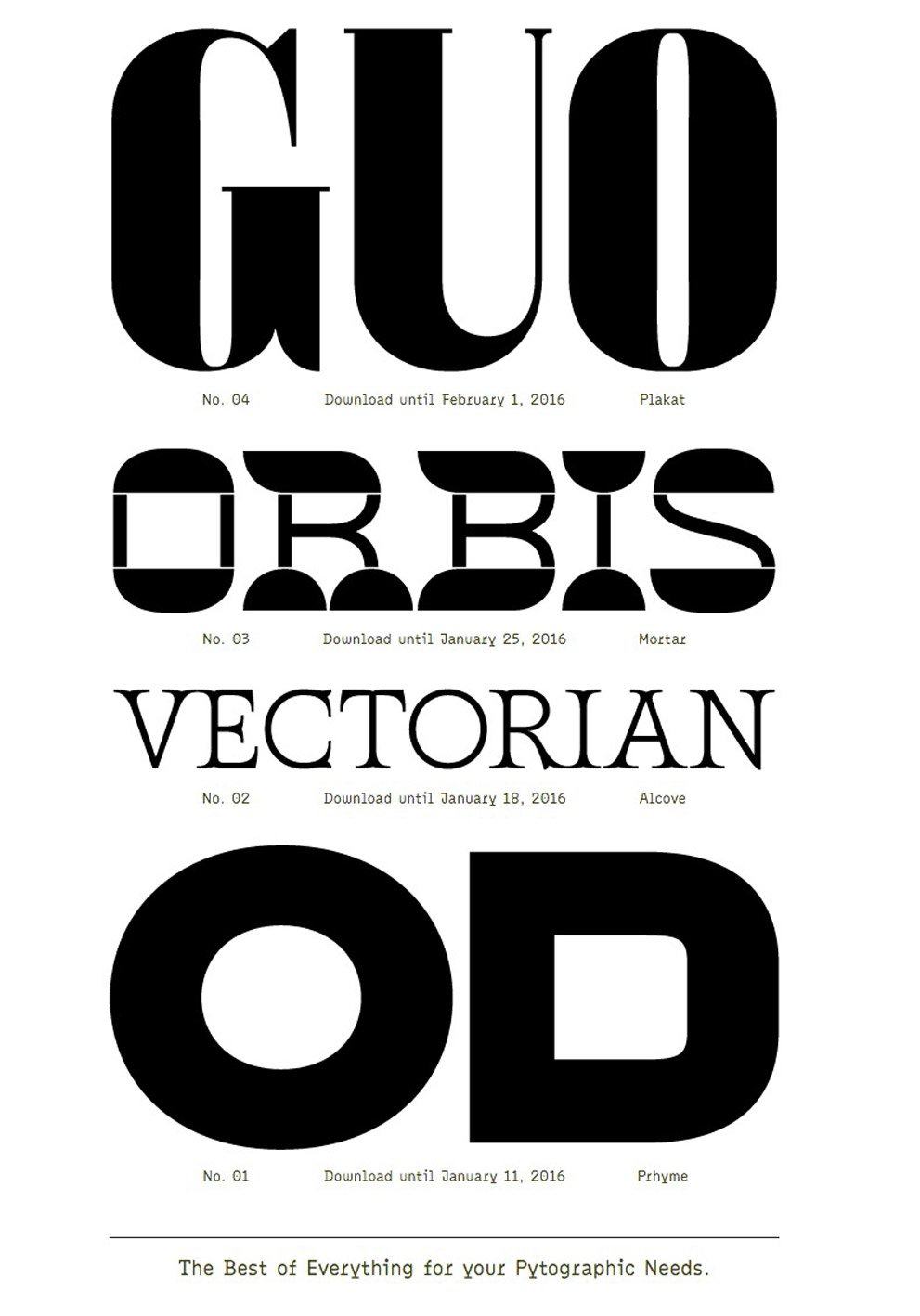 Quickly going back to their alternative approach to spelling, their sign-off on the About page (below) made me smirk: Alas, enjoy! 
The Pyte Foundry: During the course of the year 2016 Ellmer Stefan will release a new Fount of Display Type on this website every consecutive Monday. Each Fount is provided for download free-of-charge for a limited time of 7 days and may be used under the terms stated in theEnd User License Agreement (PDF).

Paying tribute

to the typographic diversity of the 19th century, this project's aim is not historical accuracy — none of the typefaces are strict revivals of specific typefaces produced in the Victorian era. It is rather a "revival in spirit" indulging into stylistic manifoldness and idiosyncratic hyperbolism.

The digital Founts are generated using a component-based system that globally applies changes made to independently adjustable letter parts, such as stems or serifs.


This approach mirrors the production methods envisioned for the making of wood types around 1880: in "American Wood Type 1818–1900" historian Rob Roy Kelly refers to a series of inventions byWilliam H. Page using interchangeable modules in the creation of wood type letters enabling the rapid manufacturing of new styles.
What Kolor is this? Colour Matching Game by Jorge Moreno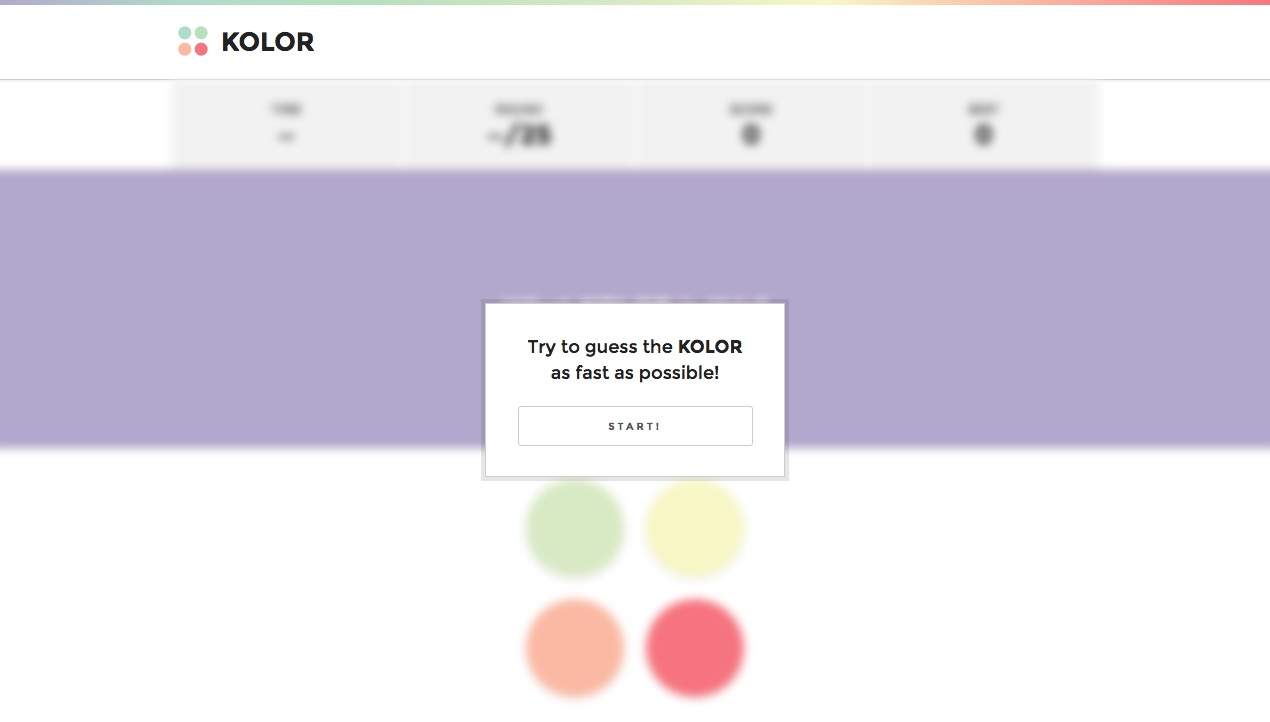 There's not an awful lot to say about What Kolor is This, by Jorge Moreno, as it's pretty self explanatory as an online gaming concept.
However, don't be fooled into thinking this is easy, because after the first few rounds, you'll end up struggling to select the right colour. I can guarantee it!
It's pretty fiendish, as the number of available color options increase, but also so do their similarity in hue.
Simple; yet challenging.
Link was found via:
Try to guess the KOLOR as fast as possible! https://t.co/IggaM1HcWF

— Design-Newz (@DesignNewz) July 8, 2016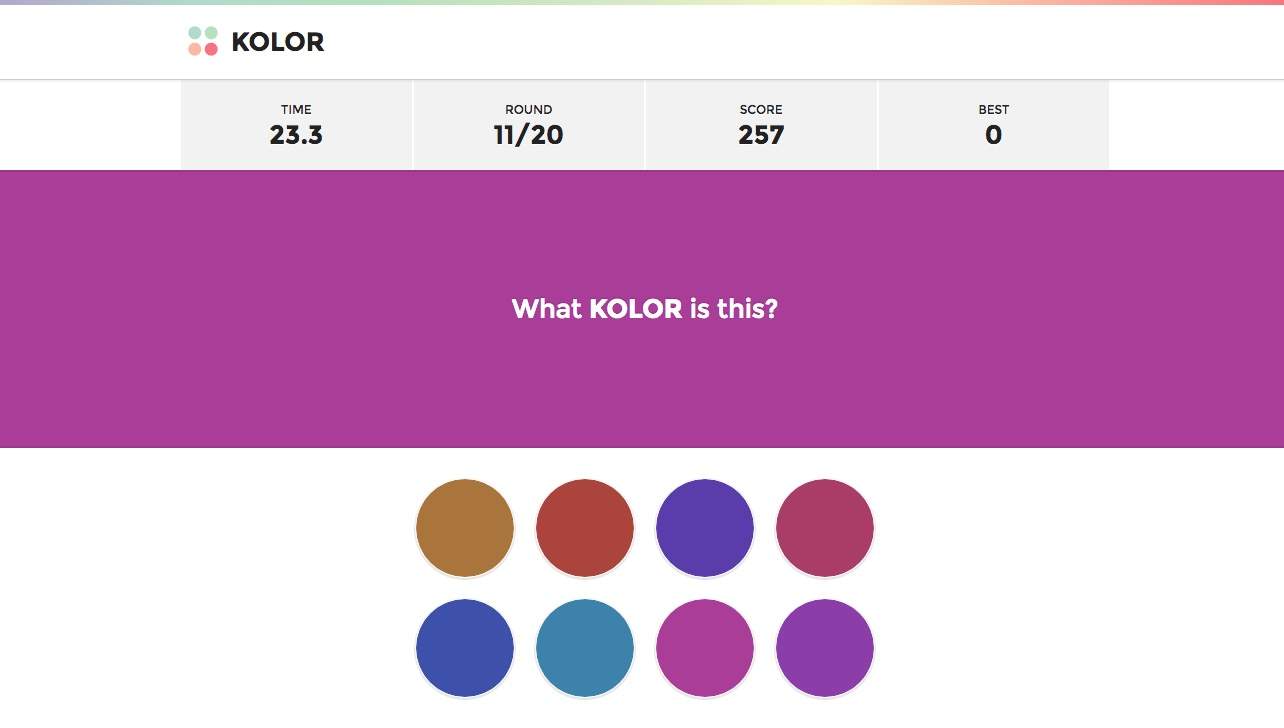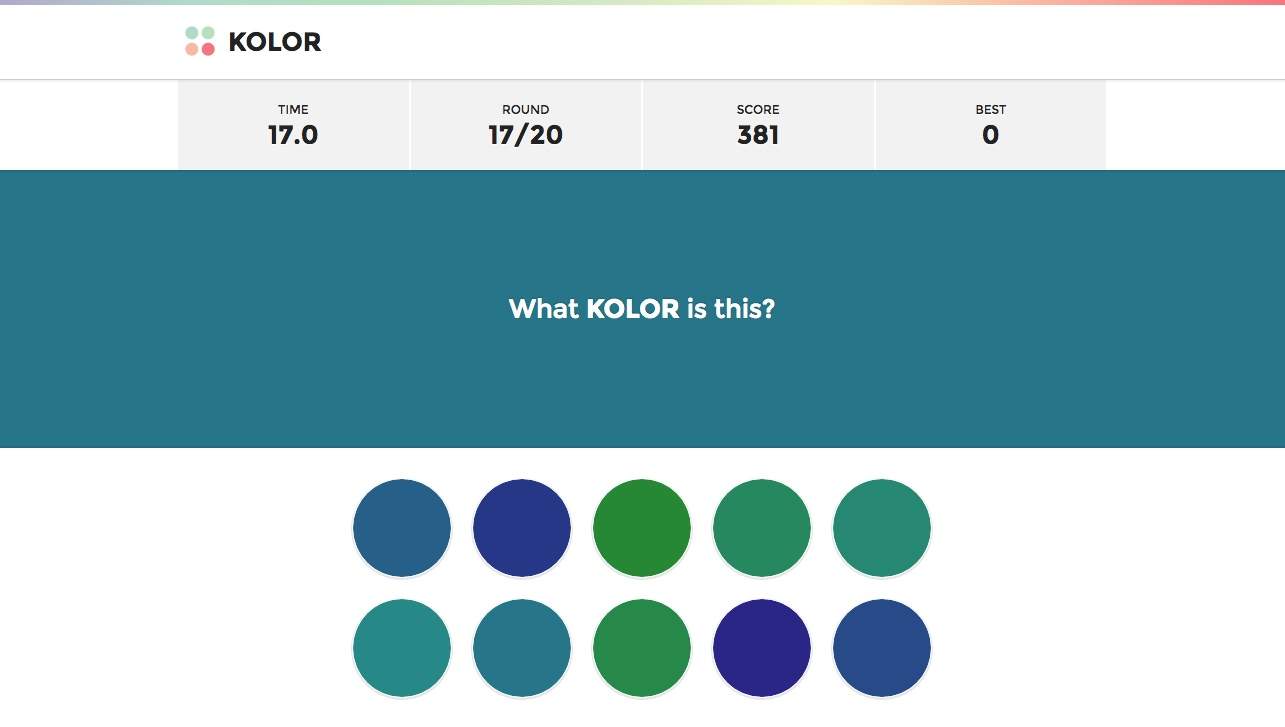 Jorge Moreno is a Front-end Web Developer, and UI Designer: 
Hello there! my name is Jorge Moreno and also known as moro, I'm Front End Developer and Web Designer specialized in HTML5, CSS3, JavaScript and User Interface Applications Design.

I was born in Zaragoza (Spain) where I graduated in Illustration and Graphic Design at the School of Arts, since then I've been working on the Design and Web Development fields at different world places and companies.

More than 10 years of experience have given me a wide knowledge on Media Design and Web Development with both client and server side programming and the following skill set:
Erich Dieckmann: Design Development of a Metal Tube Chair
The Erich Dieckmann tube chair development illustration has been doing-the-rounds of late, and it's quite a interesting—at least to me—look into the design process way-back-then.
It's really way-back given Mr Dieckmann was born in 1986, and passed 1944.
Seems this particular illustration is from a rare book, titled: Erich Dieckmann - Möbelbau in Holz, Rohr und Stahl, which you can buy from Amazon for a thrifty £150.
More on the Bauhaus-Movement: architects and designers.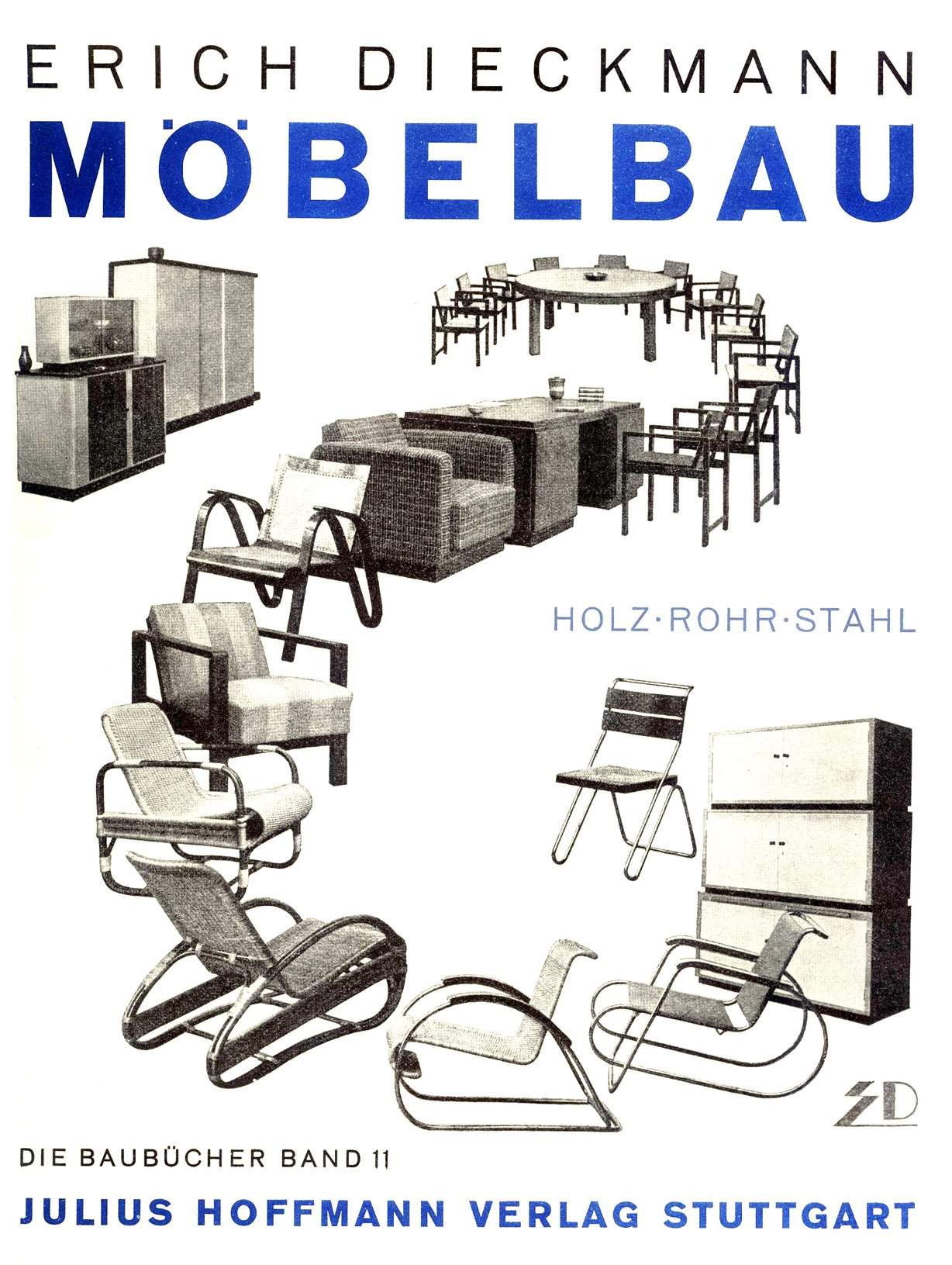 Erich Dieckmann Bio
Erich Dieckmann (1896-1944) studied architecture at Danzig Polytechnic from 1918 until 1920. After finishing the foundation course, however, he dropped out and went to Dresden, where he began to study painting and drawing. In 1921 he enrolled at the Bauhaus in Weimar. Between 1921 and 1925 Dieckmann served an apprenticeship there as a carpenter.

When the Bauhaus school moved to Dessau in 1925, he transferred to the Staatliche Bauhochschule in Weimar and was head of the carpentry workshop there from 1925 until 1930.

From 1931 until he was dismissed by the National Socialists in 1933, Erich Dieckmann was head of the carpentry workshop at the Kunstgewerbeschule Burg Giebichenstein in Halle.

From 1939 he lived in Berlin. Erich Dieckmann was one of the most important furniture designers at the Bauhaus, developing type ranges for seat furniture. Like Marcel Breuer, Erich Dieckmann experimented with steel tubing but is primarily known for his standardized wooden furniture. Dieckmann's designs for seat furniture are stringently geometric, with frames based on right angles and constructed of almost pieces of wood that were either almost square in cross section or flat; another feature typical of Dieckmann's work is linking armrests and chair legs in a runner construction.

By using quality hardwoods such as beech, cherry, oak, and ash as well as cane matting, Dieckmann loosened up the stringent geometry of his designs; on the other hand, however, standardization and normed proportions were to keep the prices of these mass-produced pieces of furniture as low as possible.
I do love poking around all the various color palettes, and colour swatch libraries currently available online.
I frequently visit such established colour palette websites as ColourLovers for inspiration for new logo design, and other graphic design projects.
Color Lisa is a tasty variation of existing color palette and swatch libraries, based on painted masterpieces of the worlds greatest artists, for us Graphic Designers.
Color Lisa was made by Ryan McGuire, who also made the free photo image website, Gratisography.com
The Color Lisa website  is simple enough to get around; there's only one long page listing the artists from A-Z. Click M in the top list of letters from A-Z, and you'll jump down to Monet, for example.
THE DREAM by Pablo Picasso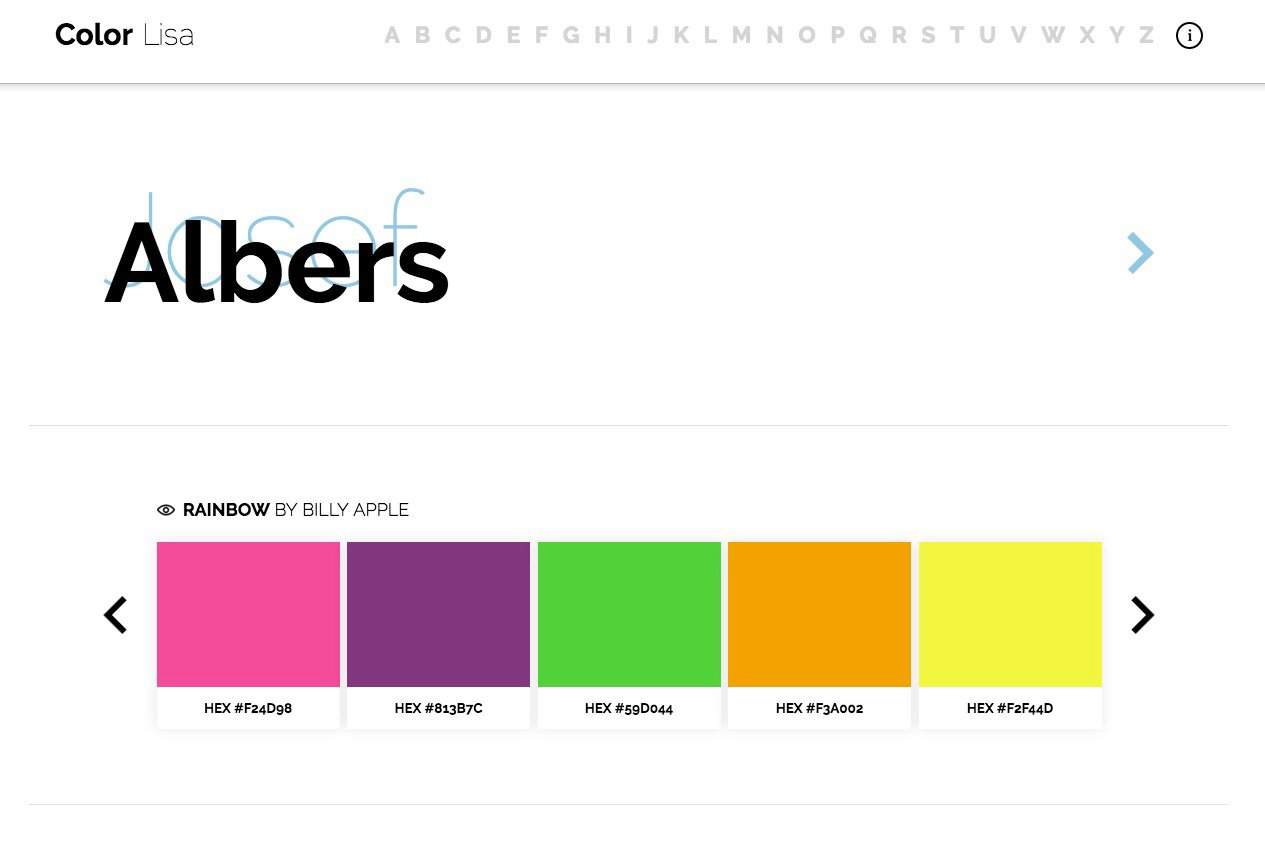 RAINBOW by Bille Apple
Color Lisa is a curated list of color palettes based on masterpieces of the worlds greatest artists. Each palette was painstakingly created by color obsessed designers, artists, museum curators, and masters of color theory. Palettes are constantly being added to help keep your designs colorful and fresh.

Color Lisa was made by Ryan McGuire, an artist, photographer, designer, and lover of color. Fun fact about Ryan: he drives a bright green (HEX #A5C955) and orange (HEX #E9AF42) 1971 VW Beetle he turned into a dinosaur. Questions, guest curator requests, and praise :) can be sent to [email protected].
Western Brand Logo Translated to Chinese by Mehmet Gozetlik
Earlier today I tweeted a lovely rendition of the NASA logo translated into Chinese, and was completely in awe of how beautiful it looked compared to the original.
Interesting take on the NASA logo https://t.co/FK1FfxeNKU pic.twitter.com/OaVzuC5I2i

— Graham 'Logo' Smith (@thelogosmith) December 11, 2015
It was obvious I wasn't the only graphic designer to be so taken aback by this Chinese translation of the NASA logo, as it got retweeted, and liked, a number of times.
After a big of digging around, Twitter user: Mike Meulstress (@artisticdork), sent me a tweet informing me of the website that showcases the original project: Chinatown, by Mehmet Gozetlik.
It subsequently turns out this NASA logo isn't the only one of it's type; Mehmet Gozetlik has taken 20 of the most well-know western brand logos, including: Pepsi, Starbucks (this is just mindblowingly beautiful), Shell, London Underground, NASA etc, and masterfully translated them into Chinese, in a project called: Chinatown.
As far as brand projects go, Chinatown is right up there with the best, and probably a winner by a fair margin, in my humblest of opinions.
As a designer, I'm particularly impressed by the neon sign adaptions of the Pepsi logo, these look so stunning.
Thrilled to see the London Underground logo in here as well.
Chinatown Chinatown is a Chinese translation of the trademarks in a graphical way. It's a carefully arranged series of artworks showcasing 20 well-known western brand logos with maintained visual and narrative continuity.

'Chinatown' pushes viewers to ask themselves what it means to see, hear, and become fully aware. 'Chinatown' also demonstrates our strangeness to 1.35 billion people in the world, when you can't read Chinese.
A Taster of Chinatown, by Mehmet Gozetlik
Here's a little selection of the logos, and I'd strongly recommended visiting Mehmet's website to view the others, as well as watching the video.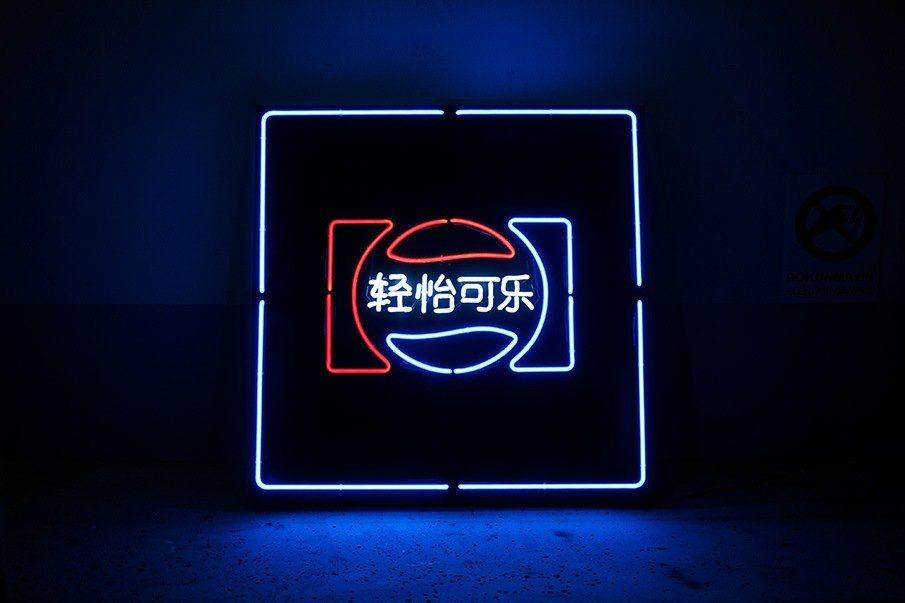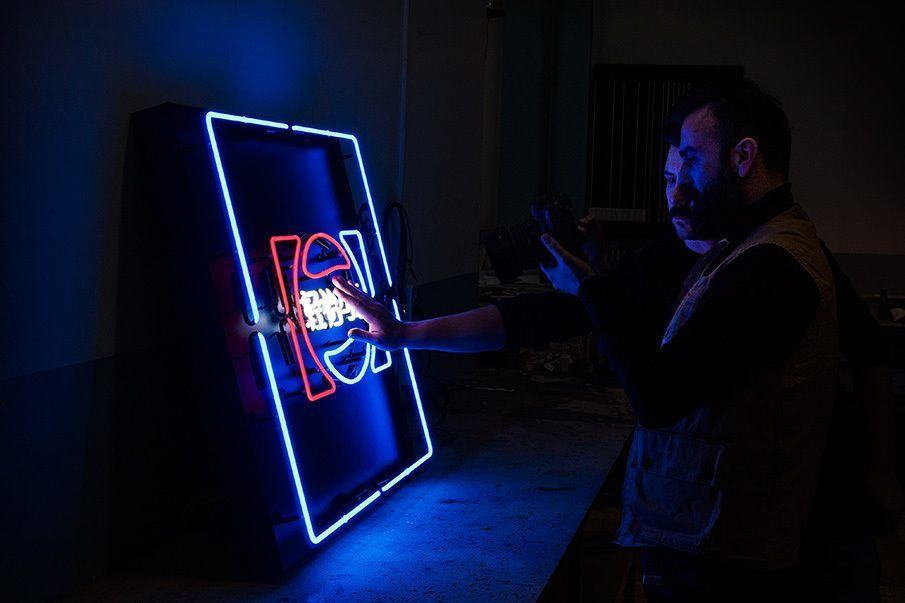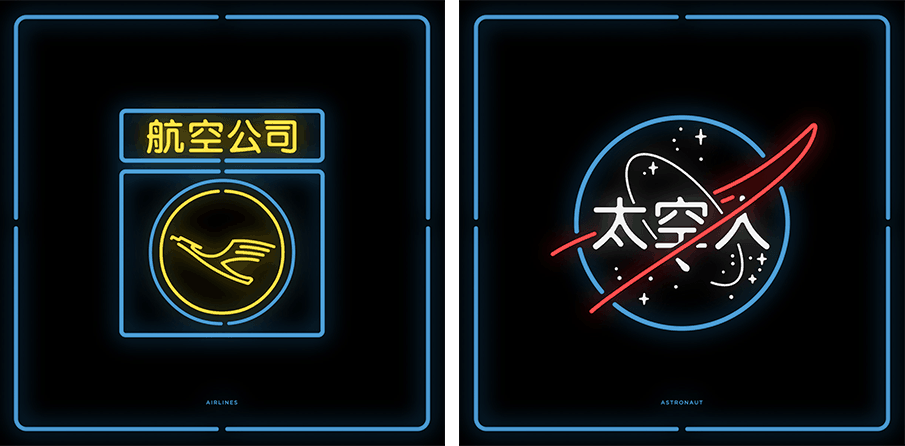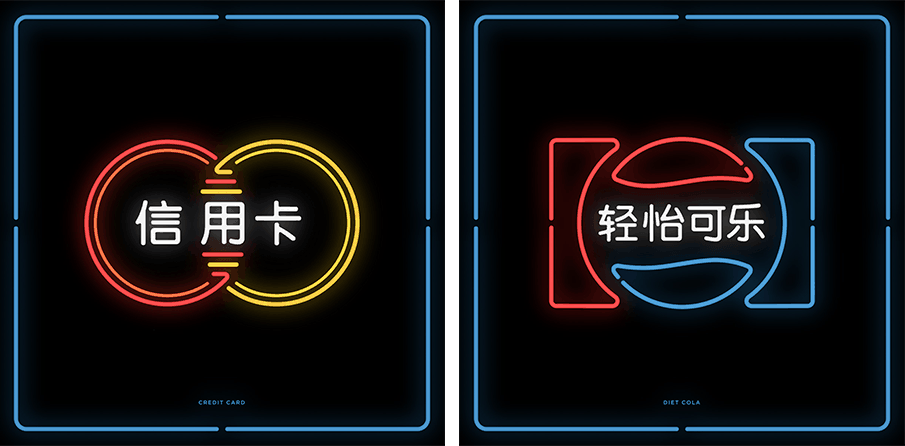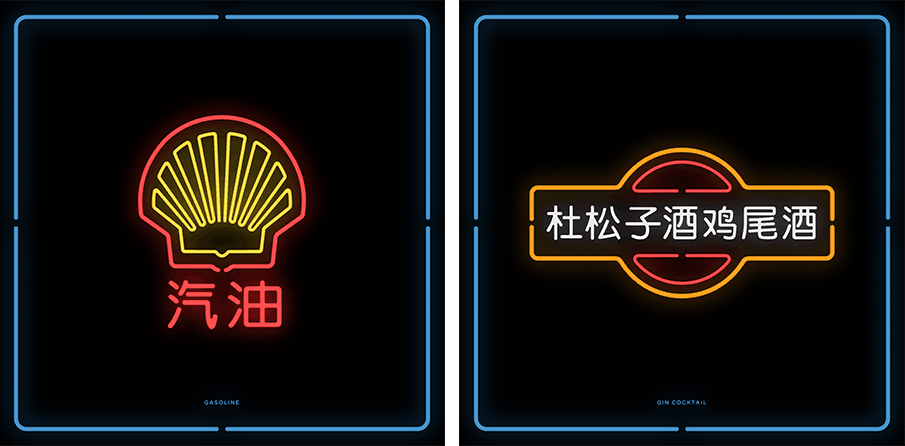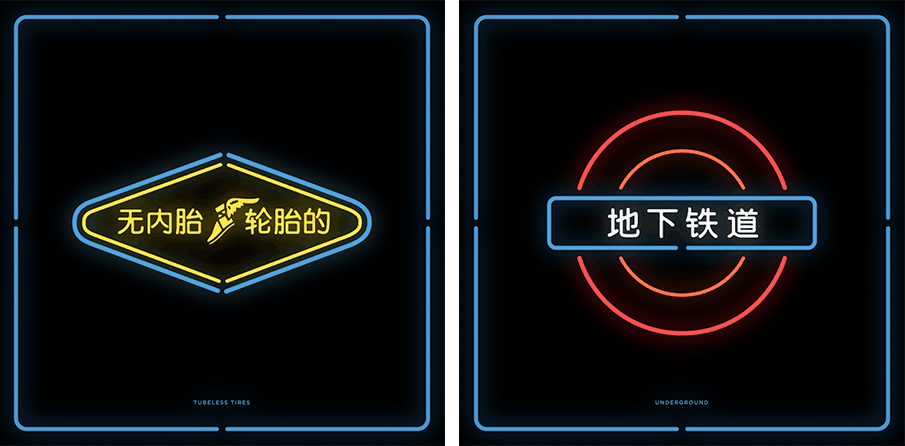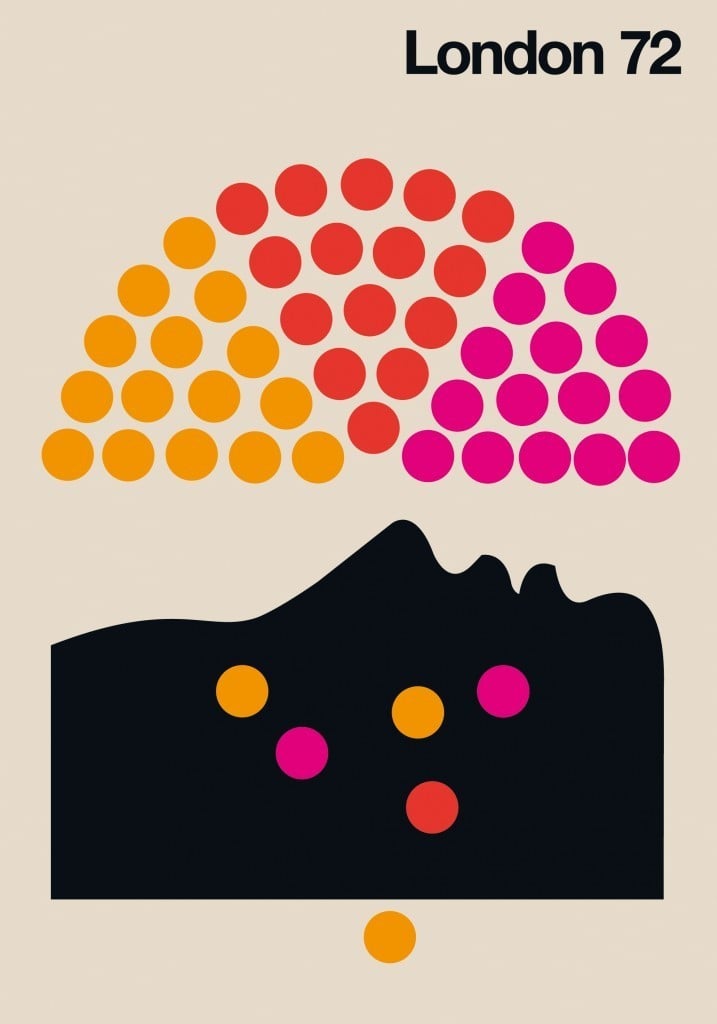 'Around the World' - Colourful Modern Vintage Posters Designed by Bo Lundberg
"Around the world, cities and countries" is the full title for these gloriously colouful modern vintage posters, designed by the talented Swedish illustrator, Bo Lundberg.
These 1960's Swedish inspired posters make me feel so happy when looking at them, and I was immediately drawn to them when I first spotted them on Bo's Pinterest board.
I'm also taken back to the gorgeous 1960's Air Canada poster that I posted a while back, when I see these posters from Bo. That's a very good thing by the way.
Around the world, cities and countries: Every now and then Bo tries to find time to come up with interpretations of different cities and countries.

He first imagined that he was a designer during the sixties who had been commissioned to design travel posters.
And if I'm not mistaken, that could quite well be Helvetica…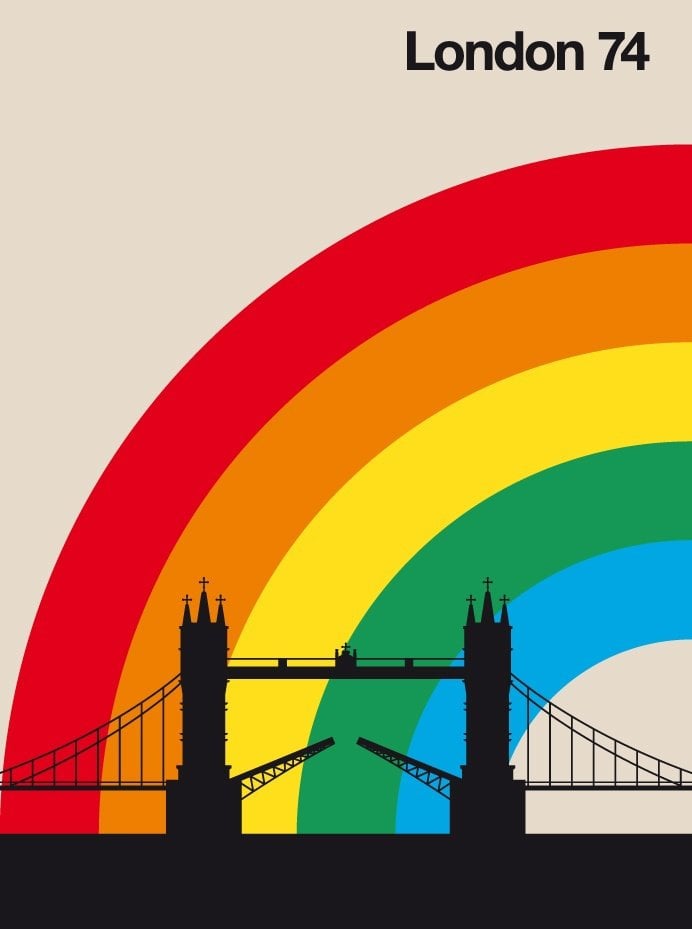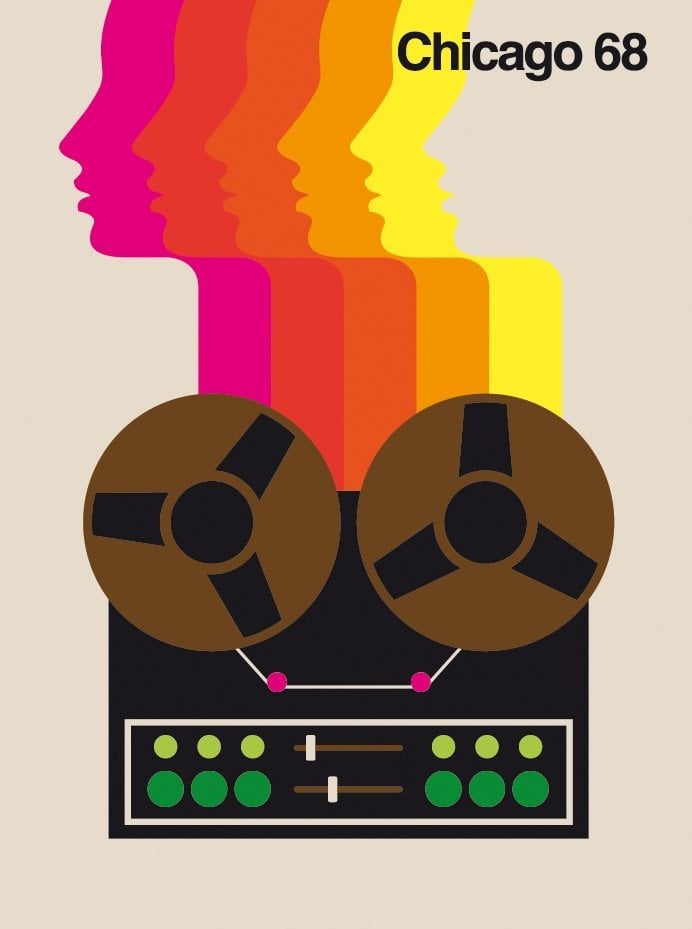 60's inspired posters by Swedish illustrator and graphic designer Bo Lundberg. More here.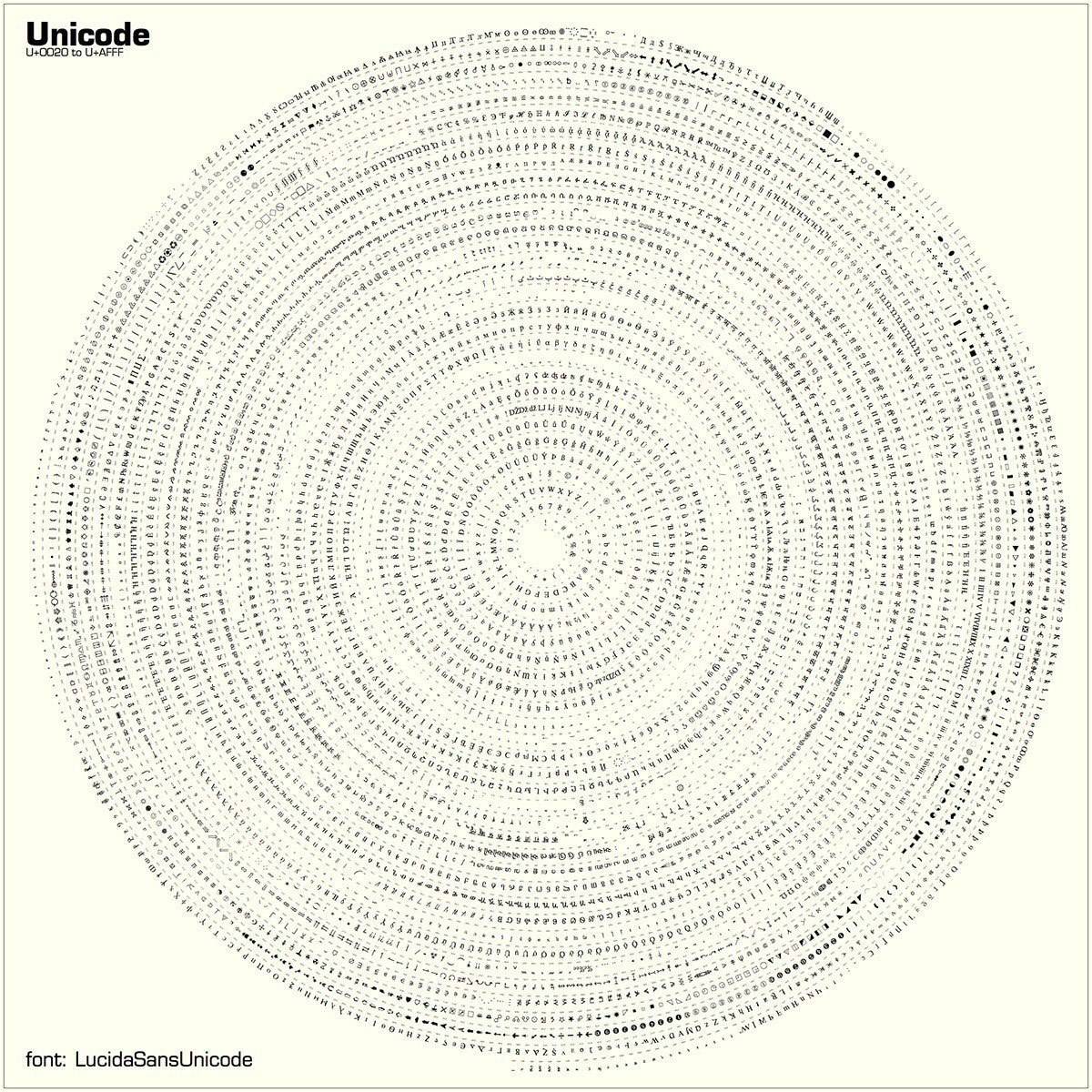 Unicode (U0020 to U+AFF) in a Spiral Typographic Poster
This Unicode Spiral Typographic Poster is just IMMENSE in every sense of the word. The original poster (above) measures in around the A3 size, and can be downloaded via this Dropbox link.
The 'full' version below also contains all the Hangul etc glyph's, and the poster measures nearly 1 metre square, with each glyph measuring in at 6 points (2.116666667mm).
You can also download this monster version at this Dropbox link.
Some type of patience must of been needed to put this typographic design together not to mention some half decent computing power. Even on my Apple Pro tower, the PDF of 'full version' took some time to redraw on screen, each glyph drawing itself radiating out from the centre. That would make a fun GIF!
I found this epic work of art: Unicode in a Spiral, over in the Typography section of Reddit, and I think it's worth you going over and leaving a comment for the graphic designer who created it,  Reddit User Cormullion