Bing Logo Design Evolution 2009 to 2016
I like to think that most of the time I have my ear to the ground, and not much escapes me in the graphic design work, but now and again, things pop up that I'm amazed I simply missed.
Recent example of 'not' having my ear to the ground: the lovely negative space design in the Blackfish logo, and today I've just seen that Microsoft made a small change to their Bing logo.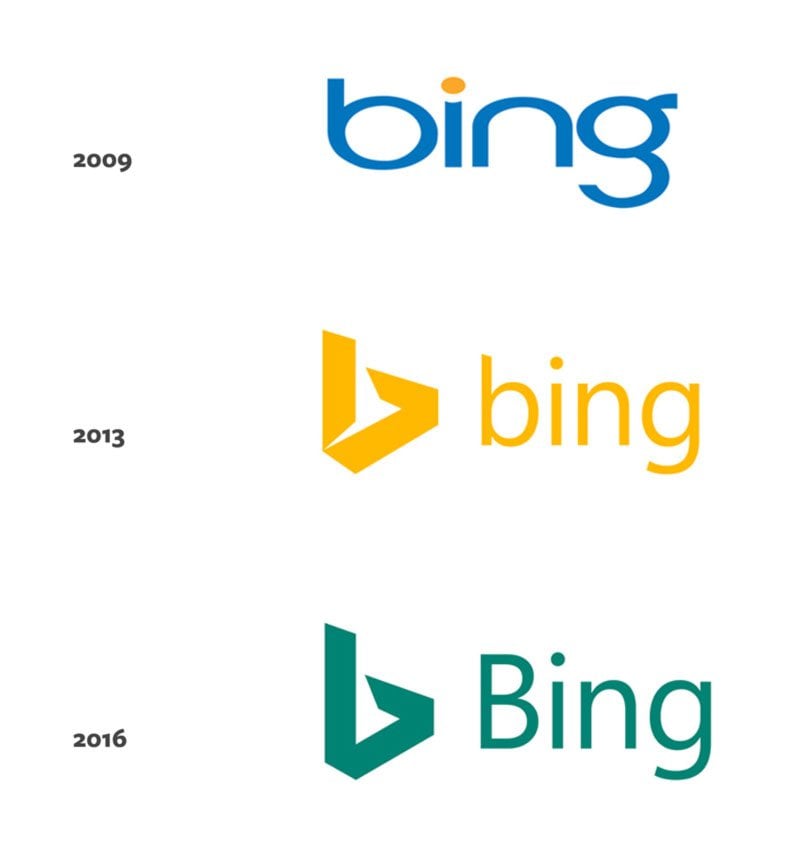 Need to do more research, as apparently the new 2016 logo hasn't been completely rolled out as yet.
Logo Updates
As far as logo updates go it's a'wight. I did like the yellow version of the logo mark, with the double negative space cut-outs, and the lowercase 'b' was a consistent match for the logo mark.
Consistent 1st Initials
Now the 2016 version removes the lower cut-out, and now changes to uppercase 'B' for the wording, but still keeps the lower case 'b' for the logo mark.
This irks me a little, as it's now somewhat inconsistent.
The flip side is: that the other Microsoft brands, like: Office, Windows and XBOX are all uppercase initials, so makes sense in that regard.
I personally  like my logo mark initials to match the same upper or lower case of the brand name, but can see why it's been changed in this instance.
But hey, what the hell do I know anyway.
The Blackfish Logo - The Perfect Art of Subtlety in Negative Space Trickery
I've not seen Blackfish documentary as yet, so this is probably why I'be only just cottoned onto the one small, but beautifully part of the Blackfish logo.
As it stands, the Blackfish logo type is really rather beautiful, with that gentle fading out to black on both sides of the wording.
It instantly conjures up the idea of the deep, dark depths of the ocean without so much of a visual graphic.
'Blackfish': The Documentary That Exposes SeaWorld
That's until you are pointed towards the rather cunning placement of the fin bottom of the 'K'. A super subtle application of Negative Space of logo design if I've ever seen one.
I think it's reasonably safe to say this would have been missed by some people, maybe for a small period of time, and maybe for a long period of time.
I'm only late to the party because, as I said earlier, not yet watched Blackfish (I think it's on Netflix), or really know anything about it. But I'm likely to suspect I would have still missed the 'fin' initially, especially if only seen the smaller version of the logo. Once you see the enlarged versions, then it obviously stands out a little more
http://www.seaworldofhurt.com: Gabriela Cowperthwaite's critically acclaimed documentary Blackfish centers on a captive orca named Tilikum. He was torn away from his family and ocean home when he was 2 years old, and out of frustration caused by nearly 20 years of intense confinement, isolation, and lack of emotional and intellectual stimulation, he has killed three humans.

In her documentary, Cowperthwaite pieces together Tilikum's story with shocking film footage, expert testimonies, and heartbreaking interviews with the people who know Tilikum better than anyone: his former trainers. Watch the trailer now:
A while back I posted about the Fender logo: The Fender Logo Design Evolution, and it's various design updates and tweaks over the decades.
Although quite a few of the iterations have been accredited to certain individuals, the current incarnation of the Fender logo was, up and till now, designed by someone unknown.
I ended that particular post with a question: Who designed the current Fender logo?
I Googled and Bing'd, but couldn't find a damn thing about the artist responsible for this most recent update. I sent out a general tweet asking for help in tracking down the person responsible, and I even tweeted Fender direct, but sadly no reply from them.
Things like this erk me a little, as the logo is clearly gorgeous, and fronts one of the most well-know musical brands ever.
Almost tragic that this update of the Fender logo should be uncredited. Until now…
Today I received an email from Chris Kiehm, who went on to tell me the following:
Hi Graham:

I am a marketing guy and my great uncle Jim Cruikshank is the man responsible for the swoosh "F" in the logo... He was a commercial artist for them for many years!

I was doing some research the other day and stumbled upon an interview with my uncle!
So there we have it: One less unknown classic and historic brand logo design, now properly credited to Jim Cruikshank.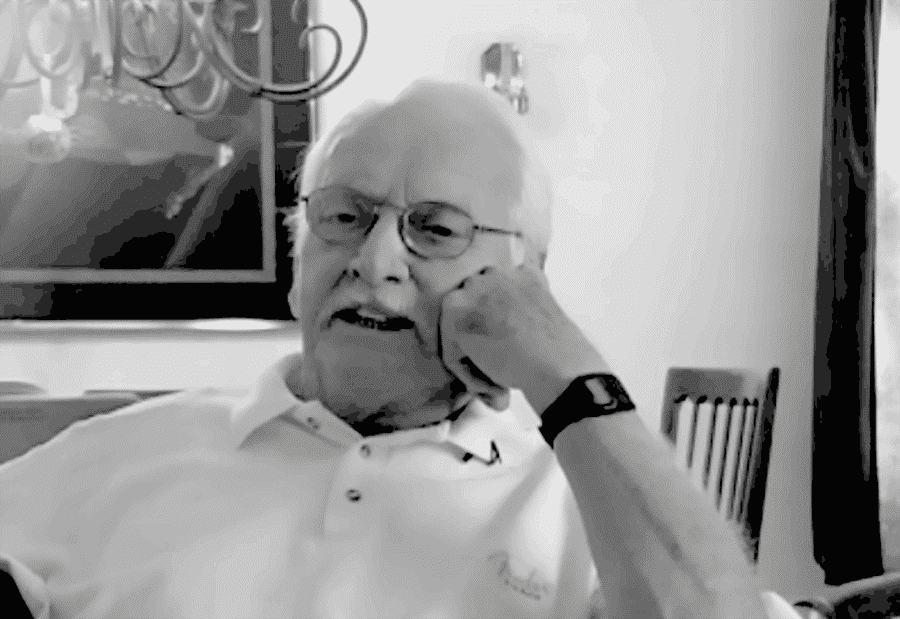 Jim Cruickshank: Graphic Designer of Current Fender Logo
Namm.org: Jim Cruickshank has an eye for design! While a proud member of the Fender guitar team, Jim designed many of the most memorable trade show displays for the company, including the 14-foot neck and headstock.

Jim also worked on many of the company's best known marketing graphics, and even redesigned the company logo.

When he was approached to add a bit of a splash to the logo, which was really just the name of the company in silver letters, Jim took on the task.

He worked on several ideas but liked the simple flare he added to the first letter, a "fish tail" on the letter "F," which was embraced by Leo Fender. The logo was then changed.
Western Brand Logo Translated to Chinese by Mehmet Gozetlik
Earlier today I tweeted a lovely rendition of the NASA logo translated into Chinese, and was completely in awe of how beautiful it looked compared to the original.
Interesting take on the NASA logo https://t.co/FK1FfxeNKU pic.twitter.com/OaVzuC5I2i

— Graham 'Logo' Smith (@thelogosmith) December 11, 2015
It was obvious I wasn't the only graphic designer to be so taken aback by this Chinese translation of the NASA logo, as it got retweeted, and liked, a number of times.
After a big of digging around, Twitter user: Mike Meulstress (@artisticdork), sent me a tweet informing me of the website that showcases the original project: Chinatown, by Mehmet Gozetlik.
It subsequently turns out this NASA logo isn't the only one of it's type; Mehmet Gozetlik has taken 20 of the most well-know western brand logos, including: Pepsi, Starbucks (this is just mindblowingly beautiful), Shell, London Underground, NASA etc, and masterfully translated them into Chinese, in a project called: Chinatown.
As far as brand projects go, Chinatown is right up there with the best, and probably a winner by a fair margin, in my humblest of opinions.
As a designer, I'm particularly impressed by the neon sign adaptions of the Pepsi logo, these look so stunning.
Thrilled to see the London Underground logo in here as well.
Chinatown Chinatown is a Chinese translation of the trademarks in a graphical way. It's a carefully arranged series of artworks showcasing 20 well-known western brand logos with maintained visual and narrative continuity.

'Chinatown' pushes viewers to ask themselves what it means to see, hear, and become fully aware. 'Chinatown' also demonstrates our strangeness to 1.35 billion people in the world, when you can't read Chinese.
A Taster of Chinatown, by Mehmet Gozetlik
Here's a little selection of the logos, and I'd strongly recommended visiting Mehmet's website to view the others, as well as watching the video.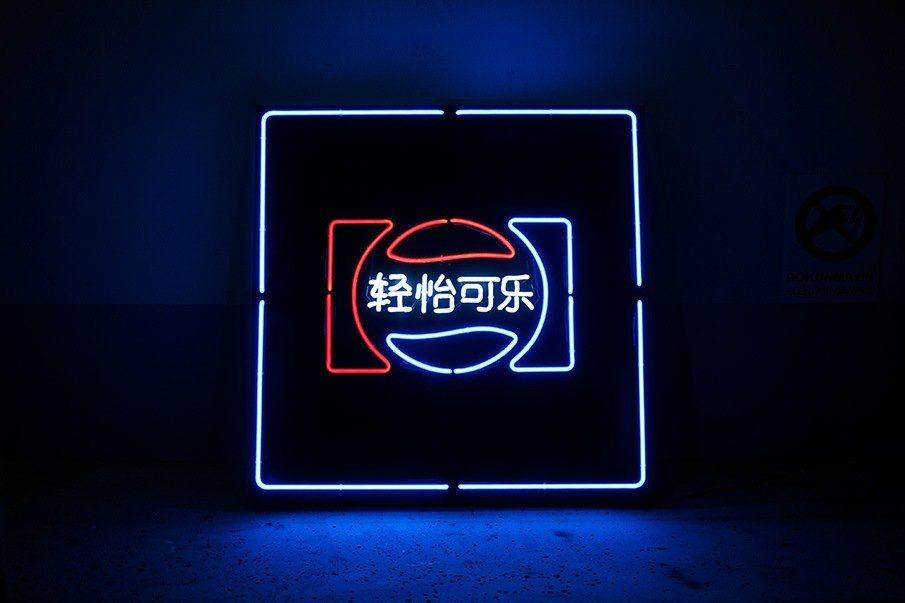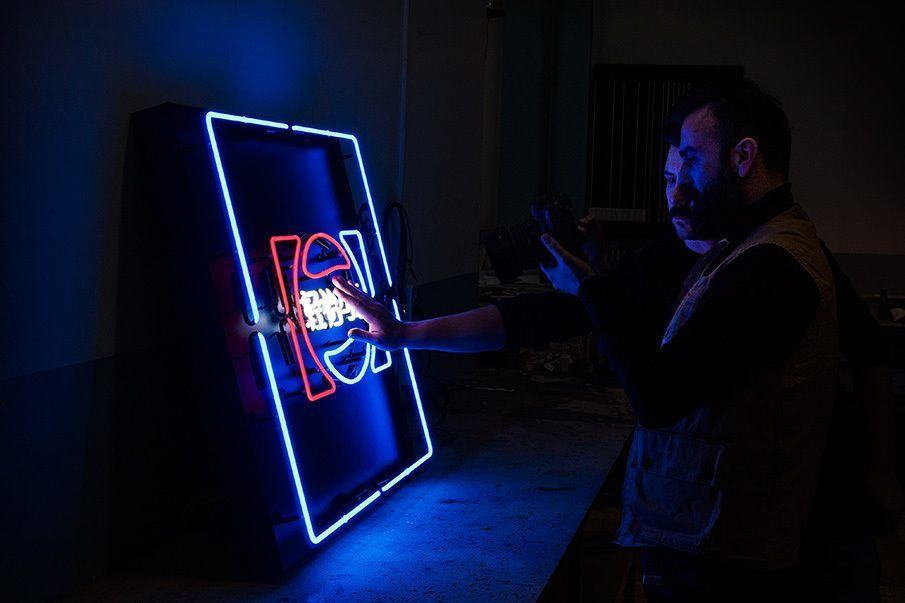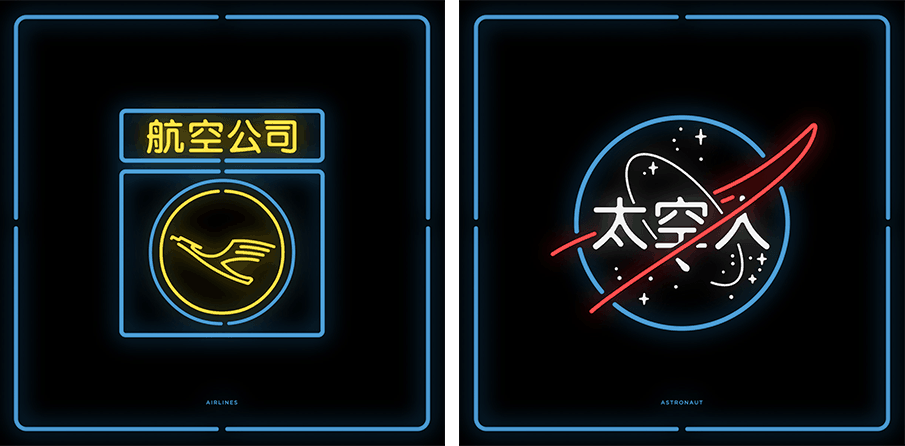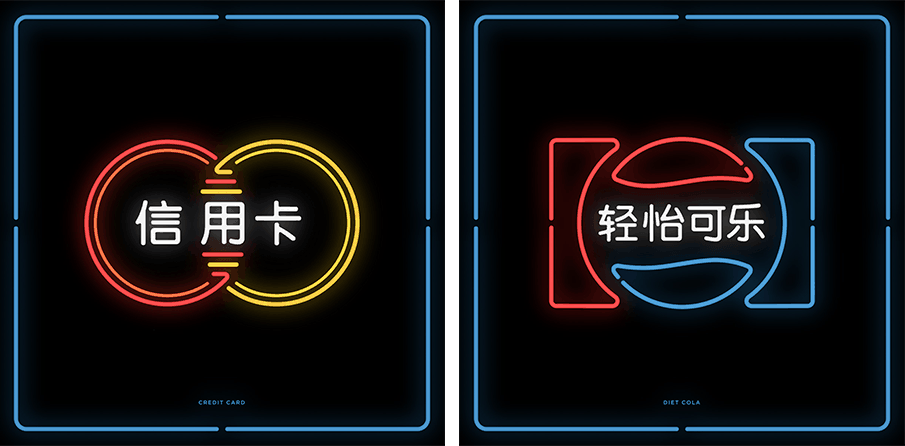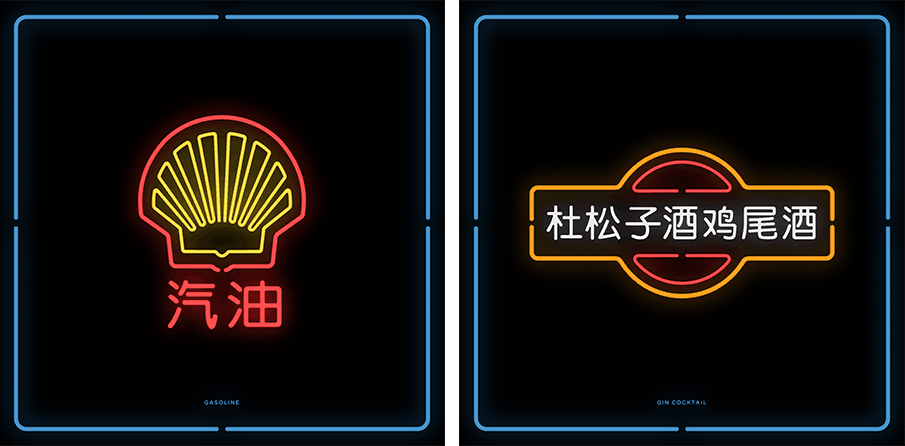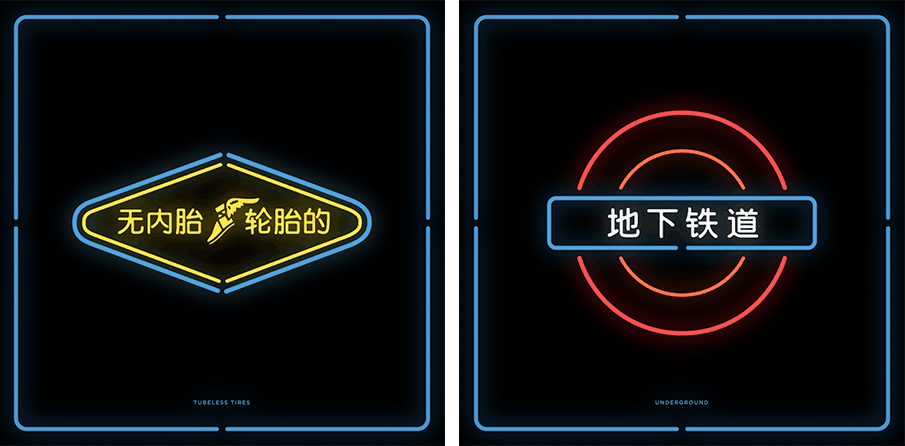 Apollo 11 Mission Logo Design as used in Vintage NASA Brochure
Here's a bit of logo design porn for you. Found this on Imgur, and it's the Apollo 11 Mission Logo Design as used on the original mission brochure front cover.
Googling this image came up with a few links, one of which lead to www.lostateminor.com This post showcases a number of vintage NASA brochures and posters, which were auctioned off back in 2013: Spring 2013 Space Exploration Signature Auction.
NASA may have an outstanding space program, but they're not too bad in the design department either. During the 1960s, hundreds of manuals, guidebooks, covers, and posters were created to promote NASA and their events. The posters are filled with vintage typography, classy artwork, and retro colors. The covers are set to be auctioned off at the 2013 April 18 Space Exploration Signature Auction