All Archived Posts in Design Essentials
---
Last Updated: January 30th, 2017
| First Published:
January 30, 2017
| Subscribe with
or

Having come from the traditional side of commercial printing, whilst serving out my apprenticeship, I found this simple demonstration of 4 colour CMYK printing to be pretty useful.
If you've not had the opportunity to work in a printers, or watch a 4 colour printing press at work, it's not always so clear as to how the CMYK process of layering each ink: Cyan, Magenta, Yellow and Black.
This simple GIF: larger version at this link: http://i.imgur.com/DrLJmHf.gifv really does do a great job of showing how each progressive layer of CMYK builds up to the final CYMK composite.
Demonstration of 4 Colour CMYK Printing with Acrylic Slides
I've saved an individual frame, as each acrylic slide is about to be put down, in the images below, starting with Black (often referred to as the letter 'K').
Cyan Acrylic Slide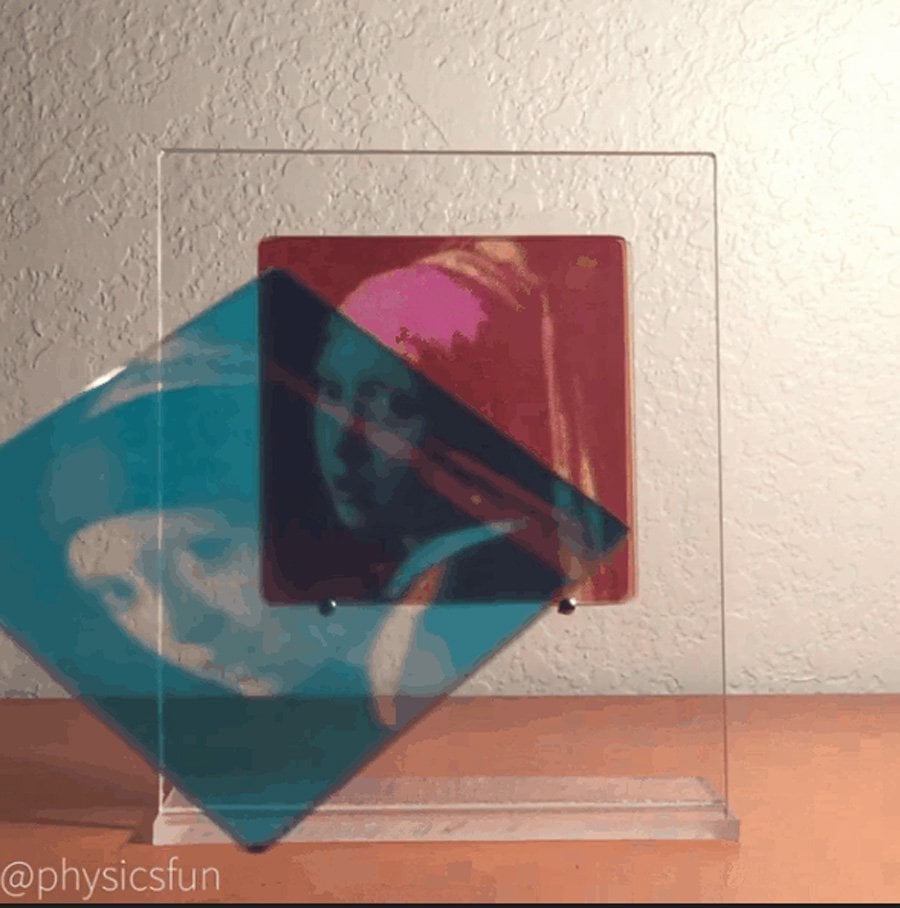 Magenta Acrylic Slide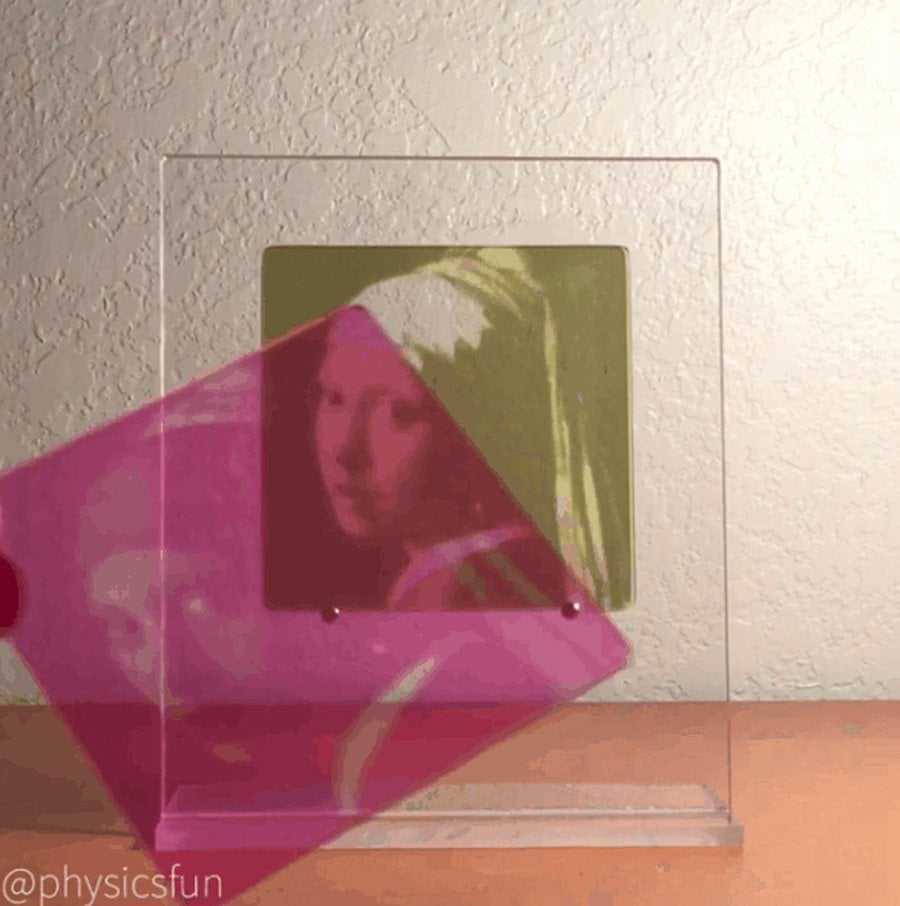 Yellow Acrylic Slide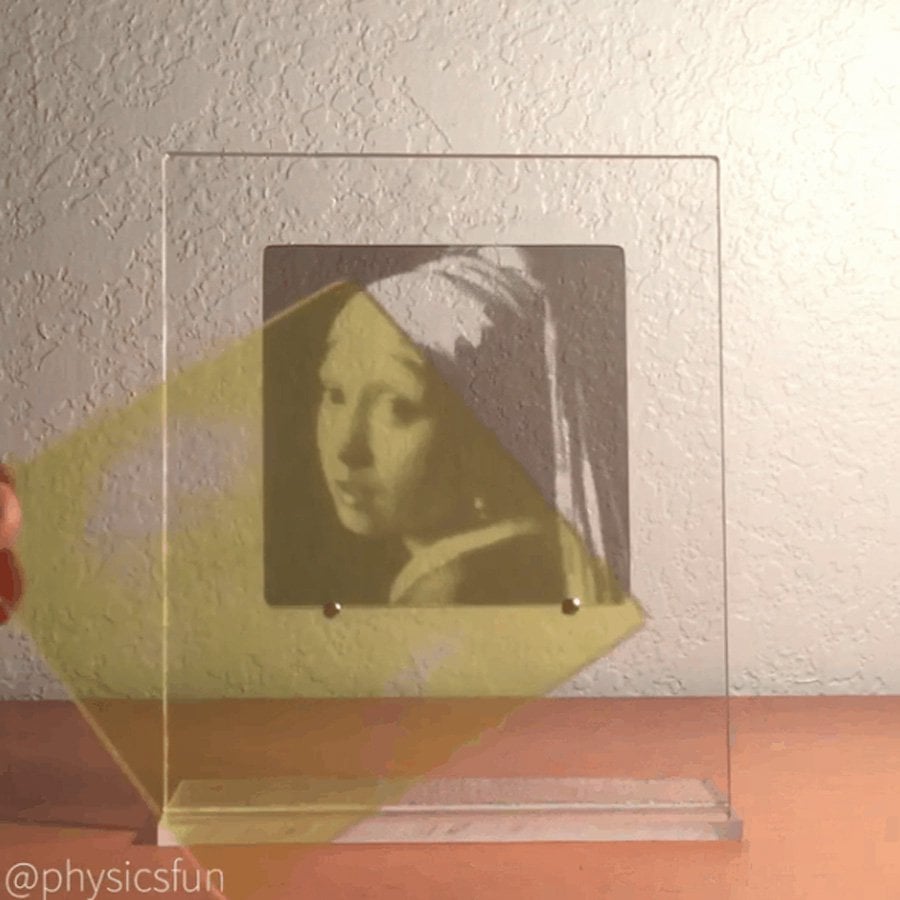 Black Acrylic Slide
Composite of all CMKY Acrylic Slides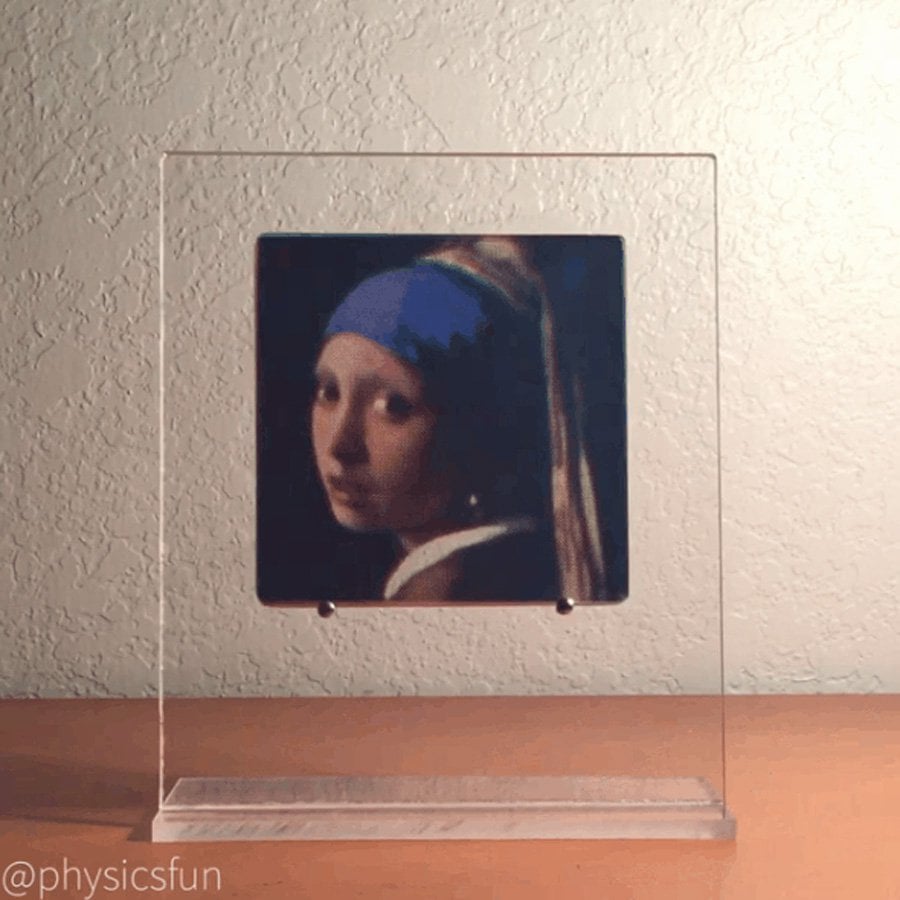 ---
Last Updated: January 30th, 2017
| First Published:
January 26, 2017
| Subscribe with
or

Simple demonstration, using Coloured Pencils, showing 4 types of Color Blindness: Tritanopia, Protanopia, Deuteranomelia & Total Colour Blindness.
I've not taken an awful lot of notice when it comes to Color Blindness, even though there are many Color Blindness examples and documents etc.
I found this particular visual example, of demonstrating the various types of Colour Blindness: Tritanopia, Protanopia, Deuteranomelia and Total Colour Blindness, to be quite effective at grabbing my attention for once.
My simple, yet creative, brain likes pretty coloured pencils; for once I've found myself acknowledging what a challenge and utter frustration it must be to suffer from any form of Color Blindness, particularly full colour blindness.
Color Blindness Awarness: Colour (color) blindness (colour vision deficiency, or CVD) affects approximately 1 in 12 men (8%) and 1 in 200 women in the world. In Britain this means that there are approximately 2.7 million colour blind people (about 4.5% of the entire population), most of whom are male.
Color Blindness Demonstration - Full Version Graphic

4 Types of Color Blindness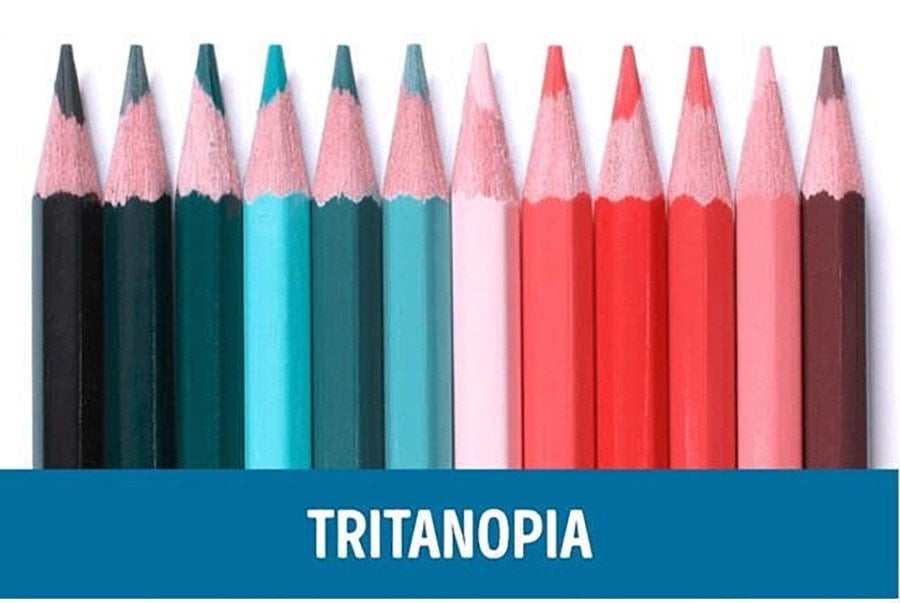 Tritanopia (less than 1% of males and females)
Lacking the short-wavelength cones, those affected see short-wavelength colors (blue, indigo and a spectral violet) greenish and drastically dimmed, some of these colors even as black.
Yellow is indistinguishable from pink, and purple colors are perceived as various shades of red. This form of color blindness is not sex-linked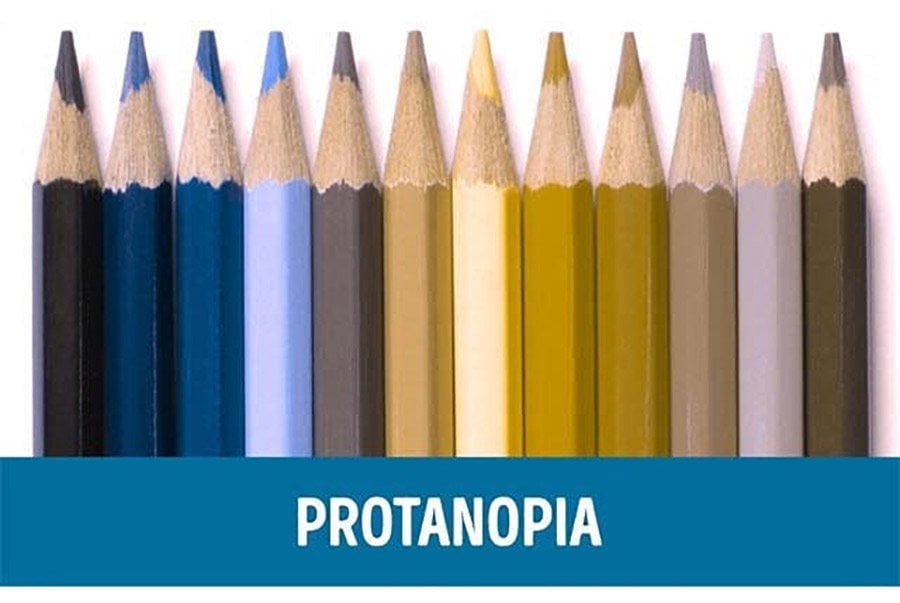 Protano (1% of males, 0.01% of females):
Protanopia is a severe type of color vision deficiency caused by the complete absence of red retinal photoreceptors.
Protans have difficulties distinguishing between blue and green colors and also between red and green colors. It is a form of dichromatism in which the subject can only perceive light wavelengths from 400 to 650 nm, instead of the usual 700 nm.
Pure reds cannot be seen, instead appearing black; purple colors cannot be distinguished from blues; more orange-tinted reds may appear as very dim yellows, and all orange–yellow–green shades of too long a wavelength to stimulate the blue receptors appear as a similar yellow hue.
It is hereditary, sex-linked, and present in 1% of males.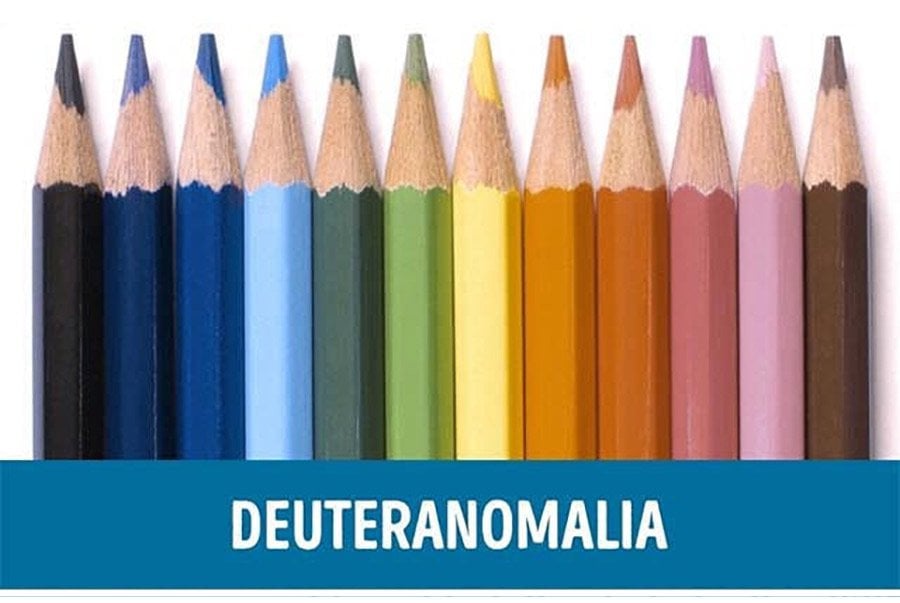 Deuteranopia (1% of males):
Deuteranopia is a type of color vision deficiency where the green photoreceptors are absent.
It affects hue discrimination in the same way as protanopia, but without the dimming effect. Like protanopia, it is hereditary, sex-linked, and found in about 1% of the male population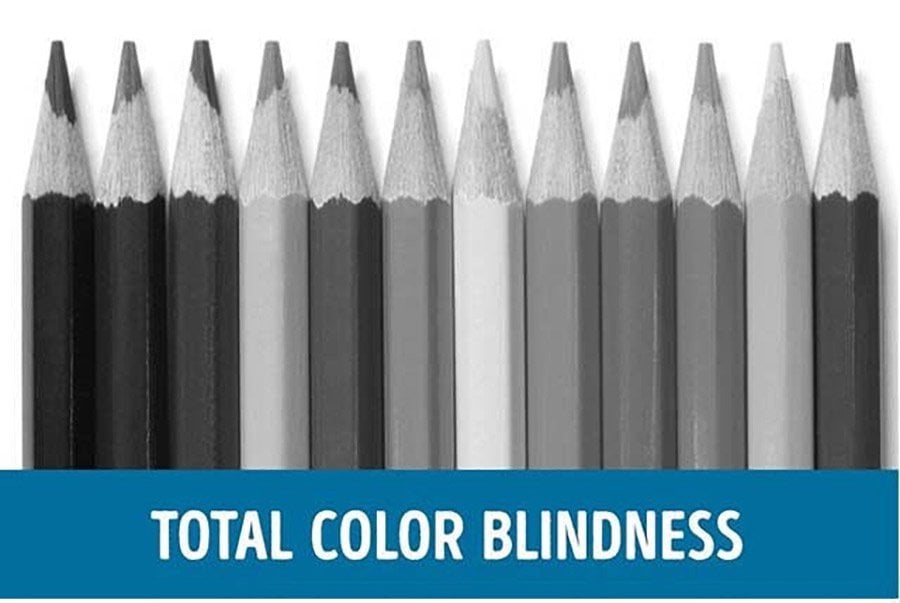 Defined as the inability to see color. Although the term may refer to acquired disorders such as cerebral achromatopsia also known as color agnosia, it typically refers to congenital color vision disorders (i.e. more frequently rod monochromacy and less frequently cone monochromacy).[30][31]
In cerebral achromatopsia, a person cannot perceive colors even though the eyes are capable of distinguishing them. Some sources do not consider these to be true color blindness, because the failure is of perception, not of vision. They are forms of visual agnosia.[31]
Monochromacy is the condition of possessing only a single channel for conveying information about color. Monochromats possess a complete inability to distinguish any colors and perceive only variations in brightness. It occurs in two primary forms:
---
Last Updated: November 28th, 2016
| First Published:
November 28, 2016
| Subscribe with
or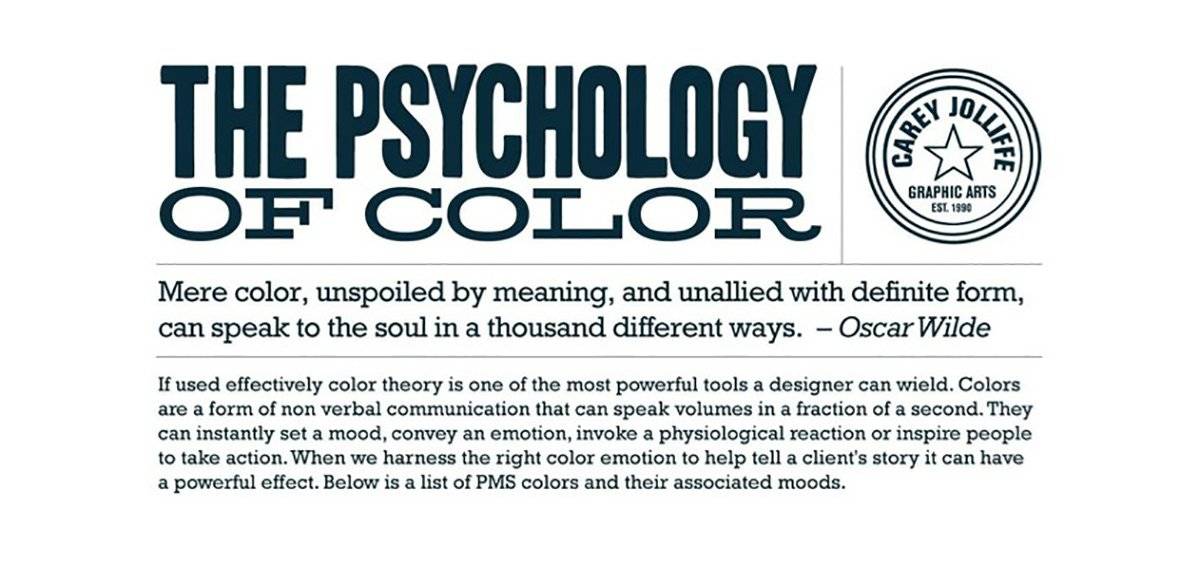 "Mere color unspoiled by meaning, and unallied with definite form, can speak to the soul in a thousand different ways." — Oscar Wilde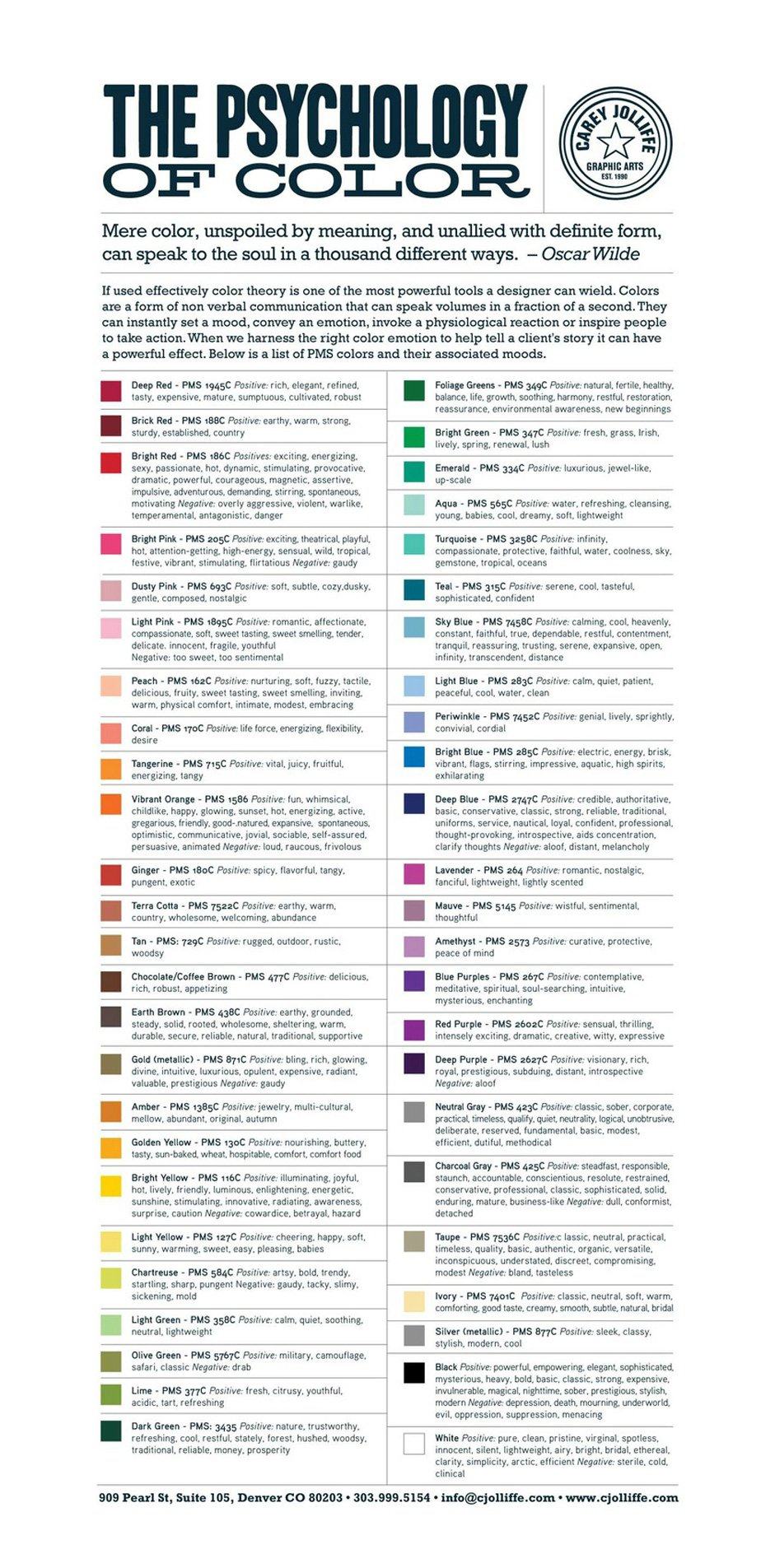 The Psychology of Color Chart and Their associated Moods in PMS Colours Designed by Carey Jolliffe
There is no doubt that the application of colour for logo design, and any other type of graphic design, is hugely important.
The wrong choice can completely ruin an otherwise great logo, and in some cases, a good colour palette can lift an otherwise 'ok' logo design.
Colour theory isn't always easy to apply, and it does involve getting deep into human emotions, if you want to be able to deliver the right message in your designs.
The following text is taken from the The Psychology of Color Chart, featured above. This color chart was designed by, Carey Jolliffe.
If used effectively, colour theory is one of the most powerful tools a graphic and logo design can wield.

Colours are a form of non-verbal communication that can speak volumes in a fraction of a second.

Colours can instantly set a mood, convey an emotion, invoked a physiological reaction, or inspire people to take action.

When we harness the colour emotion to help tell a client's story, it can have a powerful effect.

Below is a list of PMS Colours, and their associated moods.
---
Last Updated: November 7th, 2016
| First Published:
November 7, 2016
| Subscribe with
or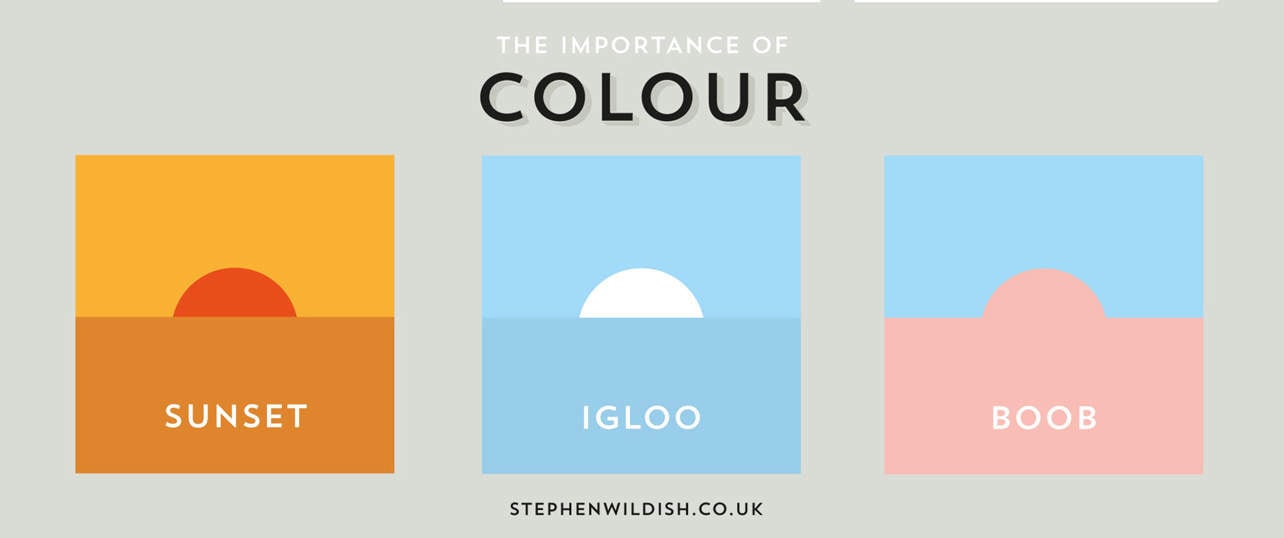 The Importance of Colour by Stephen Wildfish; a fun and quirky visual exploration of how colour can be interpreted, or misinterpreted.
Affecting how we might interpret certain visual elements, either rightly, or somewhat inappropriately.
The Boob one is the best, obviously, as I'm a guy. I have no shame…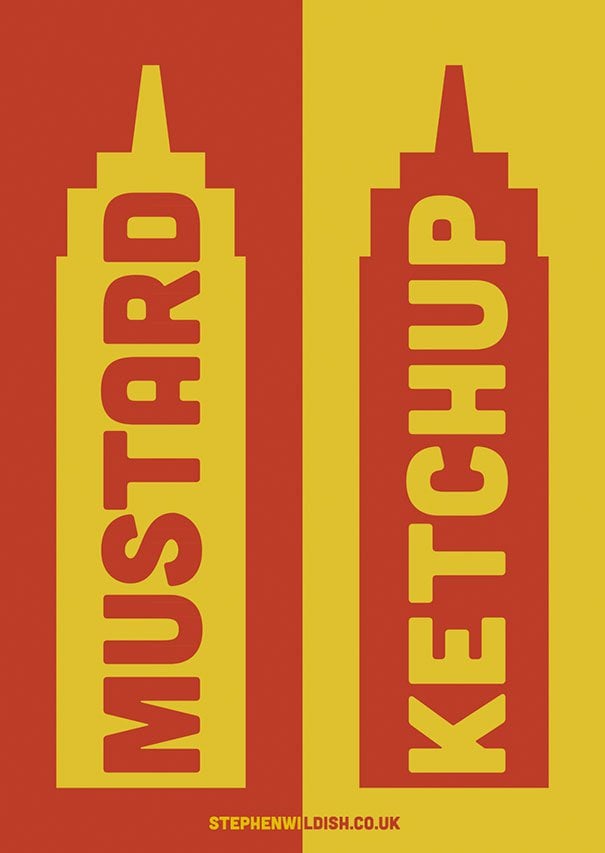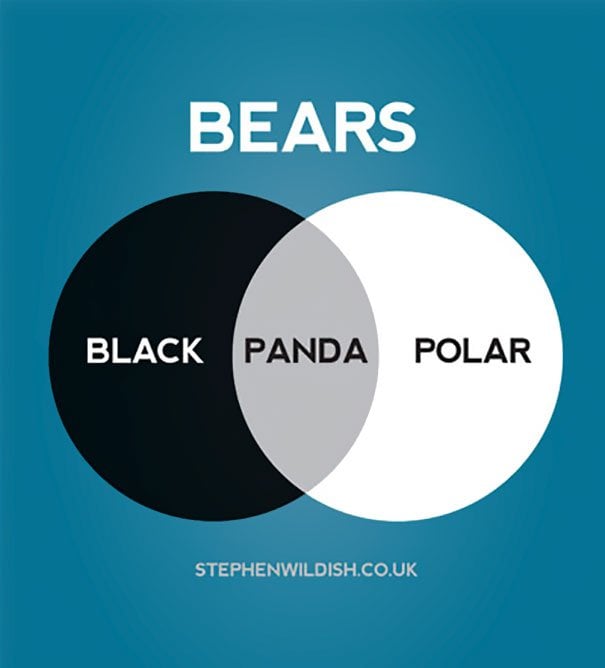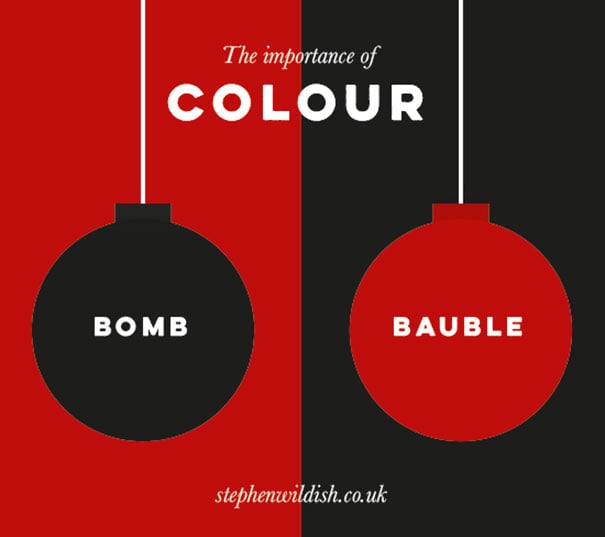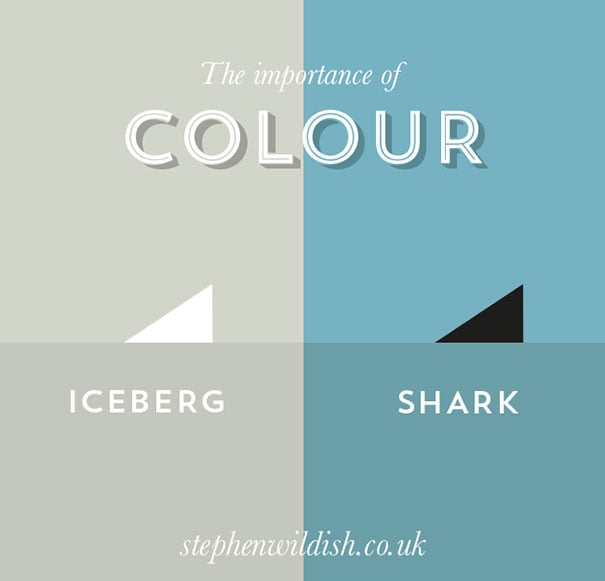 ---
Last Updated: September 14th, 2016
| First Published:
August 18, 2016
| Subscribe with
or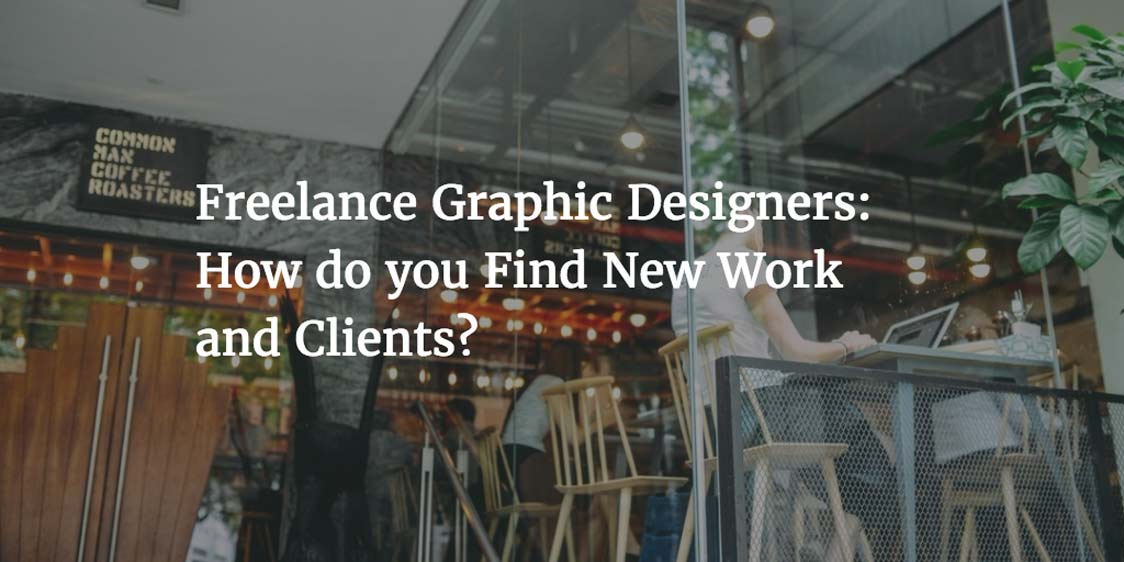 Freelance Graphic Designers: How do you Find New Work and Clients?
Thought I'd poll all you freelance graphic designers, logo and web designers out there, and see how you all collectively find yourself new clients, or how clients find you.
I've opened up Comments below, so please take a moment to share your various strategies.
Hopefully you'll like to share any methods that you employ in your quest to make yourself findable to potential clients, such as:
Google Search, Blogging, Social Media, External Portfolios, Paid Freelance Directories & Showcases, Paid Ad platforms like AdWords and Facebook Ad's, Local Press Advertising and Marketing.
How do you help potential clients find your design studio, how do you help yourself be found amongst the ever increasing number of freelance designers and design studios?
My Basic Strategy
I for one mostly have bene able to rely on Google, through many years of blogging. It seems the majority of my client clients still find me via Google Search.
Some clients find me on Portfolio platforms like:Behance, Coroflot, and Dribbble (paid-up Pro member), whilst a small percentage find me on LinkedIn, directly on Twitter and Facebook.
Some new leads come from word-of-mouth, recommendations and the occasional repeat client.
I do dabble with the occasional Paid FaceBook Ad campaign, but that's mostly to just help overall awareness; Sowing the seeds so-to-speak.
There's no doubt that over the last few years, it's become dramatically harder to find new clients just due to the sheer scope of competition.
There are many any new freelance logo and graphic designers arriving to compere for work each day, not to mention the heavy competition from crowdsourcing sites like 99Designs and Crowdspring.
If you're of a generous and helpful disposition, then it'd be great to hear how you look for, and get new clients.
---
Last Updated: September 14th, 2016
| First Published:
May 12, 2016
| Subscribe with
or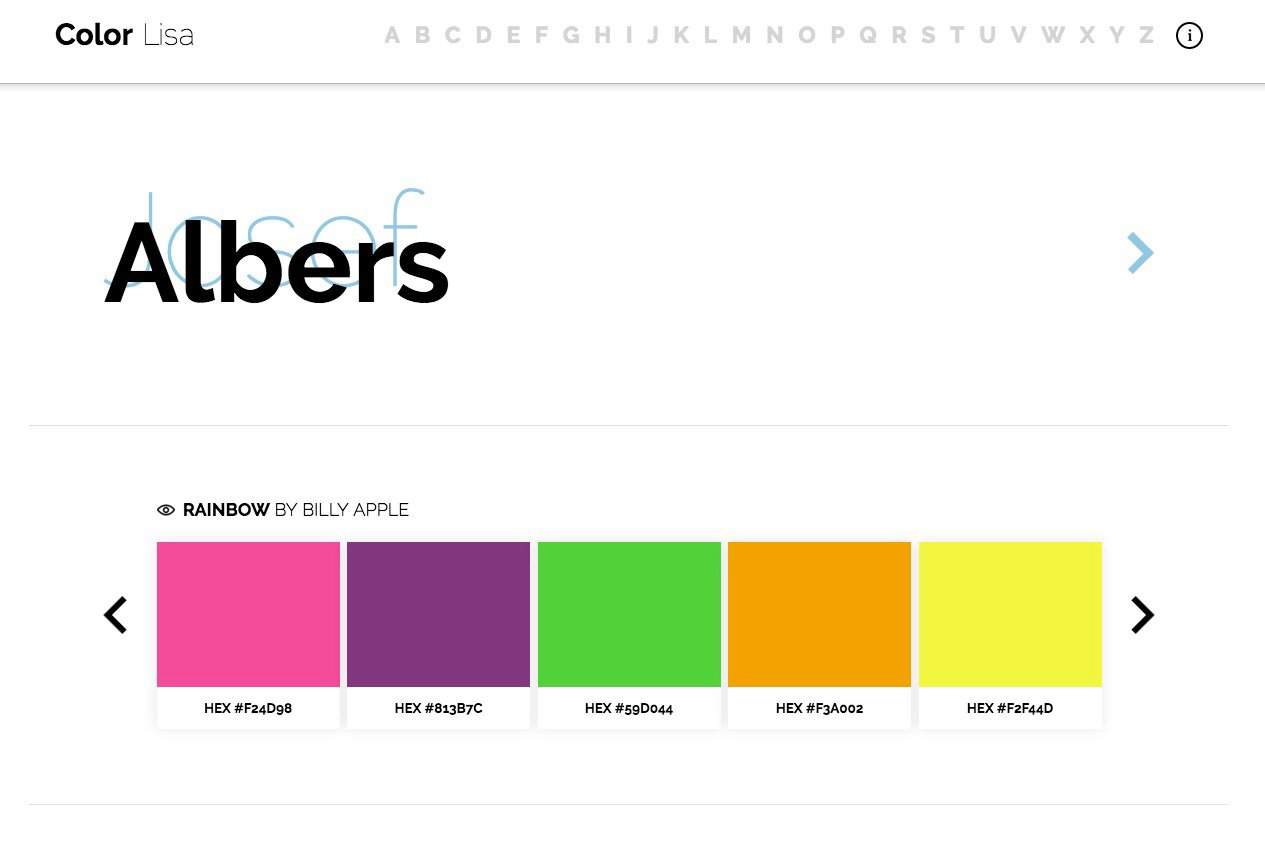 I do love poking around all the various color palettes, and colour swatch libraries currently available online.
I frequently visit such established colour palette websites as ColourLovers for inspiration for new logo design, and other graphic design projects.
Color Lisa is a tasty variation of existing color palette and swatch libraries, based on painted masterpieces of the worlds greatest artists, for us Graphic Designers.
Color Lisa was made by Ryan McGuire, who also made the free photo image website, Gratisography.com
The Color Lisa website  is simple enough to get around; there's only one long page listing the artists from A-Z. Click M in the top list of letters from A-Z, and you'll jump down to Monet, for example.
THE DREAM by Pablo Picasso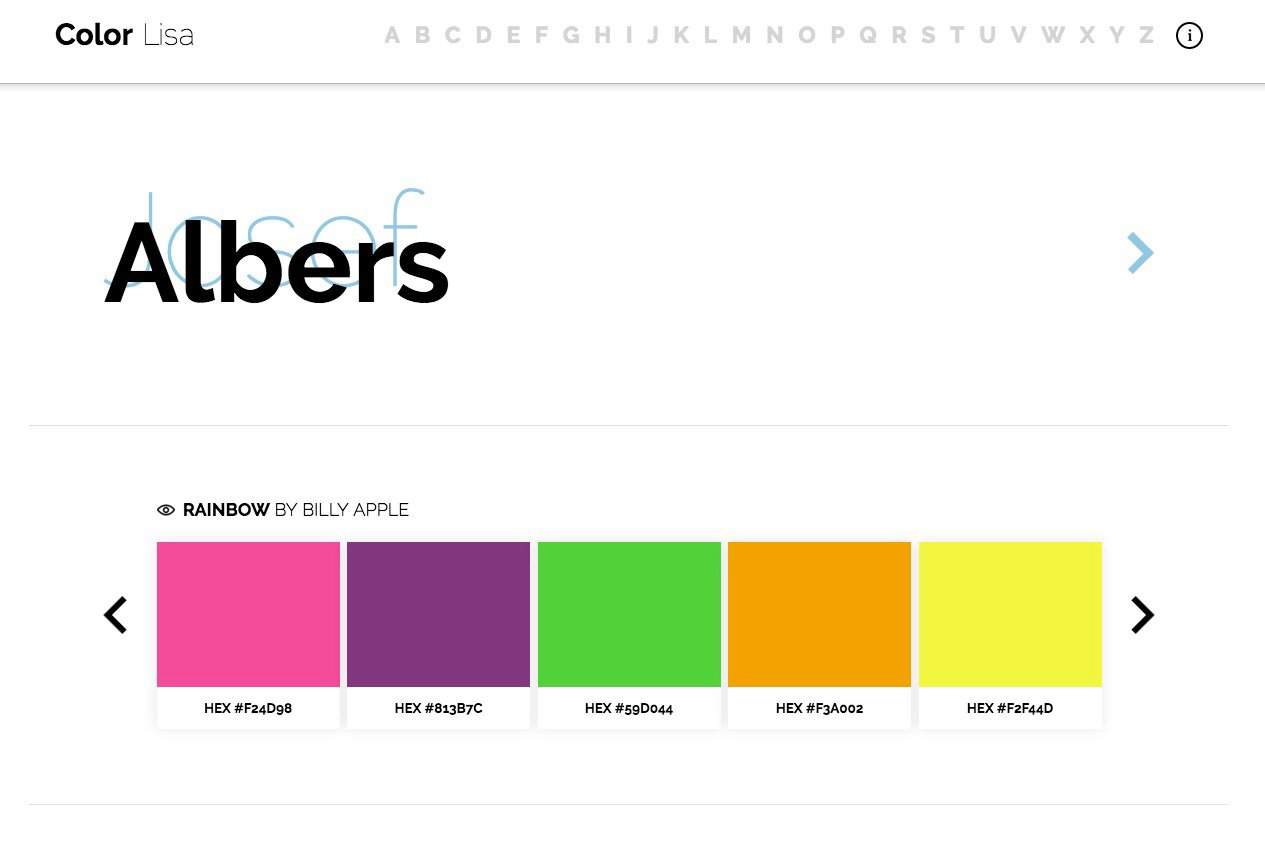 RAINBOW by Bille Apple
Color Lisa is a curated list of color palettes based on masterpieces of the worlds greatest artists. Each palette was painstakingly created by color obsessed designers, artists, museum curators, and masters of color theory. Palettes are constantly being added to help keep your designs colorful and fresh.

Color Lisa was made by Ryan McGuire, an artist, photographer, designer, and lover of color. Fun fact about Ryan: he drives a bright green (HEX #A5C955) and orange (HEX #E9AF42) 1971 VW Beetle he turned into a dinosaur. Questions, guest curator requests, and praise :) can be sent to ryan@colorlisa.com.
---
Last Updated: September 14th, 2016
| First Published:
December 21, 2015
| Subscribe with
or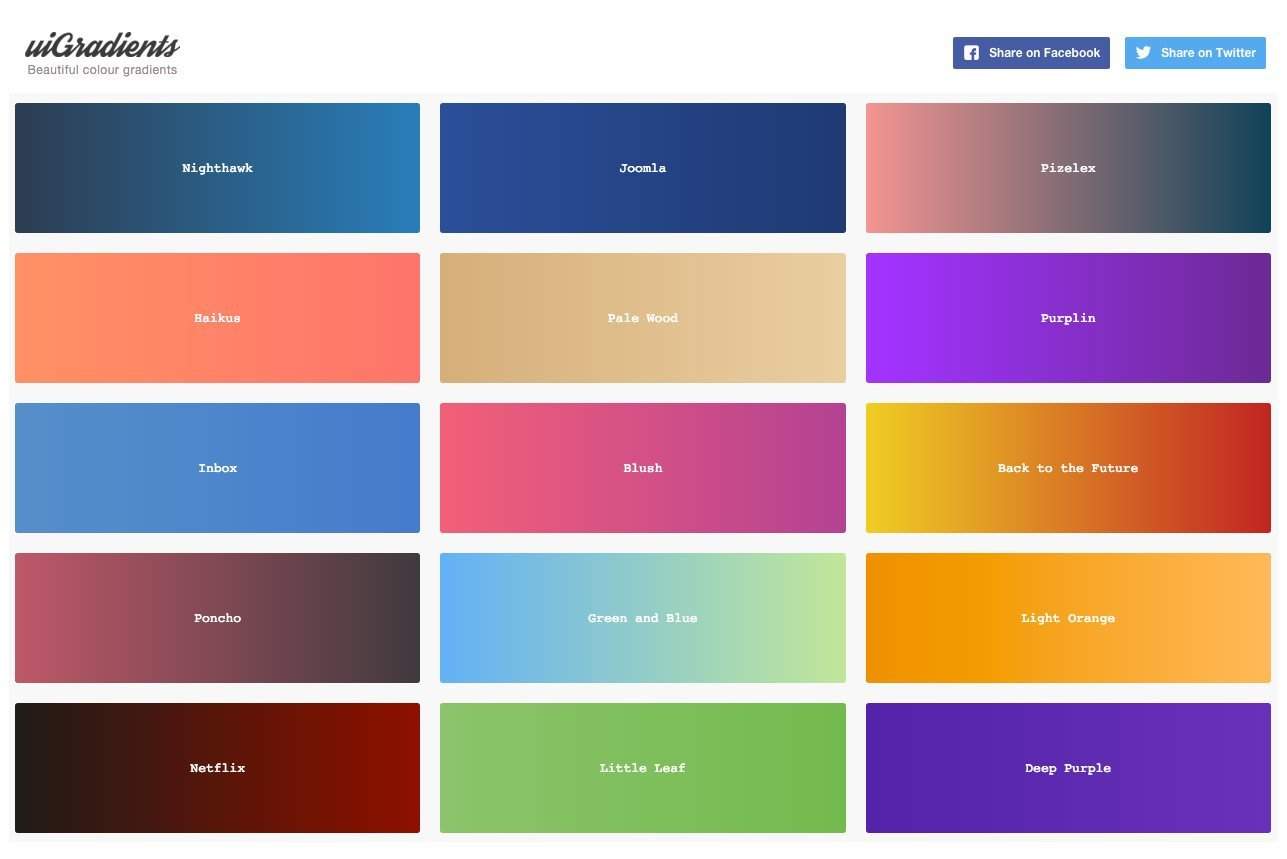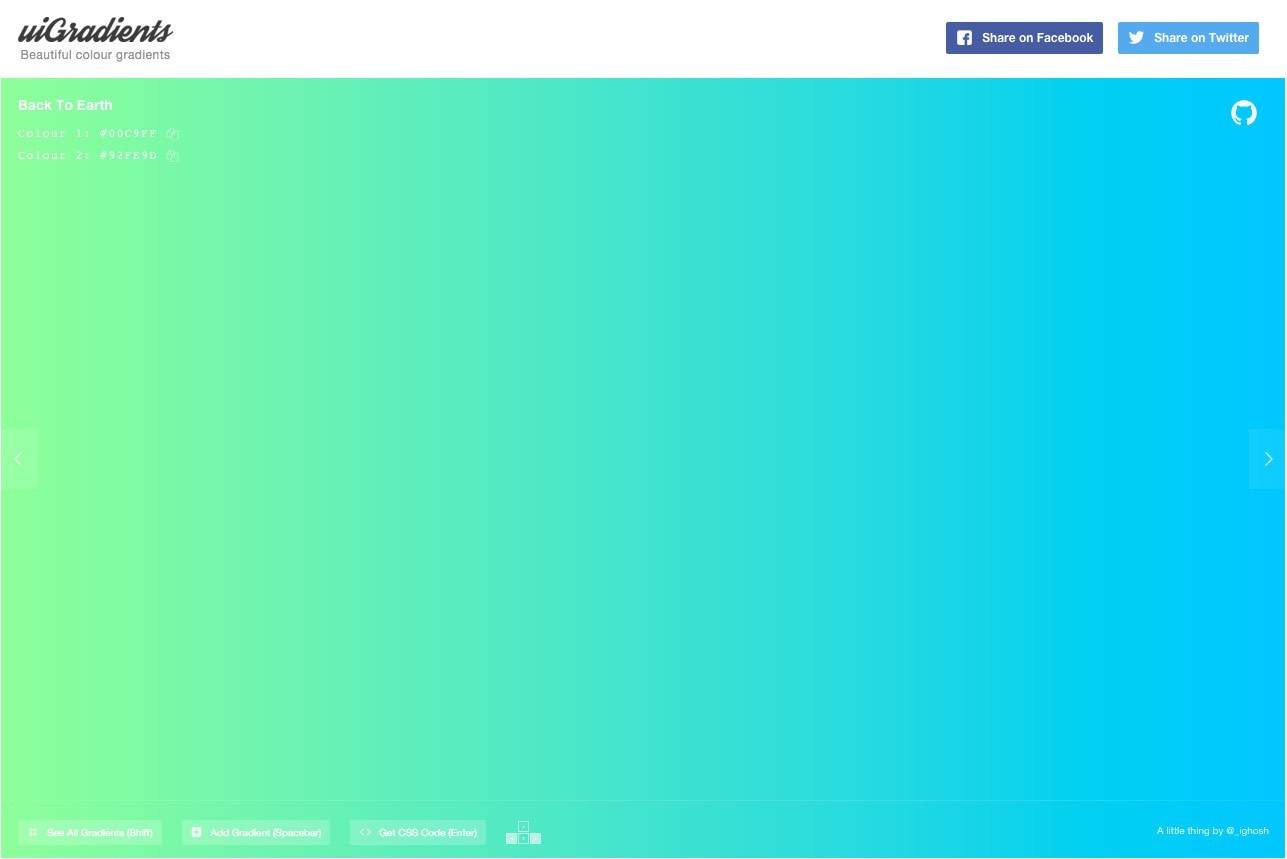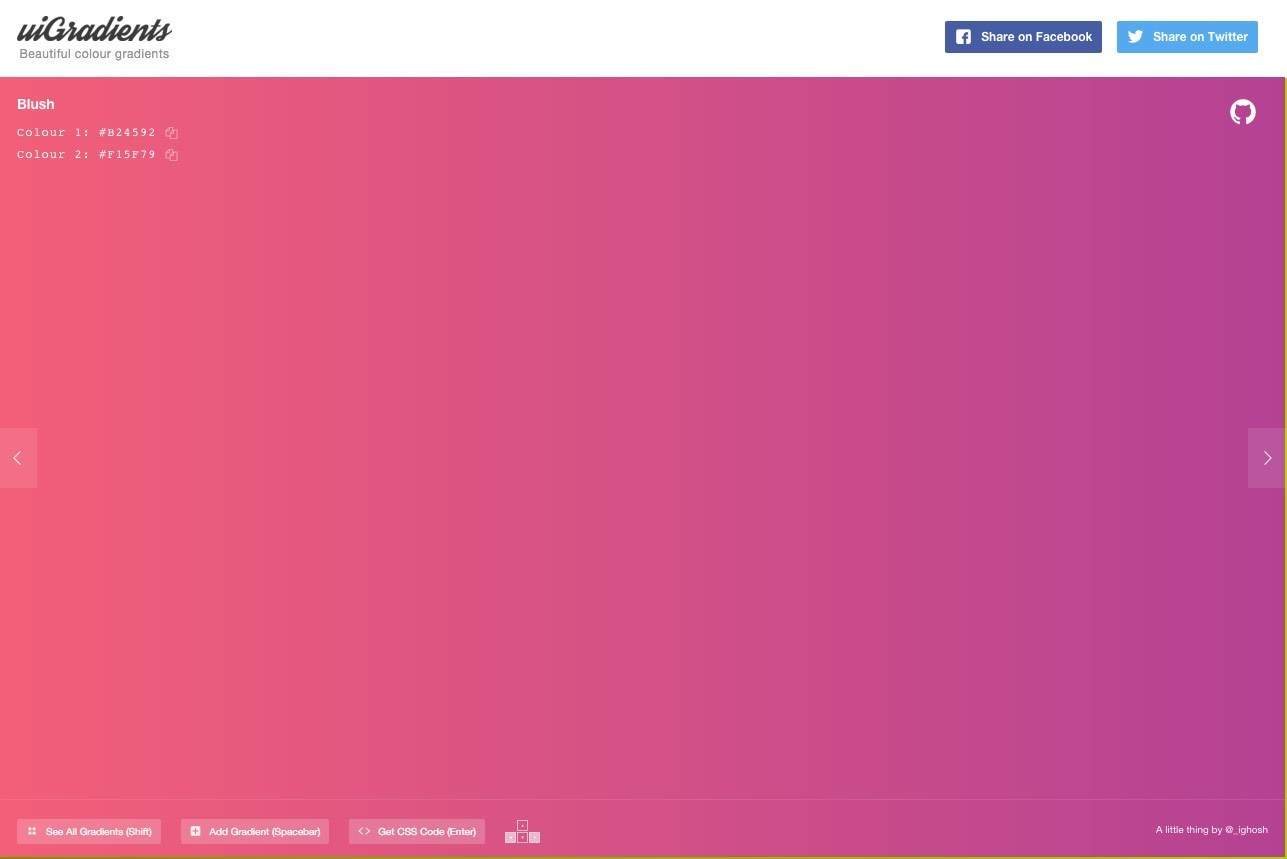 uiGradients: Modern Dual-tone Colour Gradients for Designers & Developers by Indrashish Ghosh
uiGradients: Beautiful Colour Gradients & CSS Code, by Indrashish Ghosh (@_ighosh), is certainly some very pretty, and quite useful, eye candy that will please many graphic and web designers.
I've had this lovely website bookmarked for a few weeks now, after initially tweeting it; it's been in my 'to blog' list until now. Christmas is all but here, and I wanted to post something colourful and useful.
Modern, dual tone color gradients for designers and developers https://t.co/FQqgh7LMpa via @_ighosh/https://t.co/FQqgh7LMpa

— Graham 'Logo' Smith (@thelogosmith) November 29, 2015
If you struggle to come up with pleasing gradients for your designs, then uiGradients is worth bookmarking. It'll allow you to select from a healthy library of colour gradients from which to bring your web designs to life.
You can also 'Get the CSS Code' (as below), which makes it super easy to make your website look really pretty:
background: #7b4397; /* fallback for old browsers */
background: -webkit-linear-gradient(to left, #7b4397 , #dc2430); /* Chrome 10-25, Safari 5.1-6 */
background: linear-gradient(to left, #7b4397 , #dc2430); /* W3C, IE 10+/ Edge, Firefox 16+, Chrome 26+, Opera 12+, Safari 7+ */
If you're the sort of person that likes to give as well as take, then you can also 'Add your Gradient', for instant Karma points:
Adding a gradient is easy. All gradients are read from agradients.json file which is available in this project's repo. Simply add your gradient details to it and submit a pull request
---
Last Updated: September 14th, 2016
| First Published:
December 8, 2015
| Subscribe with
or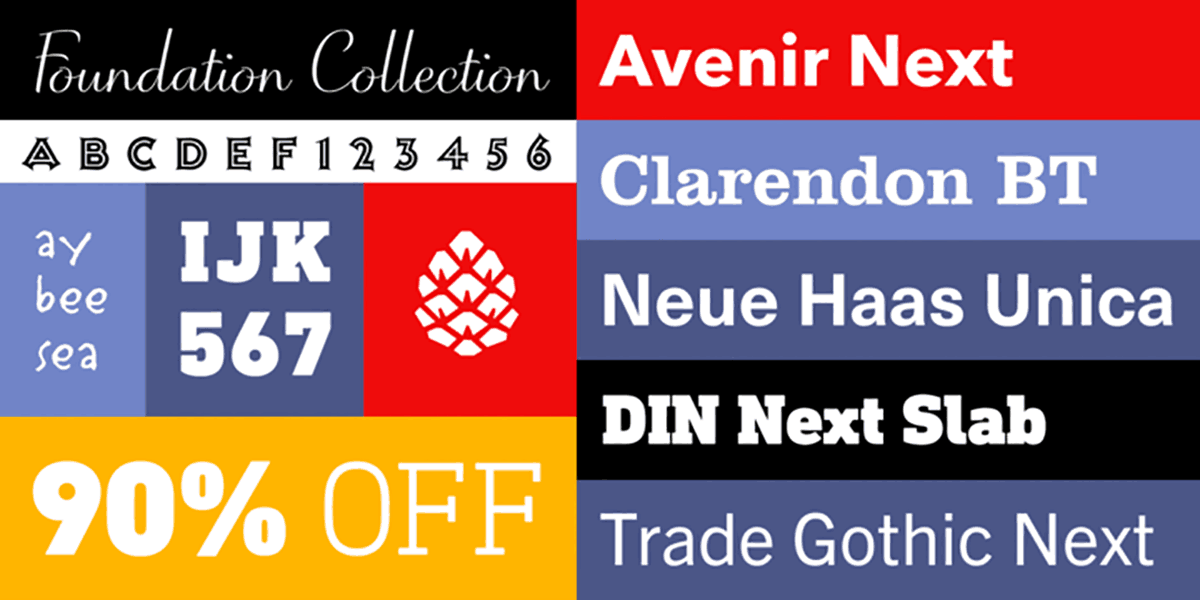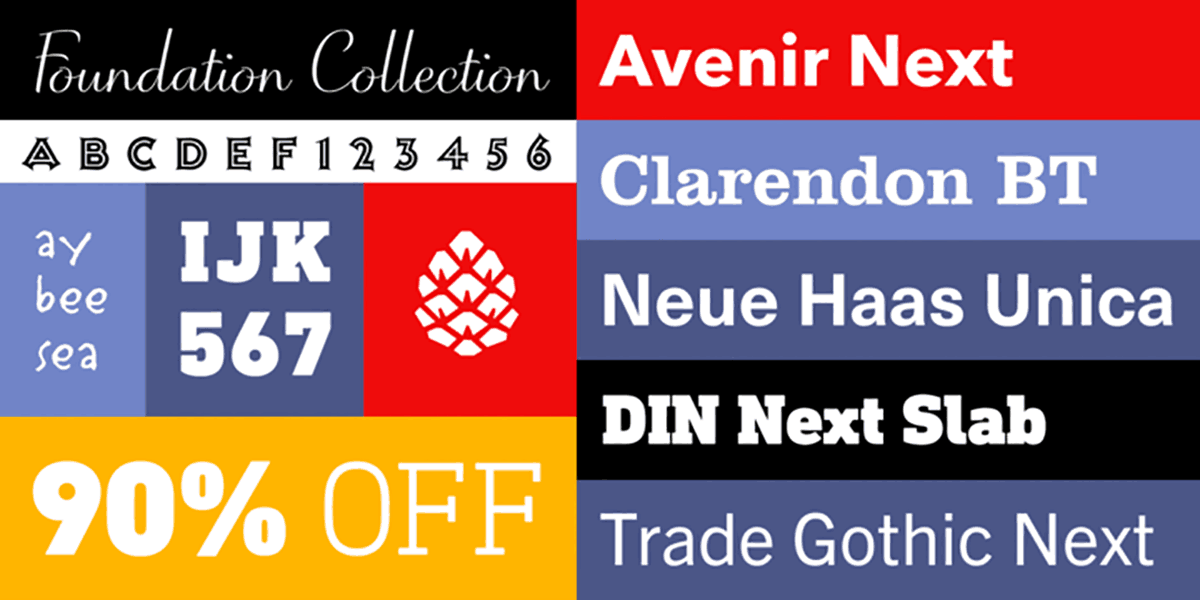 The Foundation Collection of 75 Fonts from Monotype for £33
Fonts from Monotype: Are you a budding new graphic designer, or even a more seasoned designer? Looking for some solid and dependable fonts from which to build you typeface collection?
If yes, then this amazing limited time offer of fonts from Monotype ought not to be missed.
For just £33, instead of £330, you'll get a heap of 75 well known fonts to solidify your type library, including but not limited to: Avenir Next, Clarendon BT, Neue Haas Unica, DID Next Slab, Trade Gothic Next, Stemple Garamond and Unit Slab OT etc.
I really would recommend buying these fonts from Monotype if you're looking to some serious graphic designing, as a lot of these will certainly come in useful.
Good graphic design isn't just about using the latest new font; it's about using the font that is best for the job. In many cases: these established fonts are used to good effect, and they'll see you good for years to come.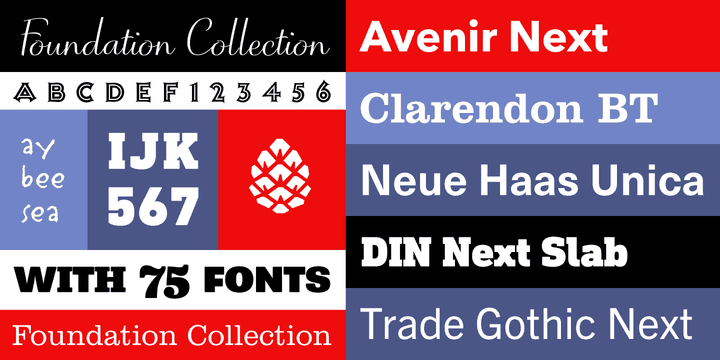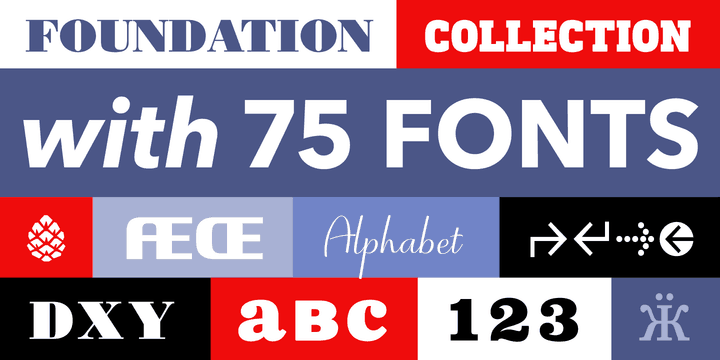 ---
Last Updated: September 14th, 2016
| First Published:
December 3, 2015
| Subscribe with
or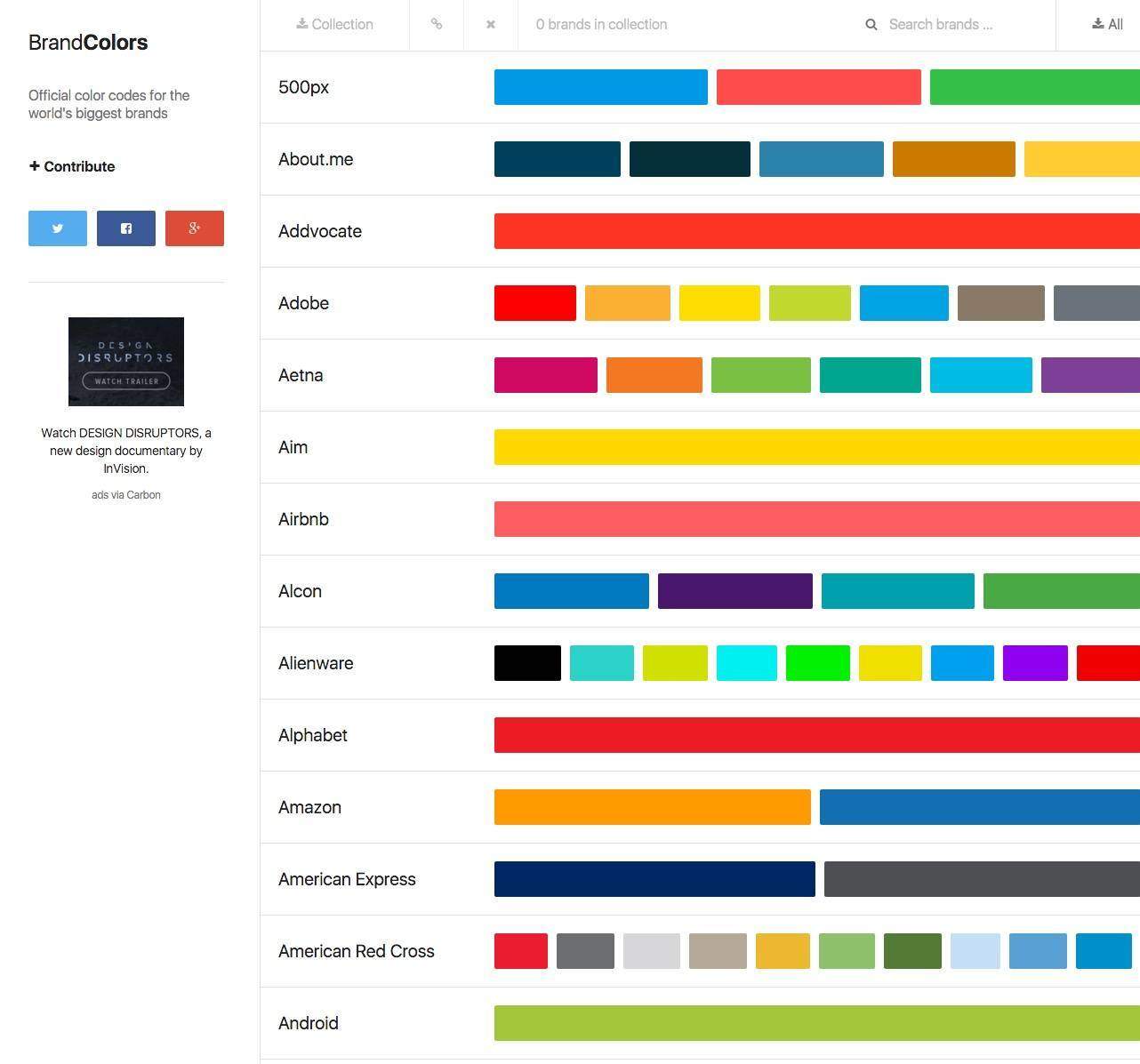 BrandColors: Official color codes for the world's biggest brands
BrandColors looks pretty, but it actually serves quite a useful and interesting purpose for any collecting color codes by curious graphic designer.
BrandColors boasts an impressive directory of major brands whilst referencing their distinctive brand colours as a tabbed colour swatch.
But that's not all.
You can add as many brands as you like to a 'Collection', which you can then export out said brand colours to various file formats, including: ASE (Adobe Swatch Exchange), CSS, Sass, LESS and finally, Stylus.
This makes using these referenced colour swatches a real breeze.
As an example, I 'collected' the color swatches of About.me and Adobe, then exported them to CSS and ASE. you can see the CSS format below opened up in Coda, and the ASE file was imported into a new swatch collection in Photoshop, also below.
---
Last Updated: September 14th, 2016
| First Published:
November 26, 2015
| Subscribe with
or
Semplice for WordPress - Designers Best Kept Secret - Black Friday 30% Off
Been eyeing up Semplice for WordPress, from Semplice Labs, for some time now, as in many many months. Been keen to overhaul my own website and logo design portfolio, and been looking for ways in which to achieve that goal for about the last year.
"Semplice for WordPress is the first fully responsive case study portfolio system. Built by designers, for designers."
There are many many WordPress orientated portfolio and blog based themes available to us graphic designers, a number of which I have purchased, downloaded and started to use, but only to be derailed with one thing or another.
I know there are many people who would just say, "design and code your own website", or "Why not pay someone to to it for you".
Both valid suggestions, but I'm no expert in PHP, CSS and HTML, no where near enough to develop a blog portfolio with the functionality that I require, neither do I have ££'s to pay a web developer and designer to do the job for me. If I had the money to hand, I'd pay someone in a heart beat. 
So back to Semplice. I've looked at the many live examples of websites and portfolios built with Semplice on their Showcase, and feel it's a good fit for what I need. There is definitely a Semplice 'style' that is inherent within a lof of the showcased websites, and it's a style I really like.
The Black Friday deal offered by Semplice, a lovely 30% off, gave me that final push to purchase it. I was going to buy the basic Single version, but the 30% enticed me enough to purchase the Studio Edition.
So with the 30% discount in hand, I ended up paying a very reasonable £61.30. Here's hoping I can design something with Semplice that is a little less like the other examples, but still part of the Semplice family.
Going to give myself a few months to get this in hand, then boom! Hopefully a lovely new visual styled for The Logo Smith Freelance Graphic and Logo Designer.
© 2006-2016 All Rights Reserved
The Logo Smith: Logo & Brand Identity Design Studio, with 25 Years Experience,
in Cahoots with, The PR Room - Public Relations Agency: Tech, IoT & Smarthome PR Services.

Graham Smith: 10 Badgers Copse, Seaford, East Sussex, England.
Tel: +44 (0) 7816 527 462 - Email: glogosmith@gmail.com