---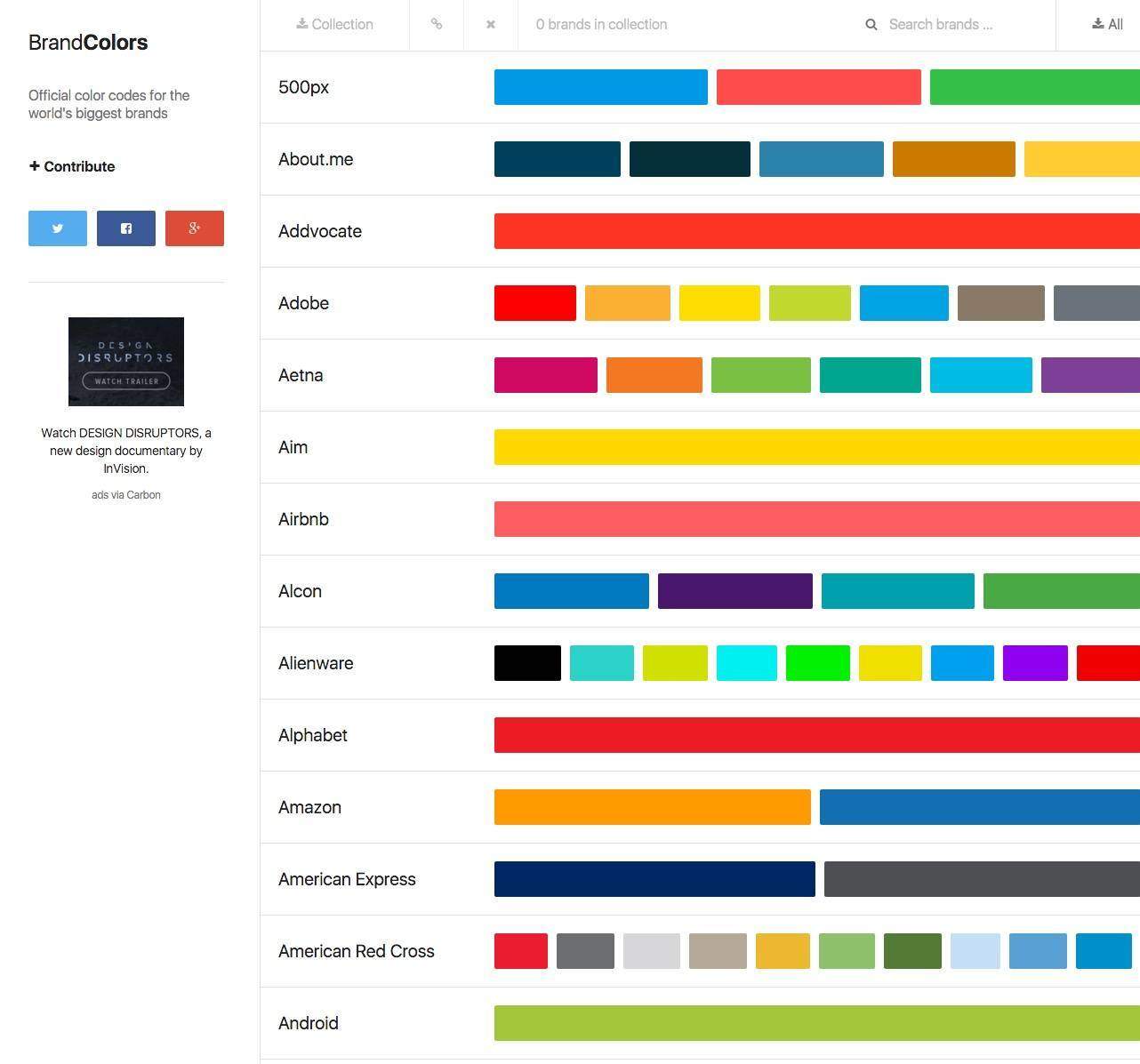 BrandColors: Official color codes for the world's biggest brands
BrandColors looks pretty, but it actually serves quite a useful and interesting purpose for any collecting color codes by curious graphic designer.
BrandColors boasts an impressive directory of major brands whilst referencing their distinctive brand colours as a tabbed colour swatch.
But that's not all.
You can add as many brands as you like to a 'Collection', which you can then export out said brand colours to various file formats, including: ASE (Adobe Swatch Exchange), CSS, Sass, LESS and finally, Stylus.
This makes using these referenced colour swatches a real breeze.
As an example, I 'collected' the color swatches of About.me and Adobe, then exported them to CSS and ASE. you can see the CSS format below opened up in Coda, and the ASE file was imported into a new swatch collection in Photoshop, also below.
---
Previous Post:
Unicode (U0020 to U+AFF) in a Spiral Typographic Poster
Next Post:
The Foundation Collection of 75 Fonts from Monotype
---
Posted By:
The Logo Smith:
Freelance Logo & Brand Identity Designer.
Follow @thelogosmith
Categories:
Graphic Design Essentials
,
Logo & Brand Identity
,
Resources
Tags:
Color
,
colours
,
Swatch
More Posts by Category
---
---
---
Home » Blog | The Logo Smith | Logo Designer & Brand ID Studio » Graphic Design Essentials » BrandColors: Official color codes for the world's biggest brands
Copyright © 2006-2016 All Rights Reserved The Logo Smith : Logo & Brand Identity Design Studio, with 25 Years Experience. Also provide PR Agency Services with The PR Room : Technology PR, Internet of Things PR, and Smart Home PR.
Contact: The Logo Smith , Graham Smith, 10 Badgers Copse, Seaford, England
Tel: +44 (0) 7816 527 462 Email: [email protected]