Graphic & Logo Design Blog: Main Index
---
This year I have heard a similar saying from several clients, and it always intrigues me as to the psychology of it. I don't know if it's just me, or if this is a relatively common experience amongst designers?
It typically happens midway during a project, or more specifically at a point where the client is clearly feeling a sense of frustration at how I'm seemingly failing them as a designer.
Its Just Not Your Usual Quality of Logo Designs
The 'it' appears to make them feel that they are the one and only client where it looks like that I'll not be able to deliver the quality of logo designs that they were expecting, and hoping for.
After all, as they say, they hired me specifically based on the, "exceptional quality of my logo design portfolio" (their words, not mine), and would just like me to design them the sort of logo designs that I have previously designed!
I just find it interesting that this sort of behaviour is pretty new to me, and I'm trying to work out why someone would feel that, for whatever reason, I'm failing to deliver the style/quality of work they clearly have counted on.
From my perspective, and each and every time this has happened, I know in my heart that the quality of the logo designs and concepts, are in fact up to my usual standard, if not much higher. Yet, even with all my explanations, rationalisations, justifications to the various designs and concepts I have so far delivered, some clients feel they are not getting the 'value' they were hoping and paying for.
Which obviously makes me pretty sad, and makes for a pretty frustrating time. Self doubt also right up there with the inner turmoil of feelings I experience.
On the one hand: I'm busting my gut, as I always do, to try to constantly and consistently out-do myself (and I believe mostly succeeding), to keep pushing the boundaries of my logo and brand identity designs where ever possible.
Yet, on the other hand: each time I feel I have designed something truly awesome, and completely appropriate for my clients needs, I am faced with this increasingly occurring reaction:
"We hired you, over the other logo designers, because we loved the simplicity, the creativeness of your logo design portfolio, and felt your experience and particular design style would be a perfect match for our company. However, we have to be honest and say we feel you are not delivering the quality of work we were hoping for, yet know you are very capable of."
The last project that this happened with was with a client that ended incredibly badly, and I wrote a lengthy post on the whole disappointing attitude and behaviour of this particular client: A Cautionary Tale: Advice in Using PayPal Safely When Accepting Client Deposit Payments 
I have a number of likely theories on why this seems to be occurring more and more, not to mention how I might better deal with the resounding 'lack of confidence' the client clearly is experiencing at that point, and anything I can improve in my own communications.
But right now, I'm just really oddly fascinated with the relatively apparent sudden onset of this behaviour. Curious.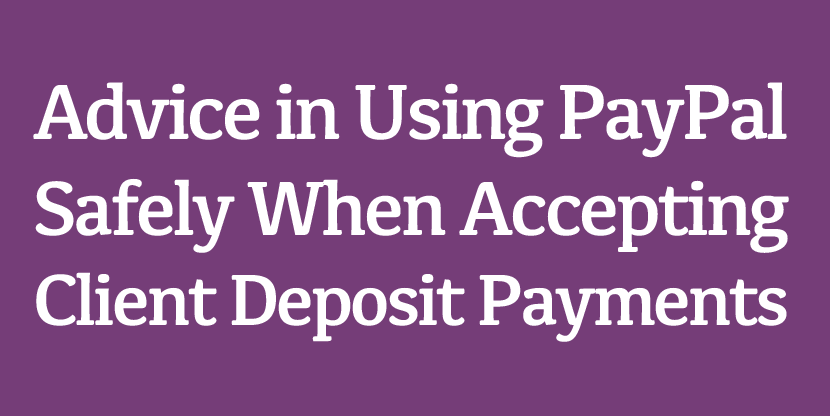 Paypal DOES provide protection for people providing digital services and goods, in so much as the client cannot, at any time, simply believe they can 'successfully' reverse the payment process, if something has made them a little unhappy.
What Does this mean to you, the designer?
What my experience (explained below), and the positive outcome, does demonstrate: you are safe in continuing to use Paypal, to receive: funds, deposits and payment of invoices, from clients, AS LONG as you:
Keep all emails and documentation relating to the project, and all files sent to the client (emails you send, and emails you receive, that relate to logo design ideas you have sent, ie. feedback, issues regarding the brief, etc.)
Keep all your digital files, logo versions, and submitted logo design files, safe and backed-up.
Use an online project management application, like CageApp, that will provide all the proof anyone could need that you upheld you side of the contract, and also proves that the client accessed, and viewed, all the uploaded logo design ideas, and concepts.
Ensure your ToC's clearly state that deposits are mostly non-refundable, except in those cases, such as: illness etc, prevents you from finishing the the job you were hired to do.
I'll be adding a small paragraph to my own ToC's, stating that: filing a dispute with Paypal, to seek 'reversal of Paypal' payments is not possible, and a complete waste of everybody's time. That Paypal will ultimately side with the designer, so long as digital proof is available, as stated in Paypal's ToC's.
Also, a few other general thoughts at the conclusion of this post.
An Unfortunate Paypal Experience
This post is a direct result of a very unfortunate experience I had with a ruthless client, and Paypal, just a few days ago.
I immediately took to Twitter to vent my anger, frustration and complete bewilderment at the apparent ease at which a client of mine had managed to get Paypal to reverse a £800 deposit, paid to me, for a new logo design. I also want to add that I resisted the temptation to publicly name the client, as angry as I was, and I'm so glad that I was able to resist a somewhat strong urge.
A Very Cautionary Paypal Tale
Anger because this deposit had been paid some 6 weeks earlier, and I had subsequently worked over 100 hours, over a 6 week period, on this logo design project.
If this so-called 'dispute' was upheld, it basically meant I had done 6 weeks of work, equating to an £800 deposit—in real world terms this was peanuts due to tax etc, and meant I had no means to pay my mortgage and bills for this following month.
This £800 was my income/wages for the previous month, not some random bonus that could be reversed without much collateral damage. Imagine you working for 6 weeks and getting paid, then using that money to pay bills, and generally fund living a life, only to be told you had to pay it back!
After the client lodged an official dispute, a very quick and simple procedure, Paypal were just as quick to put this deposit of £800 on immediate hold, meaning I now I owed Paypal £800.
Aggrieved Client from Hell?
I should add here why the client was felt so aggrieved that they had to first threaten me with taking this to Paypal, then actually following through: we were close to the suggested deadline for the completion of the logo, yet they had summarily dismissed a number of very workable solutions, had themselves been late (upwards of 1 week) to actually get back to me with feedback, and changed the brief enough to warrant going back to the drawing board a number of times.
This required a refocus of my efforts trying to appease their somewhat unrealistic expectations, so it it made sense, at least to me, the deadline would suffer. There is also the mention, in my ToC's, that I cannot come close to promising a final delivery date, for a logo design, due to certain things somewhat out of my control, like the client repeatedly not liking a design.
Each time a design is dismissed, more time is needed to come up with another design. If that desing is dimissed, then yet more time is needed. At some point I'll draw the line, and gently hint that one of the previous ideas has to be chosen, at least as a general direction from which to work from.
Apparently all of this 'not getting anywhere' was all of my own making, and if I didn't, "pick up the pace" as they quoted to me, they would look to get their deposit back from Paypal.
Sure, I'm the one designing the logos, and I'll take my portion of the blame for not being able to visualise a constantly changing brief, and nit-picky client

So OK, I know there are often 2-sides to every story, but in all honestly, there really wasn't anything I could have done differently, other than to have been much stronger armed earlier in the process, than I already had been, but it was my choice to continually try and get this logo design project resolved for them. Mostly because I just wanted the thing done and dusted, to the best of my ability.
Sometimes you genuinely do think the end is in sight, but then you're not, and other times you don't fully see you are being taken for a massive ride… This client was certainly a challenge, but I didn't foresee them acting in this way at all.
I've been doing this gig for a fair while now, and I can honestly say these clients were one of the most unreasonable, most arrogant most incredibly ruthless clients I have every worked with, yet I still tried my utmost to design a logo that they could finally say, "Yes!". I'm quite capable of biting my teeth, and riding out a period of client unpleasantness, but for all my patience, putting myself really on the line, all they could come back with was to try and threaten me with the loss of my deposit: my income and earnings for a month!
Would it be silly of me to add that 'most' reasonable people would accept a deposit (one months earnings) as being non-refundable, as my ToC's had clearly stated?
A monologue that I have sent PayPal regarding the dubiousness of them playing Judge & Jury in valuing my work/time pic.twitter.com/7ubUJNWlHp

— Graham 'Logo' Smith (@thelogosmith) September 16, 2014
Back to Twitter
Back to that day in question, and I simply tweeted the hell out of the situation, sharing as much information (but not the clients identity) as I could, and CC'ing in @AskPayPal with every tweet, and my goodness were their a few tweets!
It became clear they were only going to assist me with the resolution process, but certainly not providing any words of wisdom, comfort to someone who was clearly petrified about loosing 6 weeks worth of labor to a shitty uncompromising client.
If you feel inclined, just take a look at my Twitter stream for that day, the 16th September 2014, starting from 11.46am. It's a good days worth of tweeting and DM'ing to @askpaypal who I shall say were quick to establish contact, and clinically guide me through the 'resolution' process.
This was one of the very few times I felt so incredibly defeated, deflated, used, abused, anxious, scared and just generally very low spirited.
Even feeling like this, the hell I was going to allow this client, or Paypal for the matter, ride rough-shot over me! This is why I used social media to simply carpet bomb the living hell out of this particular situation, rather than just keep it to myself.
Paypal: Judge and Jury
In order to have any luck at reversing this decision, I had to basically prove to Paypal that I had 'delivered' the 'services/goods' that were paid for.
Fortunately I had every email, every long-winded explanation of each of my logo concepts, screenshots and master files of each of the logo designs, PDF's of the invoice, changes to the brief via there emails also showing there relentless negativity and unmovable ability to be flexible, and finally their very very stupid attempt to try and get me to, "pick up the pace a bit".
Anyone who's anyone should know that resorting to email threats is a recipe for disaster, and this proved to be the smoking-gun that I needed to smash that last nail oh-so-very hard.
After working with @askpaypal the whole of that afternoon, and uploading all the necessary items of proof, Paypal said they would go away and 'investigate' the situation.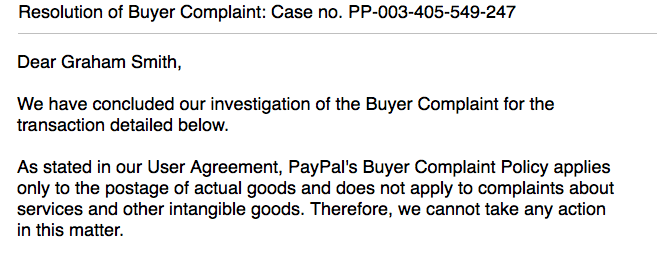 The following morning there was an email from Paypal (above) saying:
"We have concluded our investigation of the Buyer Complaint for the transaction detailed below.

As stated in our User Agreement, PayPal's Buyer Complaint Policy applies only to the postage of actual goods and does not apply to complaints about services and other intangible goods. Therefore, we cannot take any action in this matter."
I would indeed be having the deposit released back to me, and the client could kiss my…  Yes I felt pleased, but still felt a nasty taste in mouth: having to go through a period of anxiety over something that could have seriously caused me some financial difficulties.
Also considerably miffed that Paypal, who seemingly have such a clear official position on this, that it still took them 24 hours to get back to me, and not even hint to me that there was likely no grounds to uphold the dispute. They knew from the outset this wasn't about 'a posted item not received or sent', but was in fact about 'services and other intangible goods'.
From where I was sitting, the outcome should have been immediately clear to them after receiving all my proof, but it still took till the next day to get the answer, and in this minor period of time I was repeatedly expecting the worse, that Paypal would side with the 'poor aggrieved client'.
What is also worrying: I had heard other similar stories where the designer lost the deposit, which begs the question is there still such a massive lack of continuity with some of Paypal's ToC's, or more specifically, how certain Paypal staff might perceive a certain dispute?
Is Paypal a Risk?
During this period of uncertainty, it became clear that using Paypal to receive money from clients, for services, looked like being a massive risk. If any client could lodge a dispute, and have any amount of funds withdrawn, any period of time 'after' sending, then this surely would be a hugely unacceptable way of managing a payment company.
This lead to a lot of conversations, and statements, not just from me, about not using Paypal any more to accept client deposits, should Paypal side with the client.
Clearly, in the end, Paypal DOES provide protection for people providing digital services and goods, in so much as the client cannot, at any time, simply believe they can reverse the payment process, if something has made them a little unhappy.
Conclusion
You've already read the basic advice that I put at the beginning, but simply: should you find yourself in a similar situation, where a client tries to strong-arm their payment to you back, try not to panic too much like I had done.
If you have proof that you had delivered on the contract, that you delivered the digital files, and/or are still delivering on the contract, and still in the process of designing and delivering logo ideas via email etc, then according to Paypal's own ToC's, a client doesn't have a leg to stand on, even though you might see funds 'temporarily reversed' while Paypal 'investigates'.
Don't even contemplate 'not doing anything (proving your side of the facts)', as Paypal WILL likely favour the client. Make sure you respond immediately to the 'dispute', and send Paypal everything you possibly can to categorically prove you had/are delivering on the agreement.
It's not for Paypal to decide if your designs are good or bad, worth the deposit paid, or not. Paypal simply just need to see that you had acted, or are continuing to act in good-faith, much as I was.
Also, don't feel tempted to hurtle angry emails to the client. I managed to cease all communications the moment I realised they had lodged a 'dispute', and I made sure that I did not contact them again, in any way.
Once it was all over, I did however, send this little email off: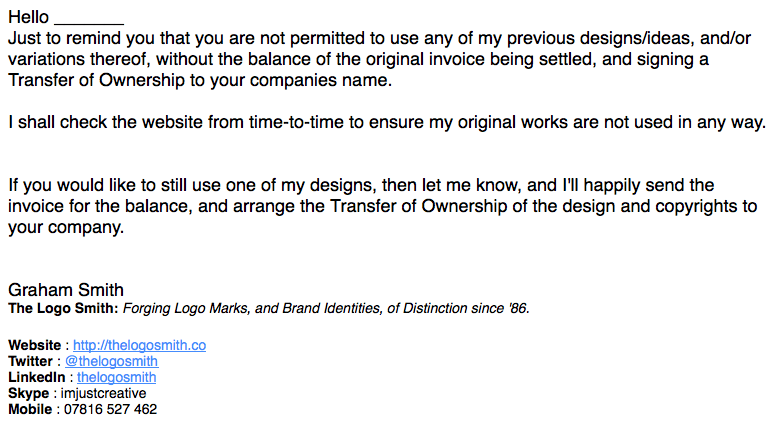 That's the last I heard form the client, and last email I have so far sent. No more, no less.
Is There a Difference Between a Logo and a Symbol? In short:
It's OK to use the term 'logo', as a day-to-day generalisation, when referring to any style of brand logo design. However, when there is a chance of someone else assuming you meant an 'icon' when you meant a 'logo type', especially when discussing the requirements of a logo and brand identity job with a client, using the correct terminology becomes far more pressing. *See some examples below, in Thank God for Context.
Why stop with logo and symbol though? We have a myriad of terms that are frequently used, interchanged, and applied in various configurations and applications, terms like: logo, logo mark, logotype, type mark, word mark, brand mark, brand logo, logo design, combination mark, symbol, icon, pictograph and I'm sure I've missed quite a few.
There are some of us who apply the word 'logo' when talking about any of the previous adjectives, and there are those that care deeply about using correct and precise terminology.
Some scoff at such misguided and care free abandonment, whereas some just say it's OK to reference 'logo' when talking about pretty much anything that represents the core visual 'brand logo': the one defining graphical element from which all of a brands life blood flows out.
When shit hits the fan, and a company does something stupid, it's usually that 'brand logo' that the media will use to represent the company in question. BP screws up the environment? Then bring in the BP logo. GAP creates a ridiculously lame new logo? Bring in the GAP logo, and so on and so on.
*Thank God for Context
There is also context to consider. I myself will carefully use the right term when discussing a project with the client, as it's important that there are no accidental landings on different pages:
"I thought you wanted a logo mark", said I. "No, I wanted a logo for mark", said the client. :-\
"I'm designing you a logo type, as I don't feel you need a logo mark.", I said. "But I want a logo that's just based on words!", remarked the client. "Yes, that's exactly what I mean, you're getting a logo that is based on type/words of your company name.", I further clarified.
"I want one of those logo designs that has both a type mark, and a graphical symbol to represent my product icon, for my new start-up, but I don't have much money, as you can imagine.", explained the client. "So you want a symbol, not a logo mark, sitting alongside the brand name for next to nothing?", enquired I. "No, I don't want a logo mark, I want a logo symbol, one of those icons things that you see on toilet doors, that sort of style.", clarified the client. "Ah I see.", lied I.
Client: "I need a logo designed for my new iOS application, something that really will shake things up." Me: "What you actually need then, is an icon which will represent your application on the iPhone." Client: "OK, but I still want a logo."  Me: "Right, so we need to include the icon with the company name, more of a combination mark then. We can do that". Client: "I don't want a combination mark, I really want a logo, and the icon. That's what you said I needed. It's really important I have a logo. You do design logos don't you?" Me: "Oh yes indeed, logos for sure. So what I think you mean is: you need a logo to represent your actual company, then an icon to represent the application you are developing?" Client: "Say what? I'm not sure I will have enough money to have both logo and icon designed, but yes, I do need a logo designed for my actual company. So this will give me a logo for my app?" Client: "Well, no, not really. The logo design will be for your company, then the icon design will be specifically for the application. However, if you plan to seriously market and advertise your app, then we can add the application name up with the the icon, thus giving us a combination logo, as I mentioned previously. So this will be: one company logo design, one application icon, and one application logo." etc.
I mean, I get confused with the various words available, and it certainly becomes more confusing when you are talking to someone who uses the same words, but for different meanings, and especially when they decide to just chop and change each time you are speaking.
It's certainly not the fault of a client if they end up not utilising the correct terminology, so it's up to you, the designer, to really clarify what they want, even if you think you know. Make sure you do DO know.
So anyway, I put this little post together because the people over at FastCoDesign have approached, and tried to tackle, this subject in a fairly lengthy post: What's The Difference Between A Logo And A Symbol?
Within the post you'll find: various reasons and explanations to the pros and con's of over generalising and trying to be too specific, when utilising one of the many 'logoesque' words in conversation, and other social applications.
The one quote that I like to refer to, is this one by Michael Bierut, and it sums up some of the earlier 'made-up' client-designer conversations:
Michael Bierut: "Everyone seems to have come up with their own definitions for this," he says. "The distinction only matters when you're in a situation where you need to refer to these overall identity elements precisely."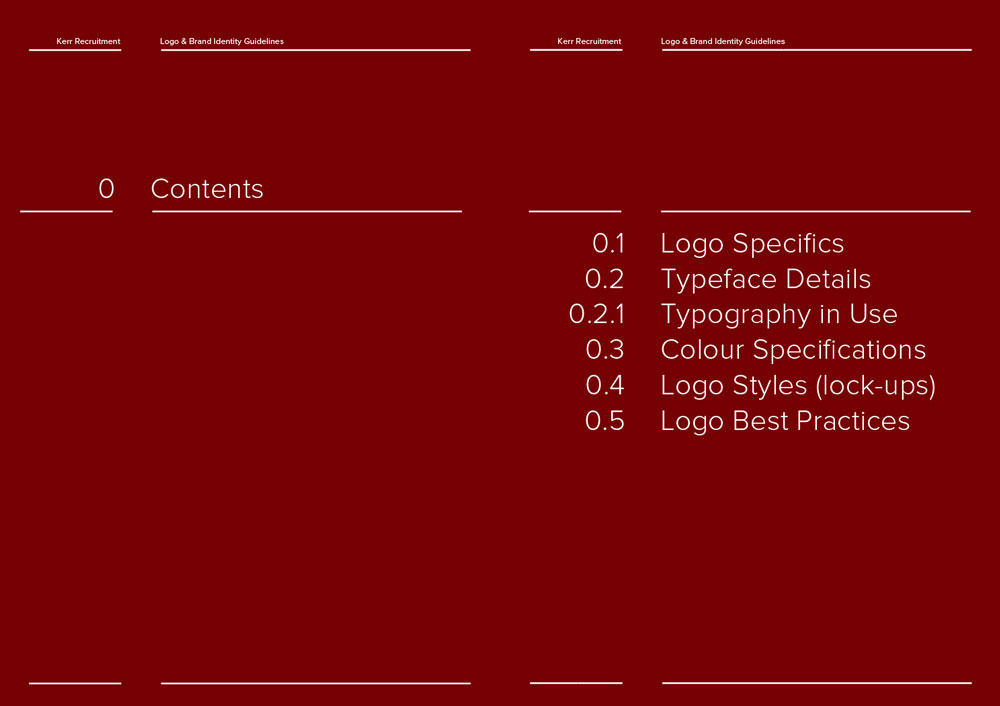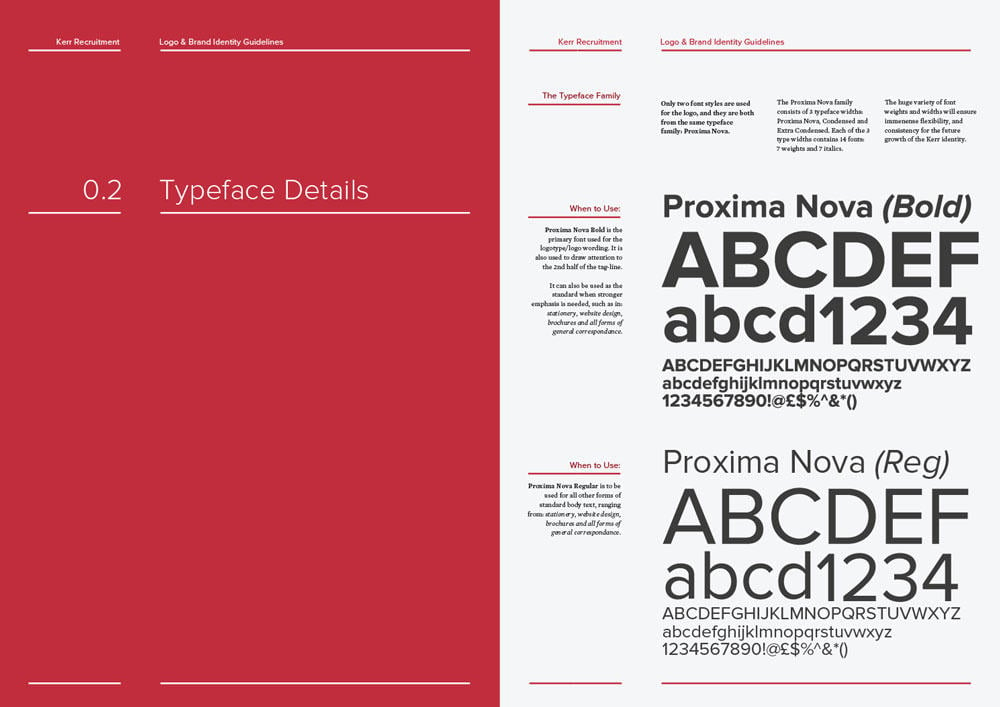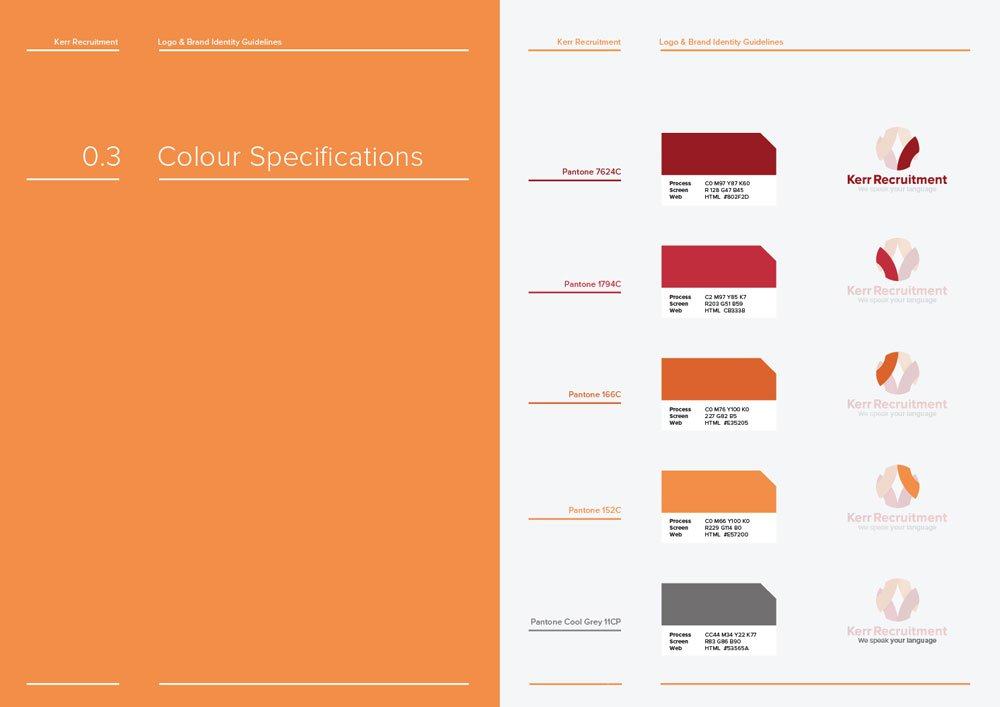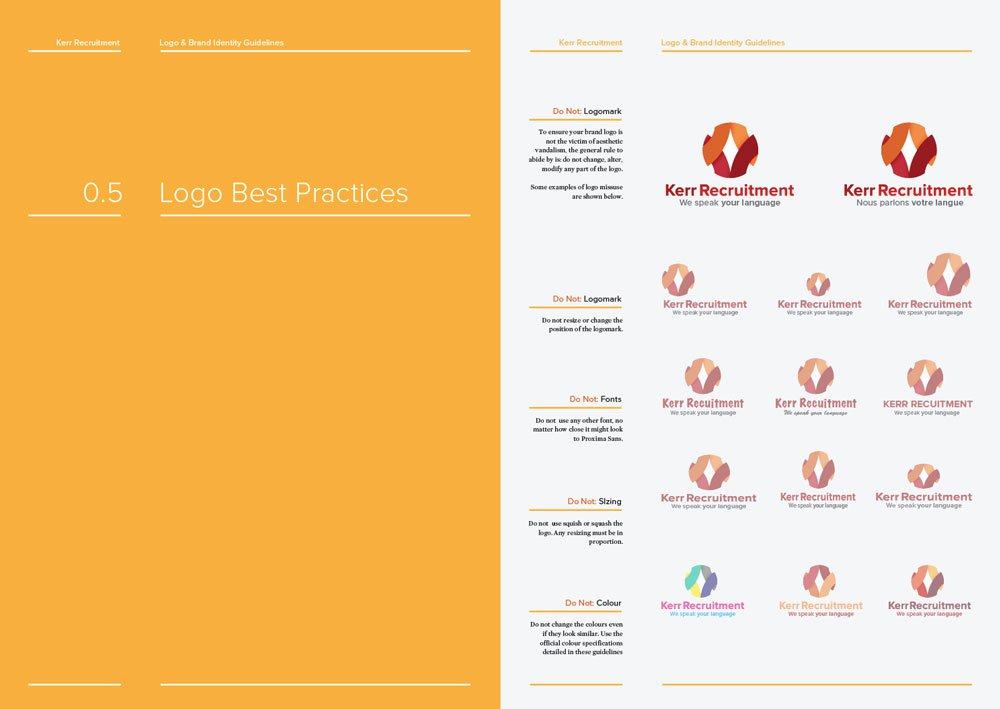 The above link will download a ZIP archive of an: Adobe Illustrator CC7 file (without embedded fonts), and a PDF (with embedded fonts).
Logo and Brand Identity Guidelines Template for Download
This version of my logo guidelines template, from my resources category, is a little heftier than previous, weighing in at a respectable: 13 pages (there is an imaginary Back Cover you can add to make 14).
I have used this particular version of the guidelines for a previous client of mine, Kerr Recruitment, as well as slightly different variation for Tabalwor, another previous client.
The style of this set of guidelines has gone down well with both clients, as well as some prospective clients who have asked about them after seeing them on the respective portfolio pages, etc. So I figured I'd stick with this basic style for a while, and expand and tweak it as necessary.
There are, of course, situations where a completely bespoke set of guidelines is warranted, but on the whole, i'll be using this style base where the client isn't in need of a custom set of guidelines.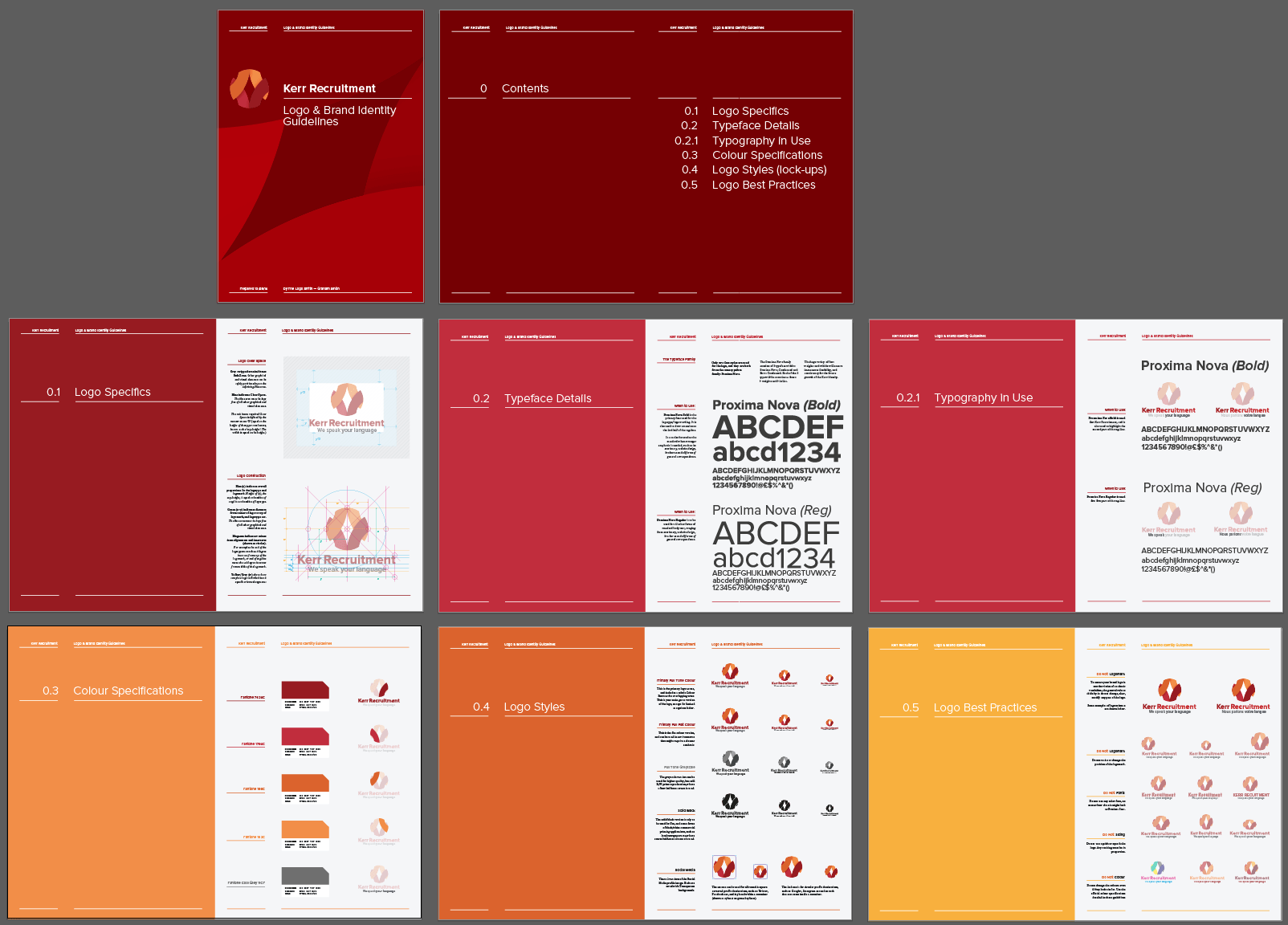 I'm providing the original Adobe Illustrator files for you, so you can get your collective hands dirty with all the text, imagery, pages and artboard's, etc.
Although I have kept Kerr Recruitments logo in place, please bear in mind that this is a legitimate client logo design, and as such is not there for you to use, commercially, in any way.
You will likely need to change these files quite a lot. The guidelines have been designed in such a way that are quite specific to the way the Kerr Recruitment logo has itself been designed, from the amount of colours used and thus detailed, the French translation of the logo, the various logo lock-ups, etc.
However, you should still be able to use quite a chunk, or at least get a real good idea of how and what to use, spec, explain in your own version of the guidelines.
The addition of the solid colour leader page, with the section titles, looks pretty nice I think, and helps make the guidelines look more like an actual booklet.
And finally
If you have any questions about creating logo and brand identity guidelines, or simply want to say drop me a line, you can do so here, over there and right here: [email protected], use the contact form, or grab me on Twitter: @thelogosmith
>> Download Logo_and_Brand_Identity_Guidelines_Template.zip 
The above link will download a ZIP archive of an: Adobe Illustrator CC7 file (without embedded fonts), and a PDF (with embedded fonts).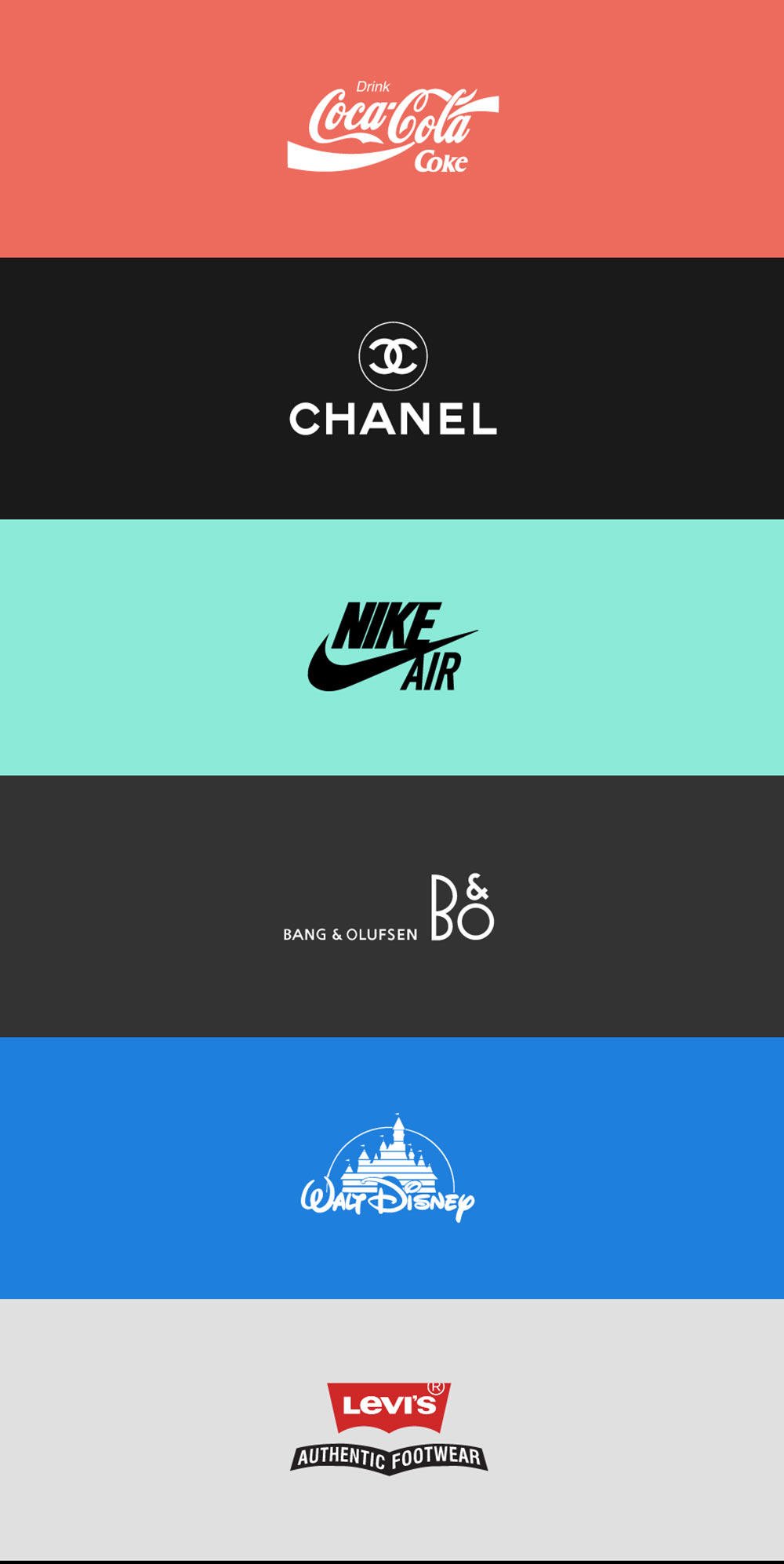 Exploration of Scalable & Responsive Logo Designs by Joe Harrison
Just when you might have been wondering when the next cool logo design project was going to surface: Responsive Logo Designs pops up to show us there are still novel, practical and fun ways to experiment with popular brand logos.
Responsive Logo Designs is a really smart and cool logo and web project by Joe Harrison (@joe_harrison): "A exploration into scalable logos for the modern web.", and shows us how brand logos belonging to: Coca-Cola, Chanel, Nike, Bang & Olufsen, Disney and Levi's might, one-day, work responsively.
This concept of creating scalable and/or responsive logos shows us how popular brand logos can be effectively and considerately reproduced, on the responsive web, and in general, a mobile friendly environment.
In each of these responsive logo designs the logo goes through a sequence of 'shrinking stages', creating a new logo lock-up for each new reduced browser window size. With each reduction in the browser width, the new logo lock-up effectively keeps true to the original brand identity, and it's values.


I particularly like the Bang & Olufsen example (above), but if I were to nit-pick: I'm not sure Bang & Olufsen would be so happy with the shrinking of their brand name to: BNG&OLFSN.
I would imagine in this case there would be a requirement to keep the brand name intact, or simply remove it, thus eliminating one of the responsive steps.
But, as a possible concept for brands to consider, I really think there is potential for companies to consider how their logo, particularly a wide logo design, might be responsively handled. It's a very small concern, but it's those tiny tiny details that can really show a brand does actually does 'sweat the small stuff'.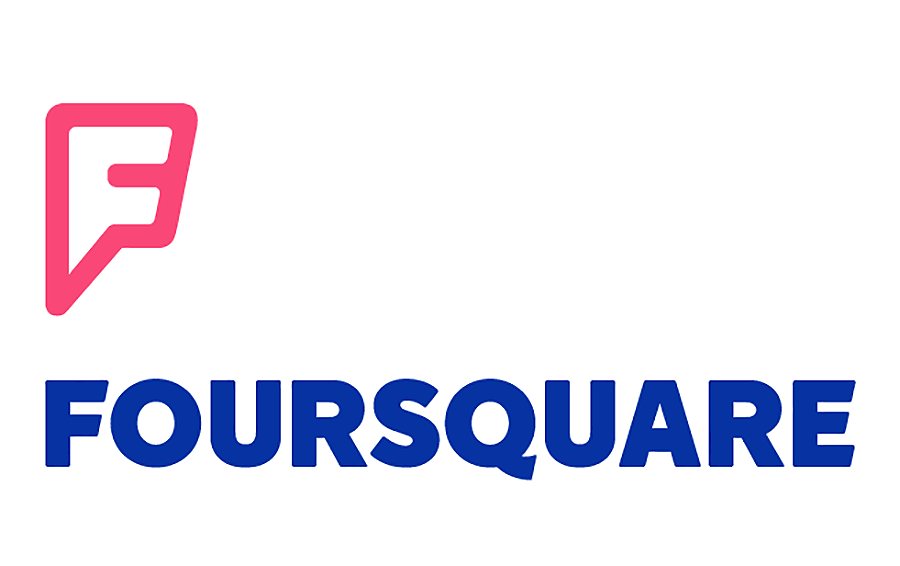 Foursquare's New Logo Redesign Goes Superhero
Just to clarify: the Superhero wording wasn't my idea, this comes direct from the folks at Foursquare, and I quote:
Foursquare
: "…if you build a totally new app, you need a totally new logo. Our logo is changing from the check-in checkmark to something representing the new Foursquare.
We designed it to be a mix of map pin and superhero emblem.
We've always thought of Foursquare as giving you superpowers to explore your city, and our new logo reflects that vision. It's coming soon to a homescreen near you."
Thought I'd open with that quote because I'm just not sure if they are being serious or not. Superpowers? Vision? Homescreen? Superhero?
Let me be blunt: the new Foursquare logo is anything BUT super anything.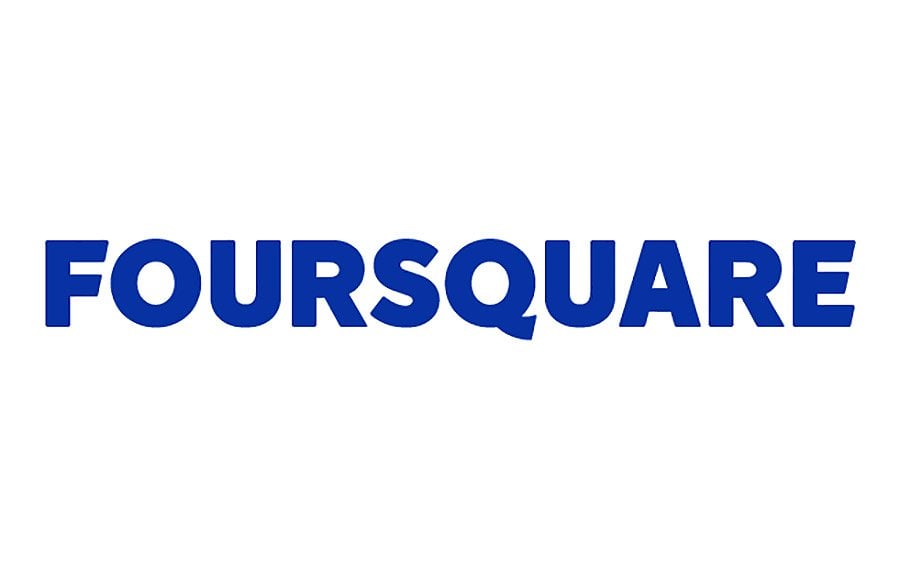 The Good
Let me get the positive out the way, just to show you I can see good when I see it, and can appreciate good when I see it, and am willing to extend that goodness to a few positive words in my blog.
The logotype/wordmark/brand name yada yada, is pretty nice: it has presence, it's pretty damn solid, has a nice rich almost Ultra Violet style to the colouring.
I also like the two colours, but they also remind me a little too much of the Flickr colour palette.
That concludes the good.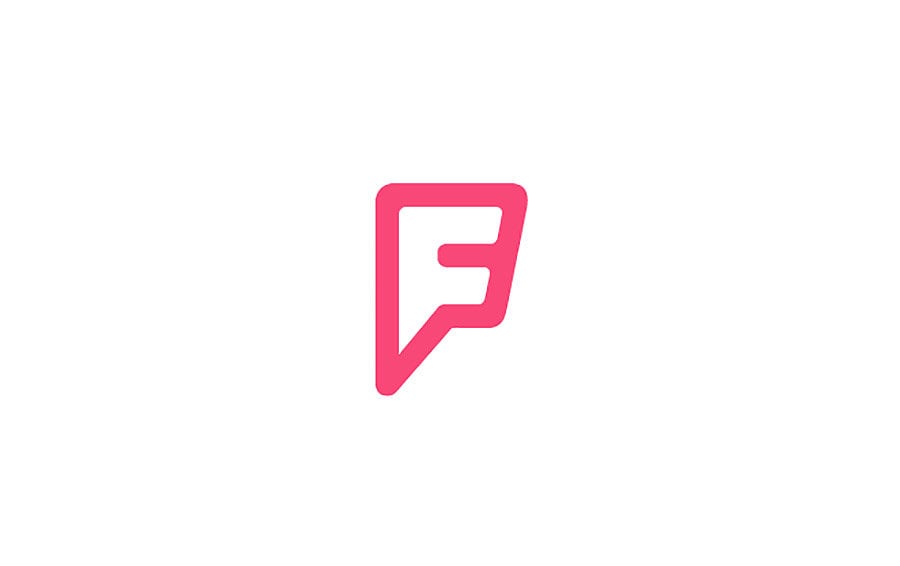 The Bad
What is meant to to super is really really bad.
I first saw the new Foursquare logo last night, and had a few back and forth tweets about it.
. @thelogosmith @MarkPoppen @TheLogoFactory @divinefusion I agree with Graham - definitely 'Disjointed' (& not particularly friendly either)

— Daryl Walker-Smith (@darylws) July 24, 2014
I totally didn't, see or get, that it was meant to be a vision of superheroness emboldened in a classy new super emblem: that's also a pin; which I did get by the way, albeit a rather odd map-pin.
That 'F', that is a map-pin, and a superhero emblem just looks awful. The pinky outer keyline is far too kludgy, the outer corner radius look far too large compared to the inner radius. Which then leads to the corner radius of the 'F' which looks like an afterthought, BUT don't come close to matching the far softer corner radius on the Foursquare wording.
Why oh why could they not have at least kept some consistency with the corner radius from the superhero 'F' emblem to that in the main wording? That would have at least made up for one of the most awkward looking logomark and logotype miss-matches I have seen in a long time.
There is nothing in this combination logo that looks like it should be one of a nice and cohesive whole. It's super disjointed at best.
The white-out half-cut 'F' looks really ill, and then we have that razor sharp point that certainly add's a stark and rude contrast to everything else in this logo. I get that a map-pin should be sharp, when the outer pink pin is 'super' soft, the inner white 'F' is just brutally sharp.
The logomark superhero emblem doesn't really look any better in the app either: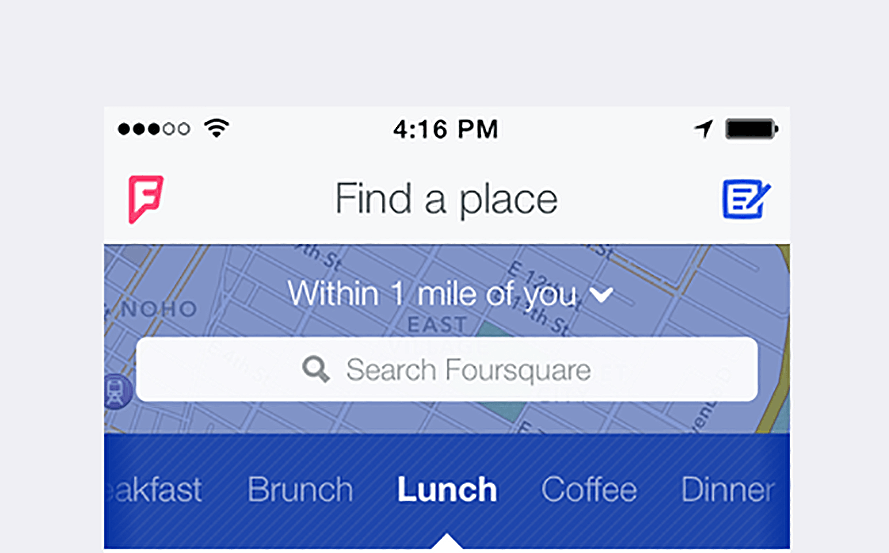 Conclusion
The typography for the main Foursquare brand name is really good, has a strong presence to it, and has style. What I simply cannot get my head around is how completely unsymbiotic the relationship between this and that God awful superhero 'F' emblem really is.
The only way I could realistically see such a lack of consistency between logomark and logotype occurring, is if: both parts were designed by completely different people, with completely different interpretations of the brief, and were not privy to what the other piece looked like. Then they took both pieces and stuck them together as best they could.
I'm not even sure a map-pin, as a visual reference, was ever needed, especially how long Foursquare has been around. It's not like Foursquare is a new brand having something to prove about it's mission and purpose, and almost feels ever so slightly patronising.
The map-pin reference is way too over dramatic, and unnecessary. Almost sure a classy icon could have been crafted from that really strong logotype without force serving up well used, and tired visual cliches.
Eh Voila.
It's actually really disappointing that with such a strong wordmark, such a flop was made of the icon. More so given it's this emblem/icon that looks like it will be the most seen, and implemented part of the logo.
The new Foursquare logotype is all grown-up, yet the icon feels it's taken a huge backwards step in this established brand's maturity.
Curious to know if this was an in-house, or out-house, logo redesign job?
The Helvetica Watch by Mondaine
There really isn't anything that is safe from being Helverticarised: we've had a whole variety of Helvetica themed goodies in the past, from the Helvetica Bike, Helvetica The Perfume: "The Scent of Nothing", the gorgeous Helvetica Moleskines, Helvetica Wine (designed by WildWildWeb), and a crap load of other Helvetica themed items.
The latest item to be branded with Helvetica? The humble wrist watch, although in this case a very non-humble watch by Mondiane—Mondaine is known to many as the official timekeeper of the Swiss Railway system—who are currently working on the The Helvetica Watch, also known as the No.1.
The images above are actually renders, but the word is the No.1 Helvetica watches are very real, and will be available for purchase around September.
The Helvetica No 1 Watch Styles
The Helvetica No. 1 Watch by Mondaine will come in five different case sizes, and in three different font weight classes: Light (26 and 38mm), Regular (33 and 40mm) and Bold (43mm). But that's not it, there are further style variations based on several styles of steel case, including: black, gold and PVD as well as several strap options.
Original article found on http://www.wristwatchreview.com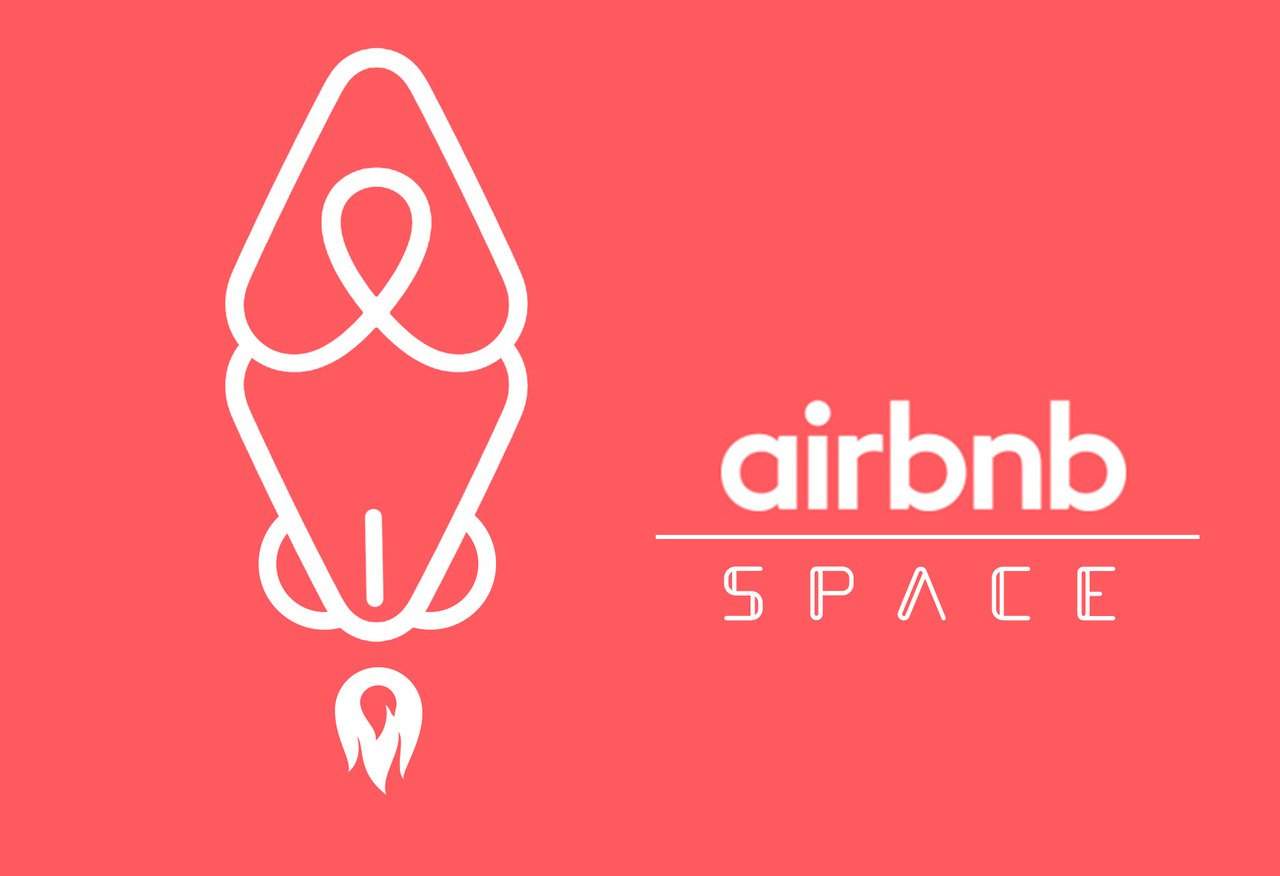 Post Updated with information from the BBC: Airbnb's new logo faces social media backlash
AirBNB's New Logo Design Gets Mobbed
It's always a shame when something like this happens, mostly because there is some poor soul, or group of poor souls, who are having to just sit through all this media shit about how their new AirBNB logo can be perversely disfigured.
Right now I'm feeling a little pity for London-based firm, DesignStudio. I love the new design, and love how it's been implemented across the brand identity, and I really do massively feel for the flack AirBNB are getting over the new logo.
What I didn't previously realise: AirBNB actually asked for the logo to be adapted, and played with, by the public. So in a sense, the various versions you might see are not without reason, but the extent to which the pervy nature of some of the adaptions does leave a lot to be desired.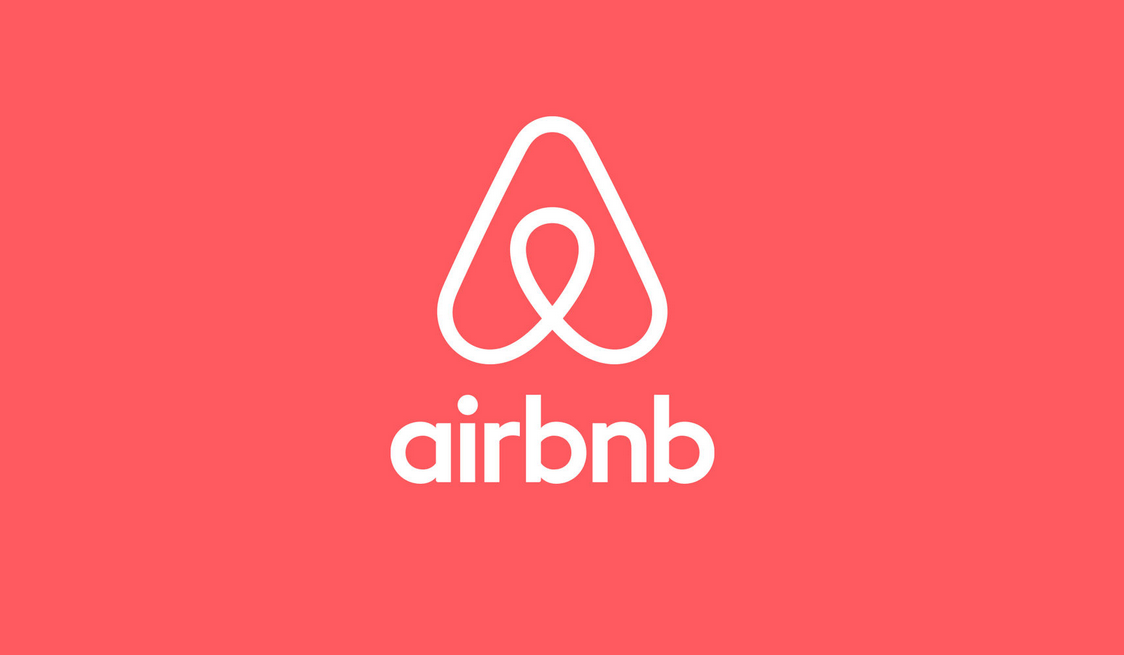 Ben Wright, the founder of DesignStudio, worked on the rebrand for over a year, and are all still fully behind the new logo design, even if a certain few are seeing 'genitalia' within the design.
As Ben Wright has been quoted as saying, "In the grand scheme of things, it doesn't really bother us too much what people are saying about it. People around the world are reacting to this and a small percentage of those people are choosing to read into the logo how they want."
The Story Behind The New AirBNB Logo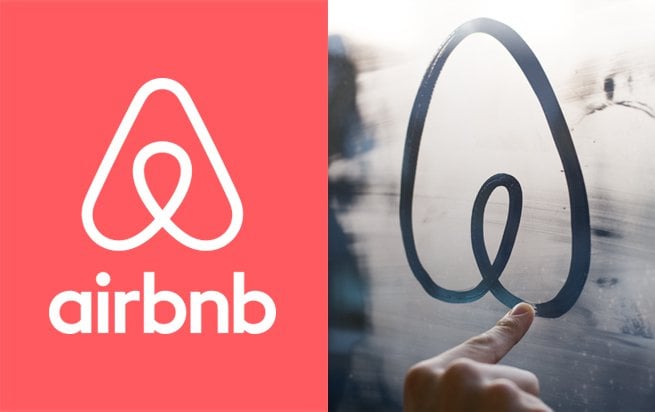 Read about the new the design over on AirBNB's website: http://blog.airbnb.com/belong-anywhere
Due Diligence
I really don't think the designers were lacking in due diligence here, because let's be honest, it's a bit of a stretch to be able to foresee all manor of warped, and deluded, interpretations that sick and twisted individuals might be able to wrench out from the logo.
OK, on the face of it some of them are relatively funny and harmless, like the two examples above, but the other interpretations are just way too childish to be taken seriously.
But even with the immense childishness of some of them (you can see them all here), the reality is that 'perception' will have taken a massive shift, and not for the better.
If you live the internet, then this will seem like a huge and unrecoverable episode, but not everyone who might influence and support the AirBNB company live their collective lives checking out meme websites, and getting caught up with foolish tinkering antics.
Whoever came up with the logo looking like a vagina clearly has issues, and then from making that public, it then takes no skill at all to soil the AirBNB logo with less and less funny variations.
It's a sort of heart, with a crossover turned upside down, and there are plenty of examples of this sort of style that get his sort of perverse attention: the old Habitat logo is one example I'm referring too:
AirBNB and AutomationAnywhere
There is also the other issue that has been ongoing, and that is the similarity of the new AirBNB logo, and that of the AutomationAnywhere logo. Apparently both companies have come to an agreement, and Automation Anywhere is in the process of moving to a new logo design themselves.
Moving On
Let's hope people have their fun, and allow the AirBNB logo and company to move on, and get on.
There have been, and always will be unfortunate outcomes from certain logo and brand designs, with people seeing some bizarre interpretation that no one else would have seen.
If a massive branding agency like Pentagram can 'accidentally', and so 'monumentally', completely shift the meaning of an otherwise well respected brand, then it can happen to any one.
This is the scary thing being a logo designer: there is always that one job that will capture the hearts of the internet mob, and for some it can be a devastating blow to their business, lively hood, and reputation.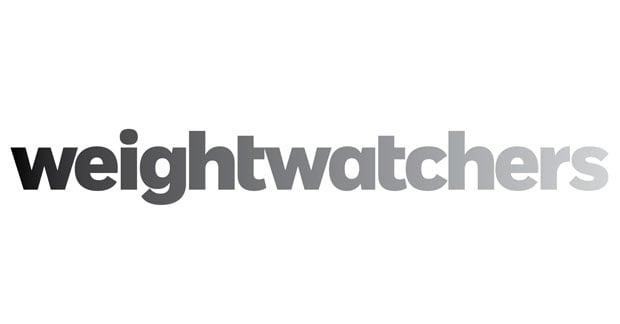 The weightwatchers logo (above), redesigned by Pentagram in 2012. On the surface a clean, and solid, looking wordmark. The gradient wasn't to everyones liking, but then something happened.
The moment you see the word 'twat', slap bang there in the middle, it's simply impossible to unsee it. The fallout from this was immense, and to this day, this brand new weightwatchers brand redesign, is still just idly sitting in Pentagrams portfolio section.
So What Now?
1. This perverse chain of events might just die out as quickly as it started, and AirBNB can just move onward, and forward.
2. The damage to the AirBNB's reputation could, in all seriousness, take a massive hit, and there could be some need to adjust the logo, or revert back to the existing one, much like weightwatchers seems to have done with the 'twat' logo, (that work by Pentagram really did need to make a rapid exit).
3. AirBNB might just try to ride out the storm for as long as it takes, and hope that in time all this tomfoolery will be forgotten. In reality, it will never be properly forgotten, so AirBNB will need to closely monitor how it's company has been, and will be affected, and then make a decision on the logo at some point down the road.
4. Another option similar to #2 is that they simply cut their losses right now, take no chance with the disfiguring of the new logo damaging their brand, and make some rapid alterations pronto. A pretty famous example of this 'cut their losses now route' was with the rebranding of the Tropicana packaging, which saw them sway to public demand in just under two months, and revert back to the original packaging.
It's still a mighty shame that all it takes is one perverse vision, for a few cheap and quick giggles, to create quite a strong negative buzz about a brand.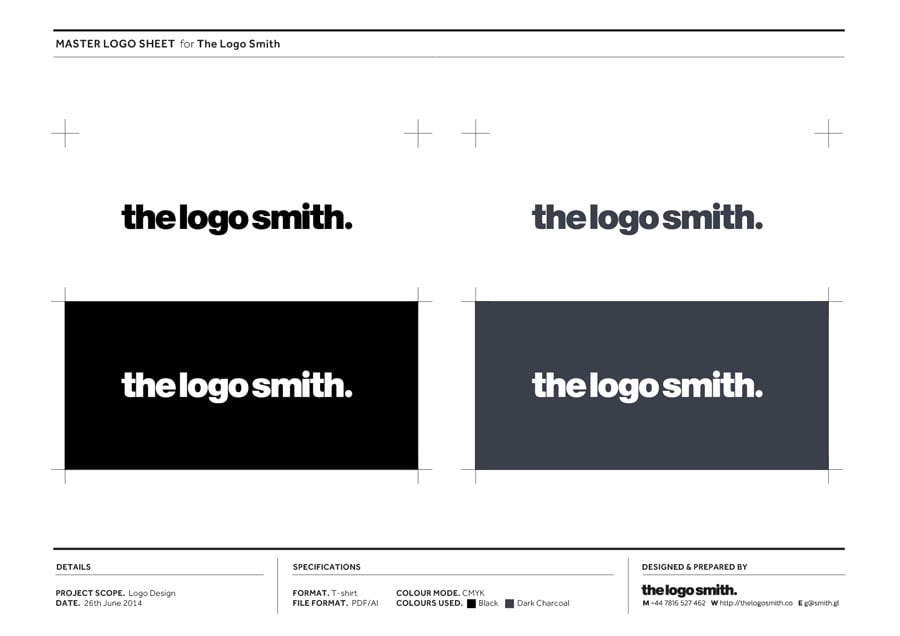 The above link will download a ZIP archive of an: Adobe Illustrator CC7 file (without embedded fonts) and a PDF (with embedded fonts), all ready for you to present those finished master logo files nicely to your client.
Client Logo Sheet
I have settled on this style of Client Logo Sheet for providing, and presenting, my own clients with the finished logo files. Each one has a few bits of useful information, such as: the colour mode used in Illustrator, either RGB or CMYK and list of the actual colours used in the logo.
I've locked all the elements other than the logo itself, so it's easy for a client to select and copy without picking up surrounding elements etc. On my example I have 4 different colour variations, but you could adjust it to show just one colour, or even add more rows/columns depending on how many colour versions are to be used. Probably best not to cram say 6 different logos on one sheet, as part of this logo sheet is to present the logo in a nice clear way.
The Client Logo Sheets are not replacing the more detailed Logo Guidelines/Logo Specification sheets as not all clients opt to have these developed, but all clients will get the Client Logo Sheet at the end of each project.
Feel free to use the Master Client Logo Sheet Template as is, or change the layout/contents as you see fit (obviously remove all instance of my name and details). Hope you find it useful. 
Another Logo Sheet Example
Here's a version of the Client Logo Sheet I have just done for my latest finished logo redesign project, for Codestag.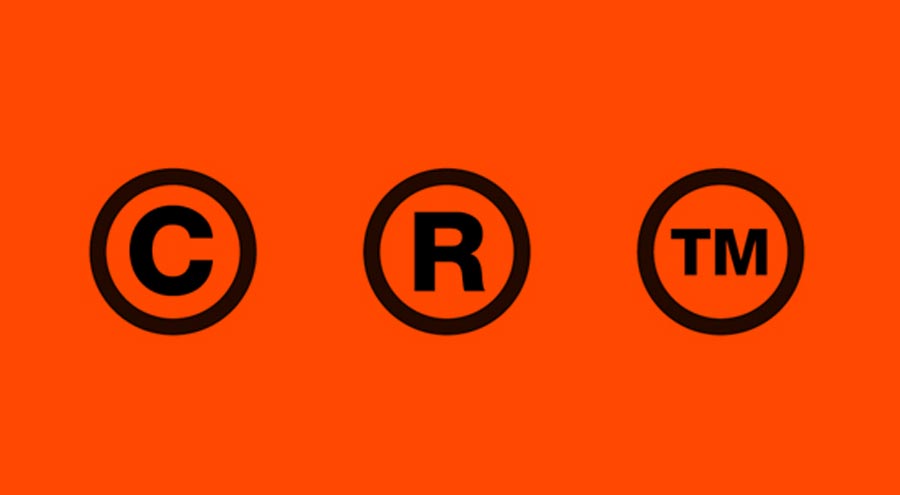 This post is just a little primer on Logo Design Copyright, I'll cover it in more detail in a forthcoming post. The topic of Copyright seems to leave some folk quite baffled, but in actuality, the important basics are pretty straightforward. Not to say copyright in general is straightforward, but it can be a nasty messy business when designs clash, ideas are borrowed etc.
Logo Design Copyright: How Do I Copyright A Logo Design And Transfer Ownership
The very action of designing something/anything unique means the creator has the copyright; an exception to this is if you copy, steal or plagiarise a design! On it's most basic level, copyright of unique visual design is automatic, and originates with the designer.
Thus, any unique logo that I designed for a client will have automatically had copyright assigned to it, and to me. Everyone of my unique logo designs and more detail brand identity projects, in my portfolio, started off with it's copyright belonging to your's truly. I didn't need to register it with any fancy office, I didn't need to sign any documents, or use my blood to create an unbreakable moral seal.
One can help define Logo Design Copyright (ownership), by adding the immortal words: All Logo Designs © Copyright 2014 The Logo Smith, or something along those lines.
This simply helps advertise the fact you are claiming, staking your ownership, of anything that is appended with that text. It's a way of clarifying when a unique design was created, and who is taking ownership, in the case of a dispute: such as someone stealing, or simply accidentally coming up with a very similar design.
This is when blogging (then quickly submitting it to Google and Bing etc) about that cool new logo design, and submitting that logo to various popular online portfolios, all help define who and when something was created, and greatly aids in any possible copyright clash as they all provide times, dates and clarity on who was there with that design first.
Transferring Logo Design Copyright To My Client
Transferring any Logo Design Copyright is simple, and yet I see instances where clients are almost extorted out of further money in order to obtain full Logo Design Copyright copyright of a unique design they have paid a designer to create. I have covered this topic in a previous post: Logo Design Ownership: Make it Easy For Your Client To Own The Logo
As a logo designer: it's an obligation to ensure your client ends up owning the the copyright of the logo you have designed for them, and this includes any additional brand identity elements and visual assets etc.
The transfer of the existing copyright and ownership, as the creator, isn't done automatically, and neither is it a 'given' when invoices are settled, and designer and client part ways. It's a process that has to be initiated by the designer, or suggested by the client.
Transfer Copyright And Ownership To The Client
In order to transfer existing ownership of the logo design, to your client, you simply sign a written statement/contract, that states you are transferring all ownership and copyright to the named party, in this case your client.
For example, I have a Transfer of Copyright form that I sign and send when the project is all completed, and not likely to be subject to any last minute changes.
Once you do this, you no longer have any claim to that design, so if you want to ensure you are safe to showcase the logo and brand identity visuals in your portfolio etc, that this is agreed before signing over ownership.
This is something that actually could be briefly covered in your Logo Design Proposal, so at least the client is made aware of how they can obtain full design copyrights and ownership before proceeding—I think I will a actually update my Logo Design Proposal Template to include this soon!
Conclusion
As previously mentioned, this is a super quick primer on the initial aspects of copyright in logo design, and it's by far the end of the story. However, it should be enough to give you some peace of mind that you don't need to hire a lawyer to simply copyright your own logo design works, and that transfer of copyright and ownership is just as straight forward.
The real challenges come with: Trademarks, Registered Trademarks and aspects of supposed Copyright and Ownership of non-unique works, this is when epic battles are won and lost in the courtroom.
There are various online services, such as: http://www.copyrightservice.co.uk/ and http://www.uktrademarkregistration.co.uk/ that help you to register a particular copyright and/or trademark, but they are often subscribed/premium services that assist you in times of conflict, but they are not compulsory. If a copyright/trademark conflict occurs, these services can help pin-point original ownership, and they can also provide legal advice and other services, but you'd still end up having to hire a lawyer in the worse case scenarios. But if you want extra peace-of-mind, then it does no harm (other than your wallet) to use one of them