Graphic & Logo Design Blog: Main Index
---
PT TP Initials Logo Design For Sale
This PT TP logo for sale is based on the initials P and T, but given the relative positions of the letters, both versions are equally viable, so you could have the initials in either of these two combinations.
This would make a great personal logo mark, monogram of sorts, for example if your christian and surname start with PT TP etc. This logo mark would also work very well as a strong, bold and very clean company logo.
There are a number of style options available according to your requirements: colours, and any custom wording you may need.
Logo Design Details
This overall size was designed with an iOS application icon also in mind, so it will work across all smartphone platforms, as well as social media profile image use etc
The cost for this logo and icon design, is £750, and includes: alternative colour options (the colours shown are just possible options), new wording, Logo Master Sheet, Letterhead Design and full Transfer of Ownership (copyright) from me to you.
Exclusivity
This is an exclusive logo design, and will only be sold the once. If you buy this logo design, then you'll receive all copyright and artwork, and you'll be free to do with this logo as you see fit. I will not sell this logo design again, once it has been sold.
Interested in Buying This Logo Design?
If you are interested in buying this logo design, then please send me an email to: [email protected] and I'll get back to you.
Further to my post last week, AlotVine Steals My AV Logo & Uses It To Make Money, it turns out that AlotVine used the infamous website, Fiverr.com to pay a 'logo designer' $5 for my AV logo. Yes, you heard that right: a logo designer on Fiverr.com appropriated/stole my AV Logo, in it's complete unamended form, and sold it onto ALotVine.
Now this clearly places Fiverr, the logo designer in question, AND ALotVine in a very tricky situation, as I still demand full payment for my AV logo.
I sort of understand the position that AlotVine finds themselves in, as they apparently didn't outright 'steal' my logo, but they are still using a logo design that is NOT their property, no matter how legitimately they believe they came about it.
So, I will partially take-back my initial accusation that AlotVine 'intentially' stole my logo, but the fact remains: they ARE using my logo without my permission. I don't care that they believe they have already paid for the logo, they haven't paid me.
One still has to question the questionable business decision to use a design on Fiverr to brand a VERY popular Youtube company, one that simply makes alot of money off other peoples' Vine video's.
I would like to see both Fiverr and the logo designer being sued in some form or another, be it AlotVine or myself. Watch this space…
AlotVine Steals My AV Logo & Uses It To Make Money
Getting sick and tired of people stealing my portfolio, individual logos, passing them off as their own work, but this is the first time someone has stolen one of my Logos for Sale, and actually has the audacity to so blatantly use it for their business.
AlotVine are clearly making money from YouTube advertising, and t-shirt sales, so reckon they can now afford to pay me. Shame on you ALotVine, and I'm waiting for payment, royalties and interest!
I'm not sorry I've taken this straight to Social Media, rather than approach ALotVine privately, as I'm just far to angry to care.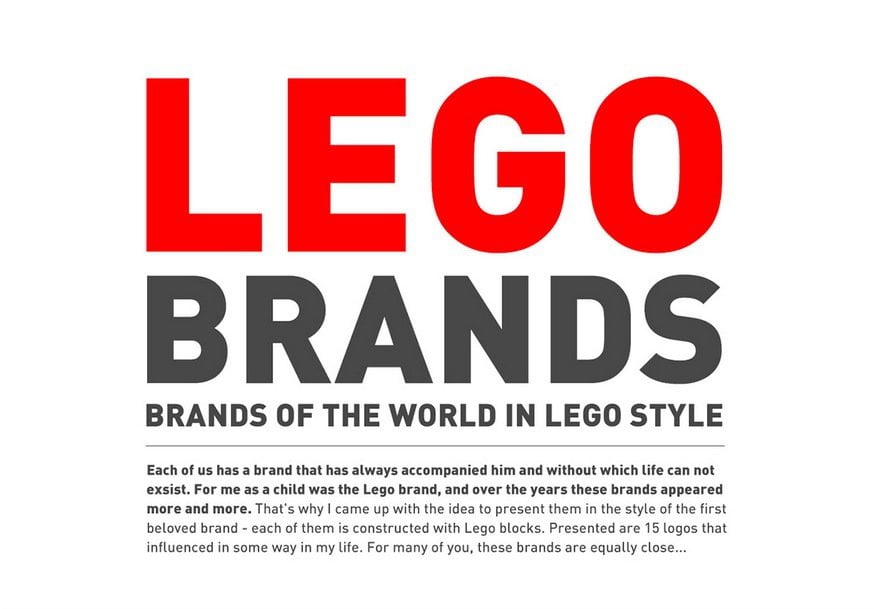 Lego Brands - Famous Logos in Lego Style by Kamil Piatkowski
Lego Brands: As Kamil Piatkowski explains, in his own words: "Each of us has a brand that has always accompanied him and without which life can not exist. For me as a child was the Lego brand, and over the years these brands appeared more and more.
That's why I came up with the idea to present them in the style of the first beloved brand - each of them is constructed with Lego blocks. Presented are 10 logos that influenced in some way in my life. For many of you, these brands are equally close."
Clearly the Lego Brands are not actually made with Lego bricks, which is a slight disappointment, as that would have been too cool to see: I fear probably not even remotely possible…
What I do see, if you remove the 'lego circle shapes', is more of an 8-bit bitmapped style of logo, which is still very cool.
Incidentally, one of my favourite logo design projects, Pure Storage, did have their logo created in Lego, which you can see here: Pure Storage Logo in Lego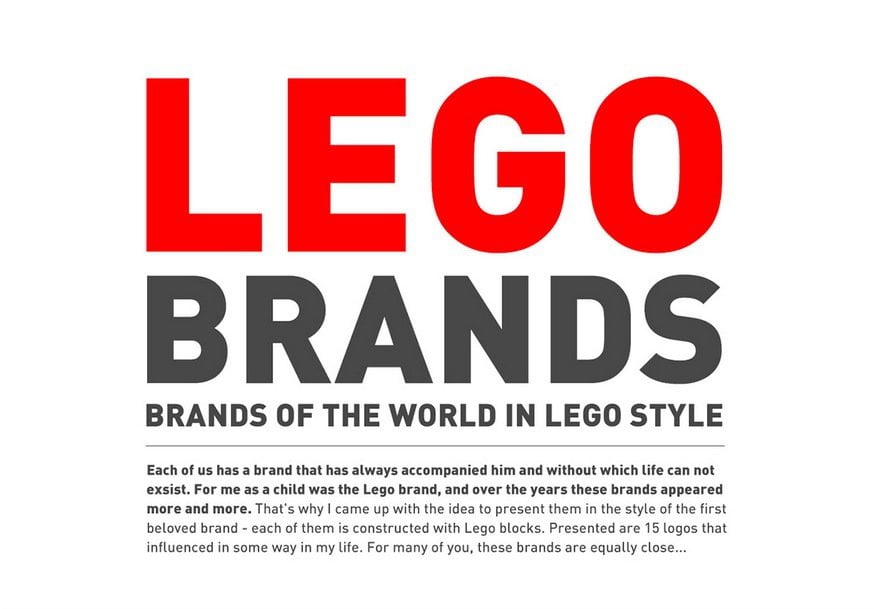 Found via Iconic Logos Of Popular Brands Playfully Recreated With Colorful LEGO Bricks, on DesignTaxi

THX's Deep Note Audio Logo Anthem, Logo & Eclipse Trailer Updated
The Deep Note Audio Logo has been running in cinemas across the globe for over 30 years, and has to be one the most gratifying audio scores belonging to an 'audio certification system', ever! Possibly the only one.
Deep Note has spawned numerous remixes and 'special editions' (my favourite being THX Slow Loris), and Dr Andy Moorer brings us a 'true to the original' audio update that will show in over 2,000 THX theatres.
https://youtu.be/6grjzBmHVTY
"Andy Moorer's Deep Note [Audio Logo] is a fundamental part of THX's brand equity and a very crucial element of the brand personality." – Louis Cacciuttolo: Executive VP, International Business & Global Branding, THX Ltd."

"It's more than a logo, it is an essential part of the moviegoing experience," explains Louis Cacciuttolo, THX Executive VP of International Business Development and Brand Strategy.
PR Newswire: "HOLLYWOOD, Calif., April 3, 2015 /PRNewswire/ -- THX Ltd. announced the release of a rejuvenated 'THX® Deep Note™' composed by its creator, Dr. James 'Andy' Moorer, thirty years after its iconic original debut. The regenerated 'THX Deep Note' will be available to audiences in certified theaters worldwide beginning in April. The iconic sound will also launch the company's highly-anticipated cinema trailer, THX 'Eclipse'. Audiences can get a first glimpse at the THX 'Eclipse' trailer and remastered audio logo online at www.thx.com.

Moviegoers are no stranger to the 'THX Deep Note', the familiar sound that introduces a feature film in THX Certified venues and on certified DVD and Blu-ray discs.  It was first composed by Dr. Moorer, a Lucasfilm sound engineer, in 1982 and debuted in the THX trailer Wings, screened before the 1983 premiere of Star Wars: Episode VI - Return of the Jedi. Since then, the 'THX Deep Note' has permeated the film industry to become one of the most iconic audio logos in the world."
The Audience is Listening
The THX 'Broadway Original' Audio Logo
https://youtu.be/HrnaxZt3vBo
The Updated THX Audio & 'Deep Note' Demo Trailer
https://youtu.be/dkX_68iKjVw
The Updated THX Audio Logo & 'Deep Note' PaulStretched by 800%
https://youtu.be/jGWvlVPgSG8
The Updated THX Audio & 'Deep Note' Bass Boosted
https://youtu.be/LoVbE3vFKMc
BONUS THX 'The Deep Note Cow Edition' The Cows are Listening
https://youtu.be/9gbpW7SBZ-Y
Double BONUS THX Slow Loris
https://youtu.be/POtC5PIFnJo