---
Post Last Updated:
May 9th, 2014
| First Published:
October 27, 2011
| Subscribe to
Blog
with
or
Whilst digging around for more links to update my Bulging Sack of Corporate Identity Guideline Resources and finding more cool logo designs for LogoStack I came across an utter beauty of a website sensibly called A Website about Corporate Identity.
It is devoted to providing key bits of corporate identity information such as: designer/agency, typefaces, colours for literally 100's and 100's of brands.
A Website about Corporate Identity
The Resources section contains additional information about corporate identity, including a bibliography and links to related sites on the internet.
Furthermore, the site provides a catalogue containing descriptions of a large number of corporate identities.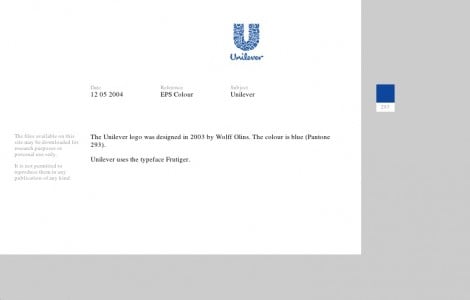 View the entire catalogue over at A Website about Corporate Identity.
---
Previous Post:
Various Logos Created Entirely with CSS
Next Post:
Clients from Hell-Random Colours for a Logo
Posts of Similar Content:

-->
© 2006-2016 All Rights Reserved
The Logo Smith: Logo & Brand Identity Design Studio, with 25 Years Experience,
in Cahoots with, The PR Room - Public Relations Agency: Tech, IoT & Smarthome PR Services.

Graham Smith: 10 Badgers Copse, Seaford, East Sussex, England.
Tel: +44 (0) 7816 527 462 - Email: [email protected]